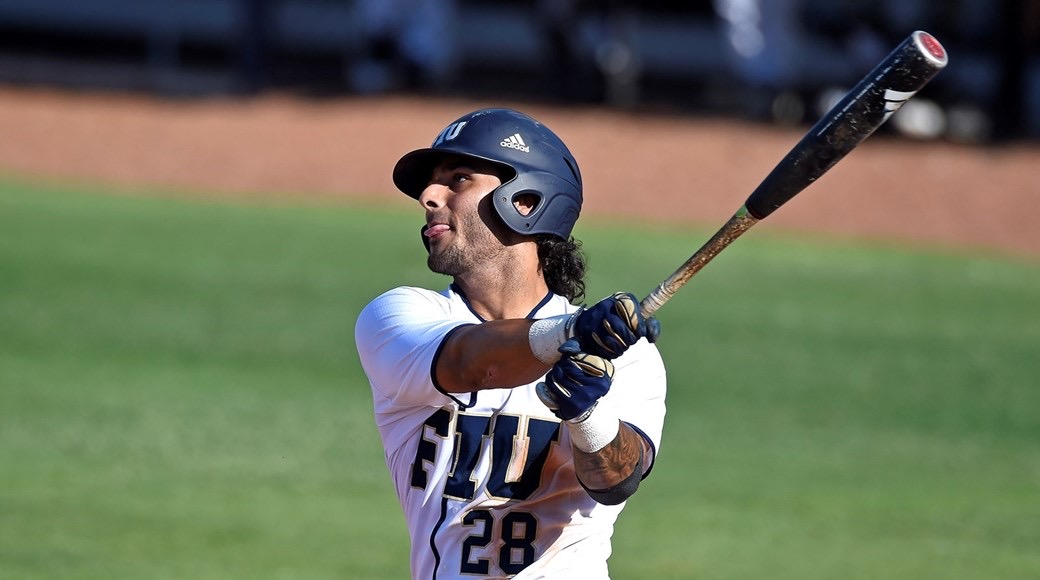 Miami, FL – After demolishing the Thundering Herd in the first game of the weekend series, FIU came up short in game two of Saturday's doubleheader, losing 6-5 to Marshall at Infinity Park. Panthers starter Tyler Myrick (1-2 3.44 ERA) squared off against Joshua Shapiro (2-2 3.89) as FIU looked to reach the .500 mark both overall and in conference play.
We're set to play two. Marshall and FIU on https://t.co/FSPd4Lzk3n and the CUSA app pic.twitter.com/EknhUYnN5C

— AJ Ricketts (@AJRicketts) April 28, 2018
The Panthers fell behind early as Myrick was dinged around by two longballs in the first and third inning. Andrew Zban and Will Ray went yard with two-run shots, putting the Herd ahead 4-1.
FIU scored the lone run back in the first when Derek Cartaya laced a double to start the home half of the inning. The home plate umpire then called a balk on Shapiro who ended up throwing a wild pitch after, allowing Cartaya to cross the plate safely.
The team had a great opportunity in the fourth with the bases loaded and only one out. Eddie Silva drew a walk while Lorenzo Hampton Jr. ricocheted one off the pitcher's glove, deflecting it towards third allowing him to reach base safely. After Adan Fernandez's short-fly to center, Javier Valdes grounded into an inning-ending double play.
Turns out it would be a thing of the past.
FIU rallied at the bottom of the sixth, scoring three runs to even the score.
Silva got on base with a squeak single right up the middle, narrowly avoiding the shortstop's glove. Jose Garcia's grounder to third should've been a double play, but it was misplayed by Kody Matthews leaving everybody safe. Hampton Jr. laid down a sac bunt to advance the runners, setting it up for Fernandez, who came through with a 2-run double near the third base line. A wild pitch by Shapiro moved the tying run to third. As the infield moved in, Valdes hit a bloop right past the shortstop Cameron Collett for the game-tying run, ending Shapiro's night. He was replaced by Hunter Sexton.
Marshall regained the lead in the seventh after Collett redeemed himself with an RBI-triple before being scored in via a sac fly from Matthews. Fernandez came extremely close to a three-run homer, only to see the towering fly caught at the warning track by the centerfielder, Zban.
Down to their final out, FIU generated a thrilling ninth. Silva was beaned while Garcia drew a walk. Hampton Jr. cracked a single to load the bases with Fernandez coming to the plate. The freshman generated a single of his own, bringing the Panthers to within one. However, their rally was cut short as Valdes flied out to the pitcher, ending the game.
The Panthers won the first game by a score of 15-0, which included four more round-trippers from the blue and gold, two of them from Silva.
Andres Nuñez continues to shine on the mound; pitching seven scoreless innings in game one of today's double header. #PawsUp 🎲🔥 pic.twitter.com/clkVeKUTGa

— FIU Baseball (@FIUBaseball) April 28, 2018
FIU had come into the series with a season sweep of the UM Hurricanes while Marshall snapped a five-game losing streak. They lost to West Virginia in extras 11-10 on Tuesday.
FIU falls to 20-22 (9-11 C-USA) as Marshall improves to 18-22 (6-14 C-USA).
FIU wraps up the 3-game series tomorrow afternoon at noon.
Game Notes
FIU won two out of three from Marshall last season. FIU leads the all-time series with Marshall, 8-6 (If Marshall wins Game 2). The teams began their series when FIU entered C-USA back in 2014.
FIU leads C-USA with 55 home runs. With 11 HRs, Jose Garcia is just one away from tying Jabari Henry (12 HRs in 2010) for the Freshman single-season record.
Heading into the weekend series, the Panthers have four players, the most of any team in the conference, among the top 15 in home runs.
Adan Fernandez went 3-for-5 with 3 RBIs and a double.
Tyler Myrick tossed five innings, allowing four runs on five hits and fanning six.
Marshall scored six runs on seven hits, committing one error and stranding only three. FIU scored five runs on 10 hits committing two errors and stranding 12.
Photo Credit: FIU Sports
(Visited 76 times, 1 visits today)