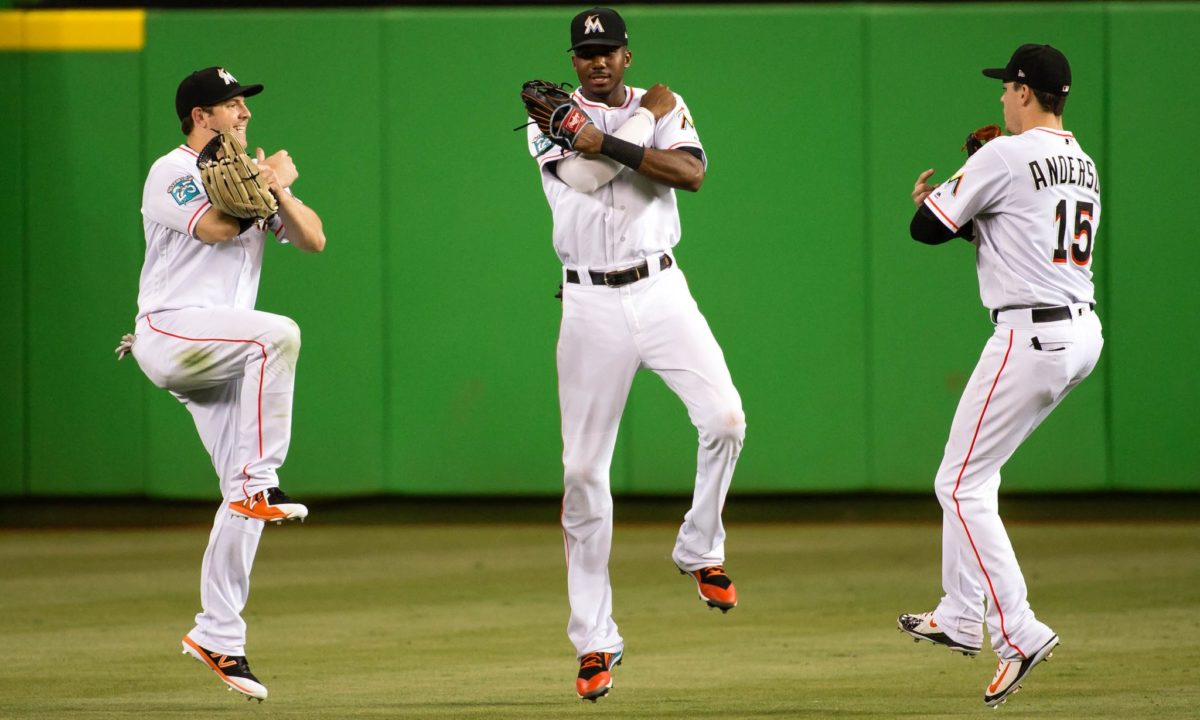 Hey there folks, hope you've been enjoying some of the games the Marlins have put up lately, they're actually competing a bit. Since we're already heading into the dog days of summer there's not much else to look at but ay, there's always the World Cup to get your sports fix. Personally, I'm rooting for Spain and Germany. Since we're nearing the midpoint of the season, I figured to give my two cents on how some of the players I've been watching have developed thus far. Once we hit the All-Star Break I'll hand out individual grades but before we delve into that let's go over what's happened since we last saw each other.
The Marlins had a great home series against the Giants, taking 3 of 4 and coming really close to sweeping San Francisco in a 16-inning marathon. In the series opener the rookies stepped up,  with the decisive 2-run blast from J.T. Realmuto that completed the rally. He wasn't the only one going yard. Brian Anderson homered to tie the game 1-1 in the fourth while Lewis Brinson followed up with an impressive triple, scoring Realmuto to take the lead. The newcomers continued to contribute, tying the seesaw game in the sixth and again in the seventh before Realmuto's bomb to center giving the team the lead for good, 7-5 Marlins.
Game 1 ✅
Game 2 ✅#JuntosMiami pic.twitter.com/RFSkDRzmCq

— #VoteMarlins (@Marlins) June 13, 2018
In the second game another rookie shined, this time from the mound as Trevor Richards tossed six innings of one-run ball en route to his first ever MLB career win. Starlin Castro and J.T Riddle accounted for all three of Miami's runs in the third. Castro drove in Derek Dietrich on a grounder to left field while Riddle lasered one to right, scoring both Anderson and Justin Bour in a two-run double, 3-1 Fish. The third match was another back and forth contest as Miami walked off with the series win. A critical sac fly from Brian Anderson went deep enough into centerfield allowing Miguel Rojas to cross the plate for the precious W, 5-4. Bour went 2-for-4 on the night with two RBIs and his eighth double of the season.
6 innings, 2 hits, and 1 run.

Not bad for your 1st Major League win, @trevrchrds. 😏 pic.twitter.com/5I3FYz9lzS

— #VoteMarlins (@Marlins) June 13, 2018
In the final game of the slate, Miami was able to tie it in the ninth after Starlin Castro hit a leadoff pop fly to shallow right that both Joe Panik and Andrew McCutchen went after. In the ensuing miscommunication, Panik got a glove on it, but couldn't hold onto the ball. Castro made it to second on the error. Later, Brinson's sac fly scored him in. The squad had a couple of chances in extras to walk off for the second straight time, but "Kung Fu Panda" Pablo Sandoval and McCutchen busted the game open with three runs in the 16th inning, Miami did not respond. No 4-game sweep but it was great nonetheless.
The Marlins traveled to Baltimore next, to begin interleague play against the Orioles. If you think we're bad, this team absolutely stinks. Miami took this series as well, winning two of three. Jose Ureña dominated in the opener, winning 2-0 as a result. Realmuto exploded in game two going 3-for-4 with 4 RBIs, going yard not once but twice in the effort. The team went on to win 5-4. The finale was a whole different animal as the O's finally broke out the bats. Baltimore hammered our pitching staff with 14 hits, scoring in all but two innings for the 10-4 win.
On the 1st day of the road trip, José gave to me… 0 runs in 8 innings. 🎁 pic.twitter.com/xlD4sYTJXb

— #VoteMarlins (@Marlins) June 16, 2018
The Giants got their revenge when we traveled to their house for a mid-week tilt. While we mustered another comeback win in the form of three runs in the ninth to win the opener, San Fran won the next two games taking the series. Brinson, Realmuto and Miguel Rojas contributed to the ninth inning rally. The Giants got to Dan Straily in game two, knocking him out in just the second frame, coughing up four runs in the process. Determined pitching kept Miami off the board until the fourth with three runs courtesy of Riddle and Anderson but it was not enough. In the rubber match, Ureña had one really bad inning and that's all it took as the home team slammed in five runs plus one more in the eighth, halting the late-game rally in the ninth to clinch the series by a final score of 6-5. It's worth noting Giants closer Hunter Strickland was so furious over the loss to Miami Monday, he broke his hand punching a wall. Not very smart. For all you fantasy folks Sam Dyson looks to be next in line.
Another (mostly) positive week for the Marlins with their next stop being Coors Field in their latest western campaign. However, by the end of the month, we're looking at hosting the Diamondbacks and Mets, threatening our brief era of good feelings. It could end this weekend anyway. The Marlins are still a whole lotta games below .500 but every win counts. Avoiding 100 losses is our best case scenario. Since before the season began, all I was looking forward to were the rookies and as we near the midway point, they've progressed. Anderson is just tearing it up, leading the team in batting average (.299) and RBIs (36). Even Brinson is starting to produce, although his stat line (.181 AVG/9 HR/28 RBIs) remains horrendous. For the last two weeks, he's been hitting .265 with two round-trippers and 9 RBIs.
Up on the mound, I'm hoping we get more development out of Tayron Guerrero because man, that guy has one heck of a flamethrower for an arm. He can easily hit 100 mph on consecutive pitches. I'm also content with Caleb Smith (5-6), while his ERA hovers around 4.00, it passes in a lot of the top tier offenses. Miami's just sucks. Like Guerrero, I really hope to see good things with Trevor Richards (1-4, 5.45 ERA) as so far it's been a season of learning.
J.T. + Justin = 4ever and 4 HR combined in the last two days. #JuntosMiami pic.twitter.com/cJFr2xOzf4

— #VoteMarlins (@Marlins) June 18, 2018
Though not a rookie, we also can't forget J.T. Realmuto who is definitely being an anchor for both the team and the young hurlers. More than likely he will, for better or worse, garner attention from other teams as the trade deadline crawls closer. For now though, I'm just enjoying his huge contributions to the team.
While I don't feel good about the team as a whole, the stats don't lie after all, I do feel great about certain individual players. Call it a closer look at the ballclub, call it setting the bar low, but I like what I'm seeing so far. It's really the only true reason to watch the Marlins this year, aside from whenever they bust out the old school uniforms. Take heart guys and gals, the rookies are developing and they're having fun doing it.
Stat of the Week
Going to rub it in on Baltimore here. The Marlins are now 21-7 against the Orioles. The.750 mark is tied for the third-best winning percentage in any MLB Interleague series.
Down on the Farm
Our #2 prospect Sandy Alcantara is upping his chances at an eventual call-up, winning his latest outing against the Sacramento River Cats on June 16th. He went seven strong and held Sacramento to just two runs and four hits. He is now 5-2 with a 3.76 ERA.
Top pitching prospect for the @Marlins Sandy Alcantara grips a baseball during a recent @cakesbaseball game. @MiLB #Baseball pic.twitter.com/Mwg6WhXIV5

— Parker Waters (@ParkerWaters) June 2, 2018
Tebow Watch
Oh yeah baby, this one is BACK. Today's forecast: A lot of shade, I can feel it even now. Tim Tebow got promoted to Double-A ball and so he is no longer a (St. Lucie) Met…he is now a Rumble Pony! As in the Binghamton Rumble Ponies (Still part of the Mets organization). Currently, he is batting .246 with 4 HRs, 23 RBIs and 11 doubles about 60 games in. I still don't think he'll ever get called to the Majors, but I'll still follow him.
Great shot by @kj_franko of Tim Tebow and @TrentonThunder bat boy Tommy Smith, who moved to Binghamton's dugout tonight at Tebow's special request. #Yankees #Mets pic.twitter.com/DjUv6PGDJd

— Greg Johnson (@gregp_j) June 20, 2018
Views from the Cheap Seats is a recurring segment where a Miami raised sports nut recaps, screams and analyses a week's worth of games giving a toast, or the finger, to his hometown team depending on their performance. A truly hopeful but always realistic fan putting thoughts to pen to paper and always striving to improve. Be bold, be good, be you.
Photo Credit | Marlins Twitter
(Visited 102 times, 1 visits today)