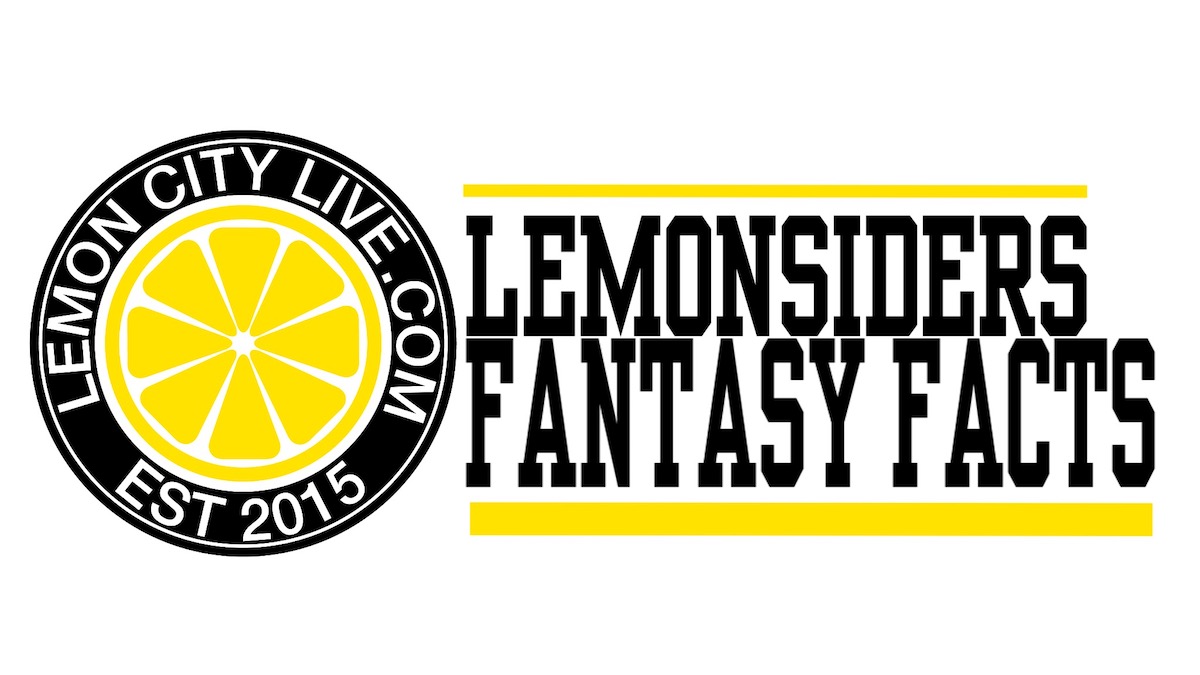 The drafts are over and here we are, folks, week 1 of the regular season. Get your shot glasses ready for Lemonsider Fantasy Facts on how to set up your lineups for Week 1. (We're always going to avoid the obvious starts like Tom Brady and Antonio Brown, but if we feel like a high profile player is going to be a bust, we will NOT hold back, and let you know whats up! ) Let's jump right into it with Week 1 Fantasy Facts:
Quarterbacks
Start: Carson Palmer @ DET
This is my favorite Andrew Luck replacement for those who drafted him and also a filler for those who have Jameis Winston or Jay Cutler as QB1's, since the Fins vs Bucs game has been moved to week 11. John Brown is healthy, JJ Nelson is healthy, Fitz is old and faithful but still provides a safe floor AND David Johnson catching out the backfield? Fantasy Fact is Palmer finishes at top 10 QB this week.
Bust Alert: Dak Prescott @ DEN
As great as the Dallas offense is, the Giants D matches up very well with the Boys. Dak only threw for 1 TD and 2 INT's combined last year against the G-men and I expect them to lean more on the run game. He's a safe floor play but don't expect a high ceiling at all.
Sleepers: Sam Bradford vs. NO and Jared Goff vs IND
Running Backs
Start: Carlos Hyde vs. CAR
Despite me feeling like the Panthers defense will be improved from last year, Hyde should receive 70% of the workload. Hyde has averaged more than 17 fantasy points in PPR leagues the past two season openers and is now in a Shanny run offense. Sign me up.
Bust Alert: Kareem Hunt vs. @ NE
Where's the panic button?! Most of you drafted him in 2nd/3rd round so bust alert? Say whaaaat? This week Chiefs OC Coordinator Matt Nagy said the Chiefs may use a RBBC approach and even mentioned all 3 of the KC's RB's. Me, as a Hunt owner AND a KC fan at heart, I'm somewhat cautious of Hunt for Game 1.
Sleepers: Lamar Miller vs JAC and Jonathan Stewart @ SF
Wide Receivers
Start: Martavis Bryant @ CLE
Big Ben's road numbers compared to his home splits is like comparing Whitney Houston's voice to Roseanne's voice when she sang the national anthem. Even with that, Ben averages more than 60 yards a game and close to 1 TD more with Bryant in the lineup. Feel safe starting him this week and don't you dare look up Roseanne's national anthem video, trust me!
With Martavis Bryant back, the Steelers offense is primed for a huge season pic.twitter.com/dXwQM6RaFF

— Pro Football Focus (@PFF) September 3, 2017
Bust Alert: Dez Bryant vs. NYG
Dez, in 2 games vs the G-men last year, TOTALED 2 receptions for 18 yards. Yes, Dez was not 100% health wise but was shut down against Janoris Jenkins. Of course, this could be the typical over analyzing Week 1 and I'd normally NEVER sit my stars, but if you have better matchups with your other WR's, you may want to consider that approach.
Sleepers: Sammy Watkins vs. IND, Tedd Ginn Jr @ MIN
Tight Ends
Start: Zach Ertz @ WAS
Ertz has always been inconsistent, but when he's on, he's ON. He's built up a good chemistry with Wentz, and this game is a possible shoot out, so I expect Ertz to do some damage in the middle of the field, picking up big chunks of yards.
Did somebody say #TransformationTuesday? 👀 pic.twitter.com/IPNYIeWnJ6

— Zach Ertz (@ZERTZ_86) July 11, 2017
Bust Alert: Eric Ebron vs. ARI
As long as I can remember, ARI has always been great against TE's in fantasy football. I tend to NOT use TE's against the Cards and will continue with the process this season. Ebron has been projected to be THE break out TE this year, which he can be, but don't count on him getting off to a good start game 1.
Sleepers: Charles Clay vs NYJ and Evan Engram @ DAL
Defenses
Start: Houston Texans
This reminds me of the New Orleans Saints in 2006, after Hurricane Katrina, playing at home with a fired up home crowd. The Texans were ranked number 1 most of 2016, without JJ Watt, and will be playing against Blake Bortles Week 1. Nuff said. Easily top 5 DS/T for me Week 1.
Bust Alert: Kansas City Chiefs vs. @ Pats
My Chiefs are going into NE for game 1, sigh. Even without Edelman, this offense is extremely explosive and could put up points in a hurry. KC's DS/T is ranked top 5 in rankings overall but you can't feel good about starting them this week. Tamba Hali is out, their starting slot corner is out, and their leading pass rusher & linebacker are coming off injuries. Unless Brady uncharacteristically throws INT's or KC happens to run back a kick, I would NOT feel good about starting them this week.
Just a matter of time before the #Patriots order a case of Apple watches.

— Robert Flores (@RoFlo) September 5, 2017
Sleeper: Bills vs NYJ, Rams vs. IND
Kickers
Start: Will Lutz vs @ MiN
Easy way to choose your weekly kicker is looking at point totals. Teams with better offenses have more chances to put up points and when Las Vegas gives the game a high point total, those are kickers you target. Not to mention, any kicker in a Sean Payton offense is automatically in line for top 10 performances.
Will Lutz with a 53-yard field goal 😱😱😱 pic.twitter.com/7AHHZGrXOk

— ESPN 1420 (@espn1420) August 21, 2017
Bust Alert: Adam Vinatieri @ LAR
No Andrew Luck against a Wade Phillips defense does NOT fare well for the Colts in Week 1. Rams D are in my top 5 DS/T plays this week and when the Colts offense struggles, so will Vinatieri.
Sleeper: Phil Dawson @ DET and Ryan Succup vs. OAK
Be sure to check with us each week where will discuss not only start, bust alerts and sleepers for that particular week, but also who you should be adding to your roster and who you should be dropping.
Don't forget to follow us on Twitter, Facebook, and Instagram.
(Visited 43 times, 1 visits today)