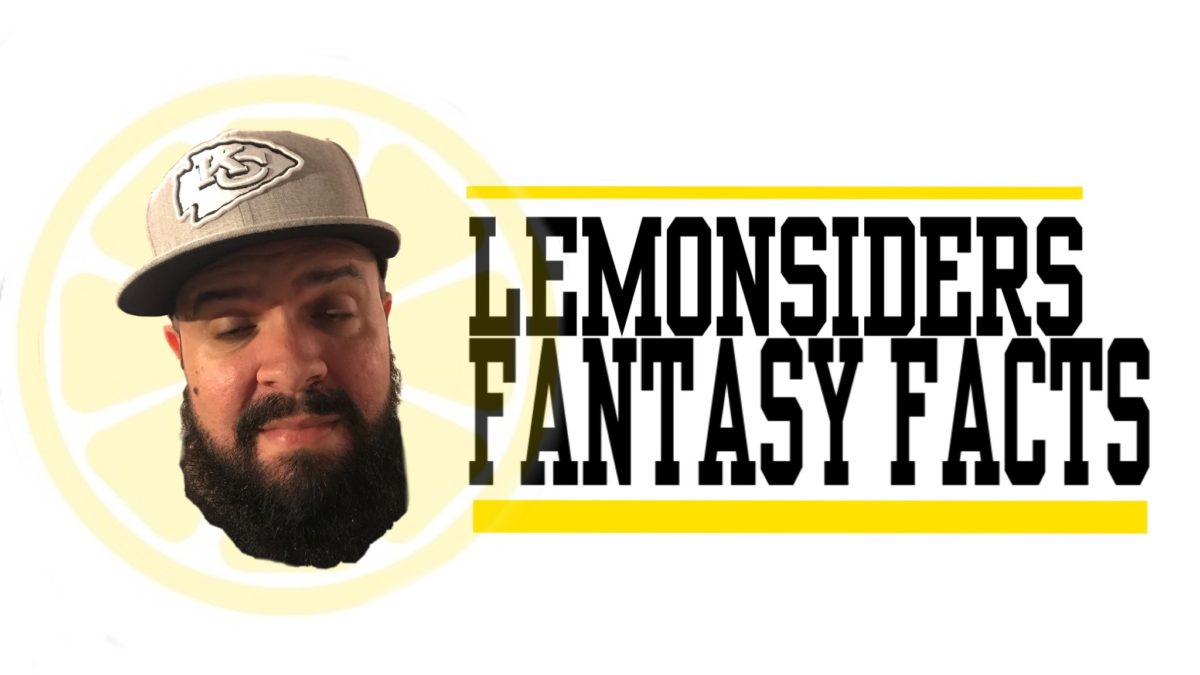 Before I continue, just want to pause for a moment and send my condolences out to the Carson Wentz owners. Losing your starting MVP caliber QB right in the thick of the playoffs is a rough one. Hopefully, you had a good replacement on your bench, if not, my heart goes out to ya. Guess what though? We're right in the thick of it folks. We're in the playoffs! By now you shouldn't have any guys on your roster you don't feel comfortable having, so the start/sit decisions shouldn't be that difficult this week, unless your teams are stacked. Take a deep breather though. You've made it this far, so there is no need to overthink things. As always, you play the best matchups and you play your studs, because, without them, you wouldn't even be in the playoffs, right? One loss and your whole season is over with, so be sure to choose wisely! You're obviously going to start your running backs who got you to the playoffs (Gurley, Mccoy, Kenyon Drake, Alex Collins, etc), and sit the guys who didn't do much for you (Isaiah Crowell, Danny Woodhead, Latavius Murray, etc). So, for this week, I'm going to do a special Lemonsiders Fantasy Facts edition which will be in a Swipe Left or Swipe Right style. These are players with good matchups (including some under the radar guys) I feel good about playing this week and players with bad matchups.  Again, just because I, or even you don't feel good about your matchup, and that's your best player, PLAY HIM and don't try to get cute with it.
Quarterbacks
Swipe Right:

Nick Foles

@ Giants
So if you lost Carson Wentz, the best thing you could have done if you didn't have a QB on your bench already is pick up his back up. Yes, Nick Foles isn't Carson Wentz but he does have a favorable matchup. Can't feel as confident as having Wentz but he is playing those McAdoo-less Giants.
Nick Foles looking at all of us pic.twitter.com/MI0dlP07TA

— PJ McConnell (@PJbleedsgreen) December 12, 2017
Good matchups: Jimmy Garappolo vs. Titans, Case Keenum vs Bengals & Nick Foles vs. Giants
Swipe Left:

Matt Ryan

@ Tampa Bay
I don't feel good about Matt Ryan at all. I mean, how can you? I know the matchup is good, but he's struggled over his career at Tampa, and he hasn't provided a high ceiling all year. If you're expecting 20+ points, it's unlikely since he's only done it twice this year. His last two starts haven't even combined for 20 points! Not a horrible starter, but if this is the guy you've had all year, just continue rolling him out… I guess.
Matt Ryan tossing picks
Saints taking pics pic.twitter.com/aOrMFLYlSc

— CBS Sports (@CBSSports) December 8, 2017
Bad matchups: Matthew Stafford vs. Bears, Andy Dalton vs. Vikings & Russel Wilson vs. Rams
Running Backs
The Oakland Raiders defense is so ugly they decided to make a commercial with a guy wearing an ugly Christmas sweater, fit with Christmas lights, of what team? Yeah, them Raiiiiddderrrs (Chris Berman voice). Opposing running backs have run through them like crazy shoppers run through doors on a Black Friday. Either one of these running backs is a good start, but how many touches they'll get is unpredictable. However, I can see both scoring over 10 points, for sure.
Rod Smith vs. Alfred Morris stats from the last 3 games! #CowboysNation pic.twitter.com/AWJfN9VAN4

— ✭Cowboys News✭ (@DemBoyz_News) December 15, 2017
Good matchups: Rex Burkhead/Dion Lewis @ Steelers, Kenyon Drake @ Bills & Alex Collins @ Browns
Cardinals run defense is actually pretty solid and despite the volume he'll receive, I can't see him scoring more than 15 points this week. I may have to start him in some of my leagues, but I don't feel good about it. He hasn't totaled 20 points combined the last two weeks against more favorable matchups, so I'm nervous about his production and points this week.
Is Samaje Perine the black Popeye? Or just a dude with the name James spelled backwards? @KingJosiah54 pic.twitter.com/ldXtp0Zyag

— NKF (@crimpro) December 1, 2017
Bad matchups: Doug Martin vs. Falcons, Matt Forte vs. Saints & Frank Gore vs. Broncos
Wide Receivers
Swipe Right:

Marqise Lee

vs. Houston
How about them Jaguars? They have been playing so well even Blake Bortles is talking trash now! It's gotten to that point, crazy right? Houston defense has given up some monster games to wide receivers and with Lee being Bortles top target, he could very easily go off this week. He's a very safe play with a high ceiling, as I'd say, "Giddy up!"
Marqise Lee is having a game pic.twitter.com/VFqPnWq6MQ

— Ryan Smith (@PFF_Smith) December 3, 2017
Great matchups: Marquis Goodwin vs. Titans, Juju Smith-Schuster vs. Patriots & Robert Woods vs. Seahawks
So this is one of those matchups that are good but the scenario is bad. Kupp has been great the past few weeks but that's because his target share went up with Robert Woods being out but now he's back. Less targets = less production. It's a great matchup but his ceiling and floor are now lowered so not too excited about him on the road against Seattle. Good matchup, bad scenario.
Bad matchups: Doug Baldwin vs. Rams,Tyreek Hill vs. Chargers, Sterling Shepard vs. Eagles
Tight Ends
Swipe Right:

Delanie Walker

@ San Francisco
49ers have been pretty solid against tight ends throughout the year but not the last few weeks. This is a good matchup but a bit worrisome for me still because of Mariota's inconsistent play. I do feel comfortable enough putting him here as a swipe right candidate though.
Delanie Walker (@delaniewalker82) putting the team on his back. #TitanUp pic.twitter.com/ZSS8CGUskJ

— Tennessee Titans (@Titans) December 3, 2017
Good matchups: Ben Watson @ Browns, Jesse James vs. Patriots & Jack Doyle vs. Broncos
T.J. Yates is the quarterback this week for the Texans, need I say more? Third-string QB against the Jaguars. Can't feel good about any offensive player, especially at tight end for the Texans. Anderson was a hot pick up a few weeks back after a big game but yeah, don't you dare play him this week.
RT to #ProBowlVote

The "Mayor of #Sacksonville " @Campbell93

Leads team w/ 12.5 sacks (4th in NFL) & has 10 TFL, 1 FR for a TD and recorded the most sacks in a single game in the AFC (4.0 at HOU) pic.twitter.com/9u7Pw7ctMX

— #Sacksonville (@Jaguars) December 14, 2017
Bad matchups: Hunter Henry @ Chiefs, Tyler Kroft vs. Vikings & Cameron Brate vs. Falcons
Defenses
Swipe Right: New Orleans Saints vs. New York Jets
Aside from the obvious Jags against T.J. Yates, the Saints are my favorite matchup of the week. With McCown breaking his hand, here comes Bryce Petty. At home against a wounded Jets team, I can very easily see the Saints hitting 20 points for their DS/T.
Good matchups: Denver @ Colts, Redskins vs. Cardinals & Bills vs. Dolphins
Swipe Left: Kansas City Chiefs vs. Los Angeles Chargers
I apologize for always mentioning Chiefs on here. I'm not being a homer, I promise. It's because people still talk about the Chiefs defense as if they are good. They really aren't. Last week was a fluke game against a bad, bad team but this week it's back to reality. Rivers has been on fire and I could very well see him continue this week.
Bad matchups: Houston vs. Jaguars, Pittsburgh vs. Patriots & Patriots vs. Steelers
Kickers
Swipe Right:

Robbie Gould

vs. Tennessee
I loved him last week and I love him again. Jimmy G has thrown for over 600 yards in two games and in those games, Gould has hit 9 FG's and has scored 15 points then 17. Yessir, start Gould cuz that matchup is great against a bad Titans defense. The opportunities will be there.
#ProBowlVote + Robbie Gould #ProBowlVote + Robbie Gould #ProBowlVote + Robbie Gould #ProBowlVote + Robbie Gould #ProBowlVote + Robbie Gould https://t.co/8BPUks7rZ1

— San Francisco 49ers (@49ers) December 7, 2017
Good matchups: Will Lutz vs. Jets, Jake Elliot vs. Giants & Dan Bailey @ Raiders
If you have a kicker on a team who struggles to get points then you will have a kicker who will struggle to get YOU points too. Don't expect much from the Texans offense so I sure as heck don't expect much from their kicker and you shouldn't either.
#Texans @HoustonTexans can we just go ahead and cut Ka'imi Fairbairn…….like….right now….just let him keep the uniform and escort him out the building and mail him his belongings from the locker pic.twitter.com/6iwqwWlzRD

— Juz Jokez (@JuzJokez) December 10, 2017
Bad matchups: Giorgio Tavecchio vs. Cowboys, Mike Nugent vs. Lions & Aldrich Rosas vs. Eagles
Be sure to check with us each week where we will discuss not only start, bust alerts, and sleepers for that particular week, but also who you should be adding to your roster and who you should be dropping.
Don't forget to follow us on Twitter, Facebook, and Instagram.
(Visited 61 times, 1 visits today)