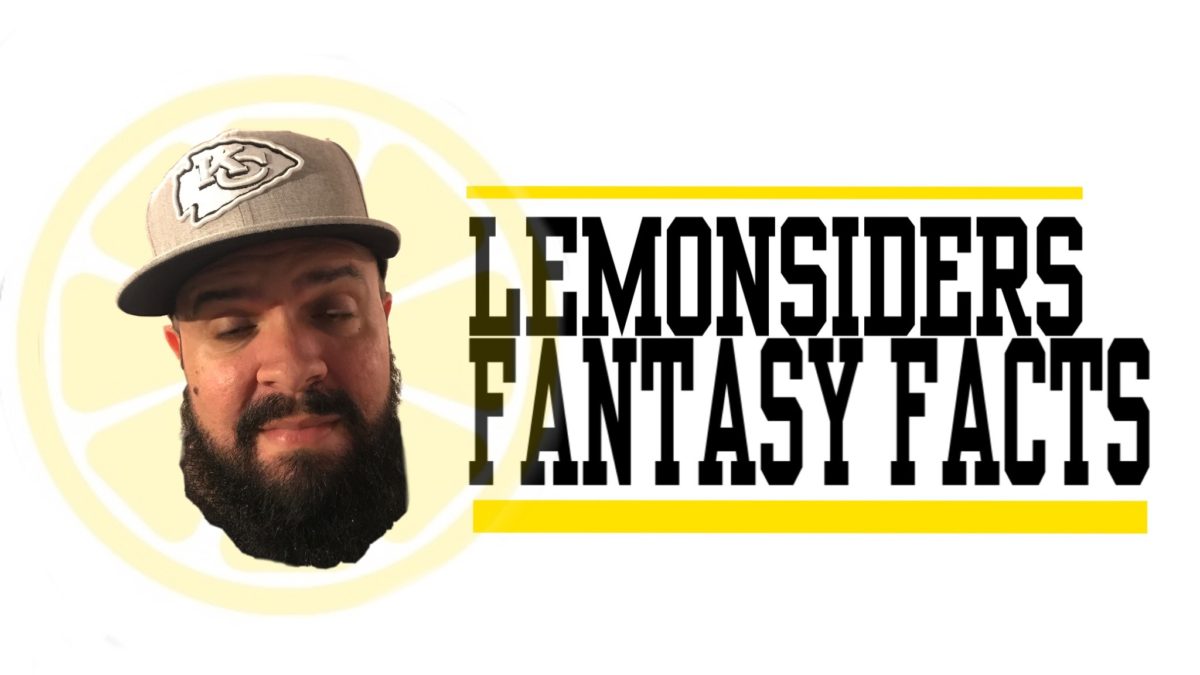 If you're reading this, it means you somehow survived this week despite six teams being on a bye and having to put lineups together with scraps. Guess what, next week we have to go through it all over again! Six teams are also on a bye week in week 9 and the tilt will be real yet again. Hopefully you were prepared for the bye weeks and added depth to fill in the roster spots. We're here to help you with your team as we officially are past the mid way point of the season. Head over to your kitchen and grab the "good cups", the ones you only use for guests and get ready for this weeks Lemonsiders Fantasy Facts for week 9.
Hold
I say this with hesitation but going with my gut at the moment, hold on to him for now. Hilton has failed to reach 50 yards in 5 out of his 8 games and has only 4 receptions or more only 3 games all season. The remaining schedule doesn't look good at all but he still is the most explosive player on this Colts offense. There were rumors that surfaced this weekend that the Colts will be willing to trade T.Y. Hilton and as unlikely as that may seem, we can't be quick to brush it off. The possibility of a new team and being best weapon on current team warrants a hold for now. Of course, this would all change very soon.
My absolute pipe dream for the Eagles would be acquiring TY Hilton. pic.twitter.com/t9Aac6r9BY

— Bootleg Fantasy FB (@BootlegFantasy) October 30, 2017
Toss Out
No idea how or why anyone still has Bernard on their roster but it's a thing. He only has 13 carries for 54 yards in the 5 games he's played this year. Joe Mixon and Jeremy Hill are getting more carries and snaps. Remove Bernard off your roster ASAP.
After starting off the season with four touchdowns in the first 2 games, he hasn't scored one since. In a backfield with Dion Lewis, Rex Bulkhead and James White. Mike Gillislee isn't going to stand out anytime soon. He hasn't caught a pass all year and is not scoring touchdowns so what reason would you have for holding on to him still?
@Marc_Bertrand @bigjimmurray "let me cut this outside" – Mike Gillislee pic.twitter.com/Yt0LFGTIR1

— Chris Malloy (@ChrisMallloy) October 23, 2017
ALL

SEATTLE

Running Backs
This backfield should be avoided at all costs. Whether it's Eddie Lacy, Thomas Rawls, J.D. Mckissic or C.J. Prosise, they have no business being on your roster. Only Eddie Lacy from these four backs has passed 50 yards in a game and that was only ONE time! Want to get crazier?  J.D. Mckissic is leading the backfield with rushing touchdowns with only ONE touchdown. So yeah, get rid of the Seattle backfield from your rosters.
Live look at Eddy Lacy pic.twitter.com/aLCm7Xq1vx

— Michael Krebs (@Krebs_4) October 29, 2017
HOT TAKE: Eddy Lacy is a turd.

— Chris Fetters (@Chris_Fetters) October 29, 2017
Add
Not a defense you hear and get excited over but they have been sneaky good. They've scored double digit points in 5 out of 7 games this season. Upcoming schedule is Week 9: Packers without Rodgers Week 10: The Browns Week 11: Chicago with Mitch Trubisky. The Lions defense is a great add if you're able to get them since they should be able to hold you down the next 3 weeks.
Oh, that's just Glover❗️😏 pic.twitter.com/IZAPcpTzQL

— Detroit Lions (@Lions) October 30, 2017
Russel Wilson seems to have found his rhythm and the Seattle passing offense is clicking. With top corners covering Doug Baldwin, this leaves Richardson with better matchups each week. He shredded the Texans defense this week with 6 receptions, 105 yards and 2 touchdowns. Richardson is getting steady targets each game and with an offense that's hot, he's someone you should look to add.
Russell Wilson gets the Seahawks offense on the board with a TD toss to Paul Richardson. pic.twitter.com/g1qapa57Fy

— NFL Fantasy Football (@NFLfantasy) October 29, 2017
Once again, we remind you to start stashing backup running backs wherever possible, especially if you feel like you're in a lock to make the playoffs. Some teams don't have a backup that can be a bell cow running back and will have to resort to a running back by committee but the Steelers are not one of those teams. James Conner can run, catch, block and will receive the bulk of the work if something were to happen to Le'Veon. Stash him where you can.
Sell
The window for selling Ajayi is closing slowly but surely. This move should ONLY be done if you have depth at running back. If you have that luxury, I would recommend to try and move Ajayi. He's yet to score a touchdown, the offense line is a mess, the offense is on the verge of being a dumpster fire and the passing game is questionable every week. Ajayi is getting little to no work in the passing game and has less than four goal line carries this year. Not saying Ajayi isn't good, what I'm saying is you should try selling him now that he has some value.
When you bench Ravens DST cause you have Jay Ajayi and think hes gunna go off againt the 32nd ranked run defense in the league. pic.twitter.com/SUb77537pJ

— Jesse Reeves (@BoltGangThang) October 27, 2017
Be sure to check with us each week where we will discuss not only start, bust alerts, and sleepers for that particular week, but also who you should be adding to your roster and who you should be dropping.
Don't forget to follow us on Twitter, Facebook, and Instagram.
(Visited 30 times, 1 visits today)