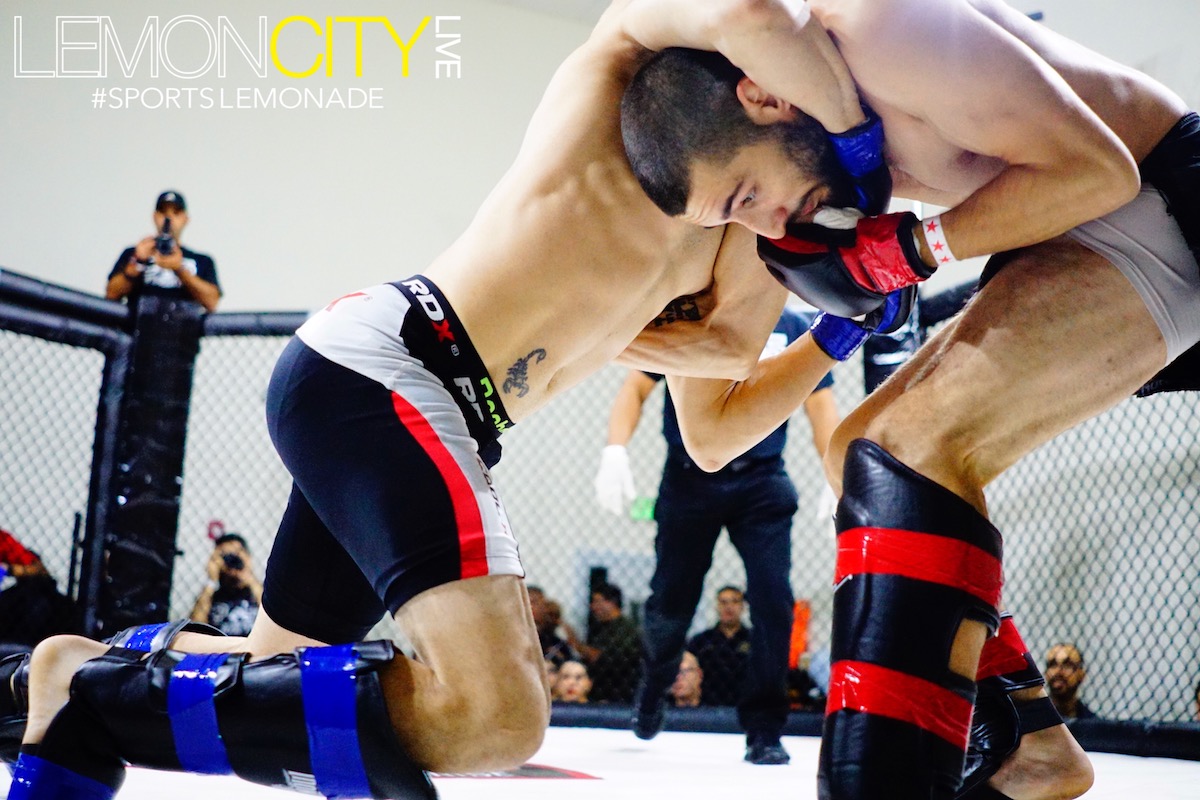 I have said before that MMA is on the rise in the Magic City. Miami has seen a rise of MMA gyms pop all over the city. Saturday night in the city of Miami Gardens, at the Nine 0 One convention center, we had an amateur MMA event put together by Miami's own promotion of 305fights. 305fights is a new local promotion company that recently opened up last year and is gaining a good amount of steam. Most of the fighters were from Miami, which I found to be very cool, and honestly filled me with a bit of pride to see these fellow Miami-ans fight. The event itself was very well organized. 305fights had a great staff that showed me and my photographer a lot of respect and courtesy. I was able to meet the founder, Elio Tarrago, who was such a gentlemen, and very friendly and approachable, I hope to have a sit down with him sometime in the future.
Before the event, outside of the convention center, there was a long line going around the entire parking lot. The crowd itself was very diverse. You had young kids, adults, and a few seniors too. There was a lot of support for the local fighters, which I know is great to have because they tend to bring a lot of energy and excitement. We were able to go around and check out the locker rooms briefly, to see the mindset of each team. Dudes were ready to scrap! The event had an open bar, hot dogs, burgers, wings and fries available to the fans. We also had musical entertainment from local recording artist Kiko y Su Calle, which pumped the crowd. The place was packed and people were still coming in, but there was no disorderly conduct. Everyone was calm and patient. There was no pushing, and the staff was very attentive. The DJ was on point, playing new stuff and the old stuff. A little bit for everybody.
Fighting at 135 lbs was Claudia Zamora. Her opponent was Aymelys Fernandez. Claudia is fighting out of American Top Team – Kendall. She came in with a thunderous outside leg kick that immediately downed Aymelys. Claudia's killer instinct kicked in and instantly went for a Guillotine choke, with some serious knees to the chest of Aymelys. The barrage was too much and Claudia was able to get an easy trip. Claudia was on top landing bombs to the head. It was an MMA categorized fight, but with no strikes above the shoulders. In the second round, Claudia applied the pressure. Immediately, from the clinch, she slipped in her arm under the chin, and next thing you know, we got a brutal standing guillotine submission. Aymelys tapped out, and the fight was over.
This next fight was lightweight, at 155 lbs. In the blue corner was Kristian Moccia, representing Black House MMA Miami Beach. His opponent, in the red corner, was Sebastian Lopez, Sebastian started the fight throwing a nice outside leg kick, but Kristian displayed some very heavy hands. Kristian was pushing forward, using a nice jab, followed with a nice hook. He found a home for that combo early, giving him a dominant start. Mid-round, Sebastian came back applying his own 1,2,3 combination, reversing the flow of the fight. Kristian goes for a double legged takedown with ease, but unfortunately gets caught in a triangle. Sebastian started to become more relaxed and manages to land a standing guillotine, but gets reversed and taken down. This fight was a great back-and-forth between the two fighters, with Sebastian displaying heart and skill. In the 3rd round, Kristian unfortunately blew out his gas tank and didn't have much defense left. Sebastian won by decision.  
The next fight was a stand-up fight, only striking. It was Muay Thai vs kickboxing. Antoine Brown, the Muay Thai fighter, walked in wearing the full garb of his school. I thought it was pretty cool. His opponent was Victor Fernandez. Victor was clearly more battle-hardened, coming strong and applying pressure. He was using combos, using the clinch, and landing devastating knees to Antoine's chest. He was also able to land a few trips and ended the round with a flurry of punches. The second round was more of the same. Antoine did manage to land kicks, keeping Victor at bay for a little bit. In the third round, Victor was more dominant. Antoine showed heart and courage. He was on the receiving end of nice combinations. Despite the punishment Antoine was receiving, he did not give up. The fight ended with Victor taking the decision.
At the 145 lbs. division, we had Mike Mitchel, fighting out of FFA masters and Omar Smith fighting out of Rough House MMA. Mike started the fight with explosive power. He had Omar against the fence and went for a single, followed by a beautiful slam that wowed the crowd. They both stand, followed by Omar getting a standing Guillotine, forcing the tap.
The next fight had Alexis Solis, fighting out of Full Contact MMA from Homestead, fighting Miguel Orta from Slaughter House. The fight started quickly, with wild punches. Alexis was relentless, pushing forward and not letting up. Alexis got a Guillotine and threw punches, taking the dominant position, not letting Miguel rest. But Miguel shrimped to get the top position. Now it was his turn to drop bombs. Miguel went for the armbar and nearly got it, but Alexis is gritty. In the second, Alexis looked fresh, and his cardio was impressive. He has a good takedown defense. There was an accidental eye poke but nothing serious. Alexis went for a triangle, transitioned to a knee on belly, and then another transition, to having both hooks in, and then finishing the fight with a wicked rear naked choke. Fight's over.
The next bout in the 145 lbs. division was between Anthony Kwatek and Robert Pelaez. Anthony throws a kick, but slips and falls. Robert quickly takes advantage by trying to hold him down, but he now ends up on the bottom. He holds Anthony against the fence, landing blows to the body, eventually achieving full mount and inflicting some punishment on Anthony's head. The ref steps in to stop the fight and Robert wins via TKO.
Now we have the big boys entering the ring. These dudes are coming in at 170 lbs. Debuting in this amateur fight is Ricardo Souza from Young Tiger Foundation, facing Bryan Falero from UFC gym. Bryan instantly dropped Ricardo with a Jab, but he wasn't out of the fight. Bryan was clearly the more experienced striker, but Ricardo was able to land a takedown, and immediately sinks his hooks in. With slick movements, Ricardo has Bryan's back and is dropping hammer fists. During the scramble to get on his feet, Bryan gets caught in a leg lock but shakes loose. Once again, Bryan's superior striking keeps Ricardo at bay, managing to knock Ricardo off his feet, but Ricardo stayed on the floor, trying to keep it on the ground where he has the advantage. Bryan, the smaller fighter, is doing great by leading with the jab and controlling the center. Ricardo goes for the takedown, but Bryan stuffs it and responds with a vicious right. Ricardo continues the assault, landing his own right, followed by the takedown. Just like the first round, he gets his hooks in, but this time landing more hammer fists, followed by drilling his arm under Bryan's chin to get a tight rear naked choke. Bryan taps.
The next fight was also at 170 lbs. This was the co-main event, but it had to have been my favorite fight. A championship fight. Fighting out of Trinidad was Brandon Lacroix from Rough House MMA, and from Hybrid Fight Team was Sylvain Gondet. Brandon trains with one of my old coaches, so it was nice to see someone I know. Sylvain had strong kicks, keeping the local at bay. The fight persisted standing up, with Brandon eating shots, but moving forward landing a few good ones too. Sylvain's Jab was finding his way in, followed with a right hook. Brandon got a takedown and held Sylvain against the fence, in which he was landing plenty of blows. The second round was more of the same. Both fighters were gassed, but Sylvain kept pushing the fight, finding a home for his overhand right. Brandon would use more leg kicks, landing more kicks to the body, but Sylvain managed to get a takedown, putting a stop to Brandon's momentum. He also showed a powerful ground and pound. Sylvain's cardio and stamina was the key factor in the fight. He won the championship via decision.
The other championship fight was between Martin Justiz and Gus Solis. Gus fights out of Full contact, out of Homestead. The first round was a very dominant display of power and striking from Martin. He controlled the round by pushing the pace and landing great combinations. Gus didn't back down, but unfortunately, the striking was a bit one-sided. The second round once again was in clear favor of Martin. He landed devastating shots and even added some nice slams into the mix. Into the 3rd round, it was the same, honestly. Martin Justiz dominating his opponent in every aspect. Gus landed a good shot that dazed the champ, but it didn't have enough effect. Martin Justiz was the champ this night.
This event was not only an MMA event. Several of the fights were grappling. I am limited at the moment to cover the MMA fights, but shout out to Rick Verela and Bernaro Liberio. Liberio, from Carlson Gracie Miami, came out winning and Lucas Miranda defeated Jaime Naranjo. Lucas was also fighting out of Carlson Gracie Miami and Jaime from Trillo academy.
I've been to a few fights throughout the years, but this one was different. This one managed to bring a neighborhood out for a good quality time. It was a different vibe when you can see that the crowd attending didn't live that far. You felt the families pride in their cheers, and even after their fighter's loss, the love and support are still there. Miami Gardens held it down by showing love and not letting things get rowdy in any way. Thank you to Elio Tarrago and Jessie for being very attentive, I hope to be able to catch the next event. Till the next time, knuckleheads. Peace out!
For more pictures from this event, please CLICK HERE.
Photo Credit – Daniel Carrera
(Visited 245 times, 1 visits today)