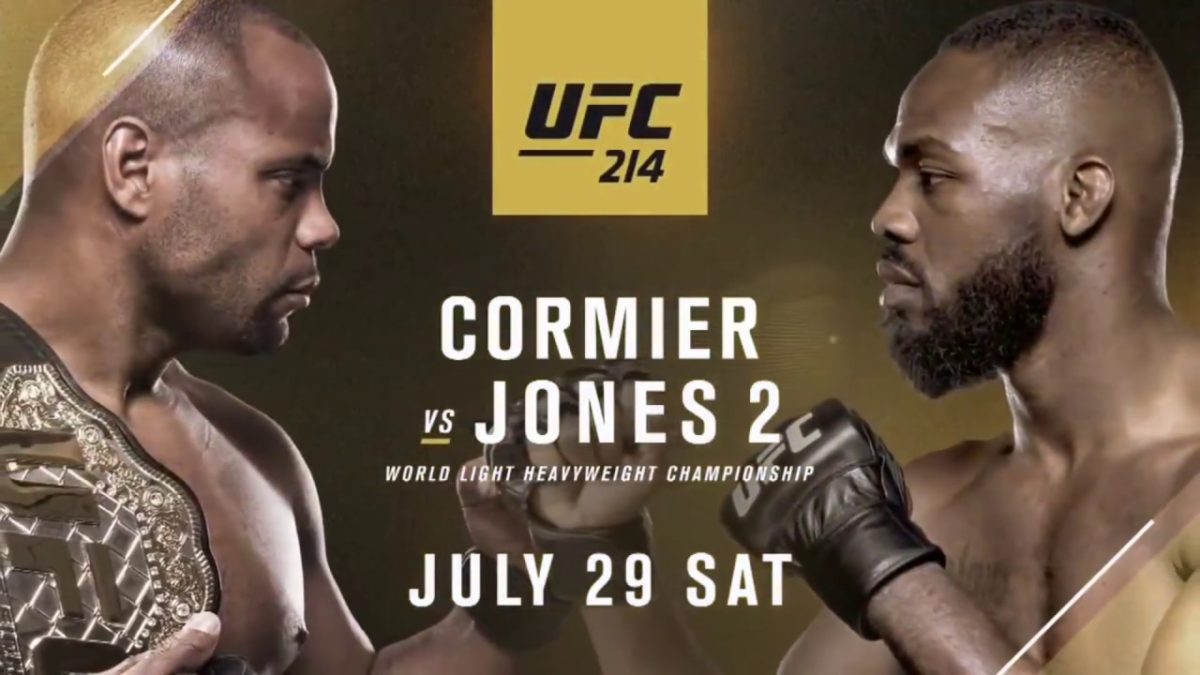 What's going on people? I've been watching MMA for years now, but I am in no way an extreme hardcore fan. Well, to be fair, I will know more than most casual fans. I have trained in some MMA. Up until two years ago, I practiced kickboxing, Brazilian Jiu-jitsu, and wrestling here in Miami over at Evolution MMA. To me, MMA is a release, an exciting dynamic sport in which you can follow certain individuals from the beginning of their careers all the way to day they retire. I usually spend my time watching the fights at Sports Grill, really good wings and cold beer.
Finally, after years of waiting we get to see the rematch. Current light-heavyweight champion Daniel "DC" Cormier will be taking on former Champ Jon "Bones" Jones. As we all know, Jones lost his belt a few years back after a hit and run incident in which he crashed into a woman's mini-van, but he was nice enough to return for some loose cash he left behind. After that, DC replaced Jones to go and fight one of my favorite fighters in the sport, Anthony "Rumble" Johnson. DC won the fight, making him the current light-heavyweight champion, a title he has defended on multiple occasions, not too many if you ask me. But many fans don't feel that DC is the true champion considering he never actually beat JBJ.
This card is stacked! It has a lot of good fights, fights that do some shaking up to each division. I plan to give my thoughts and predictions, although, I can only cover the main card.
Survival of the fittest. Who will reign at #UFC214? pic.twitter.com/HzyE8DO5GW

— #UFC214 (@ufc) July 27, 2017
First one: Jason Knight versus Ricardo Llamas. I got to be honest, I am a fan of Llamas. That dude fights with heart, he's a warrior, and I like his style. But this guy, Jason Knight, is no slouch. He is coming in with a great record, put away Chas Skelly, and running on a 4-fight winning streak. He has skills in BJJ, he submitted Miami boy Alex Caceres, and he has knockout power too. Llamas has the experience and he has some wars. He has a background in wrestling, but he also holds a blackbelt in BJJ, and he is a decent boxer. Only losses he has are from a current champion and a former champion. I am giving it Ricardo Llamas by decision.
Jimi Manuwa is coming back to fight Volkan Oezdemir, I think I am going to give it to the favorite on this one. Manuwa is a great striker, explosive, and with a lot of knockout power. Oezdemir is a beast too, but Manuwa has the speed to make the difference. Oezdemir has a great record, but Oezdemir has fought tougher opponents. We'll see. They're both stand-up guys so I'm hoping this will be a great scrap.
Robbie Lawler versus Donald Cerrone! WHAT?! A MMA fan's dream fight! Donald Cerrone is always fun to watch, he has great kickboxing and he also has Brazilian jiu-jitsu under his belt. He is coming back from a recent loss against Jorge Masdival which surprised me; no offense to Masdival, but I thought Cerrone was going to destroy him. Robbie Lawler is also coming back from a loss, but in his case, he lost his belt in the process. Lawler remains at number 4 while Cerrone has dropped to number 8. I am going to give it to Lawler, and I want to say by TKO probably in the third round. Why? Well, we all know Cerrone is a great striker, but unfortunately, he needs to warm up first. He takes his time feeling out his opponents before he starts unleashing those awesome combinations. On the other hand, Lawler starts off strong and can maintain his pace and aggression for the three rounds. If he can apply that pressure onto Cerrone, he can win the fight and then eventually get the win by TKO.
This next fight is for the Women's featherweight division and one I am dying to see too, but only because I am hoping it will be a public execution. Cristiane "Cyborg" Justino goes up against Tonya Evinger. Evinger is tough, no denying that, but Cyborg is Cyborg. Let's be real. She is an absolute beast, she has amazing striking, BJJ, and is incredibly strong. And if you saw the weigh-ins, she towers over Evinger. I can only hope that Evinger will last the three rounds, or at least two. But besides that, we're watching an execution.
"One I am dying to see too, but only because I am hoping it will be a public execution"
The co-main event is Tyrone Woodley versus Damian Maia for the Welterweight title. Let's hope Woodley comes in with his game face, he better be ready for Maia's simple BJJ take-down. I mock it, but it seems no one can stop it. If Maia wants you down, it's going to happen. But Woodley does have great take-down defense, pair that up with his knockout power, Maia will have to be very careful. If his takedown gets stuffed, he's eating leather. Woodley needs to use his superior striking to keep Maia from taking him down. This one is tough for me to call. Maia can submit him easily, but Tyron can knock him the hell out. Don't know.
How is it going to end? I am going to finish him. #UFC214 pic.twitter.com/a7gPpor6nu

— Jon Bones Jones (@JonnyBones) July 28, 2017
Finally the main event. Daniel "DC" Cormier versus Jon "Bones" Jones. Man, I hope DC beats the snot out of that Jon Jones. We can finally put this debate to rest. Yes, I am a fan of DC, he's a great fighter, he dominated the heavyweight division, and is now champ of the light-heavyweight division. My only issue with him is that he hardly fights due to constant injury, but that's a common thing coming out of American Kickboxing Academy. Jones is an incredible athlete, he has a great sharp mind and is incredibly gifted. But we saw holes in his game against one of my favorite light-heavyweights, Alexander Gustafsson. His striking isn't perfect. If DC can come in and pressure with his uppercuts and go for take-downs, he can topple the giant that is Jones. But it will be very difficult, hell, maybe impossible; he has only been taken down twice in his career. But one thing that Jones will have working against him is "ring rust". He hasn't fought since last year, which isn't a lot of time, but DC has been a bit more active (barely). I know the safe bet is to give it to Jones, this dude is the perfect fighter. But I like DC and I don't want to think he has no chance. I am giving it to DC!
Don't forget to follow us on Twitter, Facebook, and Instagram.
(Visited 41 times, 1 visits today)