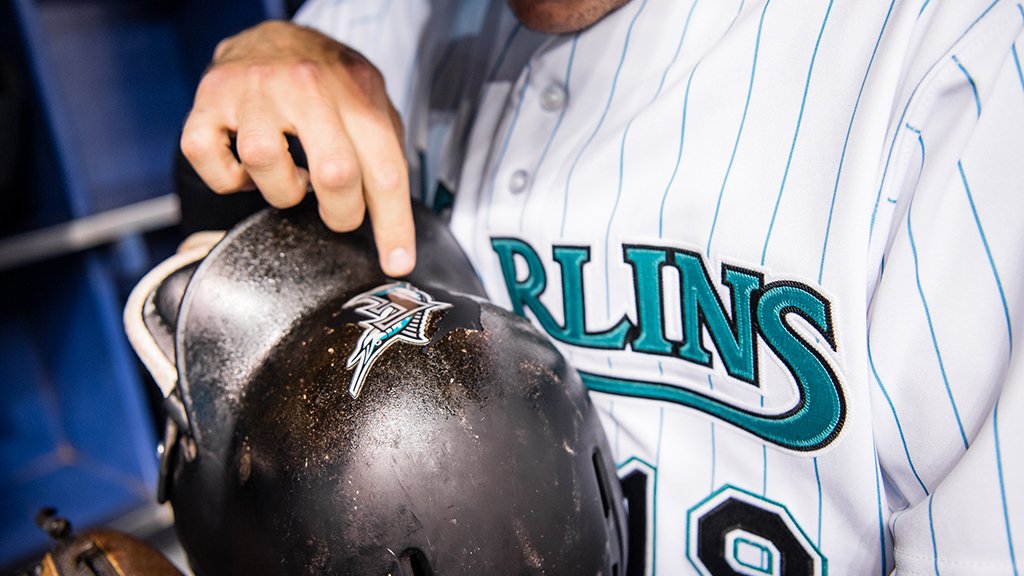 Hello, and welcome to another edition of "Views from the Cheap Seats". After watching some of last week's draft, I decided to look at some of our prior selection history: our first round picks specifically. But before we do let's briefly go over what's happened since we last spoke. And yes, before I totally forget, it really happened. Kyle Barraclough is our closer now, congratulations on the promotion.
.@Marlins newest closer Kyle Barraclough on his save last night. #JuntosMiamipic.twitter.com/5jHEanRxZU
— FOX Sports Florida (@FOXSportsFL) June 6, 2018
The Marlins won their road series against the St. Louis Cardinals, showing off a refreshing amount of offense. I'd also like to personally congratulate Jose Ureña for getting his first win. It's well deserved and about time! Brian Anderson and J.T. Riddle carried the team with a pair of home runs and gave Ureña the boost he badly needed to end his horrendous losing streak on the mound. The Marlins won 7-4. Then in the second game they unleashed a 17 hit barrage, pummeling the Cardinals 11-3 who were effectively handcuffed by the combined efforts of Wei-Yin Chen and the bullpen. Derek Dietrich played out of his mind, going 4-for-5 with three RBIs and a dinger. Lewis Brinson got in on the act, launching two of his own while going 3-for-5 with two RBIs. The Cards bounced back, avoiding the sweep after a first inning 2-run bomb by Jo Martinez, giving St. Louis the lead and ultimately the game,  4-1 Cardinals.
25 years of memories in 60 seconds. #Marlins25
Day one ✔
Day two 🔜 https://t.co/lM2LEVUx21pic.twitter.com/1T6MDU2mKT

— #VoteMarlins (@Marlins) June 9, 2018
The team returned home for their big 25th Anniversary weekend where they decorated the ballpark as best they could to look reminiscent of their days back at Joe Robbie Stadium, donning their original teal and white jerseys we all came to love. They hosted the San Diego Padres with Caleb Smith taking charge for game one. Smith kept San Diego's bats cold, shutting them out in the 4-0 victory. However, the Friars bounced back with clutch hitting, getting to Dan Straily early and sneaking past the Marlins 5-4 in the second game. I attended Sunday's game, and while I had a lot of fun with the nostalgia, I really did wish they also brought back the price of food back in the 90's. Or maybe it was always this expensive? Either way, the Marlins were silenced all day at the plate, staring at a no-hitter by Clayton Richard, until they finally broke it up in the seventh, thanks to Miguel Rojas. It was followed up with an RBI single by Riddle. The hitting went cold again, as the Marlins were dominated 3-1.
Attending today's game with Lemon City against Padres celebrating the 25th anniversary of. Good crowd, best I think all season. Awesome unis! Loving the teal and white, should keep em. Too bad we're being no hit into the 6th 🤔#Marlins25#Notalgia@Marlins@LemonCityLivepic.twitter.com/qXqdEFDY9o
— Gabriel Garcia (@Gabewritesports) June 10, 2018

As previously mentioned, the Miami Marlins took part in the annual league draft. The hope of this year's crop of potential all-stars is strong, but it got me thinking. Part of a team's success is how they do in selecting the players of tomorrow. And when you look at the Marlins, you see how horrific they've been on this front. As clearly evident this past winter, the farm system's pantry was bone dry. Several painful trades later, we've strengthened it a bit to be supplemented by this year's draft class, adding some much-needed pop with Connor Scott, for example.
| | | | | | |
| --- | --- | --- | --- | --- | --- |
| Year | Player | Position | Make it to Majors? | Seasons with Marlins | MLB Stats (Marlins) (AVG/SLG/HR/RBIs/SB) |
| 2002 | Jeremy Hermida | RF | Yes | 5 | .265/.425/57/210/20 |
| 2003 | Jeffrey Allison | RHP | No | N/A | N/A |
| 2004 | Taylor Tankersley | LHP | Yes | 4 | 8-3, 4.58 ERA, 4 SVs, 115 K's |
| 2005 | Chris Volstad | RHP | Yes | 4 | 32-39, 4.59 ERA, 378 K's |
| 2005 | Aaron Thompson | LHP | No* | N/A | N/A |
| 2005 | Jacob Marceaux | RHP | No | N/A | N/A |
| 2005 | Ryan Tucker | RHP | Yes | 1 | 2-3, 8.27 ERA, 28 K's |
| 2005 | Sean West | LHP | Yes | 2 | 8-8, 5.03 ERA, 78 K's |
| 2006 | Brett Sinkbeil | RHP | Yes, Barely | 1 | 0-0, 13.50 ERA, 2 IP, 1 K |
| 2006 | Chris Coghlan | 3B | Yes | 5 | .270/.390/21/117/27 |
| 2007 | Matt Dominguez | 3B | Yes | 1 | .244/.333/0/2/0 |
| 2008 | Kyle Skipworth | C | Yes, Barely | 1 | 3 AB |
| 2009 | Chad James | LHP | No | N/A | N/A |
So after looking at nearly a decade's worth of first round picks, you can partly see why our system has languished. Things have not changed since then, not yet. It's worth mentioning, the chart shows both first rounders and supplemental picks. In this time span, the Marlins went heavy on pitching for their first selections. We started off decent enough, Jeremy Hermida hit a grand slam in his first at-bat, something unseen since 1898. It wouldn't be until 2007 that he'd put up decent numbers, finishing the year batting .296, hitting 18 dingers and driving in 63. The following season he put up similar numbers with his average sinking to .249 before declining in 2009. Okay numbers, nothing too spectacular, but far from a bad player. What followed was a stretch of selections that either never made it to the big show or proved to be below-average and in some cases, just downright bad. Jeffrey Allison never made it out of the minors, battling both substance abuse and an injury in 2012. To think we could have gotten Chad Cordero or Chad Billingsley. It won't be the last time we pass up on an All-Star player, wait until later.
The scouting report for Tankersley was good arm strength, a hard breaking curve-slider and a high 80s fastball. After four years with the team, he became a "lefty specialist" and went on to play on a minor league contract with the Mets.  Chris Volstad was seen as a tall, lanky right-hander with long limbs capable of throwing strikes with all his pitches. Scouts noted an explosive fastball, a deceptive changeup and a mean curveball. He was a sinkerballer too. Best of all, scouts noted he can mix his pitches, had good command and wasn't afraid of going after hitters. My kind of player. Unfortunately, the kid could never transition into being a steady, effective pitcher. In 2008 Volstad went 6-4 with a 2.88 ERA in 14 starts, but he would never replicate that success ever again. His ERA jumped to 5.21 the following year going 9-13, and it didn't get a whole lot better.
Aaron Thompson, Jacob Marceaux, Ryan Tucker and Sean West didn't pan out either. The first two never donned the Marlins' uniform. This brings us to Brett Sinkbeil, known as the #68 prospect before the 2008 season by Baseball America. Sinkbeil had a fastball that could hit 94 mph and an effective slider. He BARELY made it to the majors, pitching two innings. TWO! INNINGS! His brevity was matched with our 2008 pick, Kyle Skipworth.
Notice the last name.
To be fair, he was seen as arguably the best catching prospect in the 2008 draft. Notes included an offensive-minded catcher with plenty of power and to be considered a hot commodity for every organization. He needed some work in his defensive aspects but Skipworth's arm strength was seen as a plus. Long story short, he really sucked in the minors (Never hitting beyond .245) and only went up to bat 3 times in the majors. As a side note, he went right after the San Francisco Giants picked Buster Posey and just ahead of first basemen and UM (And Coral Gables!) alumni Yonder Alonso. Justin Smoak and catcher Jason Castro were also available.
Rounding off our illustrious list is our 2009 pick, Chad James. This was the year Stephen Strasburg was picked No. 1 overall. James went No. 18, ahead of Mike Trout by the way, receiving a $1.7 million signing bonus. James never got called up and he was suspended three times in 2015 (He was in the Ranger's organization by then) after testing positive for multiple banned substances. Yikes.
Happy Friday. Here's a reminder list of all the teams that passed on Mike Trout in the 2009 Draft:
Nationals (twice)
Mariners
Padres
Pirates
Orioles
Giants
Braves
Reds
Tigers
Rockies
Royals
A's
Rangers
Indians
DBacks (twice)
Marlins
Cardinals
Blue Jays
Astros
Twins
White Sox

— Steve Granado (@SteveGranado) May 4, 2018
Overall, Nine out of 13 picks were pitchers with the rest being two consecutive years at the hot corner, an outfielder and a catcher whose potential was tragically never realized.  Hermida and Chris Coghlan (2009 NL Rookie of the Year) were by far our best first rounders in a decade largely of bad calls by the front office. It's also worth saying we found Christian Yelich and Jose Fernandez shortly after. So then the question becomes, is it poor drafting or poor development? All prospects need polishing, with many on the verge of advancing to the next level. The jump from the minors to the big leagues is tremendous. Countless rookies over the years owned at the high school and collegiate level only to hit the proverbial wall either down on the farm or once they get called up. A lot of that has to do with their conditioning and development.
If you look at the scouting reports, several of our picks looked like safe bets at the time. And that's just it, no one can tell with absolute certainty. No one has a crystal ball. For every player, they can either be average, good, great, an All-Star, a Hall of Famer or a dud. It's a mix of honing the kid's skills and the youngster himself.
I put the blame mostly on the front office with an eye on one important factor: The player themselves. Acumen and temperament to me, are huge factors in an athlete's chances of success. In that regard, if the rookie is unwilling to continue to learn, adapt and grow it won't matter who's training or conditioning them. Look at the Houston Astros and Atlanta Braves. Why can't we do that? Why aren't we? Time will tell if the new administration can succeed where their predecessors woefully didn't, this was Derek Jeter and Michael Hill's first draft after all.
— Fish Stripes (@fishstripes) June 12, 2018
Without a doubt we've just added a lot of depth to the farm system (so did everyone else) and with a good set of eyes and a little luck we may have found an All-Star or three in this year's group. Heck, maybe even a Hall of Famer. With the new regime in place, the problem won't be finding them, it'll be developing and more importantly, retaining them. As we turn away from a mostly dubious past, here's to finding our diamond in the rough!
Views from the Cheap Seats is a biweekly segment where a Miami raised sports nut recaps, screams and analyses a week's worth of games giving a toast, or the finger, to his hometown team depending on their performance. A truly hopeful but always realistic fan putting thoughts to pen to paper and always striving to improve. Be bold, be good, be you.Photo Credit | Marlins Twitter
(Visited 108 times, 1 visits today)