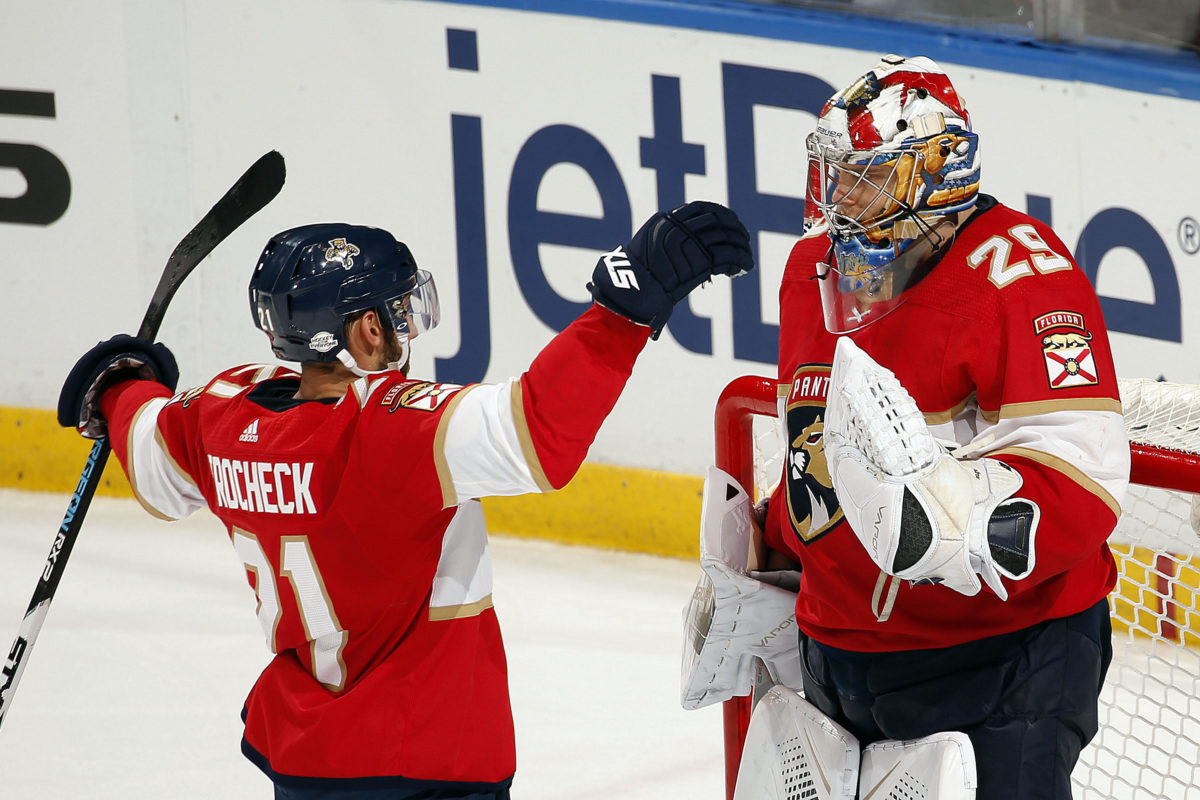 What goes best with some good ole fashioned #SportsLemonade? How about some ice, ice, baby?! Your favorite Lemonheads finally got that NHL call up, and we couldn't have picked a better game to attend. Your Florida Panthers took on the Detroit Red Wings in an Atlantic Division showdown. The Panthers were two points behind Detroit, and only 7 points behind the last playoff spot. With only 33 games remaining in the season, every game is important if Florida is to make a playoff run, and shake off some of the bad press received after the firing of Gerard Gallant, weeks after being named a finalist for the Jack Adams Award as the league's best coach. He is now head coach of the 1st place Las Vegas Golden Knights.
But let's keep that in the past, and focus on the present. The Panthers are still in striking distance from the playoffs, and they won their previous two games going into this one. If the Panthers can catch a hot streak at the right time, they can sneak into the playoffs, but it won't be easy. The Panthers face a slew of playoff contenders, and are going to have to earn their way into that spot. One way to do that is to rely on your veterans and stars that have been there before.
Today, that guy was Jonathan Huberdeau. The Panthers came out of the gates ready to be the aggressors. They scored early in the game with a goal from Aaron Ekblad, assisted by Huberdeau. With the goal, Ekblad became one of three NHL defensemen with 10+ goals this season.
List of NHL defensemen with 10 goals this season:
– Aaron Ekblad (10)
– Shayne Gostisbehere (10)
– Zach Werenski (11)
– P.K. Subban (12).

— Jameson Olive (@JamesonCoop) February 4, 2018
It wouldn't be Hockey without a fight. In the final minutes of the 1st period, Mark Pysyk and Detriot's Justin Abdelkader got into it and had to be separated. These two teams have had a history of fighting, and tonight was no different.
In the 11th minute of the 2nd period, Detroit tied it up off a goal from Danny DeKeyser, aka DK! And just like in Mario Kart, this DK was a nuisance. Not to worry. Soon after his goal, Keith Yandle immediately gets a quick breakaway, but sends it off the crossbar. Panthers ain't phased! A couple of minutes later,  Aleksander Barkov comes back and puts the Panthers back on top! It was Barkov's 16th goal of the season.
Your @FlaPanthers are strolling into the 3rd period with a 2-1 lead over the @DetroitRedWings. #FlaPanthers #DETvsFLA pic.twitter.com/5QY23IgnLo

— Lemon City Live (@LemonCityLive) February 4, 2018
The Panthers strolled into the 3rd period with a 2-1 lead, but it would be short-lived. What's up with DK trying to ruin Panther Fans' fun? This was his 2nd goal tonight, and only his 4th in the season. Tie game people. Now the game gets more intense, as both teams ramp up their aggressiveness. Fans are chanting, "Let's go Panthers!" Both goalies are having to make some great saves, but neither team can capitalize. Frustrations boil over as Red Wings' Tyler Bertuzzi and Panthers' Maxim Mamin get to fisticuffs. Mamim got the W in his 1st NHL fight!
Both teams continue to create chances, but struggle to find the back of the net. Then, like Mario overtaking DK in the final stretch of rainbow road, Jonathan Huberdeau finds the puck amidst a scramble in front of Detroit's net, and buries it with 7.7 seconds left in the game! The Panthers win 3-2, and all is right in South Florida. Your #SportsLemonade Player Of The Game is none other than Jonathan Huberdeau!
#FlaPanthers @JonnyHuby11's go-ahead goal on Saturday came with fewer than 10 seconds remaining in the frame. Vincent Trocheck (19:55 at STL on Feb. 20, 2017) is the only player in franchise history to score a go-ahead goal with less time on the clock. pic.twitter.com/buhBI4L4HV

— Florida Panthers PR (@FlaPanthersPR) February 4, 2018
I also wanted to give a special shout-out to the Florida Panthers for all they do in our community. In tonight's game, the Panthers hosted the first-ever meeting between a veteran and her service dog. This was made possible by an organization called the Rocky Mountain Dawgs Project. Kathleen Greer was the recipient of a Giant Schnauzer. When asked what went through her head when she got her dog, she said, "I'm just amazed with him, and I'm very thankful that I've got him, and he's beautiful, and his training seems to be going along really well, and I know he's going to make a huge difference for me." Kevin Sonka is the President and founder of the Rocky Mountain Dawgs Project. His son, Corporal David Michael Sonka, was a Marine and a dog handler, killed in action, along with his Multi-Purpose Canine, in 2013 in Afghanistan. To honor him, they developed a foundation to host steak dinners and appreciation events for veterans. The foundation, through interactions with veterans, noticed how difficult it was for them to receive their service dogs, and began to raise money in order to provide more veterans with service dogs that can help them live more normal lives, not hindered by PTSD, or any other ailment that veterans normally suffer through. To donate to the Rocky Mountain Dawgs Project, please visit their website by clicking here.
We'd like to welcome tonight's Community Champion, Rocky Mountain Dawgs Project to the game! Thank you for making a difference in our community. pic.twitter.com/CNRTGBIiIj

— Florida Panthers (@FlaPanthers) February 4, 2018
Photo credit – Eliot J Schechter
(Visited 112 times, 1 visits today)