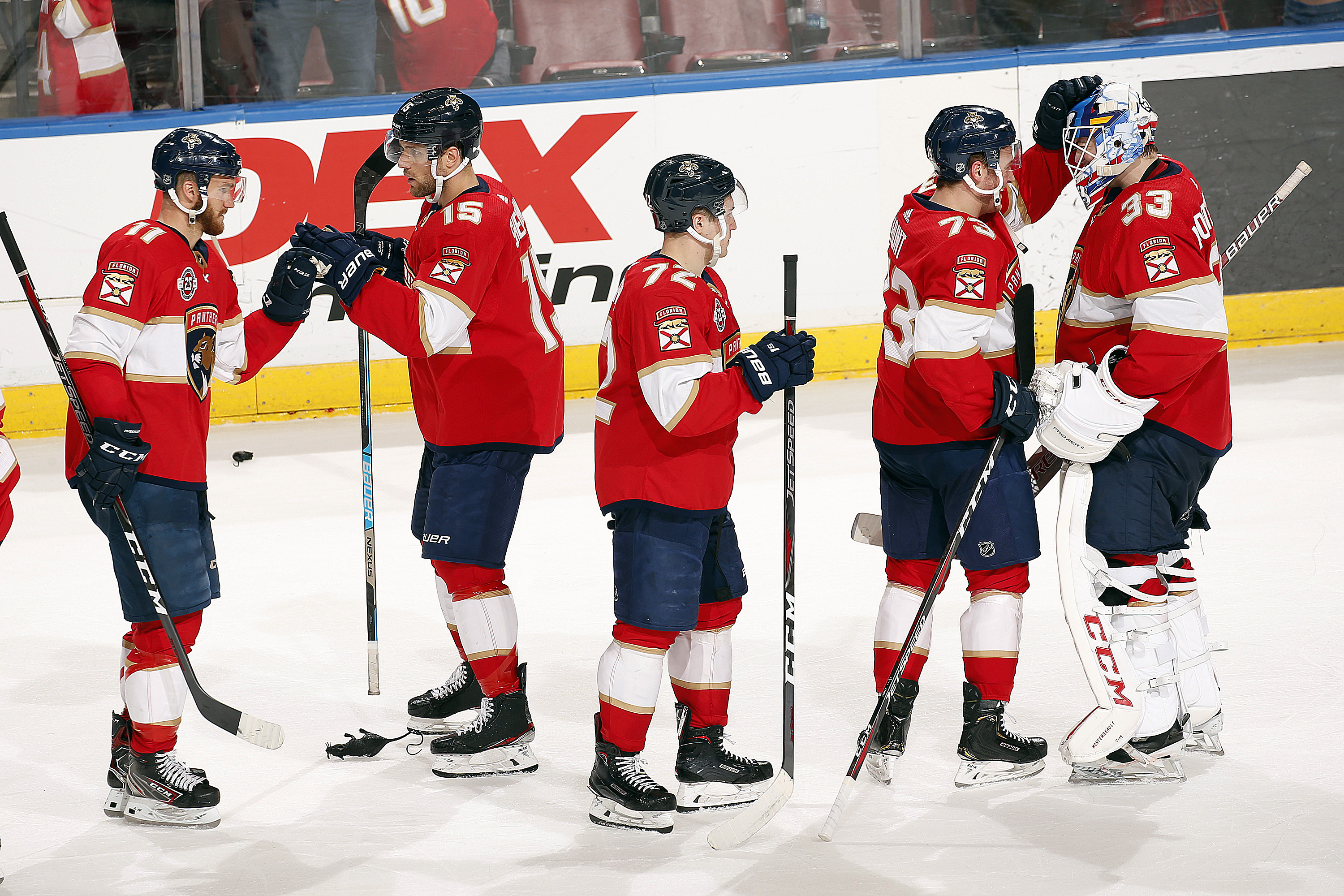 Sunrise, FL – The Florida Panthers finally broke that six-game losing streak they were on, beating the Minnesota Wild at home Friday night. They were able to take away four points from the losing streak since four of those losses were in overtime, giving them one point each, but they were losses nonetheless. It's difficult to say that the Panthers haven't been playing well if five of the last eight games were overtime games that could've gone either way, but Florida usually finds a way to lose the close ones, and it's usually a defensive mental lapse that's to blame. So how do you fix that?
Friday's game was the 2nd start and 1st win for young netminder Sam Montembeault and he didn't disappoint, making 25 saves on some pretty athletic moves from side to side. Coach Bob Boughner even credits Florida's recent defensive performance to Sam's agility around the net. The 22-year-old became the fastest Panthers rookie goalie in franchise history to earn a win for the club.
Bob Boughner credits @FlaPanthers' defensive performance to Sam Montembeault's agility around the net. #FlaPanthers #OneTerritory pic.twitter.com/6k1PwNzLTQ

— FOX Sports Florida (@FOXSportsFL) March 10, 2019
After tonight, there's no doubt they plan on keeping homeboy around. He was recalled from the Springfield Thunderbolts on February 27th on an emergency basis. The kid's got some bully in him though. His confidence must have oozed throughout that locker room because Florida came out tonight looking to damage some egos in typical South Florida "bro" style. They might as well have all been wearing aviators, slicked-back hair, and a short-sleeve button-down shirt, so you could see those arm tats. Half sleeve, maybe? Gotta keep it professional. Well, egos were damaged in the most professional way possible, as the Panthers put a 6-1 whoopin' on the Detroit Red Wings.
All the bar's regulars came out to play. Frank Vatrano scored Florida's 3rd goal in the 2nd period to put them up 3-0. Jonathan Huberdeau scored in the 3rd period after Detroit scored their lone goal. Not to mention, Cap'n Aleksander Barkov putting the icing on the cake, scoring the team's 6th goal of the night, but the Springfield Thunderbirds' recently recalled youngsters made headlines today. Both Josh Brown and Dryden Hunt scored their 1st career NHL goals, and for all that to happen as the crowd is loving Montembeault, chanting "Monty! Monty! Monty!" has got to be something else for those three young guns who all were playing together in the AHL earlier this season.
BIG smiles for BIG milestones.

Congrats @huntsy22 & @jrbrown94! pic.twitter.com/lDkDA3RsN6

— Florida Panthers (@FlaPanthers) March 11, 2019
Despite the recent losing streak, Florida has actually gained ground in the playoff race. Those four points they got in the standings for reaching overtime in those losses were a big help. They're now only seven points out of the final playoff spot, held by the Columbus Blue Jackets, but the Blue Jackets have a game in hand. That's eerily similar to the position they were in this time last season.
Next up, the Panthers travel to the west coast on a four-game road trip. They'll be at San Jose on Thursday. They're back on March 21st to host the Arizona Coyotes.
Brown, Hunt Net 1st @NHL Goals as #FlaPanthers Dominate Red Wings

5 Takeaways » https://t.co/DKmNayvzfw pic.twitter.com/bVgnaXqoq0

— Florida Panthers (@FlaPanthers) March 11, 2019
📷Credit: Eliot J. Schechter
Slap Shots
Aleksander Barkov scored his 30th goal of the season and played in his 400th career NHL game.

Aaron Ekblad

recorded his 100th and 101st NHL assists.
(Visited 108 times, 1 visits today)