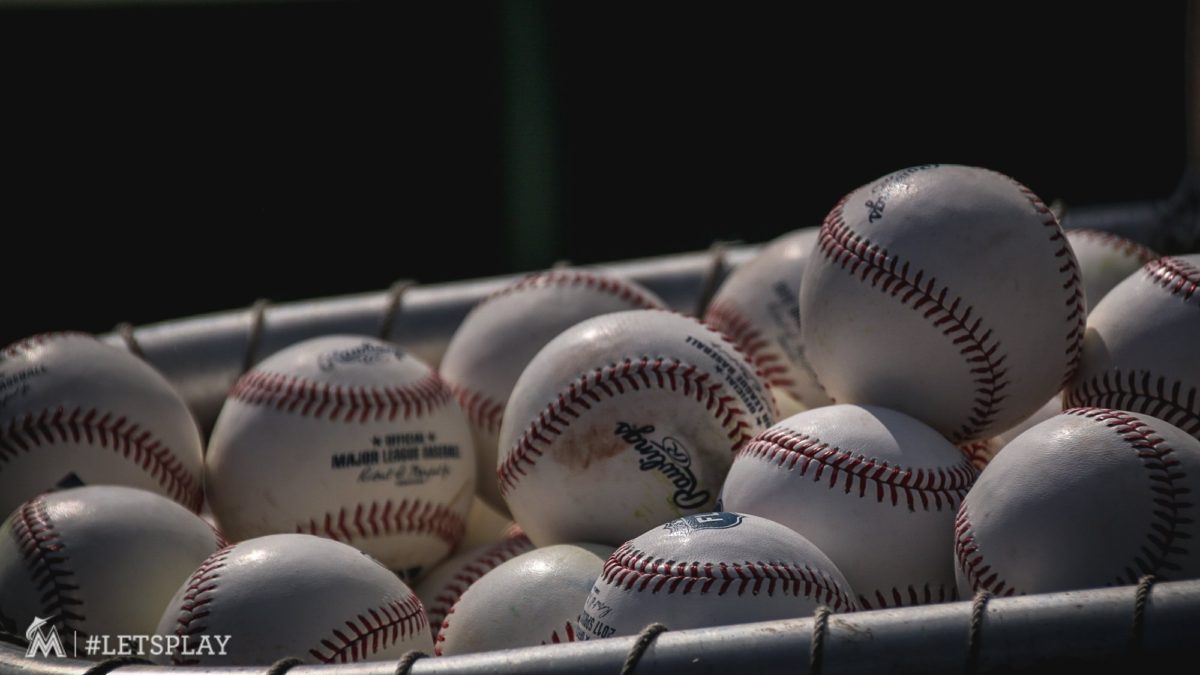 Just like that the Marlins bounced back, sweeping the Colorado Rockies putting us back at just 4 games south of .500 with Buster Posey and the San Fran Giants coming over to play. I had previously predicted winning the series against Colorado but man the sweep was even better. Stanton continues to absolutely destroy baseballs, to the point the guy is a lock for at least 50 dingers. I'll go on record and say he'll make it to 55. Still plenty of baseball left and he is on a tear.
Fish sweep. Thrones on tonight. yes pic.twitter.com/ZfwIiXNaIw

— Justin Bour (@bour41) August 13, 2017
The Rockies struck first on Friday as Nolan Arenado smacked a 2-run jolt in the third inning. However, the Marlins displayed some muscle of their own with Stanton airmailing number 40, to left center field, followed by a sac fly by J.T. Realmuto scoring Christian Yelich to tie the game. Miami would break the tie in the eight thanks to both Derek Dietrich and Tomas Telis. Dietrich hit an RBI single as Telis followed up with a 2-run, bases clearing triple. The Marlins took game 1, by a score of 6-3. Aaron who?
Game 2 was a hotly contested affair as both teams scored a run in the opening frame, with the Marlins tacking on 3 more thanks to the big man himself smashing number 41. The Rockies chipped away at the 3-run lead with a sac fly in the fifth and a force out in the eighth, scoring in another run to make it 4-3. Things got a bit tense in the ninth with Brad Ziegler coming in to close the game. He was able to retire the first two batters but Rockies third basemen Pat Valaika (Arenado got tossed in the seventh for disputing a check swing) singled while Mark Reynolds drew a walk. With the tying run in scoring position, Ziegler regained control and struck out Gerardo Parra to win the game and nab his fourth save. Marlins starter Justin Nicolino picked up the win. By the way, bench coach Mike Redmond filled in for Bud Black since he was feeling ill.
Game 3 was more of the same as the Rockies outhit the Marlins 10-8, scoring 3 in the third due to twin RBI singles from Parra and Carlos Gonzalez. But it was ultimately all the Rockies could muster as the Fighting Fish scored 5 runs thanks to Mike Aviles, Vance Worley (Oh yeah the guy helped out his own cause) and Big G launching ANOTHER ball into the stands, tying Gary Sheffield for most homeruns in a season for the franchise.
#Marlins Giancarlo Stanton
81 G through 7/4:
.265/.347/.523/.870, 21 HR, 50 RBI

33 G beginning 7/5:
.322/.431/.917/1.348, 21 HR, 40 RBI

— Glenn Geffner (@GlennGeffner) August 14, 2017
And there you have it folks, a great performance by the team. Here's an interesting pair of stats: Colorado is 2-40 when heading into the final inning trailing, while the Marlins are 50-2 when they enter the ninth with the lead. Consider these the honorable mentions for stat of the week. And speaking of great performances…
Star Performances of the Series
Tomás Telis played well in the two games he started going 2-for-4 in each with two RBIs, 2 Runs and a triple. Nice.
Big G hit a homer in each game of the series as Gary Sheffield now has company atop the power rankings.
Stat of the Week
Stanton has homered 21 times in 33 games as of Sunday night, including four straight days. In August so far he has 9 dingers in 12 contests.
Giancarlo Stanton's 250th career homer tied him with Gary Sheffield for most home runs in a season in Marlins history. pic.twitter.com/32VPQg4QUj

— SportsCenter (@SportsCenter) August 13, 2017
In case you've been living under a rock, it's finally happened! Ladies and gentlemen, its official Jeffrey Loria will be selling the Marlins to a group that involves Derek Jeter and Michael Jordan. We've been liberated! A new hope begins! Things are really looking up now. Although confirmed by President David Samson, the sale won't be officially, officially done until sometime in October. But still, the Loria era is over man. When news first broke of the impending sale, I was overjoyed. My heart was filled with a sense of confidence and excitement that better days were definitely ahead. The franchise is finally going to really compete! Even better, we might be waving good bye and good riddance to that horrific statue over in centerfield. I never really liked that thing. But before we pop out with our fireworks, vuvuzelas (man those things are annoying), and our pots and pans it is important to keep one thing in mind: There is no guarantee. Oh the sale is certainly going down but what I mean is, just because Jeter and Jordan are in the group, doesn't mean a golden era of baseball is coming to South Florida. This isn't the first time a team is run by a player turned owner but there are examples of wild success and horrific failure.
Michael Jordan also part of the investor group. Those Jordan brand Marlins unis are going to be sweet! Break out the pots and pans, Miami! https://t.co/kK5HSA80Yk

— Lemon City Live (@LemonCityLive) August 11, 2017
The Tale of Two MJs
Depending on the individual; an owner can take a really hands on approach to the organization, delegate certain responsibilities to others as is commonplace or be really outside of the day to day workings of the franchise. Enter Michael Jordan and Magic Johnson.
Arguably the best basketball player ever, Jordan bought a minority stake in the Charlotte Bobcats in 2006. As part of the deal he would be in charge of basketball operations for the franchise. By 2010 he became the first former player to (majority) own an NBA team, fulfilling his over decade long goal. With a legend leading the team, they were going to be the best in the league right? Well in the 2010-2011 season, Charlotte went 34-48 which is all right, there's some room for improvement. Only in the following lockout-shortened 2011-2012 season the Bobcats were an NBA worst 7-59. That is A LOT of losing. For the 2012-2013 season they went 21-61 showing signs of improvement but given their previous performance, you can only go up. While they do make it to the playoffs the following season, they were quickly obliterated by the Miami Heat. Hopefully we don't find ourselves in this kind of scenario but brace yourself for some growing pains. Now for Magic Johnson.
This guy is one heck of a basketball player, one of the best in the storied history of the NBA.  In 2012 Johnson was part of a group that bought the Los Angeles Dodgers. Although the leader of the group, he was not the majority shareholder. With a price tag of $2.1 billion, Magic put in $50 million. For a guy that owned less than 5% of the Dodgers, he became the face of the organization credited with several free agent signings. Endearing himself to the city in the process. The guy has since moved into commanding the basketball ops in the Lakers, though his status within the Dodgers remains unchanged. Magic Johnson is seen as the most beloved athlete the city has ever known.
And then there was another legendary star, Mario Lemieux. Stating health reasons, he announced his second more permanent retirement in 2006 but his story was far from over. In 2007 his ownership group had negotiated a deal to construct a new multi-purpose arena, keeping the Penguins in their hometown for at least another three decades. Lemieux himself was instrumental in the process, preventing efforts to move the team to Kansas City. In 2009 Lemieux won his first Stanley Cup as an owner with TWO more in 2016 and 2017.
No doubt this is the kind of path the Miami Marlins want to be on, to be able to stay relevant and compete for years to come with the fervent hope that one day, we will hoist our third world series championship. Can you imagine? Whether the organization moves forward to bigger and better things or struggles mightily for a time, one thing is for certain friends: The Loria Era is over. We have been liberated. And since 2003, being a Marlins fan has never felt so good. Until next time, stay frosty.
Upcoming Games
San Francisco Giants: August 14-16 (Home)
New York Mets: August 18-20 (Away)
Views from the Cheap Seats is a biweekly segment where a Miami raised sports nut recaps, screams and analyses a week's worth of games giving a toast, or the finger, to his hometown team depending on their performance. A truly hopeful but always realistic fan putting thoughts to pen to paper and always striving to improve. Be bold, be good, be you.
Don't forget to follow us on Twitter, Facebook, and Instagram.
(Visited 52 times, 1 visits today)