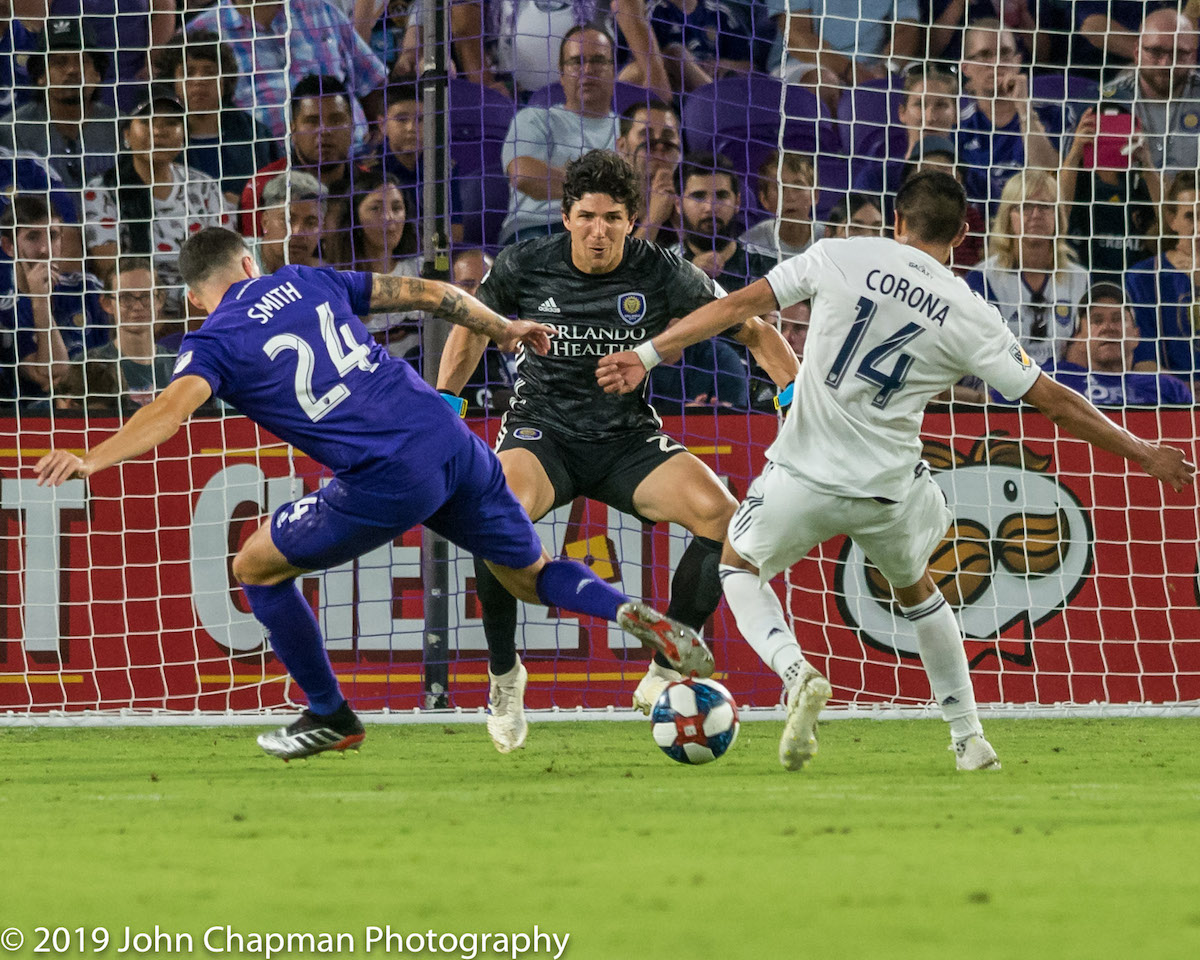 Orlando, FL – It only took two saints to put the Lions to sleep last night. Orlando City SC fell to a Zlatan-less L.A. Galaxy, as Jonathan dos Santos scored the game's only goal of the match. The game would've served as a great opportunity for Orlando to build up some momentum, but Galaxy goalkeeper, David Bingham refused to allow that to transpire, making six great saves.
The Lions need to figure it out soon, with 11 of their 20 remaining matches on the road, they're climbing an uphill battle. Three of OCSC's four wins have come at home, but so have four of their seven losses. They've yet to win on the road with three losses and two ties. If Orlando is going to make the playoffs they need to win or at least tie in half of their remaining away games. And at home, there's zero room for error.
Fulltime. #ORLvLA pic.twitter.com/eKFI0uM79G

— Orlando City SC (@OrlandoCitySC) May 25, 2019
Last night, the Lion's actually played very well. They controlled possession, created plenty of opportunities, and defended well, except for in one instance, but that's all it takes. In 19′, L.A. moved the ball deep into Orlando territory, Swiss Galaxy defender, Rolf Feltscher sent in a cross to no one, but #6, Swedish OCSC defender, Robin Jansson poorly cleared it. He miss-kicked it, leaving the ball at the top of the 18, in the bread basket for former Barca midfielder, Jonathan dos Santos to scamper up, wind up, and get his best foot on the ball, like a 5th grader playing kickball, undefended.
🚫 NAH, NANI 🚫@BinghamDb with the huge penalty save! #ORLvLA pic.twitter.com/xQncj7SX2l

— LA Galaxy (@LAGalaxy) May 24, 2019
All it took was one bad moment for Orlando to take an L, and they would bend over backward trying to make up for it. Orlando would take 19 shots to L.A.'s four. Bingham saved six, most of which were incredibly acrobatic.
Next up, the Lions travel north of the border to face the Montreal Impact on Saturday, June 1. Kickoff is set for 5 p.m. ET at Stade Saputo. O-Town plays three road MLS matches in June, returning home on July 3rd to host the Philadelphia Union.
Can I Kick It?
Nani

has his penalty attempt blocked for the 2nd consecutive game. (vs FC Cincinnati & L.A. Galaxy)
This is the 1st time the home team losses an OCSC vs L.A. Galaxy match.
Attendance: 24,712
📸 by: John Chapman
(Visited 83 times, 1 visits today)