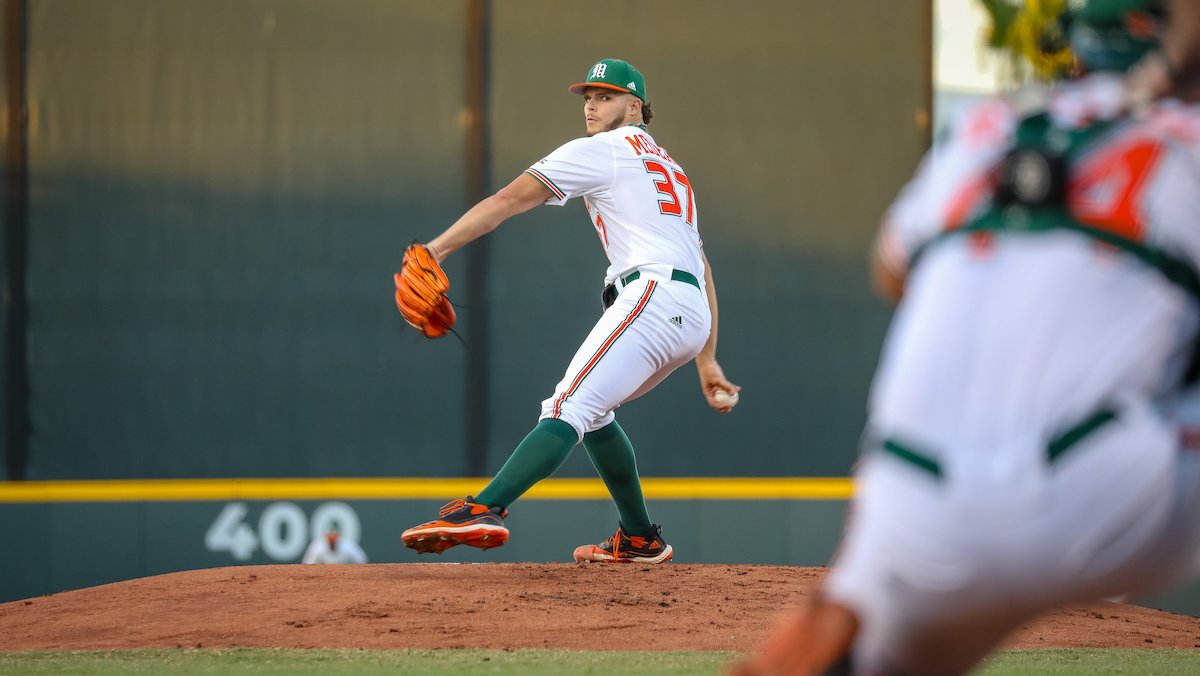 ---
Miami, Florida – Add another W. The Miami Hurricanes defeated Wake Forest 6-3 in a contest that saw four home runs to clinch the weekend series. Same as yesterday the game was another pitcher's duel until the midway point when both teams knocked out the opposing starter. Anthony Vilar is now on a nine-game hitting streak after smacking a dinger in the sixth, a great inning for the Canes.
The Demon Deacons battled throughout the night but came up short against their ACC rivals. It was Victor Mederos' first Saturday start in his career, moving up in the rotation. He brought his trusty heater and curveball to the field, working in the changeup to keep Wake Forest at bay for a time.
.@AnthonyVilar said "good bye!" pic.twitter.com/sPpeZ2h2iw

— Canes Baseball (@CanesBaseball) March 14, 2021
Getting on the Board
The Hurricanes struck early with a run in the first. Jordan Lala led off with a double, moving to third after Vilar grounded out. Yohandy Morales drove Lala home with an RBI single to right-center. Miami's lead was short-lived though as Bobby Seymour took Mederos deep the following inning, rocketing one over the fence to tie it. UM had a chance to respond in the third with two runners on base but Morales struck out to end the effort.
After two frames of action, both starting hurlers settled in. This was Rhett Lowder's second career start but the Wake Forest true freshman took it in stride. He was not originally in the starting rotation but COVID protocols and injuries thrust him onto the mound. His explosive fastball and change up confounded Miami's offense for five innings going blow for blow with Mederos in a battle between flamethrowers.
Neither made it out of the sixth inning.
Momentum Shifter
Brock Wilken hammered Mederos with a two-run blast, his fourth home run of the season. Unwilling to let the game get away from them UM went with a pitching change, turning to Anthony Arguelles to limit the damage. The freshman starter was dominant through five frames but got roughed up by the longball, notching seven strikeouts for a new career-high. The Hurricanes came right back with a two-run bomb from Vilar to right field, tying it again at 3-3.
Adrian Del Castillo hit Miami's second homer of the inning, a solo shot to regain the lead in an explosive welcome against the new Demon Deacon reliever Hunter Furtado.
 Wake Forest threatened in the seventh but was turned away with a runner on third. Lucas Costello struck out looking, frozen by Carson Palmquist who locked it down for the rest of the game. UM added another insurance run after the seventh inning stretch, scoring on three walks and two wild pitches. No hits whatsoever.
Speaking of, Alex Toral got his only hit of the evening with a single up the middle in the eighth, bringing home Christian Del Castillo to pad the advantage. The Canes move up to 8-4 overall and 5-3 in conference play, extending their winning streak to five.
.@CarsonPalmquis1 was DEALIN' tonight.

0️⃣ runs, 0️⃣ hits, 4️⃣ Ks and earned his 5️⃣th save of the season. pic.twitter.com/F9M6zPiXjW

— Canes Baseball (@CanesBaseball) March 14, 2021
Game Notes
Hurricanes scored six runs on eight hits committing one error
Demon Deacons scored three runs on five hits also committing one error
LOB – WF: 4, UM: 5
UM with RISP: .429 (3-for-7)
UM leadoff hitting: .625 (5-for-8)
Victor Mederos: 5.2 IP, 4 H, 3 R, 3 ER, 7 Ks
Jordan Lala: 2-for-2, two runs, two doubles, two walks
Gus Bus Award
Carson Palmquist has been great so far this year, collecting his fifth save of the season tonight. He's accumulated 15 strikeouts in over 11 innings of work, giving up just three hits. Not a single run.
You're Killing Me Smalls
Tony Jenkins is not having a good year at the plate. The centerfielder is hitting an atrocious .083 batting average…YIKES!
(Visited 130 times, 1 visits today)