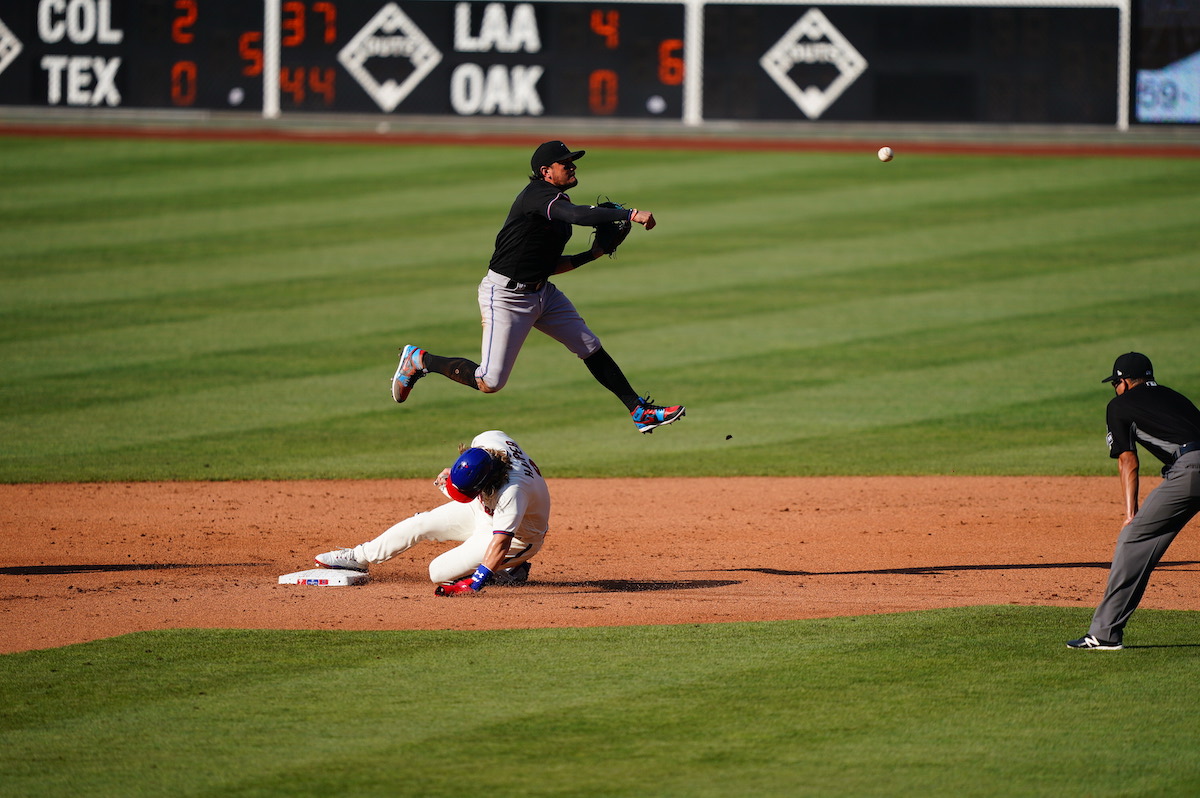 ---
Miami, Florida – The Philadelphia Phillies loved the long ball, overpowering the Miami Marlins 7-1 Saturday to even the series. Today was not a good day for Caleb Smith. He labored through three long innings before getting pulled. He only allowed one hit, another solo shot by Didi Gregorius, but wracked up 70 pitches and walked six. The bullpen was called in early but saw the Major League debuts of both Nick Neidert and Alex Vesia.
The Phillies homered four times while the Marlins were unable to get anything going at the plate. Zack Wheeler brought his A-game, pitching seven innings of one-run ball, limiting the Fish to five hits. Fanning four, Wheeler induced four inning-ending double plays during his outing to keep Miami firmly under control.
Gregorius put his team up early, launching one into the seats in the second. Miami briefly tied it in the fifth inning with their lone run, an RBI single by Miguel Rojas. After driving in Brian Anderson from second base, it was all Philadelphia after that.
Phil Gosselin hit two home runs in the sixth and eighth frames with another blast in between, this time by J.T. Realmuto in the seventh. So far Miami's pitching has given up five dingers already, two games into the season. In fact, outside of the error committed by Jonathan Villar on Friday, it's been the only way Philadelphia has scored.
Neidert's debut went smoothly, tossing over two innings in relief giving up one hit and issuing a walk. Vesia started off promisingly enough, striking out Gregorius before walking Scott Kingery, culminating in Gosselin's blast to left-center field. Despite the loss, the Marlins will look to win the series tomorrow when they send out José Ureña for Sunday's rubber match.
Didi does it again. #RingTheBell pic.twitter.com/lK38QvOBgW

— Philadelphia Phillies (@Phillies) July 25, 2020
Game Notes
Miguel Rojas finished the day going 2-for-3 with his first double of the year and an RBI.
Brian Anderson went 1-for-2 drawing two walks and a run.
Caleb Smith threw 70 pitches, 36 of them for strikes.
GIDP: Jesús Aguilar, Garrett Cooper, Corey Dickerson and Chad Wallach.
Team RISP: 1-for-5
Team LOB: 4
Photo Credit | Miami Marlins
(Visited 24 times, 1 visits today)