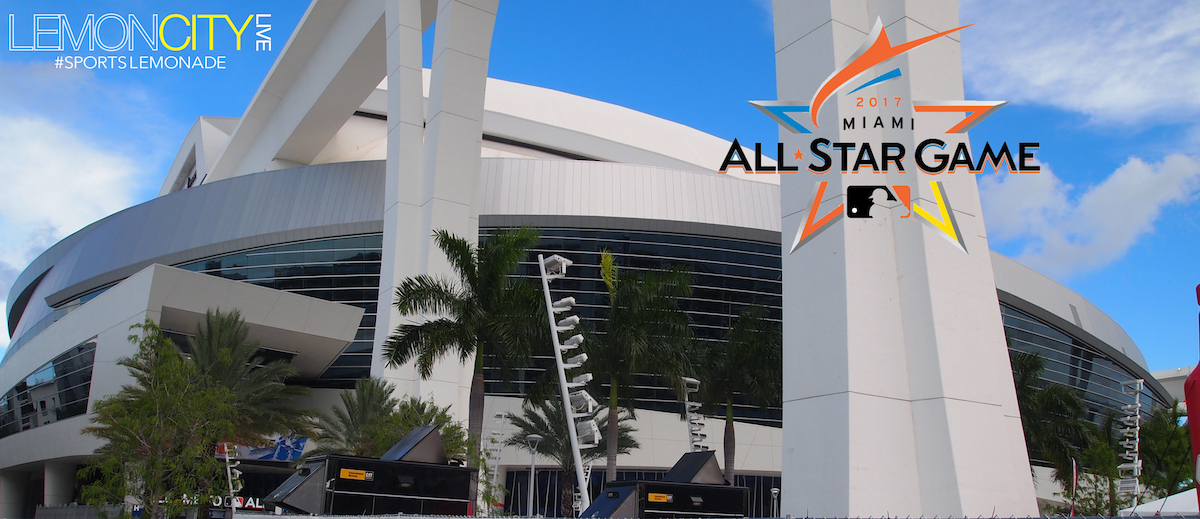 There once was a dream.
Well over 20 years ago when the Marlins still played in what was known as Joe Robbie Stadium, it was a time of dial-up internet, beepers, Super Nintendo and Power Rangers. It was the 90s. As a little boy, I was pretty much in love with cartoons, P.E. and baseball. Born and raised in Coral Gables, we would make the trip to Miami Gardens to watch the Marlins play. In this particular episode, I went with my old man and my uncle. We had just exited the stadium searching for the car in the gigantic parking lot that warm, humid night. I think we had just lost (again) to the Atlanta Braves. My uncle was making some sort of argument on how the Braves sucked for so long blah blah blah, as a kid this argument was invalid. And still is. However, in our conversation a goal was made, an objective. That if there ever was an All-Star Game here at the stadium, we would go. It became one of my childhood dreams.
Much has happened since then, Joe Robbie Stadium as we knew it ceased. The Marlins became World Series Champs not once but twice and were brought closer to home in Little Havana in a brand new stadium complete with a much desired retractable roof. However, during that time the team suffered through 3 fire sales and tragedy.
When I arrived at the stadium it felt different. I was no stranger to the lovely ball park known for its distinct Miami flavor. But this was no ordinary ball game I was attending. No, it was an event of pure celebration. Of greatness. Of skill and athleticism. Of the past, present and future. It was a celebration of baseball.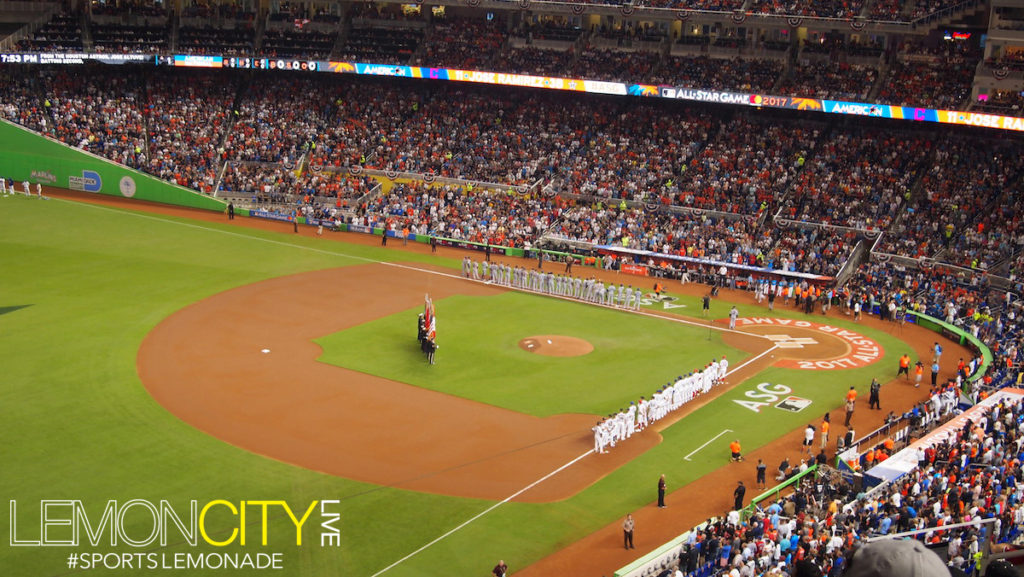 I was wise enough to come early knowing how bad Miami traffic can be, I mean this is the place when the pedestrians cross the street, the cars go faster not slower. With a camera in one hand, my ticket in the other and a heart filled with excitement I went past the first checkpoint in front of the stadium. They added an extra layer of security from the usual metal detectors you'd find near the first and third base entrances. Deciding to take some pictures and roam just outside, I watched as fans entered the team store to buy all sorts of Marlins gear, although they did set up a large white tent that acted as a second store close by. It was then that I made a fateful decision.
I decided to make my way towards what I thought was the third base entrance (was really first base) and through my camera I saw him. Jack McKeon. The, Jack McKeon. The guy that took over the team in 2003 with the season already underway (We were 16-22) and not only turned us around but lead us to ultimate glory. He was dressed all casual with a big unlit cigar in his hand just walking around. If I didn't know better, he would come across as a chill Cuban guy enjoying himself. I went straight for him and not only did I get to shake the man's hand and show my utter appreciation for his contributions to the franchise, I also took a photo of him. Man he hasn't changed one bit.
This alone made my day.
As I finally entered Marlins Park it was a sight to see. Crowds of fans showing their allegiance walked every which way, traveling from as close as a few blocks away to as far as California the place was buzzing with excitement. Dodgers fans, Pirates fans, Royals, Padres, Nationals, Giants, Yankees, you name it they were there. Young and old, home and away, fans and staff alike were taking in the moment, I know I was.
What a moment in Miami.
#ASG pres. by @Mastercard on @MLBONFOX pic.twitter.com/I8ms3QQGHG

— All-Star Game (@AllStarGame) July 12, 2017
The field was alive with pre-game activity as players were taking their practice swings and the big media names were taking photos and conducting interviews. After I found my seat up in the proverbial nose bleed section, I peered down at the field and noticed they really did design the stadium to have a good view no matter where you sat. The rarely used third level included. The pre-game festivities included player introductions, the starting line-ups and honoring the best Latin American-born baseball players in the history of the sport. The elite list included Roberto Alomar, Luis Aparicio, Rod Carew, Orlando Cepeda, Juan Marichal, Pedro Martínez, Tony Pérez and Iván Rodríguez. The late Roberto Clemente was represented by his wife and children. It was a very moving experience since these decorated men followed in the footsteps of those before them and blazed a path for future players to emulate.
Marcell Ozuna and Giancarlo Stanton got the biggest cheers as the fans went nuts for their hometown players. I must admit I felt a sense of pride when their names were called out, I joined in on the thunderous ovation. But these guys weren't the only ones grabbing the applause. Rookie sensation Aaron Judge got a ton of attention, especially after his Home Run Derby victory. Even Coral Gables alum Yonder Alonso grabbed a lot of the crowd's praise. There were some jeers too, especially for Mookie Betts though I guess it was because of all the Yankees fans in the house.
Cap tip to you, @Bharper3407.#JDF16 pic.twitter.com/Vwmu3l67d2

— Miami Marlins (@Marlins) July 12, 2017
There was also a touching tribute that made me look back at what could have been. They televised on the big screen all the past Marlins players who became All-Stars showing off Jeff Conine, Gary Sheffield, Charles Johnson, Mike Lowell, Dontrelle Willis, Dan Uggla and Miguel Cabrera to name a few but then they settled on the late Jose Fernandez. The crowd cheered honoring the memory of a life cut short. I have no doubt in my mind that not only would Jose Fernandez been an All-Star this year but dare I say, he would've been the starter for the National League. Bryce Harper wore cleats honoring Fernandez while St. Louis Cardinals pitcher Carlos Martinez also paid tribute when he took the mound in the third inning. But enough lingering on what could have been. It is best to remember the past, live in the present and look forward to the future.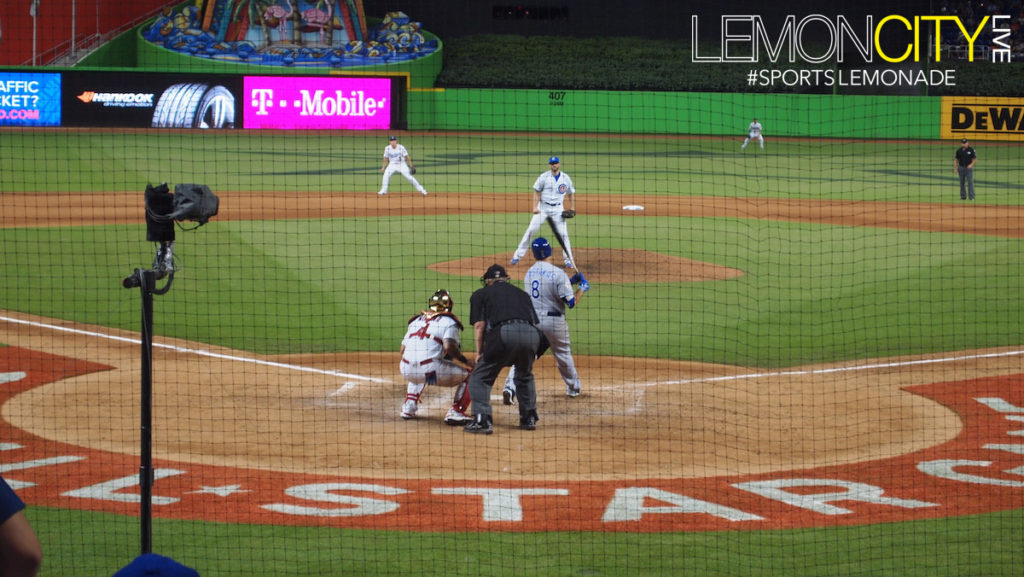 The game itself was not quite the high scoring affair of past All-Star contests but it was a great showcase of elite pitchers strutting their stuff accompanied with excellent defense like the diving catch from Bryce Harper. In the end, the AL clinched another victory as Robinson Cano broke the tie in extras launching the second homerun of the game. The final score was 2-1. Kudos to Yadier Molina for tying it in the sixth and getting the NL right back in there with his own long ball. Despite both Marcell Ozuna and Giancarlo Stanton laying big goose eggs during the game, it wasn't about getting hits it was all about representing Miami. A place with nicknames like Magic City. A place where people from all over the world with different cultures, backgrounds and points of view live and work. A city known for its sunshine, beaches, nightlife and of course people who take to the streets to celebrate with pots and pans.
I was fortunate enough to witness history. I can now tell my children and maybe even grandchildren of that awesome day in 2017. Who knows when the Mid-Summer Classic will return to South Florida, if ever? Regardless, I had the pleasure of experiencing not only a great celebration of baseball, but of Miami itself. And in this event, I saw something. A glimpse of what baseball can truly become in a city with so much to do.
I once had a dream.
And that dream became a reality.
What a week.
What a city.
What a host.

Thank you, Miami. #ASG pic.twitter.com/ljtaGaAJXk

— MLB (@MLB) July 12, 2017
Views from the Cheap Seats is a biweekly segment where a Miami raised sports nut recaps, screams and analyses a week's worth of games giving a toast, or the finger, to his hometown team depending on their performance. A truly hopeful but always realistic fan putting thoughts to pen to paper and always striving to improve. Be bold, be good, be you.
For more photos from this game, please CLICK HERE.
Don't forget to follow us on Twitter, Facebook, and Instagram.
(Visited 81 times, 1 visits today)