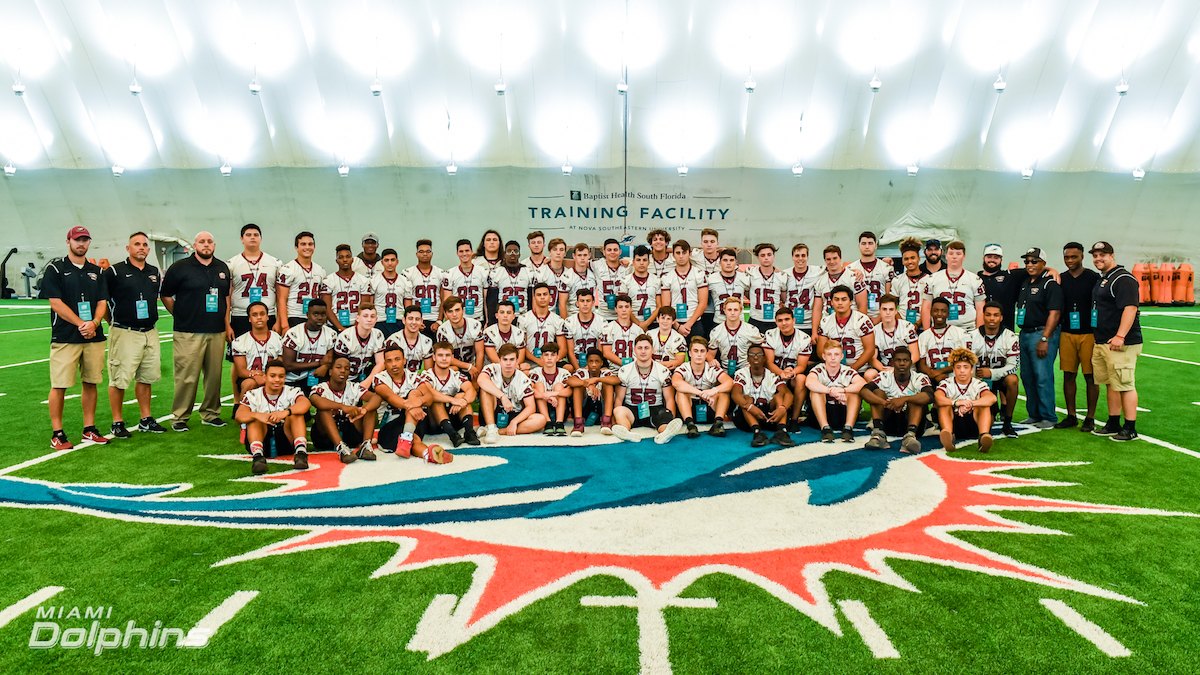 Miami Dolphins Press Release
---
The Miami Dolphins hosted the Marjory Stoneman Douglas High School football team at their Organized Team Activity (OTA) practice. The team was given a tour of the Baptist Health Training Facility at Nova Southeastern University and heard from Miami Dolphins Vice Chairman, President & CEO Tom Garfinkel about leadership and teamwork.
The Stoneman Douglas football team watches the Miami #Dolphins during Wednesday's OTA practice. pic.twitter.com/O5cvU3U2Xy

— Omar Kelly (@OmarKelly) May 30, 2018
"The whole Dolphins organization has been by far the best to us than anybody could be. From Day 1, they've done so much. They've put on youth camps for our little kids. They've come into our practices and spoke to our team. Just so much. We can't be thankful enough to them," Marjory Stoneman Douglas High School Head Football Coach Willis May said. "This is a good day spent. Good day for our kids to be able to sit here and watch their idols and guys they look up to and watch how they work."
The Stoneman Douglas football team also had the opportunity to watch the Dolphins practice and meet with current players on the field. Following practice, the athletes had lunch provided by Publix.
Miami Dolphins #quarterback Ryan #Tannehill (17) greets players from Marjory #Stoneman #Douglas High School after organized team activities at The #Baptist Health Training Facility at #Nova Southeastern University in #Davie, Florida, on Wednesday. (Allen Eyestone / The Palm … pic.twitter.com/7bbeozKfEC

— PB Post Sports (@pbpsports) May 30, 2018
"It means the world to us to come do what we love and watch football. We got to pick up on stuff from the vets and these rookies. It's just great to come out here and learn," Marjory Stoneman Douglas High School sophomore center/guard Gage Gaynor said. "We really appreciate the Dolphins, because they've come and talked to us a couple times and they've really been there for us."
The Junior Dolphins program encourages youth players and coaches to teach, learn and play football in a fun and safe environment. The Junior Dolphins program is designed to give kids access to learn the fundamentals of football using the NFL's top resources. To grow the game, the Junior Dolphins program will work to educate coaches, parents and youth on the health and safety of football with a strong emphasis on character development. Junior Dolphins is building the next generation of Dolphins Fans.
– Miami Dolphins
[foogallery id="12644″]
(Visited 238 times, 1 visits today)