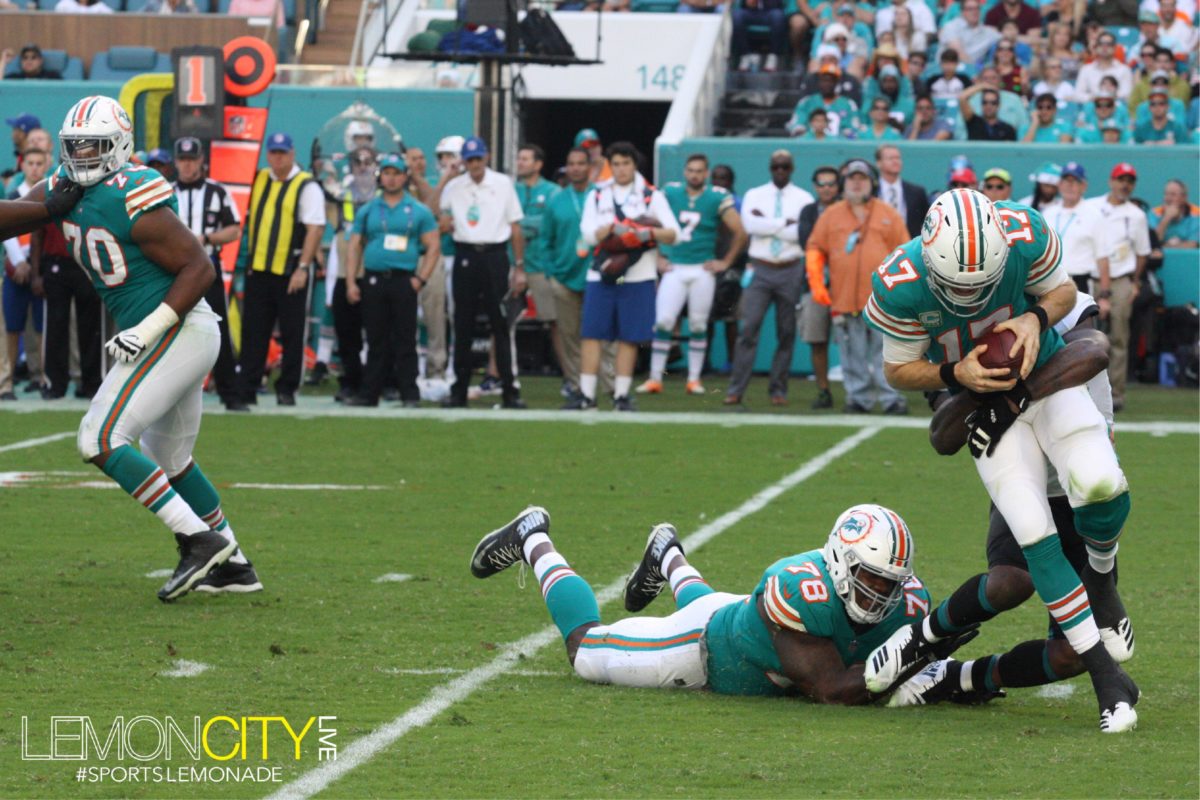 Miami Gardens – The Miami Dolphins have zero leeway. After losing last week in Minnesota, the Fins missed out on a great opportunity to gain ground on New England in the AFC East division race and also to take control of a wild card spot. Coming into today's 17-7 loss at home against the Jacksonville Jaguars, Miami needed to win out, and for other teams to do them some favors. According to thephinsider.com, these were the two scenarios for Miami to make the playoffs:
Miami wins in Week 16 (vs. Jaguars) and Week 17 (at Bills) AND
Patriots lose in Week 16 (vs. Bills) and Week 17 (vs. Jets) OR
Colts lose in Week 16 (vs. Giants) then win in Week 17 (at Titans); Ravens lose in Week 17 (vs. Browns); Steelers win in Week 16 (at Saints) or in Week 17 (vs. Cincinnati).
"Miami has the Dolphins…" pic.twitter.com/mq3AVHcHys

— 7 Sports Xtra (@7SportsXtra) December 23, 2018
That looked bleak, but we've all seen crazier things happen. There's no way New England loses their final two games at home against the crappy Jets and Bills, so forget scenario #2. Scenario #3 was probably more likely to happen, but who are we kidding? Of course, the Fins beat the Pats and lose to this Jaguars team in the same season. Of course, Miami is ranked #1 in one-score games, has only one loss coming into this game, and still manage to miss the playoffs. Of course, Adam Gase continues to run the ball on 3rd and long and throw it on 3rd and short. Of course, Kenyan Drake only got six carries in the whole game. These are the Miami Dolphins for the foreseeable future, as long as they don't learn from their mistakes.
This team has talent. Sure, a lot of the talent missed significant time this season with injuries, which I'm sure contributed to the team missing the playoffs, but it wasn't the main reason the Fins missed the postseason yet again. I blame coaching, but I am not on the fire Gase bandwagon. Miami's head coach has shown growth and has put the Dolphins in a position to win, but he needs to do more. Some of his mistakes are obvious to everyday fans, so why aren't they obvious to him? I think the days of him tinkering and trying to find his coaching style should be solidified by now. The problem is that after today's elimination from playoff contention, we have more questions than answers!
After the 5th @MiamiDolphins punt of today's game, the fans boo'd Ryan Tannehill. 😬
At the start of the 4th qtr, the game is still 7-7…#PawsUp pic.twitter.com/pLbdp2pp7L

— Lemon City Live (@LemonCityLive) December 23, 2018
The Fins actually got off to a great start, scoring on the 1st drive of the game. Brandon Bolden capped off a 78-yard drive with a four-yard touchdown shovel pass from Ryan Tannehill. Miami used their full arsenal of running backs on that drive with two plays for Kenyan Drake, a 31-yard pass to Kalen Ballage, and three plays for Bolden. What happened during the rest of the game?
Jacksonville came right back and scored on their 1st drive. Leonard Fournette punched in a one-yard goalline touchdown, and the rest of the half was a whole lot of nothing-burger, with extra mayo… Any Dolphins fan had to have left the stadium with one of the most disappointed feelings you can have as a fan. The Dolphins had a legit chance to sneak into the playoffs and put up this dud of an offensive performance. On top of that, they let Jacksonville take the lead in the 4th quarter, scoring the last 10 points of the game to take the win. In the final home game of the season, with so much potentially on the line, playing against a lesser opponent, that is simply unacceptable.
Sometimes a team is just not strong enough to handle certain types of adversity. This Miami Dolphins squad couldn't survive all the injuries. Missing Xavien Howard, the team's lone Pro Bowler left a void that not many can fill. Bobby McCain said in his postgame locker room interview, "There are some things we could've done better. We did some really good things, such as sacks, you know we didn't have any turnovers…", and that, right there is where Howard was most missed. Miami also missed some good opportunities to recover a couple of Jaguar fumbles. Another player that was missed was Kiko Alonso. He's the leading tackler for Miami, and his missing output was apparent.
So the Dolphins are playing this game without T.J. McDonald, Kiko Alonso and Xavien Howard, who are arguably three of the team's top defenders. pic.twitter.com/R0KCNGzGQm

— Omar Kelly (@OmarKelly) December 23, 2018
With any hopes for a playoff birth now gone, the Fins hope to finish the season off on a high note, as they travel to Buffalo to close out the 2018 season next week. Reshad Jones said, in response to players playing every week for their jobs going into next week's meaningless road game, "That's part of the game. That's part of the nature of football, of the NFL. Everybody's playing for a job…Like I said, we're going to be professionals. We're going to go out next week and play the Buffalo Bills, a division game and give it our all."
For the 2nd season in a row, and the 9th time in the last 10 season, the Miami Dolphins will miss the playoffs. Here are some key takeaways from this season:
Miami ranked #1 in one-score games.

Minkah Fitzpatrick

shined all season, at any position he was placed.
Miami lost 13 players to season-ending IR
The @MiamiDolphins lose at home to the @Jaguars 17-7, and throw away any chance of making it into the playoffs. #FinsUp pic.twitter.com/nL5aRrbatq

— Lemon City Live (@LemonCityLive) December 23, 2018
[envira-gallery id="15168″]
(Visited 184 times, 1 visits today)