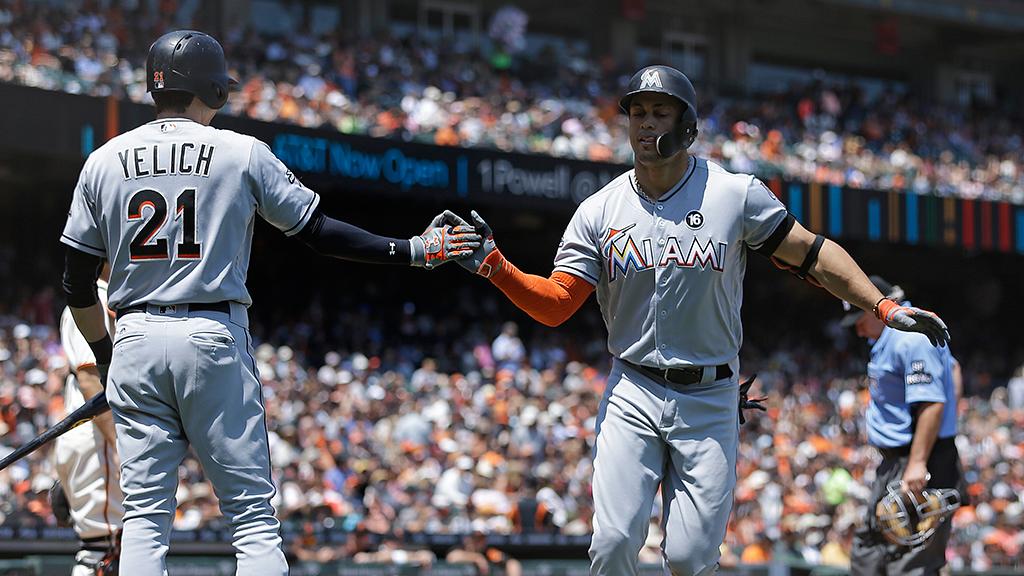 Have you ever seen the movie Fever Pitch? You know, the RomCom with Jimmy Fallon and Drew Barrymore about the Boston Red Sox circa 2004. Well, in the opening scene, Fallon's 7-year old character (Ben) gets taken to a ballgame at Fenway Park by his Uncle Carl (Lenny Clark) where he inevitably falls in love with the home-team. On the way home, Carl spots Ben marveling at the souvenir book on the Red Sox he bought him and turns to him. "Careful, kid. They'll break your heart" (in the thickest Boston accent you've ever heard). I recently had such a moment in my own life.
My son, Xavier, is now 8 years old. At first, I bought him all sorts of sports memorabilia of my favorite teams the way fathers do. However, Xavier now makes up his own mind about a lot of things and the evolution of his short life has drawn him to some over others. He had never asked me before for anything specific where sports fanaticism is concerned; that is, up until now. Not too long ago, we were at the Miami Marlins game. I did the super-cool Dad thing and pulled him out of school a bit early to go to an afternoon game against the Houston Astros. We had a great time. Marcell Ozuna tossed a warm-up ball into the stands and we caught it, we came out on the big-screen, just a perfect, memorable day altogether. The little dude turns to me on the way home and says he wants a Giancarlo Stanton jersey, the red-orange one they wear, their Sunday best… "Careful, kid. They'll break your heart."
There's something about baseball. I've written about this before. It's poetic, almost. The love for the boys of summer takes commitment the likes of which few other sports can come close to in passion. I love the sport and it seems like X is well on his way to. Becoming attached to the Marlins, though, is tricky business. It's a complicated history, but essentially, if you love the Fish, you fucking hate the Fish.
It's post MLB All-Star break and the Marlins – along with their fans – find themselves in a familiar situation. It's Sunday night as I write this, the Los Angeles Dodgers came to town and swept that ass. It was a painful sight, but the series alone does not really begin to explain the angst here. At 41-49, the Marlins enter trade-deadline purgatory. With that record, it would be so for any other team. However, in Miami, rumblings of a franchise sale and Jeffrey Loria's supposed debt included, it's impossible to avoid the painful feeling of that deja-vu set-up, the one that a fire-sale is imminent. Unfortunately, much like in all the other instances, there are plenty of attractive Fish for teams looking to reel in a trade-deadline acquisition. Oh, yeah! The puns are strong with me today.
Chekhov and I drove around in my jalopy until the passenger seat rusted and he fell out.

Junk car lost Anton pic.twitter.com/jJyVFKMQfu

— Baseball Player Puns (@PunsBattedIn) May 13, 2017
For the fanbase, the players we've grown attached to make up the most likely trade assets. Christian Yelich is a young, star outfielder locked into a friendly deal, a prime candidate for a nice haul from an interested party. A.J. Ramos has been a solid closer/bullpen arm over the last few seasons and we all know a playoff push needs those. It's just so disheartening, man. No one's safe. The Marlins already traded Adeiny Hechavarria earlier in the season for mostly financial reasons and while the move makes baseball sense, Marlins PTSD doesn't allow for much rationality. Martin Prado has been linked to contending teams like the Red Sox, whose fat-ass third baseman can't do much but pop belts mid-swing and steal their money.
Then there's the curious case of Justin Bour. A huge mountain of a man stuck in the even bigger shadow cast by Anthony Rizzo in the Chicago Cubs system, Bour was picked up by the Marlins as a Rule 5 draft pick. He has now overcome all the deficiencies that plagued him – hitting against lefties and consistency at the plate included – to become the everyday first baseman of the Fish and a borderline All-Star (he was a Final Vote candidate). Bour participated in the Home-Run Derby this year in Miami in front of his home crowd. He put on a show, he hit bombs, he ate donuts, he was so much fun. This is precisely the kind of player the fanbase of a "small market" team falls in love with. And now, well, now he seems like one of the likeliest players in the National League to move prior to the non-waiver trade deadline, according to the odds. *SIGH*
We don't know about you, but he's feelin' 22… homers.#HRDerby pic.twitter.com/gVgRuWdeyX

— Miami Marlins (@Marlins) July 11, 2017
I cannot be the voice of reason here. I'm freaking out too. Fuck everything. I have a Stanton jersey. Is it safe? Is my kids'? Is Ozuna, our All-Star, gone? J.T. Realmuto? Billy The Marlin?! What about that old man out in left field that dances for the camera?! Loria is not above shipping him off for cash considerations or a player to be named later if they pick up his salary. Haven't we suffered enough? Fever Pitch had a happy ending, but Sox fans' misery was never for lack of their organization giving a shit. Indeed, these are trying times. Hide your kids, hide your wife. Loria is out to break hearts.
The Lemon Drop is a weekly segment entertaining whatever the hell comes to the mind of Enrique Sierra, Jr. (Hipster Rick). Simply a sports lover who wants to have a single Marlins player to root for without fear of losing him. Please click back next week for more and feel free to comment or engage us through Twitter, Facebook, and Instagram.
(Visited 99 times, 1 visits today)