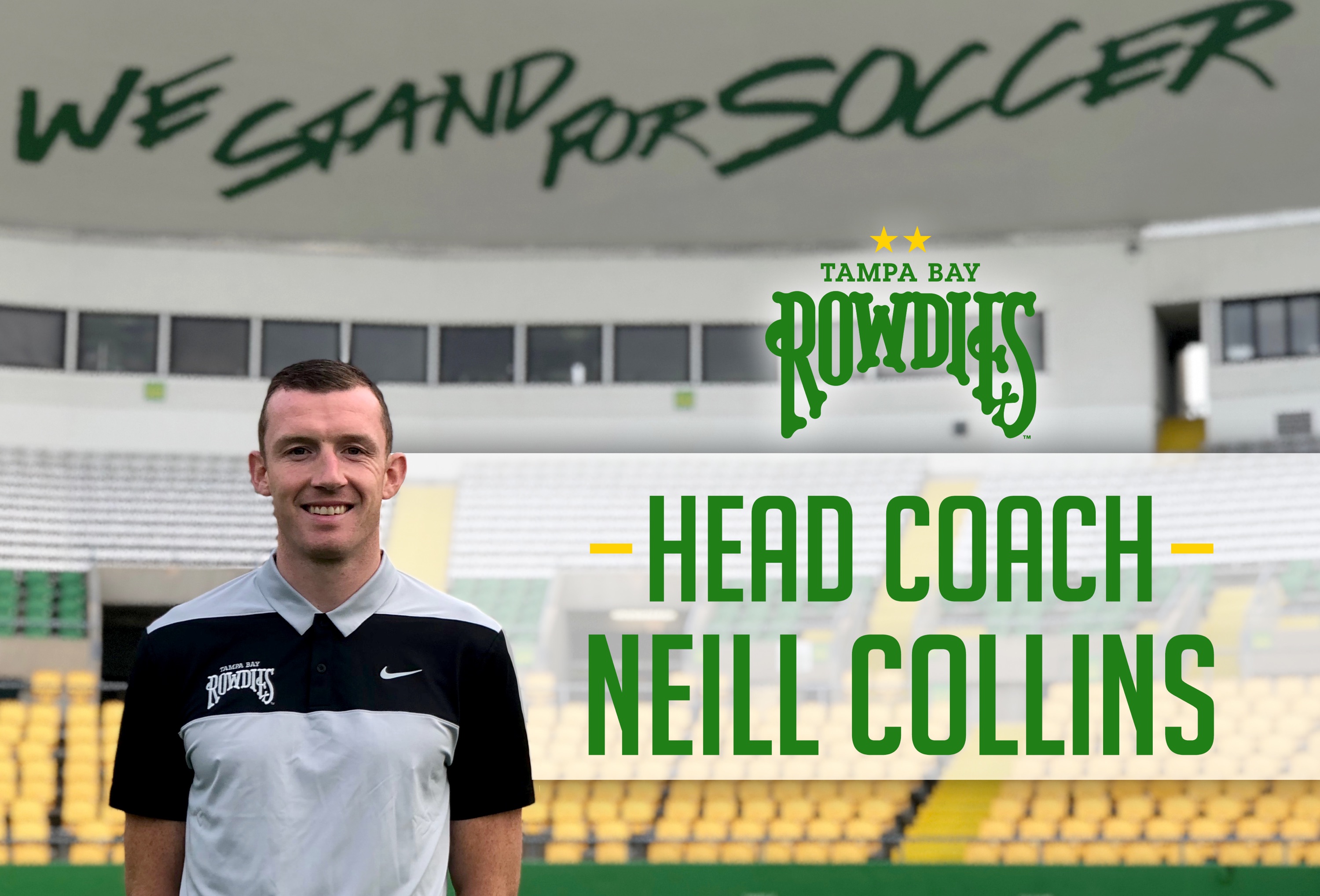 ST. PETERSBURG, Fla. (May 18, 2018) — After a professional playing career that spanned 18 years and 10 clubs, Neill Collins has taken the next step in his career by taking over as head coach of the Tampa Bay Rowdies, the club announced Friday.
Collins, 34, holds a UEFA A Coaching License and will coach his first match tomorrow night against the Pittsburgh Riverhounds at Al Lang Stadium.
To date, Collins has made 598 professional appearances in a staggering career. He wore the captain's armband Wednesday night in what was his 67th appearance for the Rowdies since joining in 2016.
A few more of @neillycollins3 leading the Rowdies for the first time this morning. pic.twitter.com/crlbMXdgtT

— Tampa Bay Rowdies (@TampaBayRowdies) May 18, 2018
"I am excited to announce Neill Collins as the new head coach of the Tampa Bay Rowdies" said club Chairman and CEO Bill Edwards. "I've witnessed Neill's intensity firsthand, and I know everyone in the locker room has immense respect for his ability and work ethic. He's got the skills, the drive and the attitude to move the club to the top of the table. There are good coaches out there, but I think you can make a great coach by giving someone who already has a passion for the club a chance to lead it to victory. I have great faith in Neill. I know he intends to succeed in his new role with the Rowdies."
"Curtailing my playing career is not an easy decision, but when an opportunity is as good as this one, it's impossible to turn down," Collins said. "It's a fantastic club with many fantastic people behind the scenes and an excellent playing squad. I'm excited about the challenge of taking this club to where I think it should be."
As he moves to lead the coaching staff, Collins is no longer expected to play for the Rowdies.
Collins owns and operates NC3 Coaching Academy in Lakewood Ranch, where we has worked with some of the brightest young soccer talents in the Tampa Bay area, as well as offseason work with established professionals.
He has also previously worked as a volunteer coach with the United States Paralympic National Team.
Rowdies Head Coach @neillycollins3 and captain Joe Cole speaking to the media after Collins's first training session this morning. pic.twitter.com/B1LhPbExNB

— Tampa Bay Rowdies (@TampaBayRowdies) May 18, 2018
Tampa Bay Rowdies Chairman & CEO Bill Edwards and former Head Coach Stuart Campbell announced yesterday that they had mutually decided to part ways, with Campbell stepping down immediately.
"It has been wonderful working with Stuart these last few years, and we will miss him," said Edwards.  "He has been a great example for our players and coaching staff.  We part ways with the utmost respect for one another and I look forward to seeing him at future matches."
"First and foremost I'd like to thank Bill for the opportunities he has given me and the loyalty he has shown toward me," said Campbell.  "This opportunity has been life-changing for my family and I, and for that we will be forever grateful to the Rowdies."
The Rowdies, led by new Head Coach Neill Collins, take the pitch at Al Lang Stadium 
this Saturday
 against Pittsburgh Riverhounds. Kickoff is at 
7:30 pm.
  For more information visit 
www.rowdiessoccer.com.
(Visited 203 times, 1 visits today)