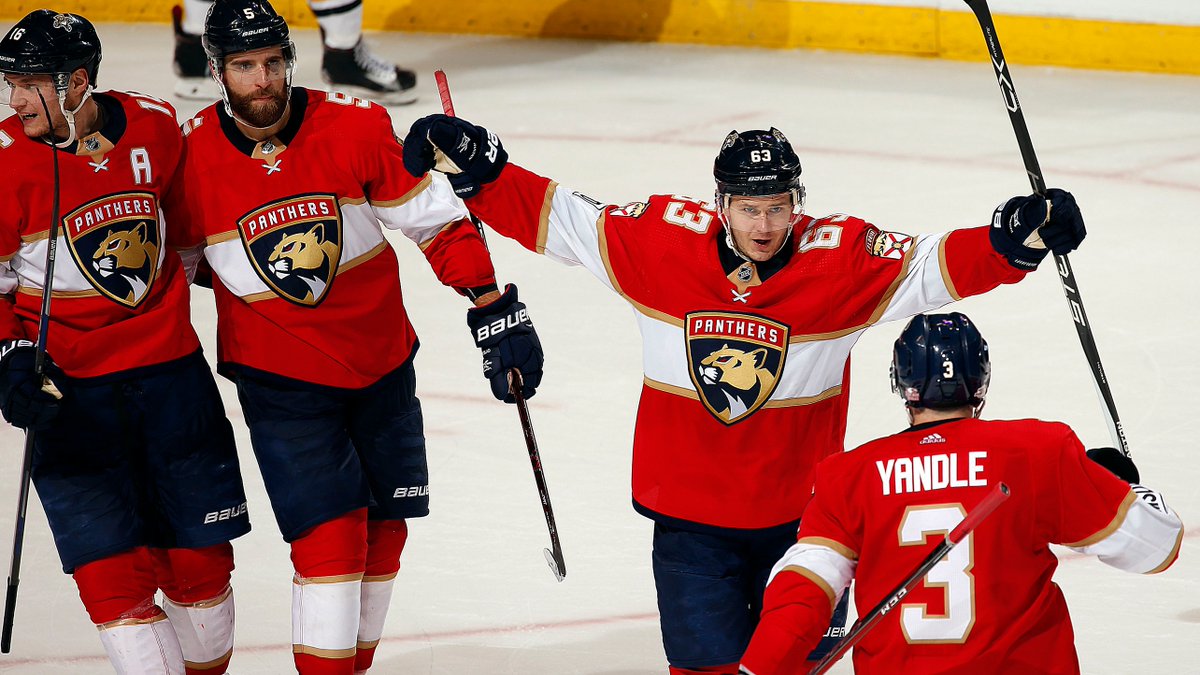 Sunrise, FL – The Florida Panthers are so hot right now! I'm talking Hansel Hot. They come into this matchup against the Montreal Canadiens only two points out of the playoffs, behind the Columbus Blue Jackets, who are currently on a three-game winning streak. The Cats have earned 23 out of a possible 30 points since we started covering the team on February 3rd. Just saying… It might be the year of the Lemon.
The Panthers have only dropped one point in their last eight games. They lost an overtime game in Tampa Bay, in which Nick Bjugstad scored his first NHL hat trick! We'll have more on him later. Roberto Luongo said in his post-game interview, "We just have to build off of our momentum." That's exactly what the Panthers did tonight. Jonathan Huberdeau put the Cats on the board with less than four minutes remaining in the 1st period, off of a power play. That's his 21st goal of the season for a career high! Since February 5th, the Cats' power play unit ranks 2nd in the NHL. The Lemon effect!
GOAL!! HUBERDEAAAUUUU! #MTLvsFLA pic.twitter.com/PDWrNYPXQq

— Florida Panthers (@FlaPanthers) March 9, 2018
From here on out it was straight domination by the Panthers. In the 2nd period, Florida won 61% of face-offs. Does that make them Nicholas Cage, or John Travolta? In less than two minutes the Cats extended their lead. Bjugstad, who's been on fire lately, scored, catching the Canadiens asleep on the ice. That sounds like a quick way to get pneumonia. Nick is now only five points away from setting a new career high for points (43, 2014-15). Only one minute later, Micheal Haley adds insult to injury, further extending Florida's lead 3-0. He's also approaching his 200th NHL game.
The 3rd period began much like the 2nd did. Evgenii Dadonov scored off an assist by Keith Yandle, for Dadonov's 5th consecutive multi-point game, as he also had an assist on the Panther's 1st goal. He's now posted 18 points (10-7-17) over his last 12 games. Yandle currently owns the NHL's longest active consecutive games played streak. The last goal of the game came shorthanded, as Huberdeau was called for interference. Vincent Trocheck received a thru-pass from Yandle for a breakaway, giving Yandle his 3rd assist of the night. With that goal, Trocheck set a new career-high for single-season goals (26).
Five straight multi-point games? No wonder Dadonov's all smiles. #MTLvsFLA pic.twitter.com/A8j0qnYr6z

— Florida Panthers (@FlaPanthers) March 9, 2018
The Canadiens outshot the Panthers tonight, but the Cats have a guy named Luongo. Maybe you've heard of him. He made 40 saves tonight against his hometown team, and is ranked 2nd in the NHL in save percentage. Bjugstad said in his post-game interview, "It was good for Lu to get another shutout. He doesn't seem to be getting any older." The 18-year veteran earned his first shutout since November 16 against the San Jose Sharks. He's 11th all-time for shutouts.
Roberto Luongo of the @FlaPanthers posted his 75th career shutout to move within one of tying Tony Esposito and Ed Belfour for ninth place on the NHL's all-time list among goaltenders. #NHLStats #MTLvsFLA pic.twitter.com/S5nCaZZLkh

— NHL Public Relations (@PR_NHL) March 9, 2018
At the postgame press conference, Coach Bob Boughner said, "We know what we have to do at home to get to where we need to be… Every point is crucial." With today's 5-0 win, Florida ties their franchise record for consecutive home wins (7, 2015-16). The Cats are still two points behind Columbus for the final wildcard spot, but gained some ground (or ice?) on the New Jersey Devils for the 1st wildcard spot, now only trailing by three points after NJ's loss tonight.
LUUUU gets the shutout and the #WINCATS WIIIN!!! #MTLvsFLA pic.twitter.com/j1guDFp4x3

— Florida Panthers (@FlaPanthers) March 9, 2018
📷 Credit Florida Panthers
(Visited 379 times, 1 visits today)