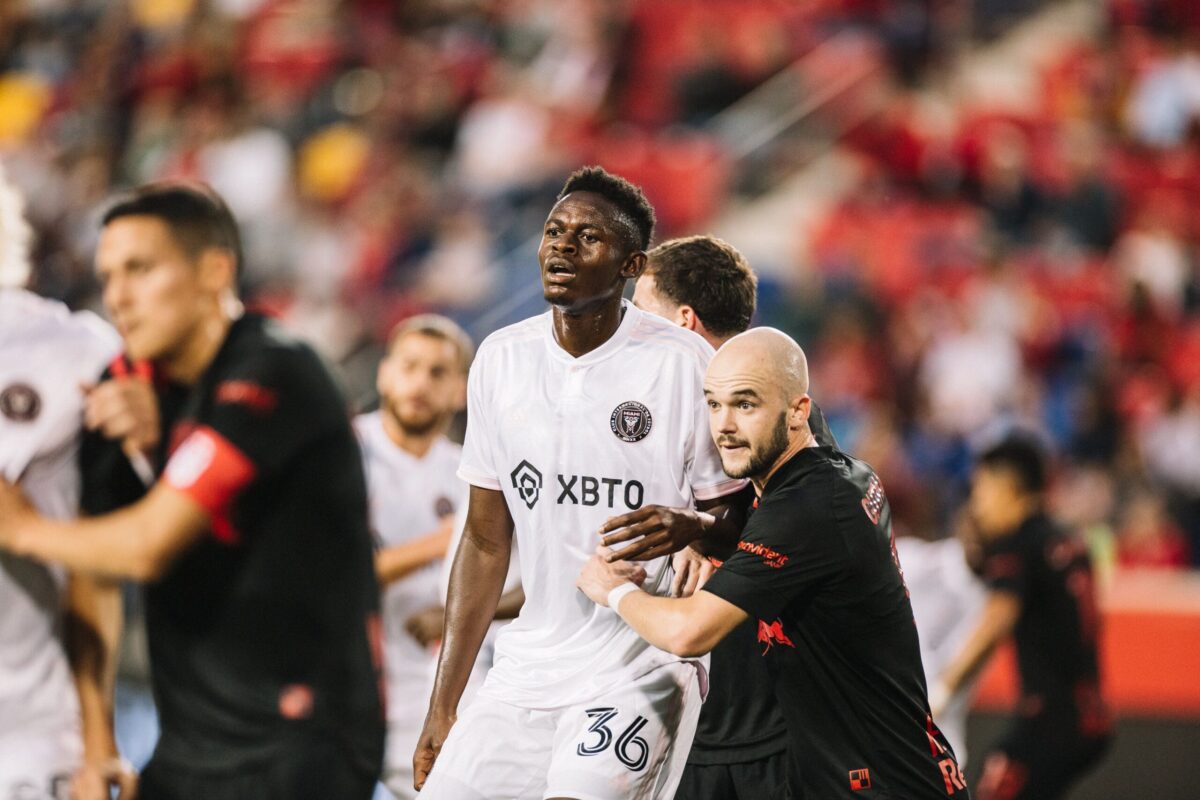 ---
Harrison, New Jersey – Aime Mabika is a player to watch out for as Inter Miami head into 2022.
If there are any positives to take away from the club's losing streak, it's the amount of talented young players that are coming through the pipeline.
With Fort Lauderdale CF playing some of the best football out of the two teams, Mabika's solid debut gave fans a glimpse into the future.
As for Inter Miami, despite the team's effort to make the playoffs, their current run of form suggests that they may fall short. Although they showed a valiant effort to pick up points against the Red Bulls, it wasn't enough.
The team only had one shot on goal, and several missed opportunities.
Let's break down why the offense is struggling, Mabika's debut, and whether or not the refs are unfairly targeting the club.
Stagnant Offense
Inter Miami has struggled scoring goals this season. They rank last in the league in shots on target per match, 25th in big chances created, and last in goals per match.
For a team that has the highest wage bill in MLS, numbers like this are unacceptable.
What has gone wrong?
Wrong First Steps
Going back to the 2020 season, Miami's initial roster-building process was lopsided. Paul McDonough mismanaged funds and overpaid for regressing players in order to build an LA Galaxy-like super team. After an 0-5 start, the club abandoned their plan of buying young players (see: signings of Matias Pellegrini, Christian Makoun, and Julian Carranza) and pivoted to throwing money at European superstars.
What followed was a year of disorganization, drama, and lack of accountability that, in the end, saw Diego Alonso lose his job.
Unfortunately, the same issues that plagued Alonso continue to be a problem in 2021. The uneven roster has seen a myriad of players play out of position this season, and multiple formations used.
While, tactically, team shape should be better due to the players at his disposal, Neville's "non-negotiable" style of play quickly turned into a team with multiple identities.
Examples vs the Red Bulls
Tactically, Neville has put Inter Miami in a formation that provides the most flexibility:
Benefits of playing with 3 center-backs pic.twitter.com/l98RHOuSXS

— Eric Laurie (@EricLaurie) October 4, 2021
Though the three at the back can be versatile, due to the personnel on the team, Miami still has its limits.
The front trio of Robbie Robinson, Gonzalo Higuain, and Rodolfo Pizarro does not work. Neville tries to get the offense to play quickly which sees Robinson play on the shoulder of his defender, looking for balls over the top to exploit with his pace.
The problem is, the Herons don't have a true creative presence in midfield. Because of this, Higuain has to drop deep to help with the build-up. When he vacates the number 9 spot, there's no focal point for the attack to focus on.
Neville has tried to solve that issue by putting Robinson at #9, but it's evident that the 22-year-old looks much more comfortable on the wing.
Pizarro has the tendency to tuck inside, so the width on Miami's right flank comes from Lewis Morgan. When the Mexico International floats towards the middle, Higuain drops deep, and Robinson is isolated at the #9 spot, it leads to moments like this:
— ً (@tacticsbyalex) October 11, 2021
Miami tries to go on the break but there's no outlet pass available and they end up losing the ball in midfield.
Should Neville start other players in the front trio, it could look different. There's plenty of speed on the bench with guys like Indiana Vassilev and there's more creativity with Federico Higuain.
Though Miami's bench isn't too deep, those aforementioned players are a couple of options that Neville could switch to.
"Just Shoot!"
Another issue the offense has is the lack of ruthlessness.  What would've been, at least a shot on goal for Higuain, Robinson was too slow to line up his shot and the defender closed him out – immediately:
— ً (@tacticsbyalex) October 11, 2021
Even then, if Robinson were to look up, cut back and see a rushing Blaise Matuidi, it would've been an easy tap in goal for the 34-year-old.
There's not enough conviction.
All things considered, Miami isn't in a position to wait for good looks. They need to get their shots off as quickly as possible. The Robinson chance (seen: above) is a good example of what has plagued Miami all season.
On the whole, the Herons don't create too much, but when they do get into the final third chances seem to be squandered.
This is one of the big reasons Miami has struggled this year.
Questionable Calls?
Phil Neville has received some criticism over the last week.
After Miami's 0-1 loss to the Red Bulls, the 44-year-old went on a mini-rant lambasting the state of MLS refereeing:
THO POST-GAME: Listen to Phil Neville's passionate comments about MLS referees and their misuse of VAR: #InterMiamiCF pic.twitter.com/dZ5jwFp7vX

— The Heron Outlet (@TheHeronOutlet) October 10, 2021
This tirade came after the club was notified by the league that they've gotten several calls that should've gone Inter Miami's way wrong:
Neville is fuming. "There's something fundamentally wrong with how refs treat Inter Miami."

He says that the league told him that the penalty vs Atlanta shouldn't have counted, and the goal vs Portland should've stood.

"I have to stand up for my club."#InterMiamiCF

— Alex Windley (@aaw_1998) October 10, 2021
Are The Refs Targeting The Club?
On the field, Inter Miami needs to do better.
There are no excuses. They've shown that they can win (albeit not too convincingly) in this league.
Not everything can be blamed on poor officiating.
However, with the high-profile players and the sanctions, it's only natural for the club to be treated with extra added scrutiny. But, how much is too much?
Inter Miami has to earn the league's trust back. Looking at the club with suspicion is natural after breaking MLS rules.
Every team should be treated equally on the field, Neville's comments suggest that hasn't been the case.
If the officials miss calls that would go in Miami's favor, Inter Miami has every right as a club to question if things are being called fairly.
Had calls gone in Miami's favor, results could've ended differently:
#InterMiamiCF provided these images showing that, yes, Gonzalo Higuain was on side during his goal last night.

There was a bit of confusion after he scored and the broadcast wasn't exactly clear, but the pictures the club provided shows a different story: pic.twitter.com/TCuKz3gF8S

— Alex Windley (@aaw_1998) October 10, 2021
In short, PRO Referees need to do better, and Inter Miami needs to be more productive offensively. With six games left in the season, it's crunch time for the Herons if they look to make the playoffs. Hopefully, the officials will be more careful with their whistle.
Mabika Debuts
Lastly, Inter Miami has a gem in Aime Mabika. For the most part, Mabika's debut vs the Red Bulls went without a hitch. He was calm, composed, and showed his quality:
Aime Mabika's best moments vs #RBNY: pic.twitter.com/M3nKq4iOFy

— ً (@tacticsbyalex) October 11, 2021
He slotted in very well for the missing Nico Figal, and (at times) looked to be the best center back on the pitch.
Overall, Mabika had a good game and a great showing in his MLS debut. As 2022 comes around, don't be surprised to see the 23-year-old be a full-time starter for Inter Miami.
Photo Credit: Matthew Stith
(Visited 63 times, 1 visits today)