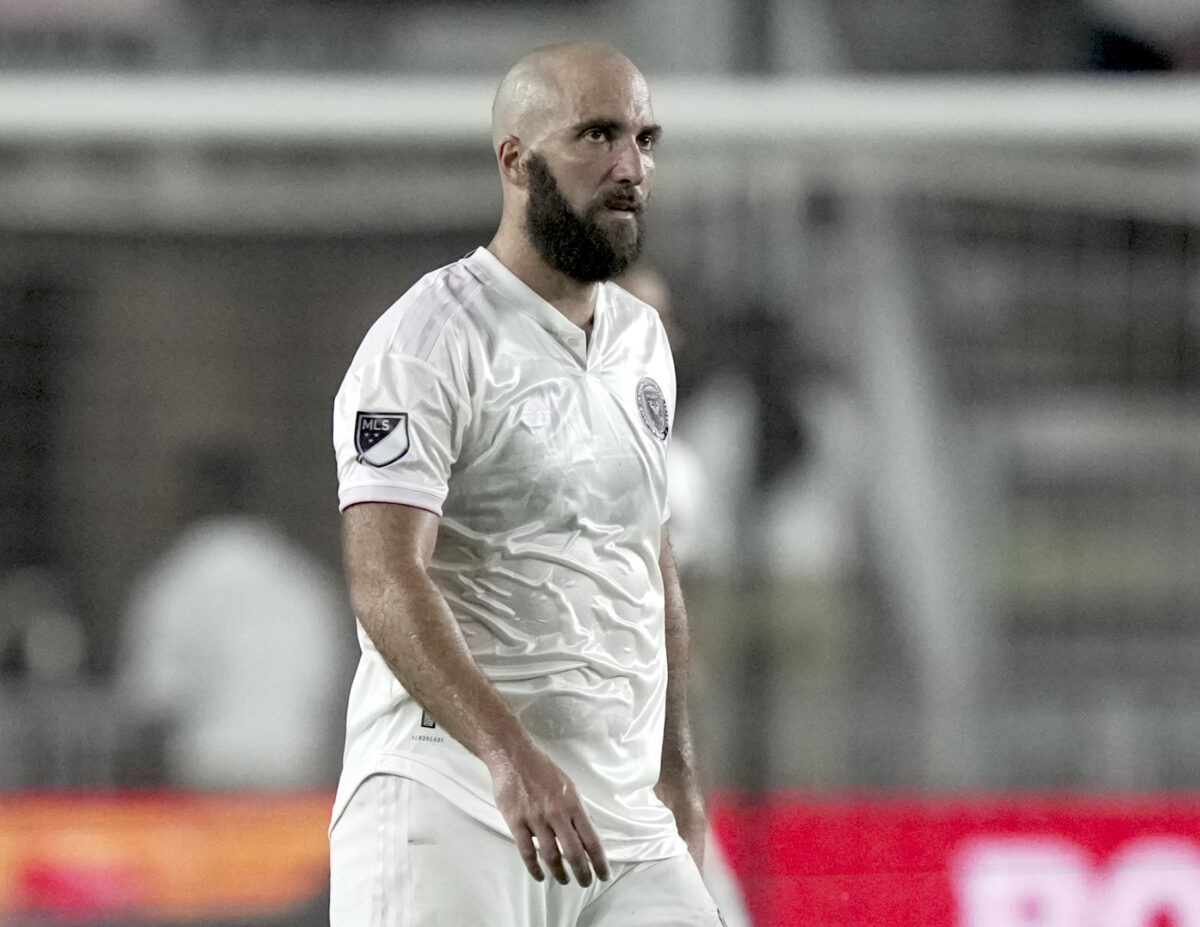 ---
Atlanta, GA – As Inter Miami and their playoff hopes continue to slide, Wednesday night's loss against Atlanta United showed that they need one thing: a proper number 10.
Astonishingly, Miami finished their match with zero shots on target.
That's a concerning statistic.
While Phil Neville has made the tactical adjustments to shore up the defense, offensively the team has stagnated since their unbeaten streak.
With only eight games left and the season, and 2022 quickly approaching, it's crunch time for Miami.
But before the Herons continue their playoff push, they need to solve a problem that's been plaguing them all year.
Who's Creating Chances?
Wednesday night against Atlanta was a chance for Miami to rebound. Unfortunately, the team didn't take their chances.
That's because, well, they didn't create too many.
On the night, the Herons created only five scoring opportunities:
Higuain had one
Matuidi had zero
Pizarro had zero
Morgan had one
Gibbs had one
Chapman had one
Robinson had one
Though several players helped out in that department, there wasn't a player on the pitch that could consistently create chances for Miami's attack could finish.
This has been a reoccurring issue for the Herons all season.
Neville has tried to rectify this by playing Gonzalo a bit deeper, and while that works sometimes, Higuain is at his best when he's in the opposition final third:
— ً (@tacticsbyalex) September 30, 2021
Not only is he Miami's top scorer, but the 33-year-old is on the top of the club's assist chart as well.
But, Higuain can't do it alone.
Aside from Pipita, Miami doesn't have very many creative options. Federico Higuain is getting up there in age and Pizarro has lost his 2020 form.
Besides the duo, Neville's options run thin.
As far as the 2021 season goes, Miami will have to make do with this current roster until potential reinforcements come in January.
Play the Kids!
In the meantime, Inter Miami has a homegrown number 10 right in their backyard.
George Acosta has been tearing up USL League One.
Coming off a knee injury that kept him out of the 2020 season, the soon to be 22 year old is the engine that keeps Fort Lauderdale CF revving.
The South Florida native currently leads the league in assists with seven and has four goals to his name as well.
He's arguably one of the best creative midfielders in the league and has a skill set that Inter Miami needs.
36' GOLAZOOO from🪄🧙‍♂️ @georgeacostaa

Shaan Hundal with another beautiful assist 👏#FTLvTRM 2-1 pic.twitter.com/apW6DN92zJ

— Fort Lauderdale CF (@FTLauderdaleCF) September 20, 2021
It's only a matter of time before he gets his chance with the first team.
Pizarro, number 10 turned 8?
Looking at the stats after the match, Rodolfo Pizarro's number stood out among the group. Normally playing in an advanced role, the 27-year old had more defensive responsibilities against Atlanta and proved that he could do a serviceable job as a number 8:
— ً (@tacticsbyalex) September 30, 2021
That night, Pizarro ended the match with nine recoveries, one interception, and two blocked shots. Looking at his heat map above, Pizarro not only got up to join Miami's attack but the deep blue located right above Nick Marsman's 18-yard box indicated that he does have the discipline and work rate to trackback.
After the match, Neville was asked about the potential of Pizarro dropping a bit deeper and playing as a central midfielder:
I asked Phil Neville if he's thought about dropping Pizarro a bit deeper to play as a central, box to box, midfielder and he said that tonight was a good example of that.

"Yeah, [it's] a position we think he can play."

He sounded really confident about that. #InterMiamiCF

— Alex Windley (@aaw_1998) September 30, 2021
Perhaps moving the Mexico international further back the pitch could be the key to unleashing his full potential.
Playing him as a number 8 could give Miami an extra dynamic in the middle of the pitch. He's got great ball retention, and the ability to dribble himself out of trouble. His skillset would allow him to dribble through the opposition's middle third, then find a teammate in space or making a run.
All of this is hypothetical but, it's definitely an intriguing idea to think about.
Though it hasn't worked out at Inter Miami in a number 10 role, Pizarro's shown the capability of playing further back.
The Future
If you'd like a glimpse of what Inter Miami will look like in the future, look no further than Fort Lauderdale CF. Due to Miami's sanctions, they will be forced to sell some of their higher-paid players. This will give several Fort Lauderdale prospects a direct route to the first team.
Acosta, Aime Mabika, Shaun Hundaal, Harvey Neville, and numerous others have all been training with the first team. Expect many of them to get significant minutes in 2022 as Miami heads into their first year of sanctions:
Neville says that players from Fort Lauderdale CF will be coming up to the first team next season.

"I want six of those players on my MLS squad."

He mentions Aime Mabika and Harvey Neville by name. #InterMiamiCF

— Alex Windley (@aaw_1998) September 27, 2021
When Chris Henderson was introduced as the team's Sporting Director, he made a point to say that he wanted local talent coming through the ranks.
Though the circumstances surrounding the club are difficult, this is an extremely exciting time for Inter Miami and its long-term prospects.
Bringing in South Florida talent like Edison Azcona, George Acosta, and Felipe Valencia into the first team is just the first stepping stone. As the club heads into their 3rd and 4th seasons, expect the roster-building to look very different from years past.
The future is imminent for Inter Miami.
📸Credit: Kathy Hitchcock
(Visited 881 times, 1 visits today)