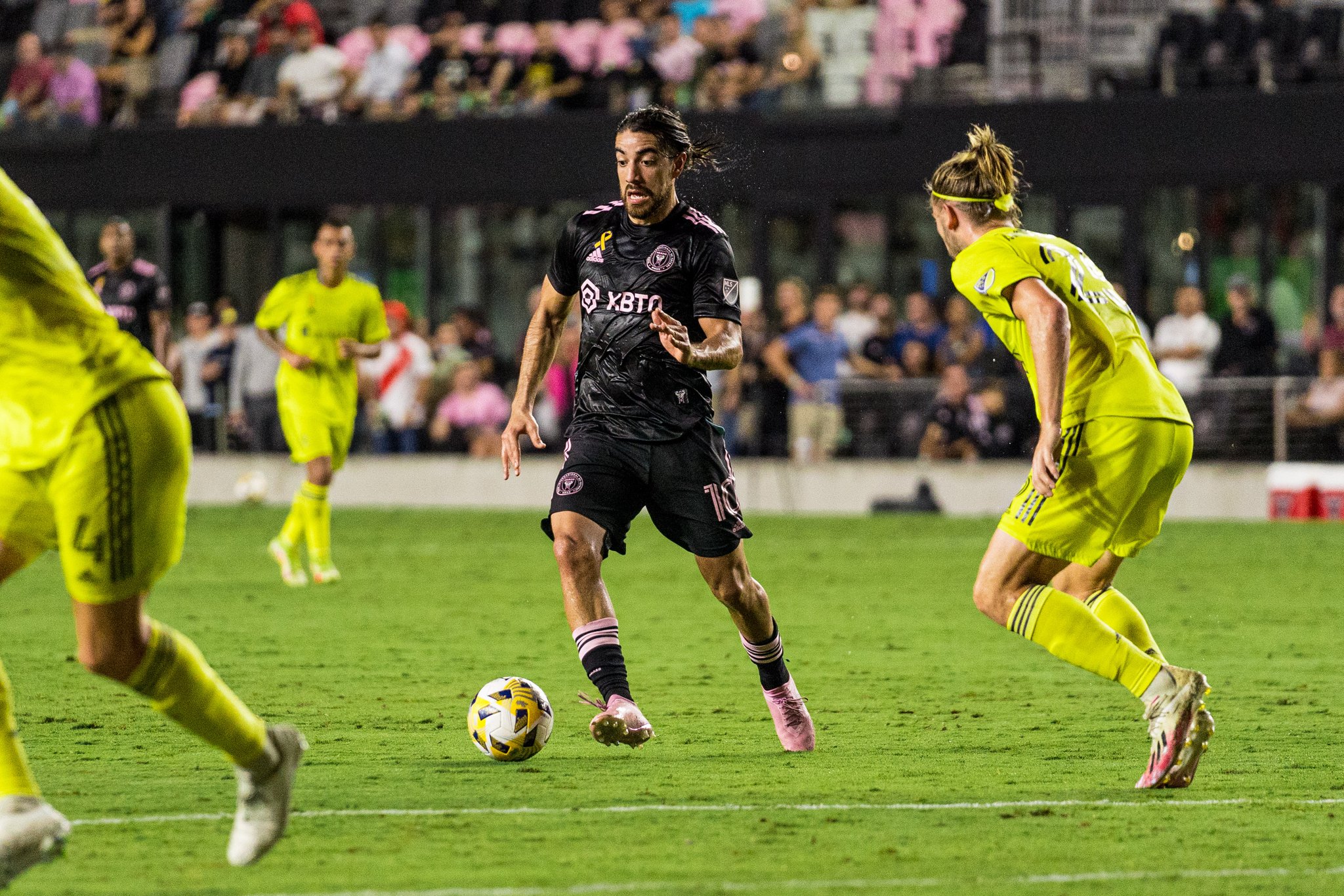 ---
Fort Lauderdale, FL – After their 5-1 thumping at home from Nashville SC and the playoffs slowly starting to become out of reach, is it time for Inter Miami to look towards 2022?
Heading into Wednesday's match, the Herons looked to bounce back from a humiliating defeat to the New York Red Bulls.
However, they were without two key players.
Due to red and yellow cards in previous games, both Leandro Gonzalez Pirez and Nico Figal weren't available.
It was an uphill battle for Neville's men, because of this. From the first whistle, Miami looked disorganized and out-hustled by their opponent.
Though Gonzalo Higuain did get on the scoresheet, Miami looked toothless against the second-best team in the Eastern Conference.
Let's break down what happened.
Game Recap
First, Inter Miami was missing two players that added great defensive solidity to the team. Both Figal and Gonzalez-Pirez played a major role in keeping clean sheets during Miami's unbeaten streak.
Unfortunately, the Herons had to make do without them as they looked to get a result against a very good Nashville side.
A couple of minutes into the match and it was evident that Miami was going to have a long night.
Just five minutes in, Nashville got their first goal of the game:
GOAL #11 OF THE SEASON FOR THAT MAN 〽️UKHTAR pic.twitter.com/eBRPyiGtIY

— Nashville SC (@NashvilleSC) September 22, 2021
Lewis Morgan and Kelvin Leerdam get beat back post and potential MVP candidate Hany Mukhtar was there to finish Alistair Johnston's cross.
Miami tried to get a goal back, but nothing was working for them.
Before the first half ended Nashville would get their second of the night through a Walker Zimmerman header.
In the second half, Miami would continue to leak goals as Mukhtar scored, again:
HANY STAYS HOT AND IT'S 3-0 BOYS IN GOLD 〽️〽️ pic.twitter.com/xt9AJFF6Qm

— Nashville SC (@NashvilleSC) September 23, 2021
Although they were down 3-0, Inter Miami started to move the ball a bit better and created a couple of scoring chances.
In the 63rd minute, Rodolfo Pizarro and Higuain would combine, nicely, at the top of the box to get a goal back:
Pin-point accuracy 📌

A great passing combination between @RPizarroT to Higuain, who smashed it in! #InterMiamiCF pic.twitter.com/rYpryh89ZW

— Inter Miami CF (@InterMiamiCF) September 23, 2021
In the end, Miami's comeback would fall short. Nashville went on to score two more goals, with the icing on their cake coming in the 90+6th minute:
HIGH 🖐️ FOR @_a_johnston'S FIRST @MLS GOAL pic.twitter.com/WmviVIPblg

— Nashville SC (@NashvilleSC) September 23, 2021
Miami has now lost back-to-back games during a crucial stretch of the season. They will have to brush this loss aside as they take on Atlanta United this upcoming Wednesday.
What Went Wrong?
Anything and everything went wrong for Inter Miami.
For starters, offensively, the midfield duo of Jay Chapman and Blaise Matuidi was a non-factor. Looking at the photo below, Nashville did a phenomenal job at swarming the middle of the pitch preventing Miami from playing through them:
— ً (@tacticsbyalex) September 23, 2021
When Gregore played the ball out of the back, Nashville blocked the central channels of Miami's front five, forcing the Herons to go wide.
Because of this, both Chapman and Matuidi were covered and Miami struggled to get it going offensively. Even when Pizarro vacated his area to drop deep, Jack Maher would follow him to the middle, and Nashville's other defenders/midfielders would block his other passing options:
— ً (@tacticsbyalex) September 23, 2021
This lead to Miami losing balls in bad areas of the pitch. Nashville took advantage of that, sprung on the counter while Miami's defenders scrambled to get back.
Nashville's fourth goal is a perfect example of this:
.@randall_leal finds an impossible angle and makes it 4-1 for @NashvilleSC pic.twitter.com/XXjm0Rpu27

— Major League Soccer (@MLS) September 23, 2021
Pizarro loses the ball in a bad spot on the pitch and Nashville doesn't hesitate to get forward and punish them.
Gary Smith's strategy proved to be the right one.
The Herons would go on to end the game with only four shots on target and an xG of 0.55.
Chapman, after the game, went on to speak about Miami's tactical disorganization:
Chapman on the tactical mishaps:

"The game plan was to try to limit their time on the ball. Our pressure needed to be better. [Our lines] were disconnected."#InterMiamiCF

— Alex Windley (@aaw_1998) September 23, 2021
In short, the team needs to do better if they want to make the post-season.
On to 2022?
Inter Miami's playoff chances are slipping.
With a difficult four-game road trip on the horizon, Miami will need to win at least three of those games if they want a chance of a top-seven finish.
Sadly, their recent performances indicate that that run of good form could be sliding.
While Neville has been able to get the most out of this lopsided roster, the lack of cohesion and tendency to rely on individual talents isn't sustainable.
As the season quickly comes to a close, and the results start to slip, is it time for Inter Miami to look forward to 2022?
If they do, they won't be short of options for the future.
Fort Lauderdale CF has been churning out amazing performances in USL League One. There's a high chance that several of the players on that roster will be with the first team next year. Noah Allen, George Acosta, Aime Mabika, Mitch Curry, Shaan Hundal, and others, all look capable of making an impact at the MLS level.
But before that happens, Miami needs to salvage their 2021 season.
If the Herons suffer any more losses, it may be time for Inter Miami to regroup and look towards 2022.
(Visited 56 times, 1 visits today)