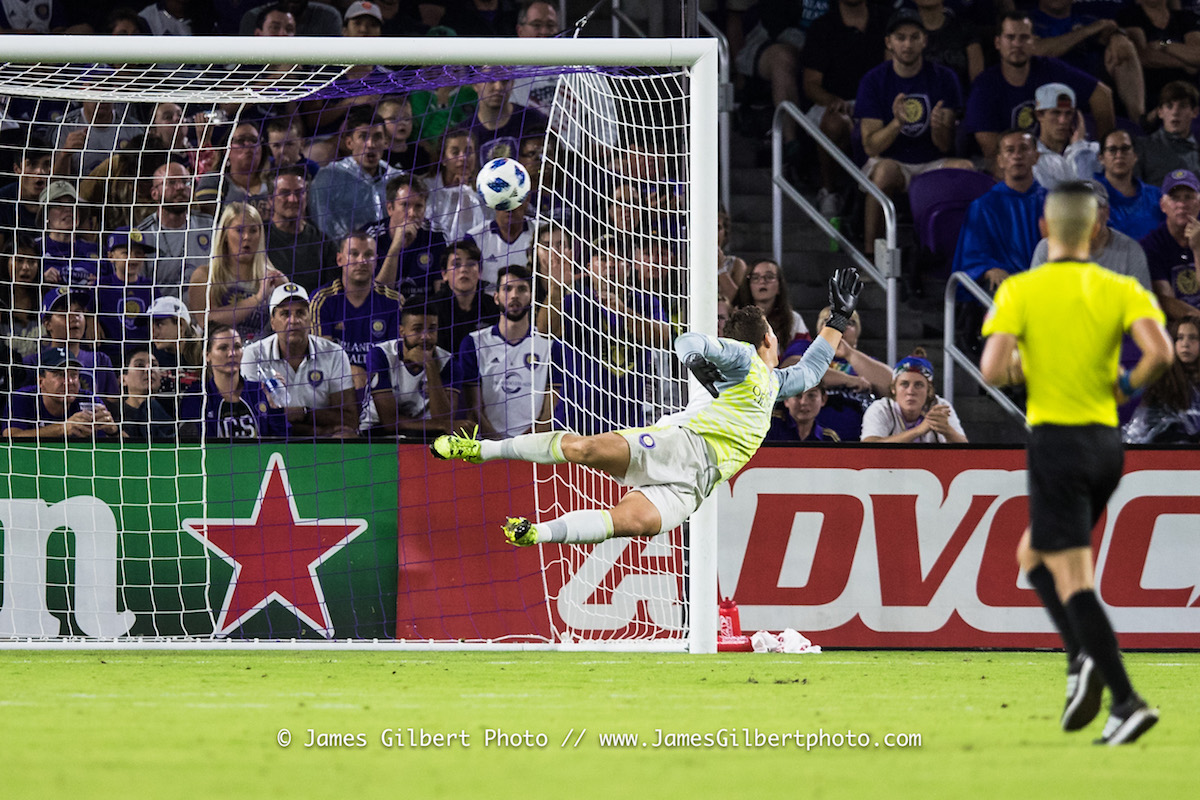 Orlando, FL – While last year's Div. II Cinderella, The Miami FC, wallow in misery, two former Letoochees, now on opposing MLS squads, faceoff in a battle for supreme alumni bragging rights. Not really, but their respective stories to how they got to where they are is interesting. More on that later. First, let's not forget what this is all about. Orlando City SC (6-1-5) hosted the Chicago Fire (4-2-6), both coming off two-game skids and looking to bounce back. Something's gotta give!
In a game that included seven yellow cards and a straight red (I'm looking at you, Mo Adams), the Fire rolled into O-town ready to burn some Lions. Chicago earned a free kick off Mohamed El-Munir's (yellow card) takedown of Diego Campos in the 13th minute. According to Opta, El-Munir recorded five tackles and five interceptions last weekend. It was the 5th time he converted that stat-line in the same game this season. No one else has racked up five-and-five more than twice this season. However, this time his aggressive play did not pay off. Aleksandar Katai rocked it, from 25 yards out, going top corner, out of Joe Bendik's reach. 0-1.
KURVE IT LIKE KATAI 💥 #cf97 pic.twitter.com/RF7gOndsyf

— Chicago Fire (@ChicagoFire) May 27, 2018
In the 28th minute, Orlando's Josue Colmán slipped it to Chris Mueller just outside the top corner of the 18, who found a running, wide-open Cristian Higuita, right in front of the goal, all alone with Chicago goalkeeper, Patrick McLain for the finisher. 1-1. Higuita, who is of no relation to the scorpion king, Rene Higuita, notched his 3rd goal of the season, which is good for a career high so far.
Higgy with back-to-back games with a goal. 🤙 #VamosOrlando pic.twitter.com/hLu8rJEWiP

— Orlando City SC (@OrlandoCitySC) May 27, 2018
The Lions out-possessed and outshot Chicago 21-10. In the 61st minute, they were even denied a penalty kick after Video Review confirmed the call on the field. The game was decided, however, in the 82nd minute. Bastian Schweinsteiger fed Alan Gordon just outside the box, and Gordon put it where the expensive liquor sits. Top shelf! That was the game winner. 1-2.
THE GAME-WINNER. 😱🚀 #cf97 pic.twitter.com/L3Hgm21xNT

— Chicago Fire (@ChicagoFire) May 27, 2018
In Miami, the talk of the town, well, if by "town" you mean a select few people that noticed, was the showdown between two former Miami FC players. Jorge Corrales now plays for Chicago, and his journey to the club was interesting, to say the least. He started in Miami FC's first match in 2016, received two first-half yellows, and never played another minute for the club. He shortly thereafter went on to play for the Fort Lauderdale Strikers for the remainder of the season, and was then picked up by the Tulsa Roughnecks after the Strikers folded. After a season with Tulsa, he was picked up by Chicago and is now a regular starter for the squad. I think it's safe to say then Miami coach, Alessandro Nesta gave up on the Cuban international a little too soon.
On the other side of the ball, we have Stefano Pinho, who was subbed into today's match in the 75th minute. He took a completely different route to the MLS. Pinho hasn't played more than one season with a club since leaving Fluminense in 2015, but it's probably because other teams want to buy his services. Last season, Pinho was a big part of Miami's excellent form and deep U.S. Open Cup run. His highlight moment came when he scored a hat-trick against his now home team, Orlando City SC. He also led the team and NASL with 17 goals and won the Golden Boot, which he also did in 2015. Orlando figured, "If you can't beat them, buy them!" It's nice to see both former Miami guys doing well.
📷Credit: James Gilbert & John Chapman
[foogallery id="12519″]
(Visited 245 times, 1 visits today)