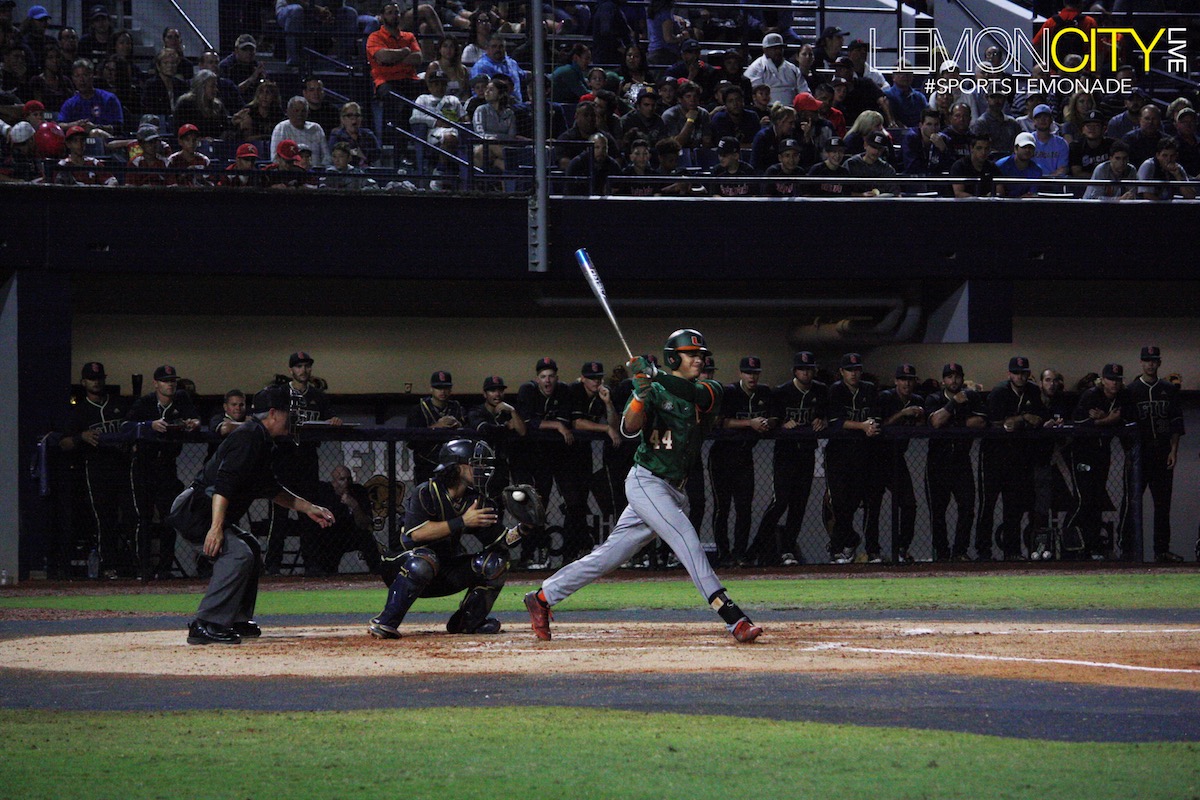 Miami, FL – The FIU Panthers swung for the fences in a big way Wednesday night, outlasting the Miami Hurricanes 5-3 at FIU Baseball Stadium in front of a great crowd.
Right out of the gates, the Panthers struck first as Eddie Silva smashed the ball deep to left for a two-run dinger. The home team continued to flex its muscle as Jose Garcia joined in on the fun, belting his fifth homer of the season this time towards rightfield to put the team up 3-0.
Chicks STILL dig the long ball.
2 dingers so far.
After 4, @FIUBaseball leads @CanesBaseball.

🙌🏼 0 1 0
😼 3 4 0
⬆5⃣#FIUvsUM #MagicCityMelee pic.twitter.com/LUUyHgGJzM

— Lemon City Live (@LemonCityLive) March 8, 2018
However, we were only in the eye of the storm.
The Canes responded in the fifth after freshman backstop Isaac Quinones laced a double near the third base line, scoring Tony Jenkins all the way from first. Willy Escala followed up with a two-bagger of his own scoring Quinones to bring Miami to within one. With newfound and much-needed momentum, Michael Burns went to bat next and while he couldn't get on base, he advanced the runner with a sac fly, setting the stage for Dylan Cloonan. Escala ended up stranded as Panthers starter Nick MacDonald went all "Wild Thing", striking out Cloonan to end the threat.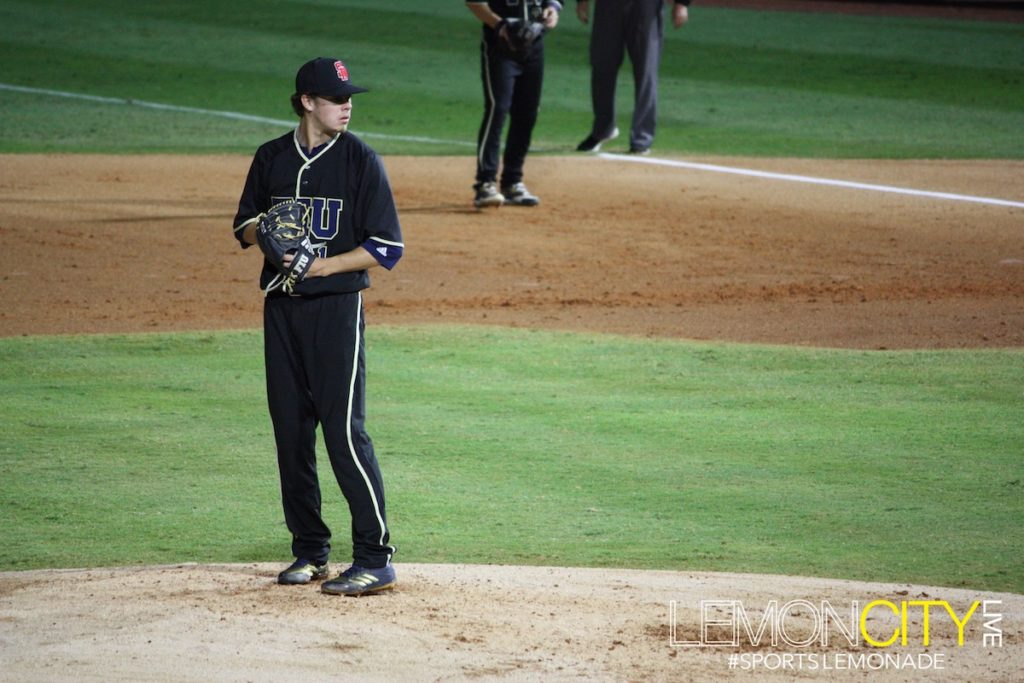 MacDonald was pulled in the sixth, replaced by freshmen righty Steven Casey. He lasted five innings, striking out 8 while giving up 2 runs on 4 hits. Despite their best efforts, the Canes came knocking again. Freddy Zamora doubled to center moving Michael Perez (the tying run) to third. As Alex Toral faced off against the new pitcher, Casey threw it in the dirt bouncing it off the catcher. Javier Valdes was unable to locate the ball in time, allowing Perez to score. The freshmen righty was able to recover, striking out both Jenkins and Quinones but the damage was done. We had ourselves a tie game.
Valdes started off the bottom half of the inning with a double towards centerfield, immediately putting a runner in scoring position. A pair of consecutive sacrifice flies from both Lorenzo Hampton Jr. and Diandre Amion brought Valdes home safely for FIU to retake the lead on a gorgeous night filled with spectacular defensive plays from both teams.
The blue and gold added another insurance run at the bottom of the eighth thanks to an RBI single by Valdes, scoring Silva. They wouldn't need it with the Panthers returning to .500 and the Canes slipping to 5-7.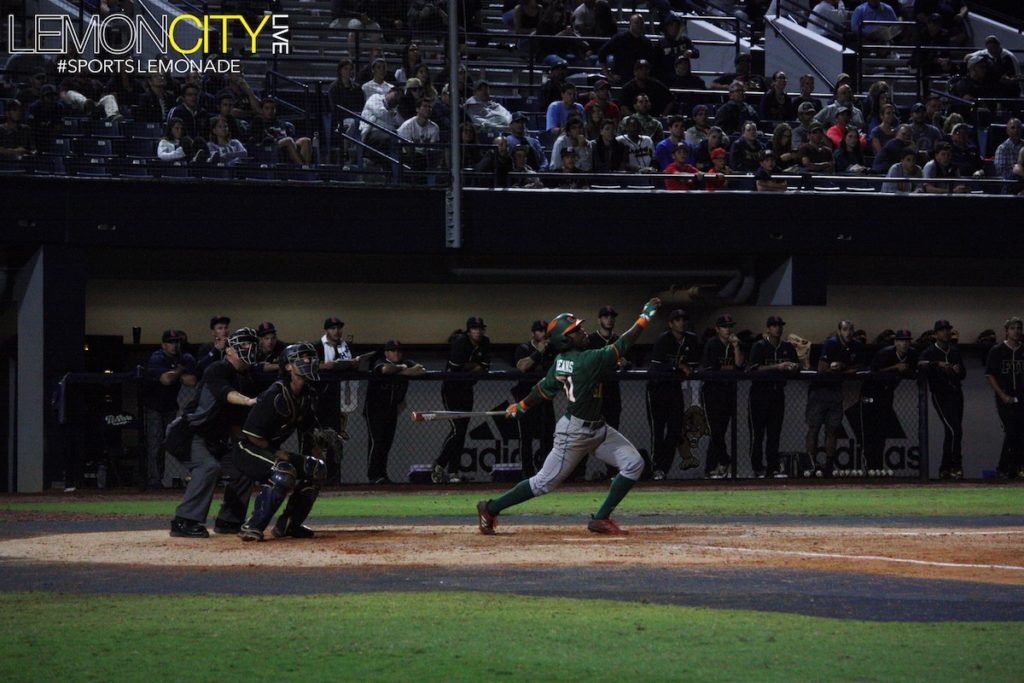 This was the 122nd meeting between these two teams. UM leads the series 93-28 although FIU has won two in a row now, including four of the last five.
Game Notes
Silva had a fantastic night, finishing 3-for-4 with his fourth home run of the year.
Garcia finished 1-for-2 with a ding dong and a walk.
Quinones finished 1-for-3 with an RBI.
Canes starter Michael Mediavilla went 4 1/3, victimizing eight batters surrendering three runs and 4 hits.
During tonight's game, the FIU Panthers wore Marjory Stoneman Douglas baseball caps honoring the victims from the Valentine's Day shooting.
Did you Know
Through 11 games so far, FIU batters have been hit 30 times putting the program on pace to shatter its previous record of 103 set just last year. The previous record was 97 times back in 2006.
Stat of the Game
Jose Garcia ended the night with a slugging percentage of 2.000.
Looking Ahead
Both teams will face off again April 25th, this time at The Light in Coral Gables. UM now returns home to host ACC foe Notre Dame while FIU travels to Port Charlotte for a 3-game road trip to face off against St. Joseph University, Western Michigan and for the first time in the program's 46-year history, George Mason.
You know it's a big deal when they have fireworks 💥 #MagicCityMelee #FIUvsUM @FIUBaseball hosts @CanesBaseball tonight #PawsUp #TheU pic.twitter.com/RME4aNPgah

— Lemon City Live (@LemonCityLive) March 8, 2018
For a complete photo gallery of this game, please CLICK HERE.
(Visited 264 times, 1 visits today)