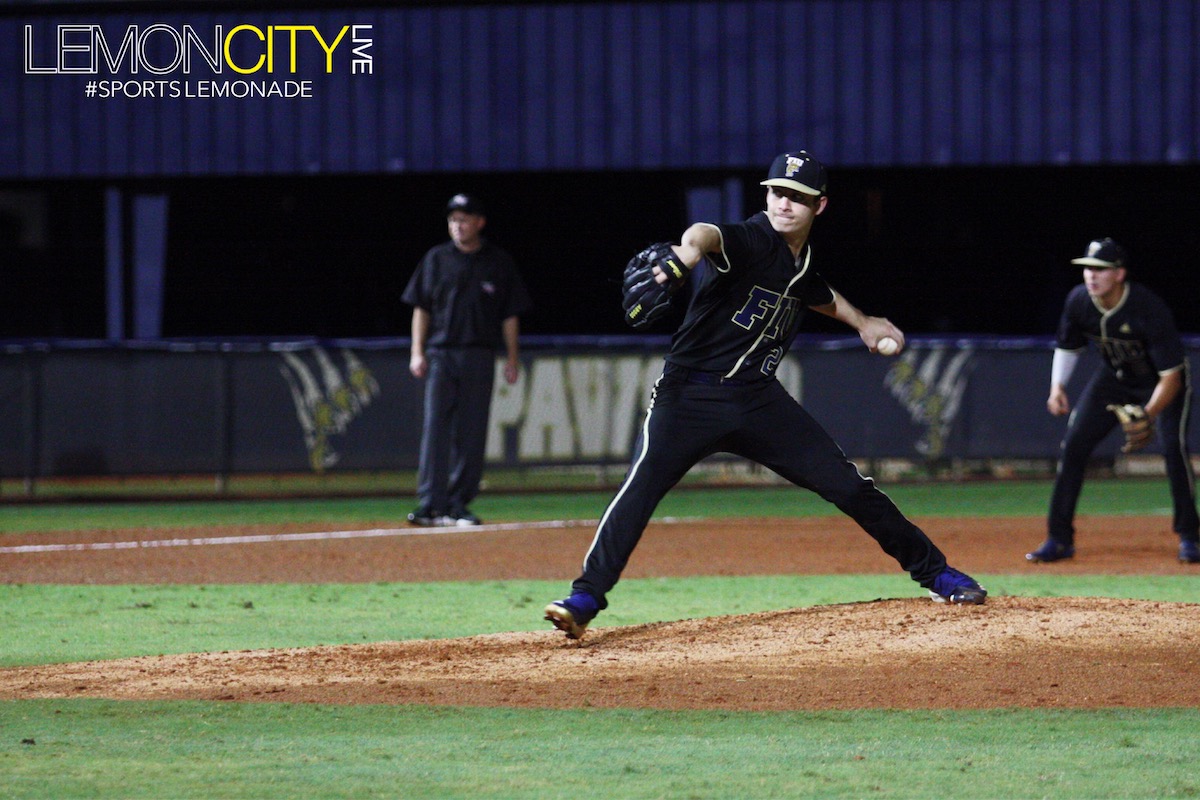 ---
Miami, FL – It's the 2020 FIU Panthers Baseball season, and it's about time! Fans of the blue and gold are already counting down the final hours until the first pitch of opening weekend as new and old faces get set to take the field. With a new season and a clean slate, the program will look to become competitive once more in C-USA. They'll need to, last year was a step backward for the Panthers. After finishing just two games below .500 at 26-28, making it to the conference postseason tournament in 2018, FIU struggled mightily the following year, finishing 23-32. They were ineffective at the plate, finishing near the bottom in batting average (.256), Runs (290) and Doubles (75). Their power-hitting also took a hit, going from 65 home runs, which was third-best in the conference, to only 49.
The pitching staff held its own but the bats just couldn't provide enough run support. And when the starters floundered, there were some pretty ugly games like the rubber match versus Western Kentucky where the team found itself mercy ruled 15-1. With star player Austin Shenton no longer in the program, the team will be looking to fill in the gaps. Now for the familiars:
The Playmakers
The @ConferenceUSA Preseason Pitcher of the Year is a 😼! #PawsUp 🐾 | #PantherPride pic.twitter.com/uu430FKinw

— FIU Baseball (@FIUBaseball) January 29, 2020
We'll start with two-way player Logan Allen. The southpaw is the hands-down ace of the team, finishing last season 4-6 with a 3.11 ERA in 14 starts. Doubling up as a first baseman, he hit .276 even going yard thrice. He finished the 2019 season striking out 120 batters, issuing only 25 walks. That's the seventh most by a Panther in a single season and the most since 2001 where a fella named Willie Collazo whiffed 148. When he's on the mound, Allen represents the team's best chance at winning. Look for the ace to keep the squad competitive against powerful opponents.
Derek Cartaya is next in our preview. A speedster for FIU, Cartaya appeared in 53 games last year (Started in 49) hitting .316 with 11 doubles and 28 RBIs, leading the team in stolen bases with 20. It was the third-highest in the league. The youngster showed a lot of plate discipline, striking out only 18 times last year. He found other ways to get on base, drawing 20 walks and getting beaned seven times. We don't recommend too much of the latter though, some of those really sting. Cartaya should be set to be the team's leadoff man once more, hoping to spark any offensive push.
Hailing from Doral Academy, FIU will also be relying on their catcher Jose Garcia. Appearing in 50 games, Garcia hit .285, collecting 47 hits, six doubles, and 43 RBIs. He also led the team with 11 blasts over the fences, brandishing a slugging percentage of .521. His power will be needed, the longball has not been a strength lately.
Another speedster on the team is Jarrett Ford. Hitting .277, he notched 41 hits, eight doubles, and 14 RBIs. Ford was tied for most runs (35) on the team and came in second with 17 stolen bases, including five swiped bags against Texas Tech to tie the single-game program record. The sophomore also drew 17 walks, the fifth most on the roster.
These four individuals form up the core for Florida International. With that said, others like Juan Teixeira who struggled last season will have to step up. The pitching staff does have talent outside of Allen, more so now with Tyler Myrick returning after missing last season, but without runs, the efforts go wasted.
Speaking of, I'd like to show you three guys of the bullpen.
The Platoon
Will Saxton was one of Florida International's reliable relievers last year. Appearing in 27 games the southpaw went 0-3 with a 2.89 ERA, tossing 28 frames and allowing nine earned runs with 29 strikeouts. Opposing hitters were held to .208, making him a very effective arm. The left-handed junior only allowed one earned run in his last 10 innings of work.
Another guy who adds great depth is Angel Tiburcio. The sophomore from Wellington, Florida had 19 appearances last year, including three starts going 0-1 with a 2.15 ERA in roughly 29 innings. Holding the opposition to .175, he allowed seven earned runs and punched out 28, making the righty a great choice for the setup or even closer role. There is one other youngster worth mentioning that has the ability to really shine.
In his freshman year, Steven Casey was FIU's most effective player in the bullpen. However, after 10 appearances he underwent Tommy John surgery, ending his season. In that short span, he went 2-0 with an ERA of 2.92, nabbing two saves. In nearly 25 innings of work, he allowed 15 hits and eight earned runs. His walks were a little high (12) but he whiffed 32, holding the opposing hitters to a mere .176 batting average. Missing a portion of his sophomore season due to recovery, he again appeared in 10 games, even getting the starting nod in two. However, it was not a triumphant return. Tossing just 12 frames his ERA of 9.00 was sky-high, surrendering 12 earned runs with batters hitting .333. The third year's the charm, right? Or so the hope goes. If Casey can recapture some of that magic, it would be a big boost to Coach Mervyl Melendez.
Time for the new faces.
"We are the bar." – @CoachMelendez24 #PawsUp🐾 | #PantherPride pic.twitter.com/bDUDR26jQZ

— FIU Baseball (@FIUBaseball) January 17, 2020
The Rookies
This first guy is an interesting one. A transfer out of Florida State, Alec Sanchez appeared in only 10 games freshman year, hitting a mundane .225 with a double and six RBIs. Certainly not impressive but maybe a change of scenery will do the trick. He can play both first base and outfield so let's see if he gets some games in.
Allen is the anchor of the rotation but he might be getting some serious reinforcements in the form of Mario Fernandez and JJ Teixeira. Fernandez is one of the new kids on the block coming from Belen Jesuit. In his senior year, he went 7-1 with a cool 1.41 ERA, punching out 50 and only walking eight in 54 innings of work. JJ meanwhile, went 11-2 with 85 strikeouts and a 1.77 ERA. Can you imagine if they translate this onto the college level? It can be a pretty mean rotation.
Rounding off the list is another transfer by the name of Justin Farmer. The junior is coming from Wallace Community College-Dothan where he hit .404, including 16 round-trippers and 53 RBIs. The guy also has some speed, swiping 11 bases. Farmer scared opposing pitchers, drawing as many as 37 walks. Based on these numbers, this outfielder should be in the starting lineup week-to-week.
The team definitely has the talent to compete, win games and be successful overall. But will they?
Almost done with the talkin' 🗣#PawsUp🐾 | #PantherPride

Presented by @AP_AIR_HVAC pic.twitter.com/9n4HZlPbxe

— FIU Baseball (@FIUBaseball) February 12, 2020
Schedule and Prediction
FIU starts the season hosting Fordham, a team they haven't played since 2012 with new guys like Pepperdine thrown into the schedule. They begin conference play on the road in mid-March and it'll be against a very tough Southern Miss, they're favored to win the regular-season title. They'll face the Miami Hurricanes three days later in the first of a home and home series at The Light followed by a 2 game midweek series with FGCU that'll have them shuttling back and forth between Ft. Myers and Miami.
April will also be a tough month. FIU squares off with Old Dominion, followed by an away series against Western Kentucky, only to return home to face their FAU rivals. If they can win two of these three series, they will be in great shape. From there the schedule gets decidedly easier with games against Charlotte and Middle Tennessee. However, once again Florida International will conclude their season playing Lousiana Tech, this time at their house. Although it may not be much of a home game for Bulldogs since J.C. Love Field will be undergoing reconstruction, it will still be a tough series.
So here's the deal. The program under coach Melendez has done a great job of recruitment the last couple of years, acquiring several quality players. Thing is, it has yet to translate to postseason success. Melendez is 0-4 in tournament play. There's a lot of potential on the team, not only to have a winning season but to finally grasp victory in the conference tourney. I think Merv will find the magic this time around. Now whether they get far after that is a whole other story. Get ready folks, this won't be like last year.
2020 Season Projection: 28-24
The calm before the storm. #PawsUp 🐾 | #PantherPride pic.twitter.com/vOX6NLfwZP

— FIU Baseball (@FIUBaseball) February 11, 2020
(Visited 73 times, 1 visits today)