---
Week two of training camp for FAU football wrapped up Friday afternoon as they're looking to learn more about their team heading into tomorrow's scrimmage. 
While the media won't be open to the scrimmage Saturday, the team will get a better understanding of how the depth chart will look like and possible starters. This will be the first of two scrimmages as the second will take place on Aug. 28. 
Head coach Willie Taggart talks about the progress he's seen and about the anticipated scrimmage: 
"It has been a short camp," Taggart said. "Usually, we have more practices than we have this year, but because school is starting here soon, camp is a little shorter. I'm looking forward to the guys going out there, everybody off the field, and the players having to execute throughout the scrimmage. That will be big. It will be a big scrimmage for our players. They know that."
The team behind the team.

Meet the people behind the scenes who make it happen. 🙌

— FAU Football (@FAUFootball) August 21, 2021
QB Questions
A position that hasn't been decided and probably won't be until the Owls' first game on Sept. 4 against the Florida Gators is the starting quarterback job. 
Currently, the QB room consists of former Miami Hurricane N'Kosi Perry, redshirt junior Nick Tronti, redshirt freshman Michael Johnson Jr., sophomore James Mott, and freshman Willie Taggart Jr. 
Coach Taggart talks about the quarterbacks and what he wants to see from them in tomorrow's scrimmage.
"Who's going to operate the offense consistently," Taggart said. "It's not just throwing the ball around, it's who can rally the guys and lead that group. I've seen all the guys have gotten so much better in being vocal and speaking up, they're all better than what they were last year."
Just by this week of camp and what every player brings to the table, I wouldn't be surprised if Perry was QB1 against the Gators, with Tronti being the backup. 
QB1 Perry?
Perry brings massive experience, especially from playing big teams with the Hurricanes like Florida State, Oklahoma State, and Clemson. While he's had to battle for the Canes QB job with the likes of Jarren Williams or sit behind D'Eriq King, he's learned in the ACC conference, the question is if he can thrive in Conference USA. 
When asked about how camp has been progressing from last week to this week, he says he's seeing a lot of shine from the offense.
"Practice has still been going good, we are still installing new things. I'm still picking up on it very well," Perry said. "As far as the scrimmage tomorrow, I hope obviously to do very well. Throw as many touchdowns as possible and have the highest competition percentage as possible, like any other time…I want to see how we do as an offense, if there is adversity, I want to see how we react and how competitive we are.
Perry mentions a key improvement he has sees in the offense for the Owls in 2021:
"I think the overall confidence of the team, I think everyone is buying into what we are doing," Perry said. "I feel we are believing in the plan that Coach Taggart and Coach Johnson have for us. It seems like we have been clicking a lot better this week."
With the Owls' first game against the Gators, that is a marquee matchup that doesn't come around often for the school. The last time these two programs faced off was in Nov. 2015 where Florida beat FAU, 20-14. For the Hurricanes, that happens very often. Perry talks about what he brings to the team with that big-game experience and the advice he gives to his cohorts about the nerves. 
"Once we get closer to game day, we'll see how the nerves are with the team, but as of right now we're not nervous and they believe that we can win," Perry said. "All we got to do is believe, I'm not the only one with experience on this team that's played in big games and that's huge for us."
Tronti serves as a worthy backup for FAU since he's been with the program, and knows Taggart's offense from last season. He started most games last season where he threw for 905 yards, six touchdowns, and three interceptions.
What I've Seen
By the 15 or so minutes of practice that is available for the media to watch, it really looks like Perry is the most polished of the bunch. They were running drills like practicing handoffs with the centers and to begin, Perry was working with Nick Weber, who's expected to be the starting center on the offensive line
Other drills were standard throws from the quarterback to the receivers and the signal-callers were split into two groups: Perry with Tronti and Johnson Jr. with Taggart Jr.
While Taggart Jr. is a freshman and likely won't start in 2021, he knows why. He mentions that he does want to start, but he knows he's young and inexperienced. However, he doesn't care about what the outside thinks of him and focuses on himself and his team.
"I don't really have to care what they think," Taggart Jr. said. "I'm focusing on just competing every day and I'm trying to get one percent every day for me and trying to help the team any way I can. I'm going to build for a better tomorrow and learn from the guys here now and one day they'll move on and it'll be on me."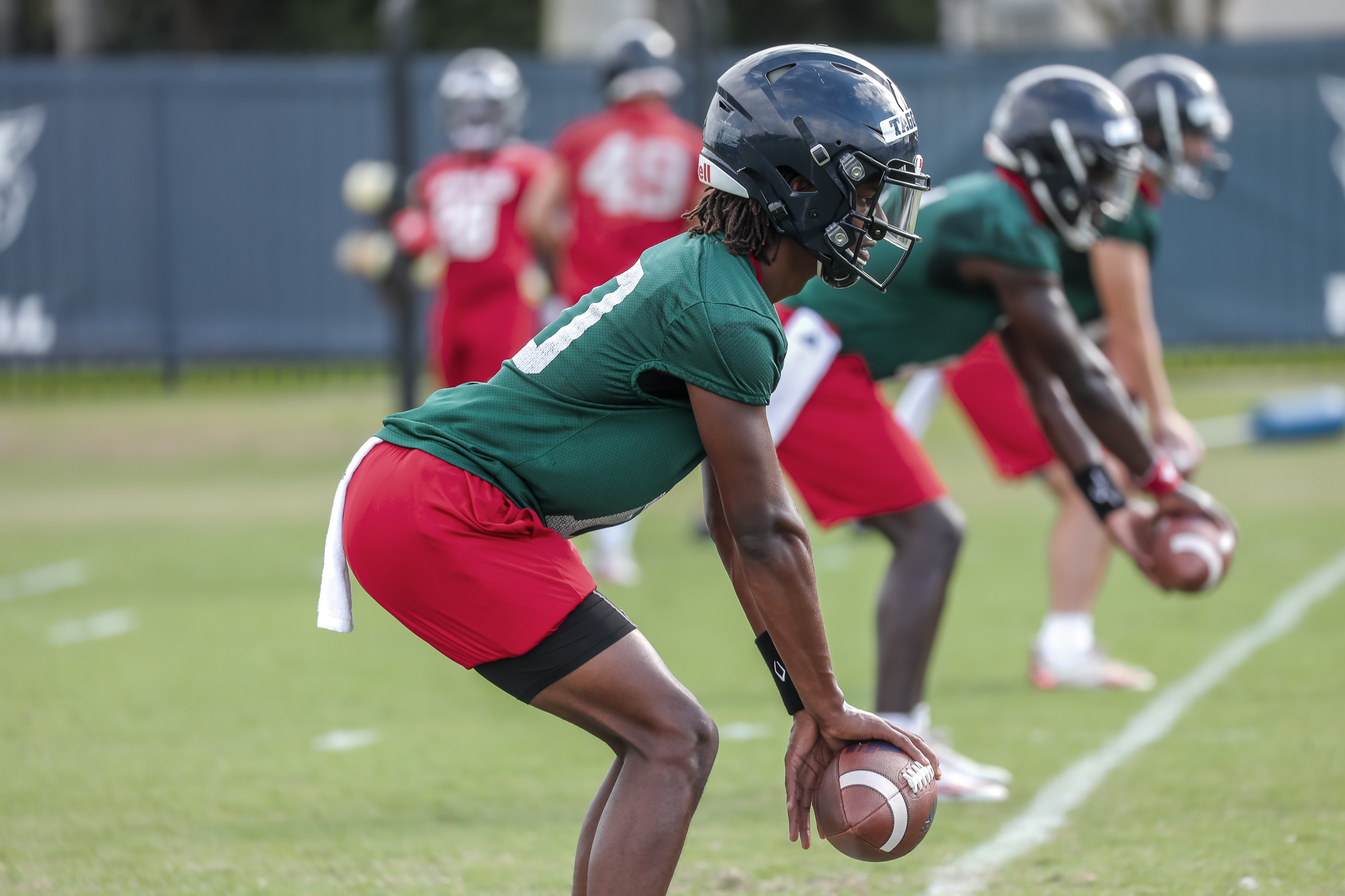 In his senior season in high school, Taggart Jr. amassed over 2100 yards and 20 touchdowns while on the ground, he ran for 876 yards to go with 10 scores. He talks about how camp for him personally has been going in his freshman season.
"Camp has been exciting, it has been really competitive, on both sides of the ball, and it seems like we are both, offensively and defensively, having fun competing," Taggart Jr. said. "We are in the facility 24/7 now. We are always seeing each other, but we are doing other activities like playing cards or any other kind of competitions, one-on-one type of deals. Any kind of goofy thing that we can do around each other we are building each other every day and it is exciting…It is just a really fun experience seeing each other and feeling the brotherhood, and competitiveness from everybody."
When it comes to his father, he's seen massive growth from his son in his freshman year of college on and off the field. 
"A lot more confident than what he was last year," Coach Taggart said. "That's what a year will do for you. For me personally, I've learned a lot too, especially learned some things to not take for granted, just because he's been around football and me, he's still one of the guys. Watching him grow and being confident in himself, being confident around his teammates. Now he's one of the guys, he's not a snitch, he's not going to tell daddy everything. It's cool to see him hang out with the team, calling him 'Lil Tag,' and from a football standpoint, this is the second time in  his career that he's had some consistency."
The quarterback situation will be one to monitor as we approach the start of the season when the Owls face the Gators on Sept. 4 in Gainesville, Florida. 
Photos courtesy of FAU Athletics. 
(Visited 153 times, 1 visits today)
About Post Author