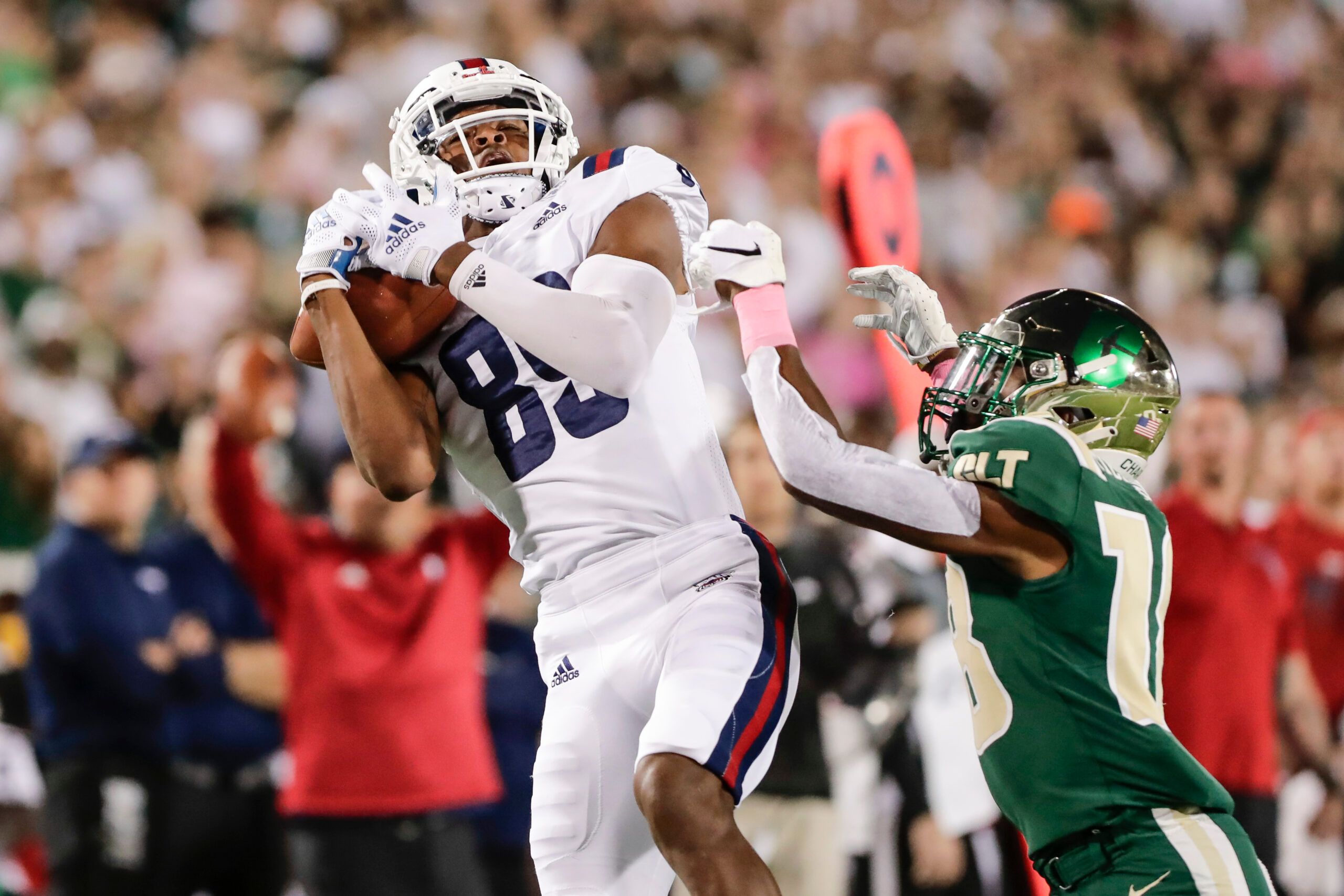 ---
The FAU Owls get their much-needed first road win of the season over the Charlotte 49ers in blowout fashion, 38-9.
Going into this game, there was a lot of proving to do for head coach Willie Taggart and the rest of the team after the bye week. What resulted Thursday night was FAU showing why they're a possible force in the East division of Conference USA.
"It's great, because you look at the program and what we're doing, you think about the negative things you hear a lot, it's winning on the road," Taggart said.
"I told our guys all week there's no extra pressure in us to go win on the road, we just got to go do it, we know what it takes to do it, we hadn't done it all year and a perfect time to do it is Thursday night on TV against a team that leans on our side of the conference."
That's our standard.#WinningInParadise pic.twitter.com/otAnigqoDM

— FAU Football (@FAUFootball) October 22, 2021
The first half had a much different pace than the second as FAU only had three offensive drives. A fumble stopped what was a good first drive, the second ended in a touchdown pass to TJ Chase, and the third was a three-and-out. 
There wasn't much opportunity in the first half for FAU because the 49ers controlled the time of possession, having the ball for 20 minutes. Their last drive took seven and a half minutes of play clock where they punched it in for a touchdown to take a 9-7 lead at halftime. 
The second half was a different story for FAU, however. If somehow you went to go to the bathroom or get a snack during one of The Owl's drives, you probably missed it.
Out of the four touchdown drives in the second half, the longest went for 2:21. 
Because of the fast nature these drives went, the leading receiver on the team was Je'Quan Burton for 78 yards, but he tied LaJohntay Wester and Brandon Robinson with most catches with only two. 
When asked about these fast drives and if this team can't rely on them, Taggart says that's what they do.
"That's what we do, we score fast, we have explosive plays and that's what we got today. Those methodical drives are boring, but I'll take those two when we need them," Taggart said. "But again, I think each game is different and sometimes you need to drive and get them whatever we can as quickly as we did tonight."
Taggart had a lot of good to say about the defense but did mention the multiple instances where they fumbled the snap or handoff that halted drives.
While his health was a storyline to follow during the bye week, quarterback N'Kosi Perry played lights out even though he only threw the ball 11 times. He completed the ball eight times for 225 yards and threw for three touchdowns. He even ran the ball for 26 yards showing that he's healthy. 
We are all @CoachTaggart right now. pic.twitter.com/dtTBoxEKSh

— FAU Football (@FAUFootball) October 22, 2021
Running back Johnny Ford was the best player on offense besides Perry as he ran for 92 yards and a touchdown. He showed off his dual-threat ability by also catching a pass and taking it to the house for 32 yards and a score.
Taggart emphasized the importance of a running game in the bye week and they ended up with 203 rushing yards in total. He talks about Ford and how happy he was to see him perform in a big way:
"I was really happy about Johnny's [Ford] performance tonight. Johnny was going through a lot, didn't know if he was gonna play tonight. He struggled all last night and for him to put it all together and come out and help his football team says a lot about him, and I'm so happy that he was able to do that," Taggart said.
"I got to tell him I know there's a lot of pain going on in his family, but tonight he made them proud and took a little bit of that pain away from them and what they're going through by watching him play on TV. So happy for him that he was able to overcome some of those things and put a smile on his face and like I told him his granddad was looking down on him."
#FAU HC Willie Taggart said during his presser after the game that Johnny Ford almost didn't play because of his grandfather passing. Says he's proud of him for playing and playing the way he did.

— Zachary Weinberger (@ZachWeinberger) October 22, 2021
Ford touches on the emotional rollercoaster that he and his family and why he ultimately wanted to play:
"A lot of stuff was going through my head because of off-the-field problems back at home and I really wanted to play, because I knew my family was gonna be watching and during this tough time, I could give them a chance to smile. They watch me on TV, we just lost somebody, I just wanted them to smile like give them a little moment. But for me to just get the grieving off of my family right quick and just to get text messages from them after the game, and just me telling them I love them, like all this was for them really, it wasn't even for me because I really wasn't supposed to play this week. My mom told me to get up, you got something to do, and I'm pretty sure if I were to stay home, we would have just been all still sad and grieving watching the game, but me playing and scoring the touchdown, I'm bringing joy to them, bringing joy to my mom, and bringing joy to the family."
I asked Ford about the possibility of not playing today and the emotions going into this game. He said because of the sadness in the family, he wanted to go out there and provide some joy and happiness for his family which motivated him to play the way he did. #FAU https://t.co/mUXxRD3VYj

— Zachary Weinberger (@ZachWeinberger) October 22, 2021
While the offense was electric, the defense only held the 49ers to nine points, with none scored in the second half. 
Taggart gives his evaluation on the defensive performance Thursday:
"I thought they played outstanding. The one thing I was disappointed in was our tackling, we missed too many tackles but I was really impressed with the bend don't break. I always tell our team that there are not many that can just drive the whole field and score on us. Our guys showed that again tonight, we kept them out of the endzone and they got that one before the half, but I thought our guys played lights out today."
There were multiple standout performances on the defense as they held their own against a Charlotte offense led by quarterback Chris Reynolds who has been good all season. 
Freshman defensive tackle Evan Anderson made an impact on the line as he had four total tackles, a tackle for loss, and provided pressure all game. 
Defensive backs Korel Smith and Ahman Ross both recorded interceptions, with Ross giving the ball to his mother in a viral clip. 
Come for the INT, stay for the gift to mom ❤️ @FAUFootball pic.twitter.com/ksfsV7hhJf

— SportsCenter (@SportsCenter) October 22, 2021
The defensive player of the day goes to Caliph Brice who had 10 total tackles, three and a half for a loss, had a half of a sack, and had two quarterback hits. He was everywhere on the field.
Brice, who performed in front of 20 of his family members, said that his relatives gave him that extra motivation.
"Yeah, I'm not gonna make it about the family necessarily. I try to show out every game, but it's always good to play in front of my family and this game is extra special," Brice said. "So, it just meant a lot to me. So I gave a little more."
The win puts FAU at 4-3, 2-1 in the conference, and at top of the East division of Conference USA. Because of the Thursday game, they'll get a couple of days more to prepare for a home matchup against UTEP on Oct. 30. 
Photo courtesy of FAU Athletics. 
(Visited 72 times, 1 visits today)