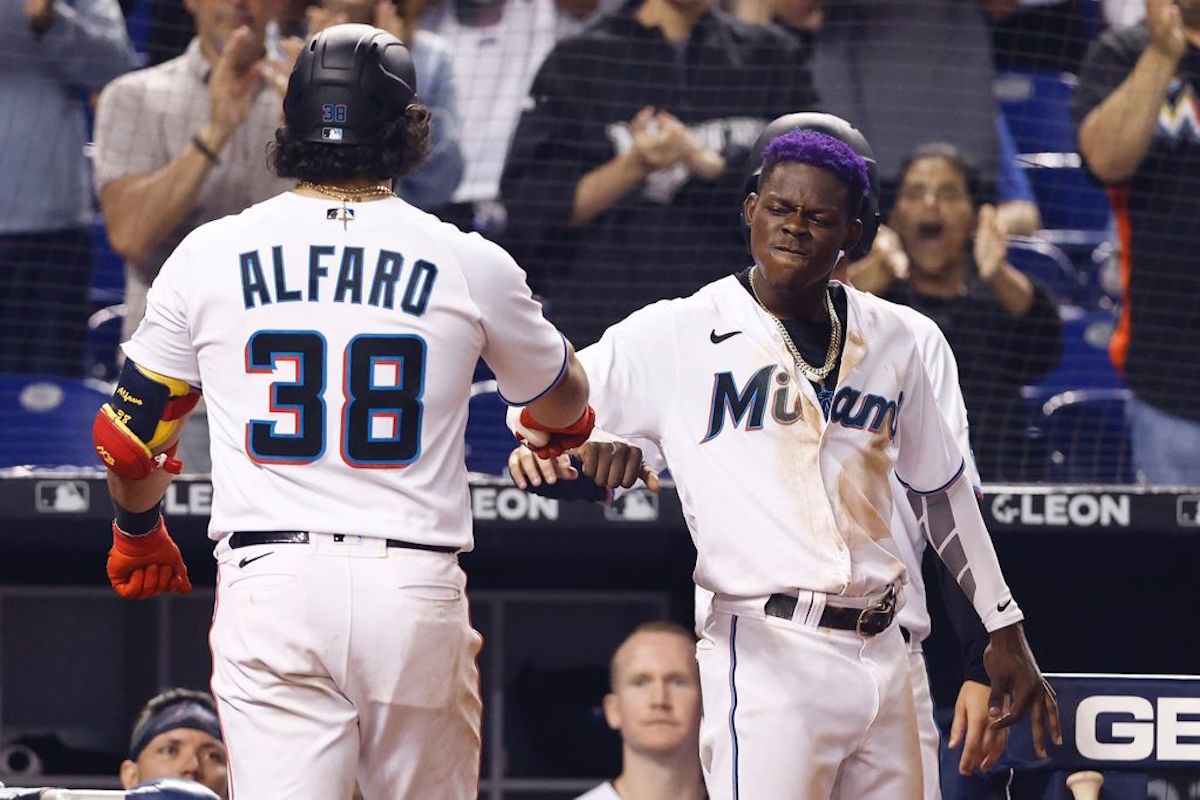 ---
Miami, Florida – It wasn't easy but the Marlins held on to win 5-4 cooling off the red hot Los Angeles Dodgers thanks to late-inning heroics from Jorge Alfaro. The badly needed victory helped turn the page after Sunday's demoralizing road loss to the Atlanta Braves where the bullpen suffered an ugly ninth-inning implosion.
Trevor Rogers faced off against Walker Buehler as Miami hosted a team riding a nine-game winning streak. With the exception of the third inning, the southpaw kept LA's hitting largely under control while the offense attacked with plenty of small ball and timely power. Rogers lasted five frames giving up two earned runs, striking out eight leaving it to the taxed bullpen to fight the rest of the way. Sunday's late-game nightmare manifested itself although this time it was a favorable ending.
Early Strikes
Adam Duvall nearly hit a two-run blast in the opening inning. He slammed it towards the leftfield fence, but the ball twisted just left of the foul pole denying the Marlins an early lead.
Chris Taylor y Justin Turner produjeron las primeras dos carreras de #Dodgers.#Marlins gana 4-2 en la quinta entrada.pic.twitter.com/fdWWZKeeKM

— Joframaso⚾️ (@joframaso) July 6, 2021
The Dodgers threatened in the second with runners at the corners but Rogers fanned second baseman Zach McKinstry to get out of the jam. Rogers got a bit roughed up on his next trip to the mound. Buehler aided his own cause, leading off with a line-drive double to center. After he then moved over to third base on a passed ball by Alfaro, Chris Taylor brought Buehler home with an RBI double to make it 1-0 Dodgers over Marlins.
Justin Turner singled to center plating Taylor adding another run. Joe Panik committed an error to extend the inning although nothing came of it.
Small Ball and Speed
The Marlins responded with three runs of their own. With two outs Starling Marte was plunked. Seemed innocuous enough. Using his speed, Marte stole second prior to Garrett Cooper bringing him home with an RBI hit. Believe it or not, Cooper swiped his first career base on his second-ever attempt. That's insane. Five years in the Majors and this was his very first stolen base.
all caught up. 😌 #JuntosMiami pic.twitter.com/k7JpPXuC2W

— Miami Marlins (@Marlins) July 6, 2021
Miguel Rojas plated Coopaloop to tie it. The Dodgers defense didn't do itself any favors when Jesús Sánchez managed to get on base due to a throwing error by McKinstry. Seeing the opportunity, Duvall raced homeward to make it 3-2 Fish. Miami kept up the aggression on the base paths in the fourth. Joe Panik swiped his second bag of the year after singling on a soft bunt. Jazz Chisholm Jr. followed up with his first hit of the night scoring Panik to make it 4-2.
After Rogers came out of the game, the bullpen took over. For a time, all was well. Steven Okert pitched a smooth sixth while Zach Pop jumped in partway into the seventh. With a runner in scoring position, Pop walked Chris Taylor but struck out AJ Pollock and Turner to preserve the lead.
Dread followed by Euphoria
Things took a turn for the worst.
The bullpen struggled again in the eighth issuing an unnerving four walks, coughing up two runs allowing the Dodgers to tie it. Pop surrendered a base hit to Albert Pujols before walking Will Smith and Max Muncy to load 'em. Miami turned to David Hess making it one heck of a Marlins debut with nobody out. Hess walked Gavin Lux to make it a one-run game. Pinch-hitter Cody Bellinger sac flied deep to center field tying it 4-4. Fortunately for the home team, Hess stopped the bleeding. Against a ballclub like this, it could've been a lot worse.
Ever since Pablo López's ejection on Friday, the bullpen has been dealing with a massive workload, using up nearly all of its available arms.
It was during this dark time that Jorge Alfaro became the hero of the game, launching a no-doubter to AutoNation Alley giving the Marlins the lead over the Dodgers for good at the bottom of the eighth. This allowed Anthony Bender to record his first save of the season.
VAMOS MIAMI. VAMOS JORGE. pic.twitter.com/FlYy00yYSG

— Miami Marlins (@Marlins) July 6, 2021
No doubt Marlins fans were breathing a sigh of relief.
Following the conclusion of the game, there was a moment of silence to honor the victims of Surfside.
No mas Noche de Sixto, Andy inches closer
It's official, Sixto Sánchez will miss the rest of the season. An MRI revealed a small tear in the posterior capsule of his throwing shoulder ending hopes of seeing him on the mound for the rest of 2021. According to Craig Mish, he previously had a tear back in March. In an attempt to avoid surgery rehab was recommended. It didn't pan out.
In brighter news, Brian Anderson is slowly making his way back. BA is taking batting practice on the field and conducting defensive drills. Miami needs this big bat to return asap. He's been out of the lineup since May 25.
Game Notes
Trevor Rogers: 5 IP, 6 H, 2 R, 2 ER, 8 K, 96 pitches 64 for strikes
Walker Buehler: 5 IP, 5 H, 4 R, 3 ER, 2 BB, 6 K, 93 pitches 60 for strikes
Dodgers scored four runs on eight hits committing two errors
Marlins scored five runs on eight hits also committing two errors
Miami with RISP: 4-for-8
Team LOB: LA 11, MIA 7
Fish stole three bases courtesy of Marte, Cooper, and Panik
📸 Credit: Michael Reaves / Getty Images Sport / Getty
(Visited 98 times, 1 visits today)