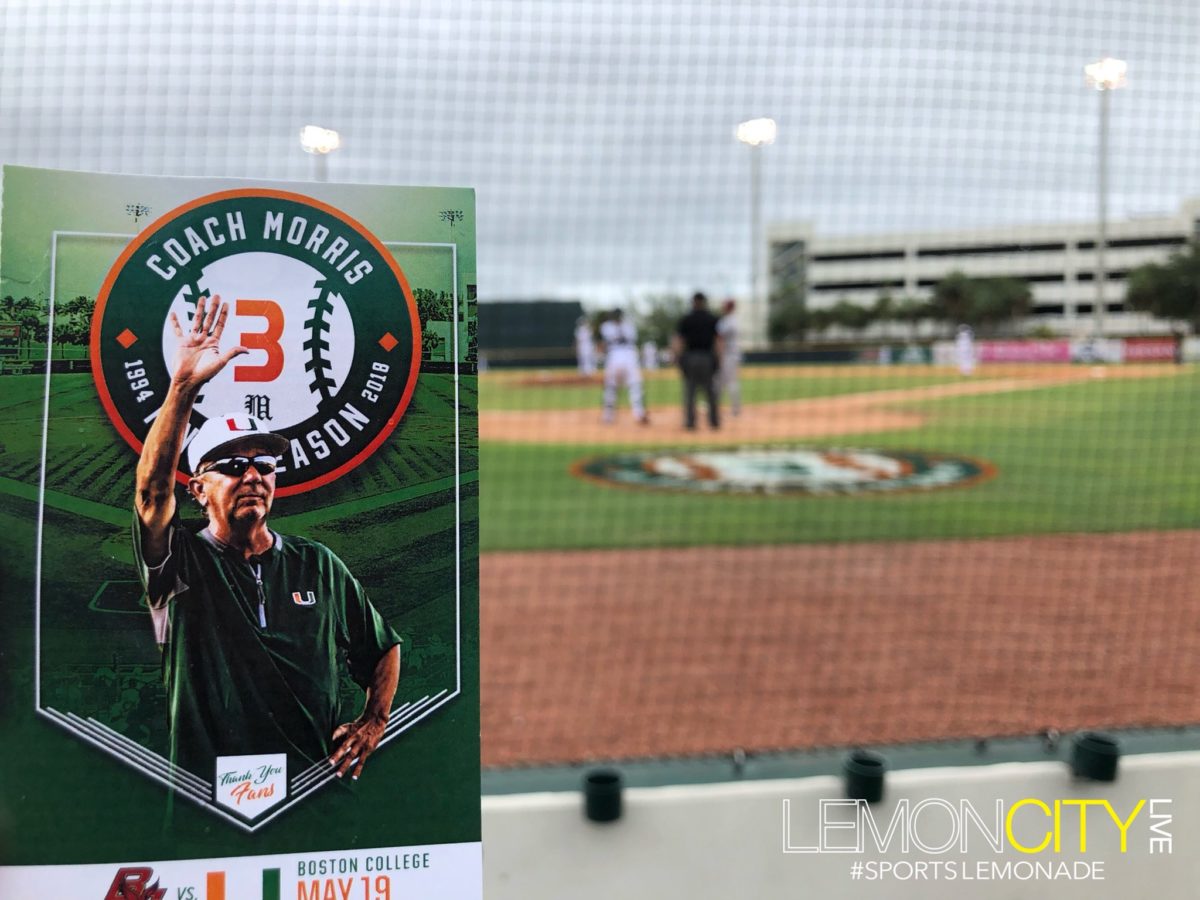 Coral Gables, FL – It's the beginning of the end of an era as coach Jim Morris' final regular season game was washed out in a very rain-soaked week in South Florida. While the game was scrubbed, the pre-game ceremony commemorating Morris' 25 seasons with the storied program was an emotional one. Friends, family and the staff praised the man who in filling the shoes of his legendary predecessor, became a legend himself.
We honored a great coach, mentor and man before today's game.

Thank you, @Coach3morris, for everything you've done for our program and for the @univmiami. pic.twitter.com/CDfmMhq6At

— Canes Baseball (@CanesBaseball) May 19, 2018
Here's just a small portion of his resume:
National titles in 1999 and 2001
ACC Baseball Champions: 2008, 2014 and 2016
3-time National Coach of the Year: 1994, 1999, 2001
UM qualified for the NCAA Tournament in Omaha in 13 of Morris' 24 seasons, the most recent being in 20016 (Can he squeeze out one more?)
Morris set an NCAA record for guiding a program to the College World Series in each of his first six seasons at UM.
2008 ACC Coach of the Year
And that's just a small portion of his success that goes all the way back to his years at Georgia Tech (1985-1993) and beyond. Morris has been the head coach at the collegiate level for over 40 seasons. Let that sink in.
Miami was unable to complete its 3-game sweep of Boston College due to the rain, but the Canes ended the season red-hot, its unimaginable 10-game winning streak still intact. Heading into Durham, it's unlikely Notre Dame and to a lesser extent Clemson, would want to face these guys in pool play. Let's wind the clocks back a month.
The ugly 7-game losing skid had already happened, they just trounced FGCU in their second meeting and in the previous weekend they unexpectedly won the series against Clemson, at their house. The team was sitting at 4 games under .500 with Pittsburgh on the slate, a series they would lose followed by another series loss to FSU the weekend after that. At 17-25 this team's season to many, was over.
They never lost again.
Beginning with salvaging the series at Tallahassee, the Hurricanes roared to life winning 10 straight finishing the season two games above an even record. It was a rollercoaster year with victories against good teams but also bad losses. Injuries and trouble at the plate plagued the team for most of the year, but the Canes are clicking at precisely the right time.
The road to Omaha has officially begun, it will be hard. Going in as the #7 seed in Pool B, as previously mentioned we're in with #2 seed Clemson (43-13, 22-8 ACC) and #11 seed Notre Dame (24-28, 12-18 ACC). The former rides in with a six-game winning streak of their own while the latter stumbles into the tournament after getting swept by Louisville to end the season. We dance with the Fighting Irish Tuesday night and the Tigers on Thursday. We face both once and the team with the best record out of each of the four pools advances to the single elimination phase. We need to go far into the ACC tournament, if not win the entire thing for a shot at the College World Series.
👏👏👏 Super classy move by @BCBirdBall once the game was called. Players and coaches came out to pay their respects to @Coach3morris for his 25 years of service. #ClosingTime #ThanksCoach #Canes@CanesBaseball pic.twitter.com/5sEv28AVqz

— Lemon City Live (@LemonCityLive) May 19, 2018
Lastly, the Hurricanes handed out several season-ending awards. Michael Burns won the Bob Werner Award, given annually to the player that most exemplifies qualities of a winner, and also the Arnold Novins Award for the fans' favorite player. Isaac Quinones won rookie of the year while Jeb Bargfeldt won the Ron Fraser Award, Miami's top pitcher voted by the players and coaches. Surprisingly, Danny Reyes is this year's Home Run Champion, going yard five times. Very telling considering he spent a huge chunk of it on the DL. And last but certainly not least, Freddy Zamora won Hurricane MVP.
If that's the last time you step off the Mark Light mound, take a bow, Jeb.

Thank you for a wonderful two years. pic.twitter.com/j98rwV5XN3

— Canes Baseball (@CanesBaseball) May 18, 2018
With all these accolades I'm inspired to hand out some of my own this award season.
#Bully Award
No doubt UM fielded several good pitchers, but for me, I really enjoyed McKendry on the days he was the mound. And the best part? He's only a sophomore.
.@EvanMcKendry has posted Miami's first 100-strikeout season since "Houdini" himself, @BryanRadziewski, had a 111-K season in 2014

Congratulations, Evan! He's up to 101 this year – that's a lot of croquetas pic.twitter.com/sSutmAm6me

— Canes Baseball (@CanesBaseball) May 12, 2018
Gus Bus of the Year
Freddy Zamora
Zam Zam was a backstop's worst nightmare when he was on base and drove in runs too. All while sporting a cool .310 average.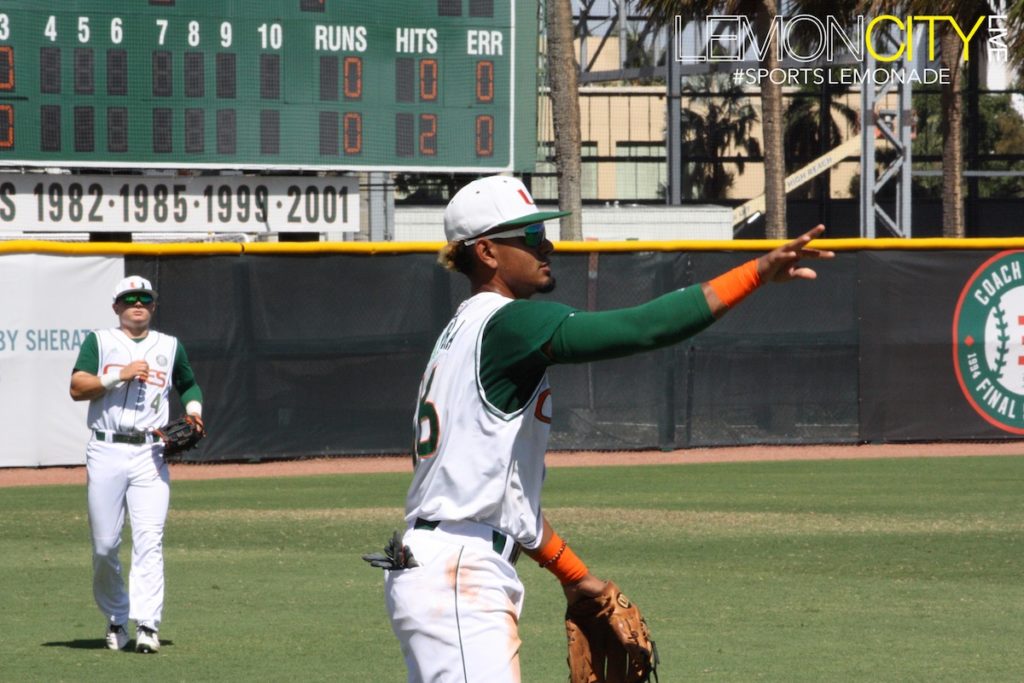 Iron Man Award
Isaac Quinones
When Michael Amditis went down, the Canes had a big hole at catcher. Quinones stepped up and earned his stripes early during the 15-inning marathon against Maine. From there he became the everyday starter. Take a bow kid, you were great this year.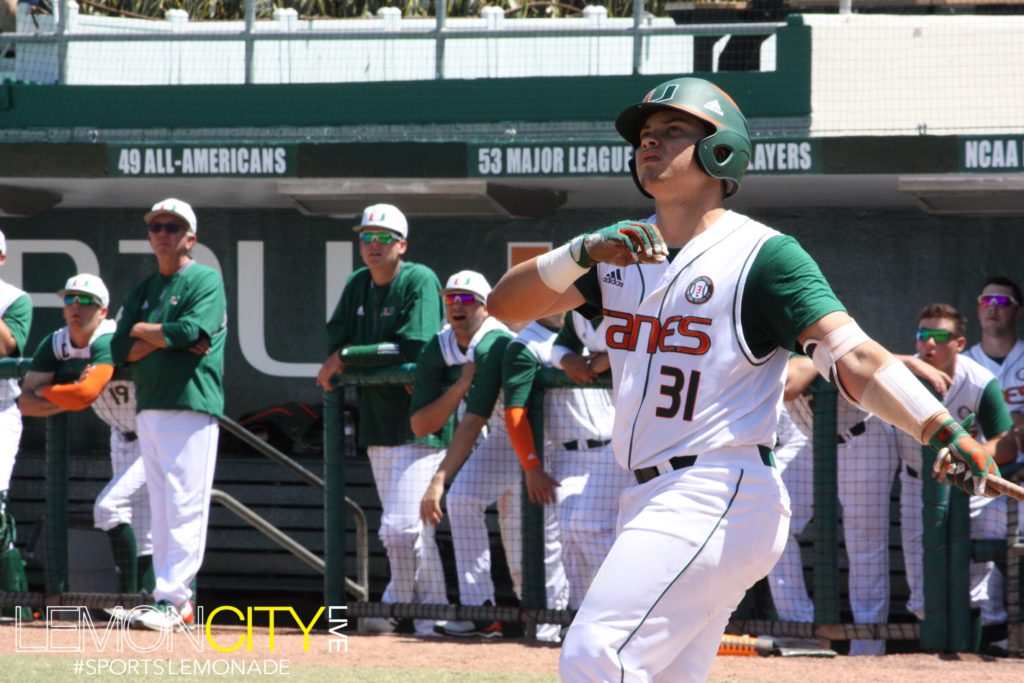 So this is it for Miami. It's win or go home. Whatever the result, the fans should be proud of this squad despite their ups and downs. Most of all, they should be proud of 'ol #3's efforts at keeping the U as one of the teams to watch in both the ACC and in baseball, period.
[foogallery id="12400″]
(Visited 139 times, 1 visits today)