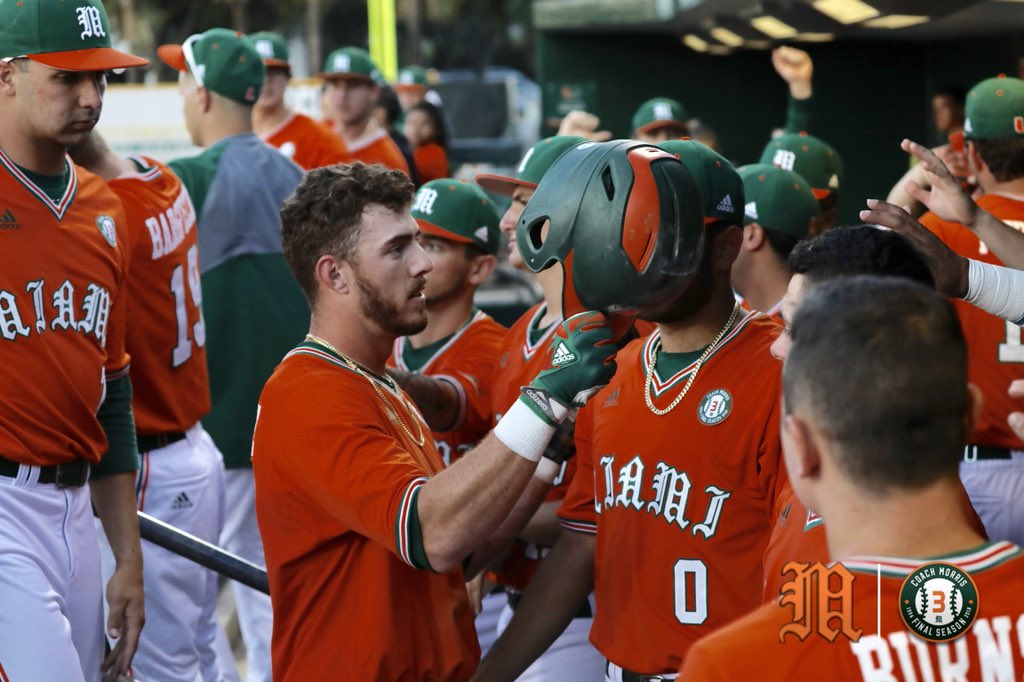 Andrew Cabezas put up another outstanding performance, extending the winning streak to five as the University of Miami Hurricanes pummelled the FGCU Eagles 7-1 to take the season series. Cabezas (5-4 4.60 ERA) went seven deep Wednesday night, clipping the Eagles' offense, holding them to just one hit while victimizing seven at the plate. He was opposed by Eagles ace Evan Lumbert  (6-2 2.79 ERA), who did his part in limiting the Canes' run output until the sixth with 121 pitches.
Mark Light Field was put under a hurricane watch for the second and third inning with UM scrapping two runs together for the early lead.
Beautiful evening here for some midweek baseball from #TheLight@CanesBaseball hosting @FGCU_Baseball #RoadToOmaha pic.twitter.com/V9TUDcb0c9

— Lemon City Live (@LemonCityLive) May 9, 2018
In the second frame with Romy Gonzalez on third and Danny Reyes on second, Dylan Cloonan came through with an RBI single to right, putting Miami on the board. An inning later, Reyes found himself 90 feet from home after drawing a walk, taking full advantage of a pick-off attempt gone wrong, safely arriving to third. He was brought home sweet home by Michael Burns on a ground ball play.
Meanwhile, Cabezas dominated FGCU for four straight frames, fanning four and holding the Eagles to just one hit during that span. It wasn't until the fifth that the Eagles threatened to soar.
After retiring Marc Coffers, Freddy Zamora botched a routine grounder allowing Eric Gonzalez to get on base. Cabezas then issued two straight passes, walking both Christian Proffitt and Spencer Levine to load the bases for lead-off man Gage Morey with one out. Facing a dangerous top of the order, Cabezas walked Morey on the payoff pitch, granting FGCU's first run. True to form, UM's starter proved his mettle striking out both Alex Brait and Richie Garcia, shooting down the Eagles' hopes of tying the game. #BULLY
OUT OF IT!

Cabezas strikes out the last two batters to leave the bases loaded! pic.twitter.com/t0Uo4A66vM

— Canes Baseball (@CanesBaseball) May 10, 2018
The watch advisory gave way to a Hurricane warning as the team broke out in the sixth, flooding Lumbert with three runs, ending his night courtesy of Cloonan and Raymond Gil. The warning was extended into the seventh as Miami added two more insurance runs to take a commanding lead and the win.
Miami improves to 22-25 while Florida Gulf Coast falls to 31-16.
The Canes will travel to Blacksburg this weekend, facing ACC rival Virginia Tech.
Gus Bus Award:
Dylan Cloonan
Cloonan got Miami on the board in the second with an encore in the sixth, going 2-for-4 on the night, collecting two RBIs and a double.
You're Killing Me Smalls
Isaac Quinones
He just had one of those games, going 0-for-3, whiffing twice. Next time!
Game Notes
FGCU won the first meeting in Ft. Myers 1-0 on March 28, however, Miami struck back (April 18) with an 8-1 beat down at home. All three games were on a Wednesday.
UM leads the all-time series 19-5, including a 13-3 record at Coral Gables.
After the rubber match, the Hurricanes outscored the Eagles this season 15-3.
Despite a 17-14 record at home, the Canes are 5-11 on the road.
7-7-7: Curiously, Andrew Cabezas forced seven groundouts, seven pop flies and of course, seven strikeouts.
(Visited 220 times, 1 visits today)