Coral Gables, FL – The Miami Hurricanes took care of business Sunday afternoon, sweeping the weekend series against the Virginia Cavaliers 8-1. The Canes were led by Andrew Cabezas (1-2 3.79 ERA) squaring off against Bobby Nicholson (1-0 1.04 ERA). Cabezas pitched a beauty, supported with great hitting from both Hunter Tackett and Isaac Quinones. It's the Canes first sweep of the year.
It was a much-needed sweep for the team due to last weekend's struggles against a very impressive Duke squad. The fact it was against a ranked ACC rival makes it all the sweeter.
Quinones, who has been getting on base all weekend, got things going in the first with a two-run double scoring Michael Burns and Tackett.
UM kept up the pressure in the second with Freddy Zamora hitting a little nubber towards the right of the pitcher. Nicholson reached over but failed to scoop it up, watching helplessly as the ball rolled towards short. Zamora beat out the throw, ending Nicholson's brief outing. Blake Rohm took over and you know what they say, first impressions are important so what does he do? In the words of the UM faithful:
"RAG ARM! WALK HIM!"
Rohm gave a free pass to the first batter he faced (Dylan Cloonan) juicing the bases for Tackett. The freshman did not recover, beaning Tackett to bring in the runner from third while knocking himself out in the process. Another one bites the dust. He was quickly replaced by Mack Meyers.
Lean into one Tackett #Teamwork#Canes add a couple more
Canes up here at #TheLight

UVA 1 3 2
🙌🏻 4 5 0
⬆6⃣#BeatUVA #SportsLemonade@CanesBaseball @TicTacB00M36 pic.twitter.com/FSlnCmYTQq

— Lemon City Live (@LemonCityLive) March 25, 2018
https://platform.twitter.com/widgets.js
Quinones struck again with a hard roller to the shortstop, hustling down to first. Despite being unable to beat the throw, the ump declared him safe due to Nate Eikhoff stepping off the bag. Virginia coach Brian 'O Connor came out to contest the call to no avail. It was then that the fans proceeded to give skipper the VIP treatment with chants of "RIGHT! LEFT! RIGHT! LEFT!" to the rhythm of his steps, ending with a loud "SIENTATE" once he made his return to the dugout. Ladies and gentlemen, say hello to UM's 10th man!
The Hurricanes could've caused a lot of damage but had to settle for just two runs. Eventually, they would succeed in grabbing more.
The Cavs finally got on the board in the fourth with a sac fly to center by Alex Tappen, ending the shutout. Despite the run, Cabezas looked unphased, striking out Charlie Cody to end the inning.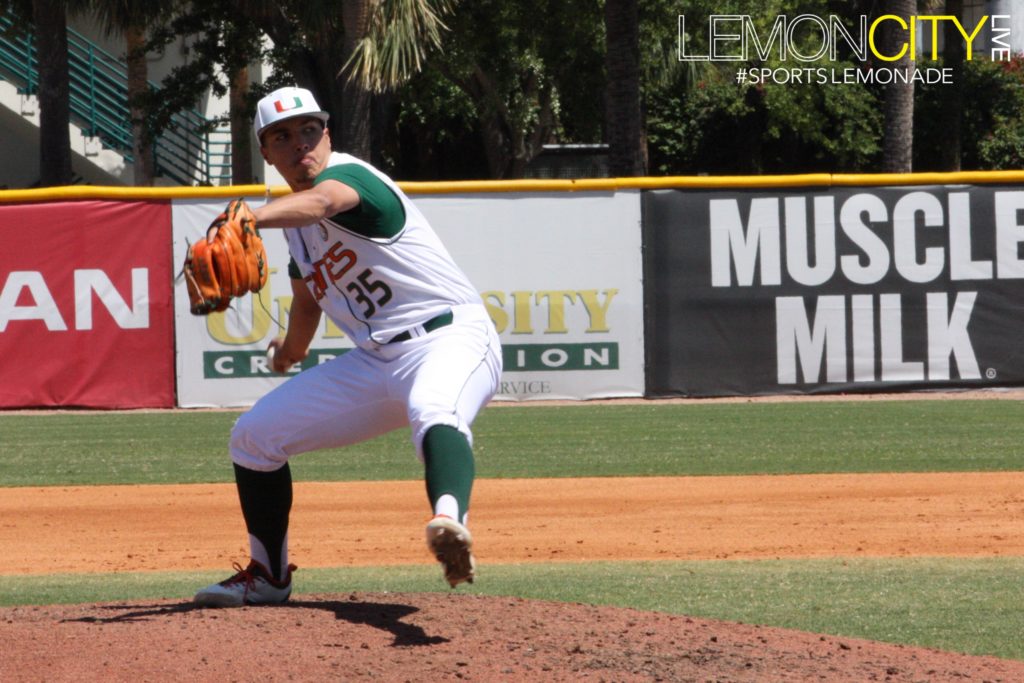 Jeremy Cook took over in the seventh, capping off a stellar performance by Cabezas who allowed a single run on three hits in six innings of work, fanning eight. Cook ran into some trouble after surrendering two straight base hits, but the defense held the line with a groundout and an excellent pickup by Willy Escala, stepping on the bag for the throw to first, completing the 4-3 double play to preserve the lead.
The bullpen did its part as Cook and Cooper Hammond kept Virginia at bay as UM busted the game wide-open in the eight, adding four more runs, including not one but two triples by Romy Gonzalez and Zamora. Ballgame!
We're going sweeping!!!
Break out the brooms!#Canes complete the sweep of #24 @UVABaseball

UVA 1 6 3
🙌🏻 8 9 0
FINAL#SweepUVA #SportsLemonade@CanesBaseball pic.twitter.com/CZaFNNRepY

— Lemon City Live (@LemonCityLive) March 25, 2018
https://platform.twitter.com/widgets.js
Game Notes
The team improves to 12-11 (6-3 conf.) riding on a 3-game winning streak.
Isaac Quinones finished 2-for-4 with 2 RBIs and a double.
Raymond Gil finished 1-for-3 with 2 RBIs and another double.
UM scored eight runs on nine hits and zero errors, Virginia scored one run on six hits and 3 errors.
👀👀👀 pic.twitter.com/fVd9a5fCzy

— Canes Baseball (@CanesBaseball) March 25, 2018
https://platform.twitter.com/widgets.js
Stat of the game
Virginia stranded  10 runners on base today, making them wonder what if.
Player of the Game
Isaac Quinones  #BULLY
Looking Ahead
UM has an exhibition match on Tuesday against the Miami Marlins followed by a trip to Fort Myers for a game against FGCU before continuing conference play at Georgia Tech next weekend.
Photo Gallery
[foogallery id="11323″]
(Visited 216 times, 1 visits today)