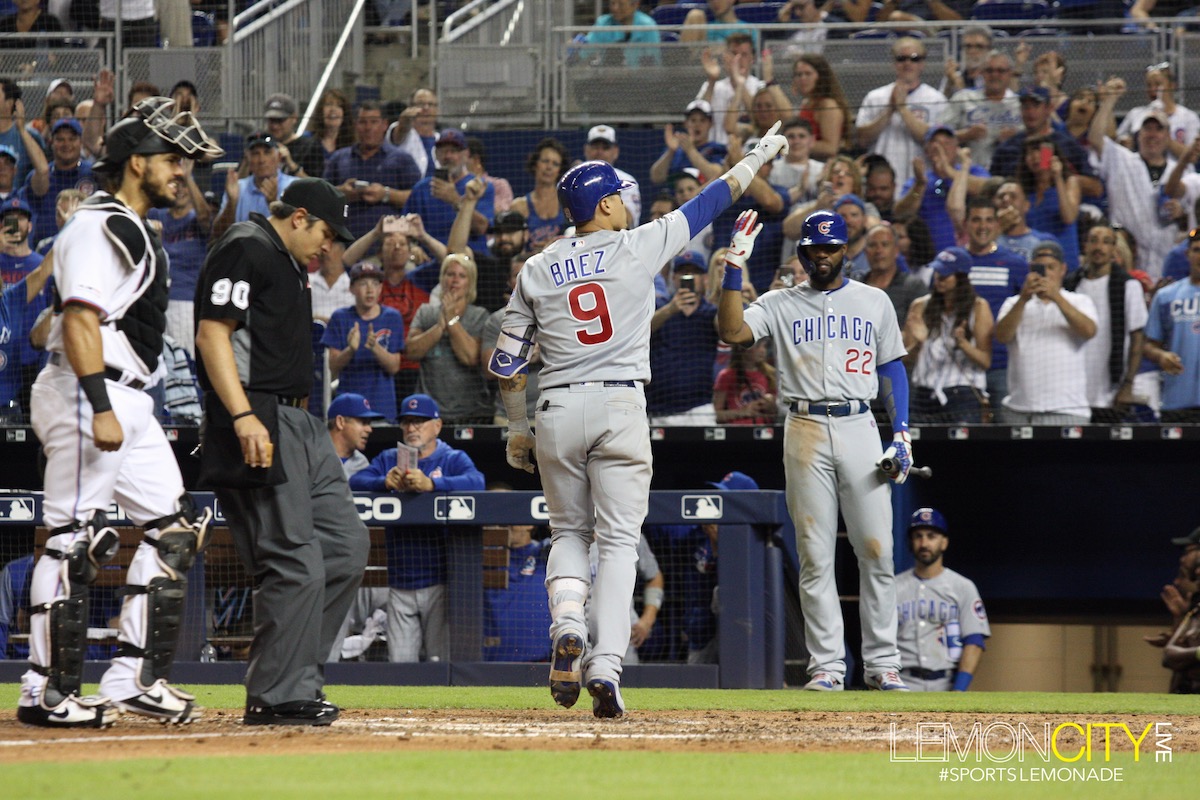 Miami, FL- Miami's offensive woes continue as the Marlins were blanked for the second consecutive game, losing 6-0 to the Chicago Cubs Wednesday night at Marlins Park, completing the sweep. Sandy Alcantara had a better outing, but a bad third inning sunk the Fighting Fish.
"I thought he had good stuff actually today. I thought he was much more aggressive, was happy with that." Coach Don Mattingly said.
There was a pitch here or there but Mattingly felt had the situation been different, the young arm could have gone longer. The Marlins were outscored 17-2 this series, starting with Monday's 7-2 loss on Jackie Robinson Day. Everyone in the league wore the #42 to commemorate baseball's trailblazer.
Chicago scored their first run of the game via an RBI-single to left from Daniel Descalso in the second inning. Descalso would not have a quiet night. The Cubbies struck again the following frame.
It's a 3-RBI night for @DanielDescalso!#Cubs lead 5-0 in the 3rd. #EverybodyIn pic.twitter.com/u3ueBQXUYX

— Chicago Cubs (@Cubs) April 17, 2019
Thanks to timely hits from both Javier Baez and Jayson Heyward, the boys from Wrigley tagged up Alcantara for two more runs. Descalso returned for his second at-bat and made things even worse for the Marlins starter, hitting a two-RBI double to left to put the Cubs up 5-0. He tried to sneak over to third during the play but Jorge Alfaro threw him out after the ball failed to get to the catcher in time to prevent the latest run. A merciful end to a brutal inning.
Before the game, I made an educated guess that Alcantara would bounce back performance wise and last six innings, giving up two runs tops. Guess I was half right. He went deep-six but gave up five runs (All of them earned) and seven hits, fanning just as many batters. After an excellent first two starts of the season, the rookie righty has been struggling of late. On April 12th he has issued his first loss of the season, the 9-1 defeat to the Philadelphia Phillies. During that game, he surrendered a career-high 11 hits and tied his career-high with six runs allowed. He is now 1-2 with a 5.09 ERA.
After the seventh inning stretch, Miami loaded the bases with one gone. Remember yesterday's stat of how the team bats .071 with the bases juiced? That worrying trend continued as Starlin Castro struck out on the payoff pitch and Miguel Rojas lined to Ben Zobrist out in right field. In the words of a group of diehard UM fans: AI YAI YAI.
Give Cole Hamels a ton of credit, he pitched a gem tonight. Outside of the seventh, the veteran southpaw kept the Marlins irrelevant wracking up eight strikeouts. He lasted seven innings, sprinkling three hits. If anyone should be awarded player of the game, it's Hamels. He now improves to 3-0 with a shiny ERA of 2.77.
Cole Hamels' gem remains intact after striking out Starlin Castro and getting @MRojasOfficial to line out with the bases fully loaded. 5-0 Chi Town going to the eighth. pic.twitter.com/M1WnGIgX1n

— Gabriel Garcia (@Gabewritesports) April 18, 2019
It's not all bad, Alfaro extended his season-long hitting streak to five games. Heading into the contest he was hitting .310 at home this season. He finished the night 2-for-4. His batting average now hovers at .326. Apparently, he's pretty fond of Marlins Park. During his time with the Phillies in 2017 and 2018, he posted a hit in all eight games he played here as a visitor.  He was 12 for 29, good enough for a .414 batting average. Go figure.
In the post-game conference, Mattingly showed frustration at the state of the team, emphasizing that it isn't just a hitting problem or a pitching problem. While happy that his pitching staff is throwing the ball "Pretty good," he wouldn't deny the continual mistakes of the wrong pitch being used or just bad pitches in general.
"You know, we're losing as a team. We're not gonna get separated by offense or defense or pitching or hitting. We're losing in all different ways," Mattingly said.
"As a team, we're not getting it done. Pretty much period right there. And that's gonna have to change."
The mood in the clubhouse is likely one of frustration with the drive to stay positive. Speaking of staying positive, no one exemplifies this more than recent call-up Austin Dean. During the series, he's been relatively quiet at the plate but he made an immediate impact this past weekend against the Phillies.
"I think this team is a lot better than what was shown, mark my words down the road I think we're going to shock people."
Let's see if his words prove prophetic. Wouldn't that be something?
[envira-gallery id="16709″]
(Visited 140 times, 1 visits today)