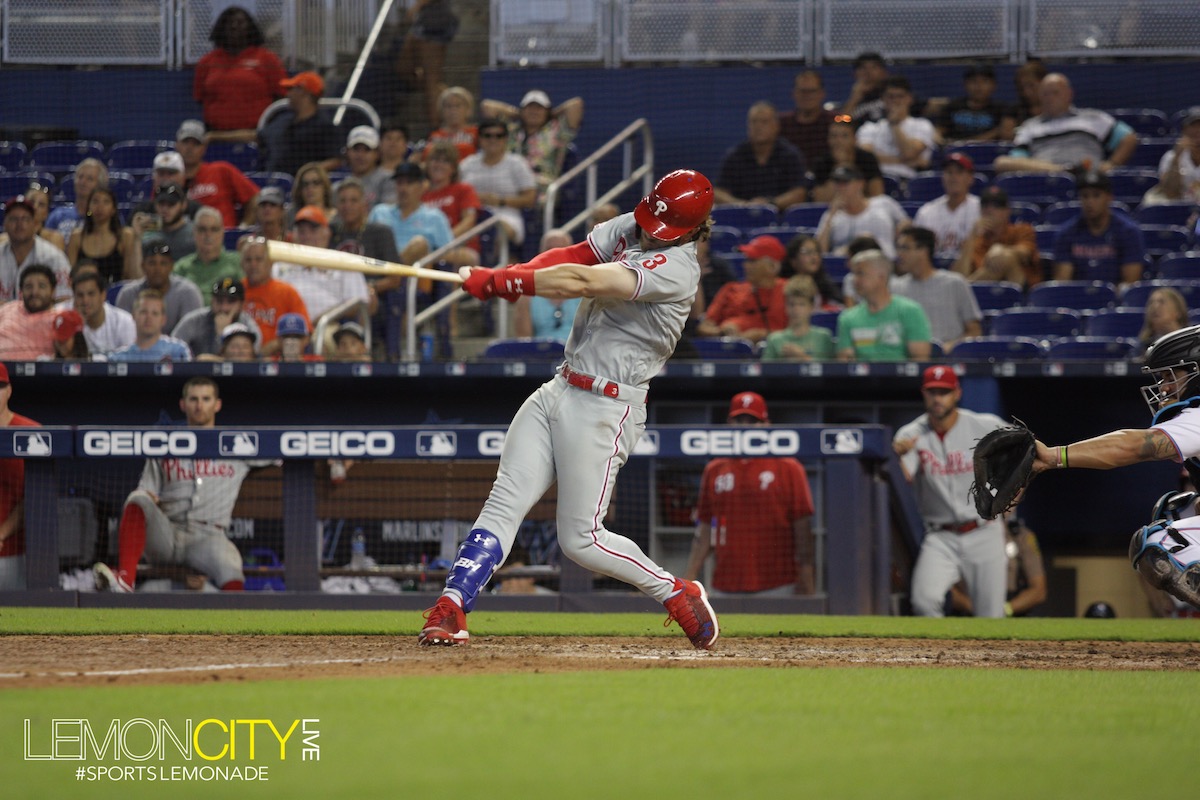 Miami, FL – An ugly outing by reliever Wei-Yin Chen doomed the Miami Marlins, preventing their second consecutive sweep of the Philadelphia Phillies Sunday, as they let this one slip away 13-6 at Marlins Park. Trevor Richards (3-8, 3.94 ERA) toed the rubber, facing off against Phils Starter Jake Arrieta (7-6, 4.33 ERA) whose great experience versus Miami continued. The Marlins rallied a bit to keep things interesting but the hole was too big to dig out of.
Richards got a little roughed up in the first, giving up three hits and a run to hand the Phillies the early lead.
The 26-year-old out of Aviston, Illinois has struggled against this team. In five career starts against Philadelphia, Richards is 1-3 with a 6.64 ERA. Arrieta, meanwhile, is 7-1 with a 3.30 ERA in 10 career starts versus the Miami Marlins. 
His troubles continued in the third frame after giving up a leadoff double to Scott Kingery to put a runner in scoring position. Jean Segura grounded out but Richards walked Bryce Harper on the payoff pitch as Kingery stole third. He recovered by fanning Rhys Hoskins but in the ensuing play, the Phillies attempted to pull off a double steal. Miguel Rojas couldn't field the short throw from catcher Jorge Alfaro cleanly, leaving him unable to toss it back to the plate. Harper was eventually tagged in a short rundown but not before Kingery crossed home to make it 2-0.
.@ScottyJetp4x stole third, then stole home on this play to give us a 2-0 lead! pic.twitter.com/dAnfJRrzm1

— Philadelphia Phillies (@Phillies) June 30, 2019
Miami got one back that same inning via Harold Ramirez grounding out to bring in Richards, but the wheels came off in the sixth. Wei-Yin Chen came in, replacing the starter. Five straight singles later, the Phillies had a commanding 6-1 lead. Chen's day ended without recording a single out.
Oh, it gets worse.
Jeff Brigham was next up to take over the mound, striking out Kingery to get the first out. Segura and Harper laced back-to-back base hits to add in more runs. An interference error by Alfaro resulted in Arrieta getting called safe at the plate. Brigham made things worse with a wild pitch. As the ball rolled forward, Segura roared towards home. Alfaro slid forward to try to scope up the ball, only to fail and get trampled by the runner. Hoskins sac flied to left to cap off a seven-run barrage, effectively putting the game out of reach at 10-1. 
When asked on what went into the decision to send out Chen in the sixth, coach Don Mattingly said that he had pitched well against them the previous week.
"They didn't hit anything hard, but they all seemed to fall. It got away right there." He went on to add that the team still had opportunities to get back in it.
Miami worked up a bit of a rally shortly thereafter. Brian Anderson and Curtis Granderson cranked out two straight doubles with Alfaro homering to left center to cap off a three-run effort to put the team to within six. They added two more in the seventh after Anderson tripled to score in Garrett Cooper. He then capitalized on a wild pitch by JD Hammer, bringing the Fish to within four.
Fun 'lil trip around the bases for @AndersonBrian01. #JuntosMiami pic.twitter.com/RX96t8sDGu

— Miami Marlins (@Marlins) June 30, 2019
Harper responded with a laser to left with a man on to make it 12-6 Philly. It was his 15th home run of the season.
The Marlins did little else.
Trevor Richards finished the day tossing five frames giving up three earned runs on six hits, including a homer to Brad Miller. He was credited with the loss.
After getting swept by the Washington Nationals to start the six-game homestand, the Miami Marlins recovered by winning the series against Philadelphia. The Fighting Fish had their biggest comeback of the season last night, rallying from a 6-1 deficit to defeat their NL-East rivals 9-6. Neil Walker belted a two-run homer in the sixth followed by a six-run seventh to complete the turnaround. Miami finished the month of June going 13-14. It's the first time the squad has won 13+ games since last June, going 14-14.
The Halfway Point
We're officially into the second half of the season after the team played its 81st game on Saturday, matching last year's club record of 32-49. Entering today's game the pitching staff had a 4.29 ERA with 694 strikeouts, 96 home runs allowed and opposing hitters batting .241. The starting rotation so far is 23-34 with a 3.92 ERA, not counting today's game. They've given up 55 dingers while fanning 414. Opposing hitters are batting .237. 
This is a definite improvement from last season where the starters were 17-34 with a 4.76 ERA. They gave up 62 homers then with 350 strikeouts. Opposing hitters were batting .252. 
Over at the plate, the Marlins were hitting a weak .239 with 656 hits and just 293 runs heading into today's game. That averages about 3.6 runs a game. They've launched 63 balls into the stands so far, 64 really if you want to count Alfaro's. For some contrast, they were hitting .238 at this point last year with 661 hits, 296 runs, and 63 homers. Identical numbers.
The team has the day off tomorrow before hitting the road once more to face the Nationals followed by the Atlanta Braves.
[envira-gallery id="17667″]
(Visited 115 times, 1 visits today)