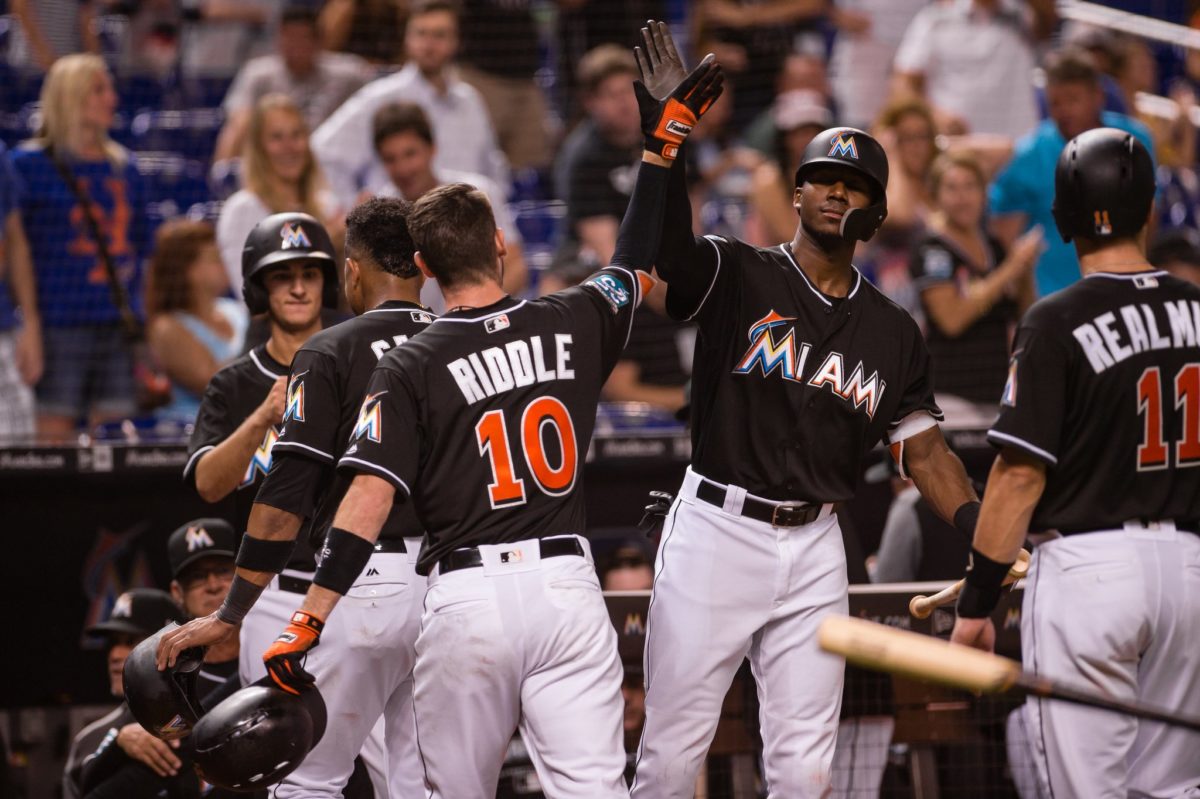 Howdy folks, hope you've had an excellent week watching sports, there's been plenty to go around. Most eyes are glued to the World Cup but I've got you covered for some good 'ol baseball. The Marlins could've had a better series against Arizona but it was still a great slate of games. Shall we?
The Marlins won their road series against the Rockies, overcoming a very rocky start as Wei-Yin Chen was blasted in the opener. He lasted only four innings after getting tattooed with seven runs on nine hits. Jon Gray dominated Miami, fanning 12 and giving up just one run in seven innings of work. Derek Dietrich had the most success with a solo shot. The six-run fourth was more than enough for Colorado to win 11-3. After that it was all Marlins thanks to a tremendous seventh-inning grand slam from J.T. Realmuto, breaking the 1-1 tie and lifting the team at Coors Field by a final score of 6-2. #KeepingItRealmuto. The result snapped the Rockies four-game winning streak. Until the seventh, it was a pitchers duel between rookie Trevor Richards and opposing hurler Tyler Anderson. Richards lasted six frames, keeping the Rockies in check, scattering three hits and striking out eight en route to winning the middle game of the series. The rubber match saw Dietrich nearly hit for the cycle, coming up a triple short, going 4-for-5 with two RBIs. Funny enough, the one who achieved that was Lewis Brinson. At the top of the seventh Brinson came in to pinch-hit and roped an RBI-triple, scoring Yadiel Rivera to keep Miami up 7-5. Clutch. #Brinsanity. The bullpen definitely pitched in after Caleb Smith went down with an injury in the second inning. Drew Rucinski struggled but the rest of the pen shut the Rockies down, 8-5 Marlins. It would be the last start for Smith.
Issa movement. #KeepinItRealmutohttps://t.co/kDhXPRqyIL

— Miami Marlins (@Marlins) June 26, 2018
Miami returned home to begin its longest homestand of the season, hosting the Arizona Diamondbacks for a 4-game tilt. Dan Straily toed the rubber for the opener in the midst of appealing a suspension, going 6 1/3rd innings allowing three runs on four hits. Meanwhile, Miami scored early and often, rattling off five runs by the fifth courtesy of Dietrich, Justin Bour, Starlin Castro and Brian Anderson. The Marlins blew it open in the eighth with four more runs to win 9-5. Unfortunately, the Diamondbacks won the next three games, decisively taking the series. Despite good pitching from Elieser Hernandez and Chen, Arizona's pitching kept the Marlins at bay, culminating in a 4-0 shutout gem by ace Zack Greinke in the last game.
1/98th of @sandyalcantar15's 1st MLB win.#JuntosMiami pic.twitter.com/VM1hnRvexh

— Miami Marlins (@Marlins) June 30, 2018
Time for some bonus content! Sandy Alcantara, Miami's no. 2 prospect, made his major league debut Friday night against the Mets. Lasting five frames, Alcantara kept New York to one run with tremendous support at the plate. The Marlins cranked out six runs in the third, Brinson launched a solo shot followed by JT Riddle blasting a three-run ding dong into the stands as part of the effort. Like Dietrich, Brinson was a triple short of going for the cycle as Miami pummeled the boys from Shea, 8-2 securing Alcantara's first win of the year. Welcome to the league, man!
¡Pablo López hace su primera apertura esta tarde, el Día de la Herencia Venezolana! 🇻🇪

Venga y comparta con nosotros este día tan especial en Marlins Park.
#JuntosMiami | https://t.co/Umsik1z2Yk pic.twitter.com/f2IuGobhhU

— Los Marlins de Miami (@LosMarlins) June 30, 2018
Rookie weekend was, to borrow from the season tagline, just getting started. Pablo Lopez made his MLB debut Saturday looking to make his own waves. The no.20 prospect went deep-six, handcuffing the Mets to two runs while fanning five. Miami's bats did their part, taking the lead in the sixth after Anderson lifted the ball to left for a two-run shot, his fifth of the season. Riddle followed up with an RBI single that same inning. Afterward, Realmuto added some cushion of his own with a two-run double, securing Lopez's first career win. The Marlins were unable to sweep the Mets despite a good outing from Straily. Out of the entire lineup, only three players logged a hit in the series finale: Realmuto, Cameron Maybin and Miguel Rojas. Also worth mentioning, Maybin hit his first homer of the season. Despite the 5-3 victory, it's been 12 straight series losses for the Mets. Ouch.
First time since 1967 that two NL teammates won their first career starts in consecutive days. #JustGettinStarted pic.twitter.com/JffNgNQqjE

— Miami Marlins (@Marlins) July 1, 2018
Well how bout that, eh? A beautiful start for two dreams come true. We lost Caleb Smith for the season due to a grade 3 left lat strain and while Jose Ureña is slated to return in a couple days, I wonder who will be sent down to make room for him on the active roster. Assuming he doesn't end up back in the minors.
The series against the Diamondbacks slipped through our fingers but they did end up beating the Rockies and Mets. Don't look now but Miami is nipping at New York's heels, looking to finally climb out of the cellar and take over fourth place in the NL East. Who knows? Maybe they'll catch the Nats and leapfrog the Phillies? It definitely won't happen but a nice thought nonetheless. The starting rotation just got younger (experience wise) and whether, in the wake of Smith's season-ending injury, the staff remains as is going forward, this will certainly be an interesting time for the pitching corps. I don't know about you guys but I'm excited to see what Alcantara has to offer now that he's here. And Lopez! No doubt these green reinforcements are intended to display their pitching prowess while developing as the season goes on. They'll have plenty of growing pains but given our record, so what? Now is as good a time as ever to send them out game after game and give them as much playing time and experience as possible.
The homestand continues with Tampa Bay coming over followed by a trip to the nation's capital. The dog days of summer are upon us and the Fighting Fish will continue to rumble on with this very young core of players, looking to turn out some All-Stars while they're at it. Speaking of All-Stars, I really do hope both J.T Realmuto and Brian Anderson go to the All-Star game, they've had a great season individually so far and Realmuto, in particular, has been an anchor for this team. No doubt as a veteran backstop he offers plenty of leadership and insight to our young staff both on the mound and in the dugout. Until next we meet, stay frosty and have a happy fourth of July fish fans!
Tonight's a Salute and Serve Monday at #Marlins Park as the @Marlins and #Rays renew their Citrus Series rivalry at 7:10. https://t.co/AL2bSAeich

— Glenn Geffner (@GlennGeffner) July 2, 2018
Stat of the Week
All time worst records after 12-2 start: New York Mets. Next 66 games: 20-46. They beat 1914 Pirates who went 23-43 and the 2005 Dodgers who went 26-40.
Tebow Watch
Tim Tebow continues to generate buzz out of Double-A Binghamton. On Friday he was named to the Eastern League All-Star roster after having a hot hitting streak this past month. For the month of June, he was batting .301 with a .762 OPS. He padded his stat line with six doubles, 11 RBIs and a homer for the month. He's really far from a Major League call-up, I don't care what anybody says, but it's progress. The Eastern League All-Star game is on July 11 in Trenton, New Jersey.
Tim Tebow secures his first career baseball All-Star nod. In 22 games in June, he has compiled a .318 AVG with 7 extra-base hits. In 67 games in his 1st season at Double-A, Tebow has hit .261 with 5 HR and 30 RBI.#BinghamtonAllStars #LetsRumble pic.twitter.com/j0Ah1YA1ZJ

— Rumble Ponies (@RumblePoniesBB) June 29, 2018
Views from the Cheap Seats is a recurring segment where a Miami raised sports nut recaps, screams and analyses a week's worth of games giving a toast, or the finger, to his hometown team depending on their performance. A truly hopeful but always realistic fan putting thoughts to pen to paper and always striving to improve. Be bold, be good, be you.
Don't forget to follow us on Twitter, Facebook, and Instagram.
(Visited 172 times, 1 visits today)