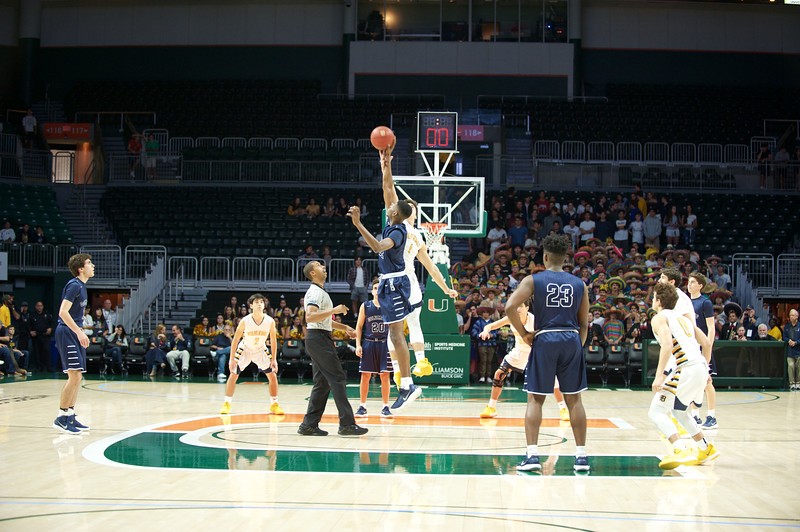 Lemon City Live decided to go back to high school to revisit one of the biggest, most notable rivalries in the history of sports. Yeah, that's right. I'm talking bigger than Red Sox/Yankees, Lakers/Celtics, Frazier/Ali, Duke/North Carolina, Barcelona/Real Madrid, and the list goes on. The Belen Wolverines/Columbus Explorers rivalry is a bit different than most high school rivalries. It's an event where everyone knows everyone. I like to think of it as an extensive family reunion for the kids, and parents as well. It's an event where two disparate, but very much alike, communities come together to talk trash and go out to dinner all in one night.  I love it. They're the only all boy schools in Miami, and that's enough to make this rivalry a special one.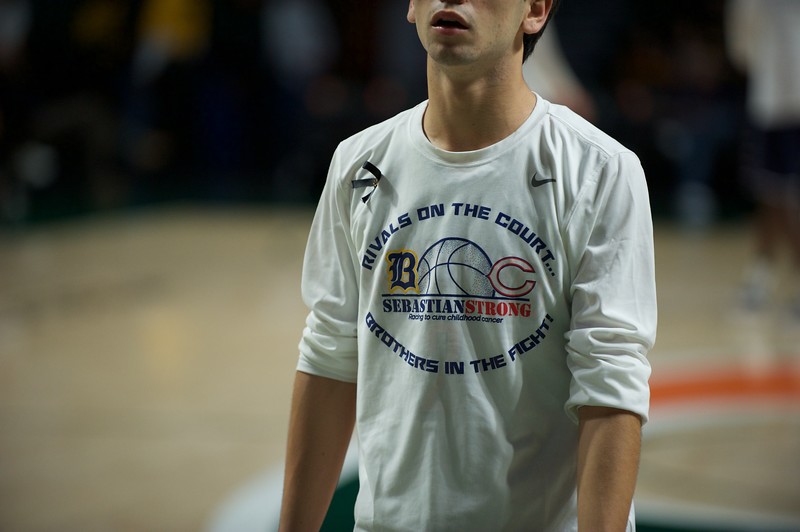 Both schools went into the game with heavy hearts. The players of Columbus and Belen wore a Nike warm-up shirt over their uniforms with the phrase "Rivals on the court… Brothers in the fight!" honoring Columbus student Sebastian Ortiz, who passed away in December 2016 after a long fought battle with rhabdomyosarcoma cancer. He was only 16 years old, and he would have graduated this upcoming May. Belen also lost a member of their family just a couple days prior to this game, Vince Fernandez. Vince Fernandez was the Director of Basketball Operations and a coach for their program. He was characterized by Belen Jesuit Principal Jose Roca as an "invaluable asset to the basketball program" and described his dedication for the students as "inspiring." The power of sports, where we're able to put aside our differences, unite together, remember those who made an impact in our lives, and cherish the lives we are blessed with today.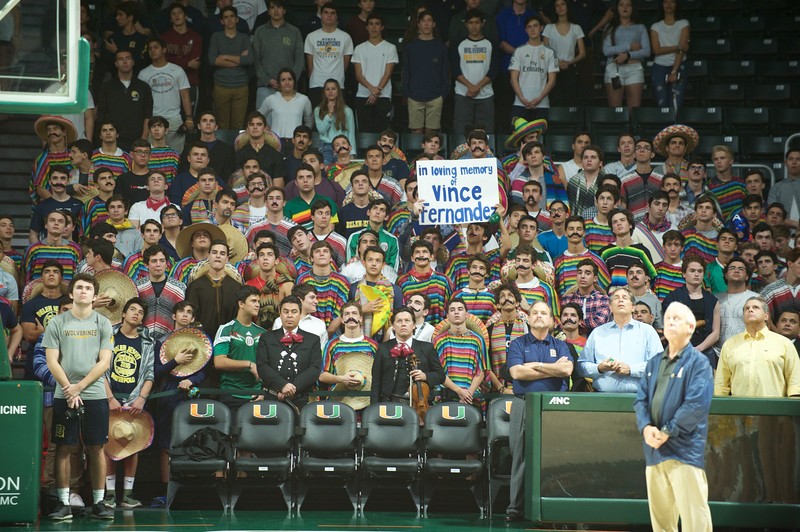 Both teams came into this game with sub .500 records; Columbus at 8-9, Belen at 5-9, and to be honest, none of that really matters. They each could have walked into this game with zero wins combined and they would still bring in the typical 4,000-5,000 capacity crowd. This one brought in a great crowd as usually expected. The Columbus student section had a Star Wars theme going on, but when it really comes to standing out, Belen's student section is always on their A game. They had a Mexican theme going on with their sombreros, mustaches, and ponchos. To top it all off, these dudes brought in a mariachi band. Yes, an actual mariachi band. As soon as the mariachi band starts playing, the crowd starts to get into it, especially Belen's student section. They're out there chanting and challenging the Columbus student section, shouting "WE CAN'T HEAR YOU!" It's game time, folks.  
SENIORS #Belen2018 #GoWolverines #BelenBasketball #VinceStrong #SebasStrong pic.twitter.com/A4wd3H2uEQ

— Belen Jesuit (@BelenJesuitNews) January 13, 2018
Now, this is a rivalry game, so no matter how these games have played out in the past, I'm always expecting for things to get out of hand. I want to see shoves. I want to see blood. I want one of the players to give the choke sign to somebody on the sideline… I know that's a bit much to ask. Both schools have high standards and expect nothing but sportsmanship from their players. All I'm asking for is for one guy to get ejected. It's what everyone wants to see. Am I wrong? There was some small tension between Belen's Christian Tinoco (#1) and Columbus's Ny'gel Brooks (#22)(in the 3rd quarter they were called for a double foul), but nothing ever escalated.  
Wolverines are winners of the last two matchups against the Explorers, so you know Columbus had to be real tired of having their dad's tell them "well, back in my day, we would've never lost to Belen." I think the message set in well with the Explorers because they were in control for the entirety of the game. The Explorers were lead by Gary Cooper (#23), Guille Vento (#3), Ny'gel Brooks (#22), and Dante (#13), who did a great job controlling the pace of the game (his last name is Pace so pun absolutely intended). They started the game by draining 4 three's in the 1st quarter, which helped them jump to an early 16-7 lead, and they never looked back since. Their defense was even better in the 2nd, where they only allowed 4 total Belen points and had a dominating 29-11 lead at the half.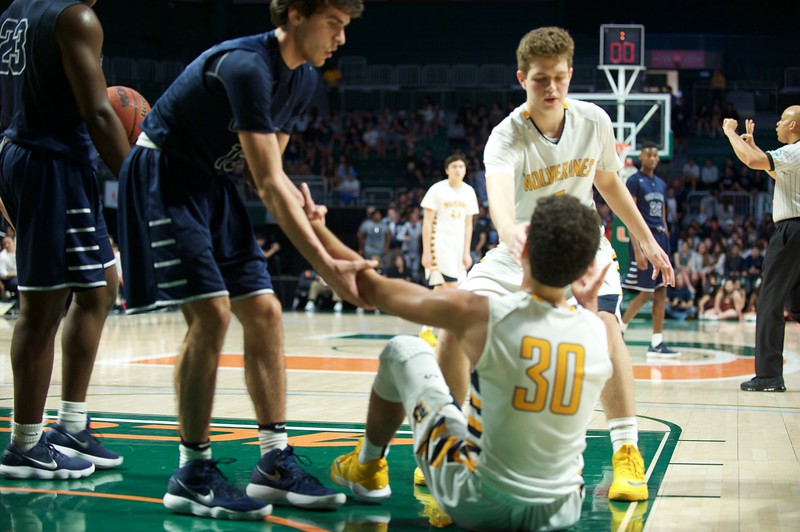 This dude though, Guille Vento, was truly a standout for Columbus. It felt like he couldn't miss from 3, which you could tell it let out his inner cockiness. Those players are always the most fun to watch. There was one three he made and instantly started staring down the Belen student section. Later on he was at the free throw line to take a couple technical free throws. After he drains the first one, he did that thing where he pretends to high five his teammates, even though there's no one there. Following that he makes his 2nd free throw, and tells the Belen crowd to be quiet. Despite all of the shots he made throughout the game, the most impressive play from him was a steal he had where he jumped at least 20 feet in the air, and his inner Odell Beckham Jr. came out, catching the ball with one hand. It was the most mesmerizing thing I had ever seen.  
The story for Belen was they were never able to get anything going offensively. What was a mix of missed layups and jumpers, it just felt as though there was a lid in the basket all night. In the 3rd quarter, what was at one point a 26 point lead for Columbus, was cut in half when Marcos Dajer (#30) was like "COMEBACK SZN" and was making jumpers from left to right, including two 4 point plays in the 2nd half. Unfortunately for them, it was too little too late.  
Columbus prevailed with a 66-44 victory. However, the best part about the game wasn't even the game itself. The SebastianStrong Foundation, an organization set up by Sebastian Ortiz's parents, was presented with a check of $100,000. The story of Sebastian Ortiz continues to live on through his family, his fellow peers, and the entirety of the Columbus and Belen family.  
Last December, we lost a tremendous Explorer in Sebastian Ortiz '18. Tonight, his father Oscar Ortiz '88, and the @sebsstrong foundation, presented a check for $100,000 to @SylvesterCancer during the Columbus vs. @BelenJesuitNews basketball game. #CPride #Adelante pic.twitter.com/kWzgJSi4T4

— Columbus High School (@ColumbusHS_Mia) January 13, 2018
The Belen/Columbus basketball series is tied at 8 a piece, and 3-3 since the series moved to the Watsco Center.  
Photos by Victor Arrieta 
(Visited 220 times, 1 visits today)