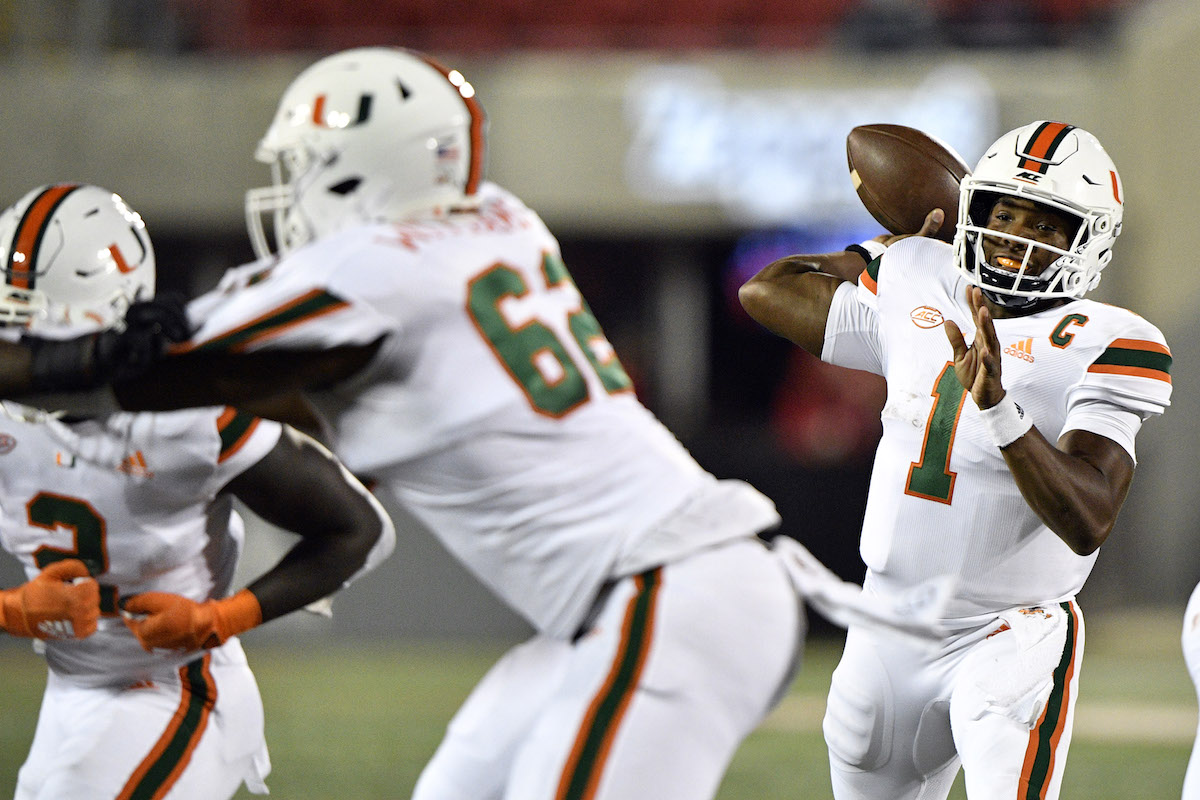 ---
Miami, Florida – The Miami Hurricanes' 2021 football season is almost upon us as fans wonder whether the opener will be a date with destiny or a dismal defeat. The Canes faithful have been eagerly waiting for the first game of the year and boy it's a doozy. UM will be going up against the defending champions for week 1, Nick Saban's Alabama Crimson Tide. 14th ranked Miami faces a very tough opponent in the 2021 Chick-fil-A Kickoff Game. The hope is they'll be able to beat a stellar team that's shaking off the offseason rust. It's happened before.
Most of the Canes' offense is returning as Rhett Lashlee enters year two of being the offensive coordinator. They will be without tight end Brevin Jordan who now plays for the Houston Texans in the NFL. Coach Manny Diaz will also be calling the shots on defense with new position coaches providing assistance. If they can get some of that 2017 magic when they play Bama in Atlanta we might very well see an upset. Two of the main headlines for the season opener will be the triumphant return of D'Eriq King and the fact that the Hurricanes are Bryce Young's first real opponent. Here are the folks to watch on September 4th.
We play real, live football this week. pic.twitter.com/cMYKQl2YIn

— Canes Football (@CanesFootball) August 30, 2021
Miami Hurricanes
D'Eriq King (QB)
This gentleman is the source of all the optimism in 2021. King can beat opponents in the air and on the ground.  In 2020, he threw for 2,686 yards achieving  23 touchdowns and rushed for 538 yards including four scores. Dual-threat indeed. He only threw five picks all season. After tearing his ACL, King made his way back towards a full recovery by the end of July. He looked pretty good in fall camp and expectations are higher than ever. He isn't even close to hitting the ceiling and fans are expecting him to elevate his game to a whole new level.
"It's been tough … everyday grind since I had surgery.

You gotta find a way to get wins every day, right. You gotta find a way to reach new goals."

—@DeriqKing_ 💪 pic.twitter.com/siY8QSYnyb

— ACC Network (@accnetwork) August 24, 2021
Cam'Ron Harris (RB)
This is last year's leading rusher. Without a doubt, others like the talented Jaylan Knighton will get touches but Cam'Ron Harris should be getting the bulk of the load at least to begin the 2021 campaign. Harris rushed for 10 touchdowns (also 643 yards) and there is no reason for the junior to regress. A dangerous runner in full stride, one should expect to see a lot of production from him especially when he finds those open lanes a bit easier this year.
Gurvan Hall Jr. (S)
Switching over to the defense, the Miami Hurricanes will be relying on veteran Gurvan Hall to replicate his numbers from 2019. After a statistically down year, the two key things for Hall (and most of everyone else) will be obviously staying healthy and being a consistent player. In 2019, he was a presence on the field collecting 66 tackles, two sacks, and an interception. The West Palm Beach native has a chance now to use his experience and become one of the playmakers in 2021. He will need to in order to help boost the defense much higher than what it was the previous season.
Bubba Bolden (S)
On the subject of playmakers, Bubba Bolden will be another piece to keep an eye on. In 2020 Bolden was a hit machine with a team-leading 74 tackles including four fumbles, a sack, and an interception. With this window into his stats, we now see what he is capable of as a starter. The question is can Bolden do better? There's no reason why he shouldn't but that's why the games are played. Alabama provides the perfect opportunity to come out of the gates on a roll to set the tone for the season.
Greentree grinding.

You know the vibes 🤟 pic.twitter.com/Kzl4VpcquB

— Canes Football (@CanesFootball) August 27, 2021
Alabama Crimson Tide
Bryce Young (QB)
This is one side of the upcoming quarterback duel. Freshman year saw a few snaps against easy opponents but now Young is front and center for an elite program with very high expectations. Ready or not the spotlight will be on him against a defense itching to go ham on the youngster. However, Miami would do well to not underestimate this individual. Young was at the top of the recruiting class armed with speed and a quick release. He's fully capable of going deep dropping dimes. The sophomore isn't the only star on this team. He'll be backed by a strong support group.
As I mentioned before, if the Hurricanes take this kid lightly he can end up running the boys right out of the stadium. UM must stifle the signal-caller and harry Young all night for some juicy turnovers.
Bryce Young Era is almost here! QB1! #RollTide pic.twitter.com/ZqS9Q6wVj4

— 🆉🅰🅲🅷 (@ZACHPHH) August 31, 2021
Brian Robinson Jr. (RB)
Speaking of a supporting cast, this redshirt senior is a key piece for the running game and the offense as a whole. Brian Robinson Jr. finished last season with 483 rushing yards and six touchdowns on 91 carries. He also had six catches for 26 yards. Career-wise Robinson has rushed for a combined 1,361 yards and 15 TD's in the past four years at Bama. No longer a backup, Robinson is projected to have his most productive season. When Alabama makes it to the goal line expect this guy to get the ball.
Christopher Allen (LB)
Now for the defense. Allen is part of a one-two punch that is going to test both Miami's offensive line and their star quarterback. Picked as second-team All-SEC by conference coaches, Allen recorded six sacks and 13 tackles for loss in 2020. He also forced two fumbles recovering one. As one of the leaders in the program, the redshirt senior plays a big role in the formidable pass rush. Using his experience, Christopher has been helping out the younger guys bringing lots of energy and playmaking ability.
Will Anderson Jr. (LB)
Say hello to the other edge rusher. Will Anderson Jr. started his freshman year gathering seven sacks, good enough for third-most in the SEC. Combined with Allen that's 13 sacks for 2020. I'm not sure if he's elite (yet) but the sophomore has certainly raised the bar for this season. Anderson has the acumen and the presence of a veteran making this five-star recruit a legitimate threat to Miami's offensive planning. The mentality he wields has set him apart, earning this very skillful outside linebacker plenty of praise. A potential nightmare for opposing O-lines, the Hurricanes included.
RT if you're ready for Will Anderson Jr to embarrass Miami next week in Atlanta#RollTide pic.twitter.com/2IMqc9hvpg

— Sidelines – Bama (2020 National Champions!) (@SSN_Alabama) August 29, 2021
Prediction: 34-20
So here's the deal. This will likely be a win for the Crimson Tide. They are the defending champs for a reason and UM is not at that level to seriously challenge them. It's like that Clemson game last year in Death Valley where the Tigers simply outclassed Miami. This might be another similar outcome even if it is on a neutral field.  Hey, it's college football so by all means prove me wrong. It could be the first upset of the 2021 season and a victory like that means two things: Manny Diaz got his first major win and one has to start believing the Hurricanes might actually be BACK. Bama is presently an 18.5 point favorite but the Canes should cover the spread.
One last trial run, now it's on to Week One.

Hear from the head man 🔊 pic.twitter.com/WN2CRdInWc

— Canes Football (@CanesFootball) August 27, 2021
While we're at it I'm thinking Miami will finish the season 9-3. Alabama will be the first loss with another versus Michigan State and the last one coming from an ACC rival. Which one? I'm leaning toward North Carolina or Virginia Tech. They shouldn't lose against both. Let the games begin!
(Visited 310 times, 1 visits today)