Honestly, how else can I begin this than by throwing my hands up and simply ask: what the fuck are we watching?! Aaron Judge is quite plainly not human. We're going to go over some numbers here shortly, but let's just be spectators about this for a second. Will you look at this guy? He's just larger than life. Bigger, faster, stronger. Easily the biggest position player we have ever seen, but what he is currently doing on the baseball diamond and to the baseball world, well, that might be even more impressive and unexpected than his unprecedented physique. A Bronx Bomber indeed, Judge is the epitome of the pinstriped nickname.
Judge was drafted as the 32nd overall pick by the New York Yankees in the 2013 June Amateur Draft from Fresno State University. A physically imposing "man" currently roaming the right field of Yankee Stadium and destroying balls out of any establishment, the #99 jersey hangs on the shoulders of a near 6'8″, 282 lbs being. Having recently just turned 25 (April 26), Judge holds on to Rookie status as this will be his first full season in MLB. However, the insanity of what we are all witnessing him do fails to reach full awe without a little perspective.
Fan favorite, coast to coast. #AllRise pic.twitter.com/0tl7TX7lE4

— New York Yankees (@Yankees) June 17, 2017
How can I state this in a way that fully captures the ridiculousness that is Judge's Rookie season? Well, he is having his best professional stretch, across the board, at any level, EVER. Seriously, he has never been as absolutely badass at baseball as he is right this minute. Let's begin here: previous to this MLB season, Judge's best professional stretch came relatively early on in his tenure. As a Charleston RiverDog (single A ball) in 2014, he boasted a slash-line of .333 BA/.428 OBP/.530 SLG/9 HR in 278 plate appearances. Well, as I said before, his numbers are better than that now, significantly so against a much higher level of competition. In fact, what makes this shit so goddamn interesting and puzzling all at once is the way his numbers trended as he kept ascending through the baseball platforms. A quick visit to his baseball-reference page proves how his numbers kept sinking as he kept rising through the minor league ranks. Judge was called up to "The Show" in 2016 and had his time with a Yankees professional roster that was very much interested in assessing what their farm system was, well, farming. In his short stint (95 PAs) with the major league squad, his numbers were abysmal (.179 AVG/.263 OBP/.345 SLG) and easily the worst of his pro career.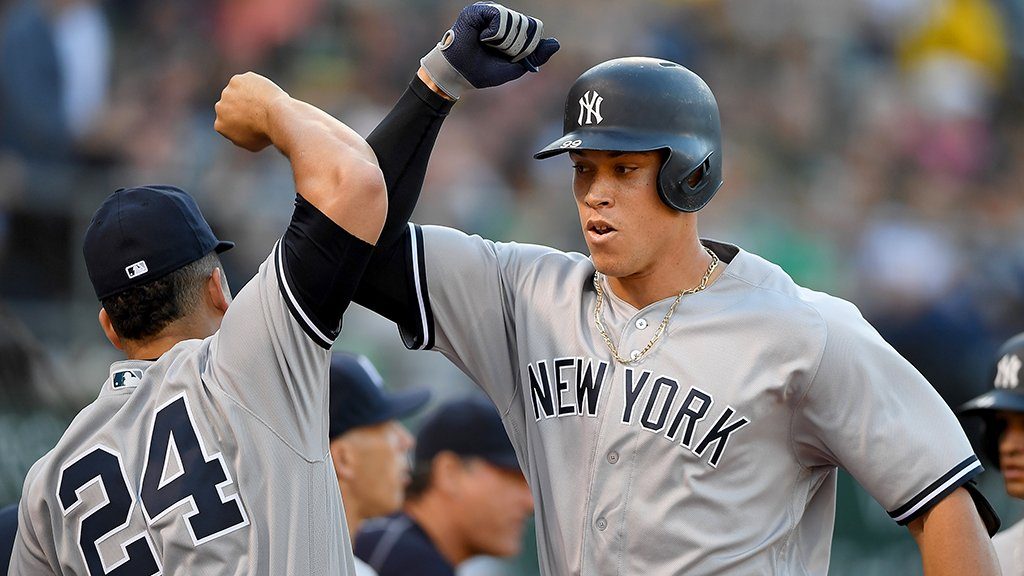 So what leads us to this version of Aaron Judge? Is this his final form? It damn well better be, my heart can't handle much more. Here's the slash-line: .335 AVG/.445 OBP/.699 SLG. Once again, across the board, his best numbers at every category, ever. But wait, there's more. Every single one of those categories currently leads the entire American League landscape. Along with leading the league with 23 HR and 53 RBI, which –  for those of you in the know – is also known as the Triple Crown. Homeboy also leads the league with 44 BB, and is even one triple shy of the AL lead with three, only behind Nicholas Castellanos and Xander Bogaerts with four a-piece. Three triples?! That might be the most impressive of all the numbers! The dude is 6'7″, 282 lbs for fuck's sake! That's like a month's worth of serious eating from becoming an NFL Lineman. How does he move that body around?!
I'm exhausted. The rabbit hole is deep and only more fascinating, remarkable things keep popping up where Judge is concerned. Just last weekend, he highlighted the home-series against the Baltimore Orioles by hitting a solo shot in the first inning that left his bat at 121.1 mph, the highest recorded exit velocity in the Statcast era. Well, as if to strike while the iron's hot, he followed up that performance the next day by hitting a HR in the 6th inning that cleared the entire bleachers in left-center field and traveled 495 ft (the longest HR of the season and second longest of the Statcast era). Oh, hold on. The very next inning brought us a deep line drive to center field which would also clear the fence and notch him another two RBI. Everything about this is outrageous. His batting practice displays are legendary, his everyday play is helping his team stay atop the AL East, and he happens to be doing it in and for the biggest market the sport has to offer. The whole thing is just absurd.
495 feet by Aaron Judge 🚀pic.twitter.com/g0038QTR1K

— Dugout Nation (@DugoutNation) June 12, 2017
Potential, meet fruition. I don't give a fuck what anyone has to say, not a single person alive saw this coming. What's more, whatever this is might not even last. As tough as it is to find specific comparisons to Judge, crazy stretches of offensive prowess are not a rarity in baseball. However, you won't find me for a single nanosecond playing party pooper on this one. This guy's the shit right now, and I want him stinking up the joint for as long as possible. The Bronx Bombers have found themselves a new poster child for their beloved namesake, and if ever anyone looked and played the part, Judge has ruled.
The Lemon Drop is a weekly segment entertaining whatever the hell comes to the mind of Enrique Sierra, Jr. (Hipster Rick). Simply a sports lover and mere mortal marveling at Aaron Judge, superior being. Please click back next week for more and feel free to comment or engage us through Twitter, Facebook, and Instagram.
(Visited 110 times, 1 visits today)