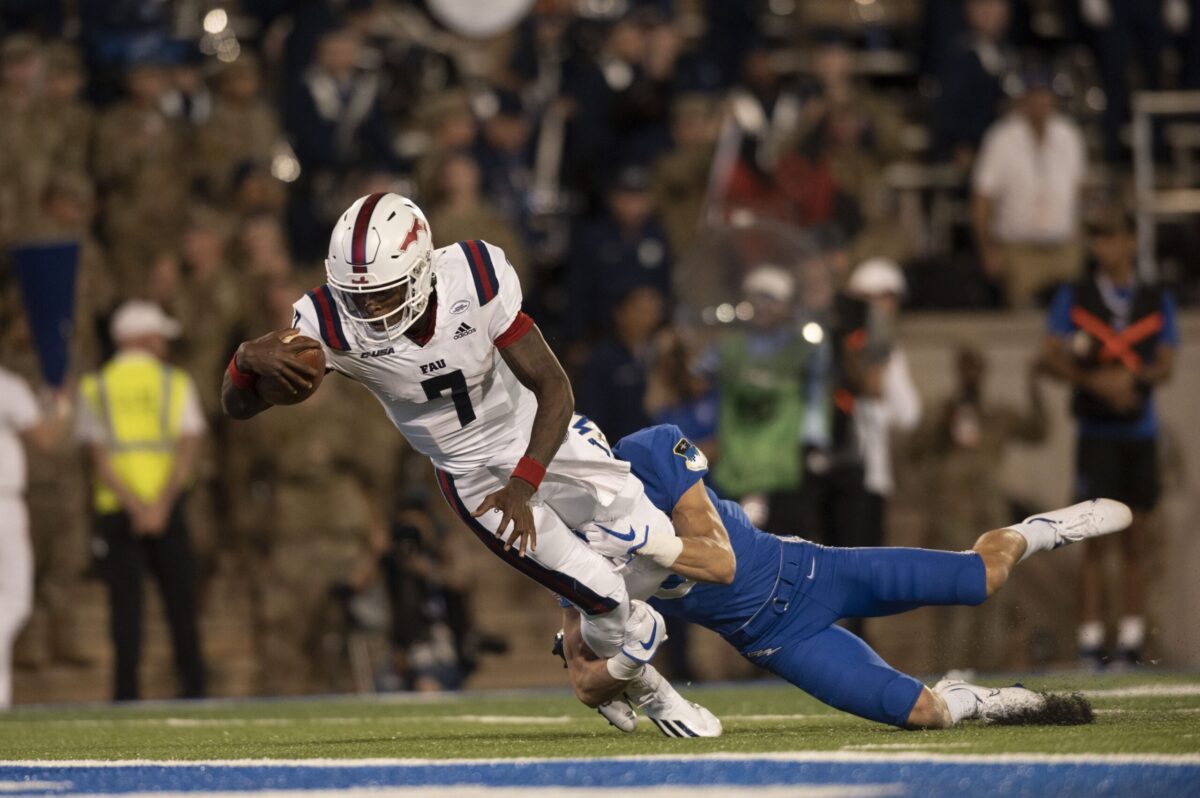 ---
After blowing out opponents the past two weeks, FAU football is on the other side of the stick as they lose Saturday night to the Air Force Falcons, 31-7. 
What was apparent was how the Owls were visibly overwhelmed by the triple-option style of offense and the statistics show it all. FAU fans thought that their rushing defense against the Florida Gators was concerning, but against Air Force, they gave up 446 yards on the ground.
Final: Air Force 31, FAU 7

— FAU Football (@FAUFootball) September 26, 2021
The Owls looked small out on the field against the Falcons and continually lost the battle at the line of scrimmage. They were pushed around all game and gave no reason for Air Force to pass, as they only did five times compared to 73 carries by the team as a whole.
FAU head coach Willie Taggart expressed his frustration after the game.
"Well, we physically got our butts whooped on both sides of the ball. We got out-coached. The players and coaches lost this ballgame," Taggart said. "We didn't play with the same physicality that (Air Force) played with, and when you don't do that against an option team, you're going to struggle. I thought physically they beat us in the trenches in this ballgame."
While the defense was getting thrashed, it was up to the offense to score, and they didn't do much of that either. Taggart and other coaches and players were hoping for a quick start this time around, but barely got going except for a touchdown drive in the second quarter. 
Taggart talks about what went wrong with the offense in Saturday's loss. 
"Well, it was frustrating because we weren't doing our jobs. You know we got guys open and we're trying to do too much because we were behind rather than just run the plays and do it exactly the way we supposed to," Taggart said. "I thought N'Kosi [Perry] was off all night long. He was off throwing the ball. He was off on these reads and that's that the results you get when we're not on point. First of all, at the QB position, and then we're not doing a good job upfront. It's a collective loss. N'Kosi, the receivers, the O-line, coaches, players. We all lost this game."
Quarterback N'Kosi Perry had his worst game of the season throwing for 78 yards and an interception, which was his first of the season. He was arguably more effective on the ground as he ran seven times for 53 yards and scored the team's only touchdown.
.@corvan_taylor will take that 👏

Air Force 𝗶𝗻𝘁𝗲𝗿𝗰𝗲𝗽𝘁𝗶𝗼𝗻‼️ pic.twitter.com/8wsKhP880d

— Air Force Football (@AF_Football) September 26, 2021
As Taggart said, he was off throughout the game. A detriment to Perry in this game was relying on the big play instead of taking what was given to him. This was vividly seen in the third quarter where the Owls were trying to convert a fourth and 10 play and Perry's read went to Je'Quan Burton for a chunk play rather than focusing on getting the first down.
After this play, Taggart was shown being very adamant to Perry on the sidelines. When I asked if this is an aspect and he needs to work on, Taggart didn't hesitate to agree and even said on that play, someone was wide open.
"He's got to work on that, you can't do it no other way, and you are exactly right. He tried to take more than he needed to and the guy that he's supposed to go to was wide open, he just didn't go through his reads and that was frustrating because we talked about that on the sidelines before we get out there," Taggart said. "If we're gonna be the team that we want to be and if he's going to be the quarterback we need him to be, he needs to work the system and I think after tonight he'll understand if you work the system he'll play games like he's had before and when you don't work the system, you'll have games like this."
Even with the struggles of the defense, the start of the second half saw the Owls finally stop the Falcons, but even then, the offense couldn't capitalize.
Air Force took FAU's key to the game of starting fast to a whole other level as they scored on every drive but one in the first half. The one drive they didn't was a missed 22-yard field goal.
Falcons QB Haaziq Daniels had a career game rushing for 167 yards and two touchdowns. As part of the triple-option style, Micah Davis was heavily involved in taking the pitch from Daniels and made FAU pay, rushing for 93 yards and a touchdown. Running back Brad Roberts continues his great season for Air Force, collecting 77 yards to go along with a score.
ᴀʟʟ ɢᴀꜱ, ɴᴏ ʙʀᴀᴋᴇꜱ 😤

Haaziq Daniels' Academy record, 𝟗𝟒 yard run ⬇️ pic.twitter.com/n7FwXKIcXV

— Air Force Football (@AF_Football) September 26, 2021
While FAU's passing attack amassed more yards than Air Force, the comparison is still jarring. The Owls had 78 passing yards compared to the Falcons' 70, but Perry threw the ball 33 times compared to Daniels' four.
On the ground, we mentioned Air Force's 446 rushing yards. FAU had 141. The returning Johnny Ford carried the ball eight times for 66 yards and after Perry, it was Malcolm Davidson who had four rushes for 18 yards. Taggart told the media afterwards that Larry McCammon didn't travel with the team as he's nursing an injury from last week, but says he should be good to go for next Saturday.
It was light work for them as defensive coordinator Mike Stoops and the unit didn't have an answer.
For defensive stats, Jordan Helm led the team with 15 total tackles with Korel Smith, Akileis Leroy, and Diashun Moss having seven.
We knew this game would be a challenge because of the style of offense and concerns with FAU's offense being unable to get out of their way. As I said in my preview, you can afford to do that against Georgia Southern and Fordham, but not Air Force. Ultimately, the worst-case scenario remained true.
Taggart says this game should be a wake-up call for the team.
"It better be a wake-up call for all of us, that was unacceptable," Taggart said. "That's not the way we play, and it better not be the way we play ever again. We got a big game coming up at home in conference play, and we need to get back to work, ASAP."
As coach Taggart said, the next test for FAU is against Shula Bowl rivals, the FIU Golden Panthers. It will be the first game in conference play and if the Owls want to rebound, it starts next Saturday.
Photo courtesy of FAU Athletics.
(Visited 90 times, 1 visits today)