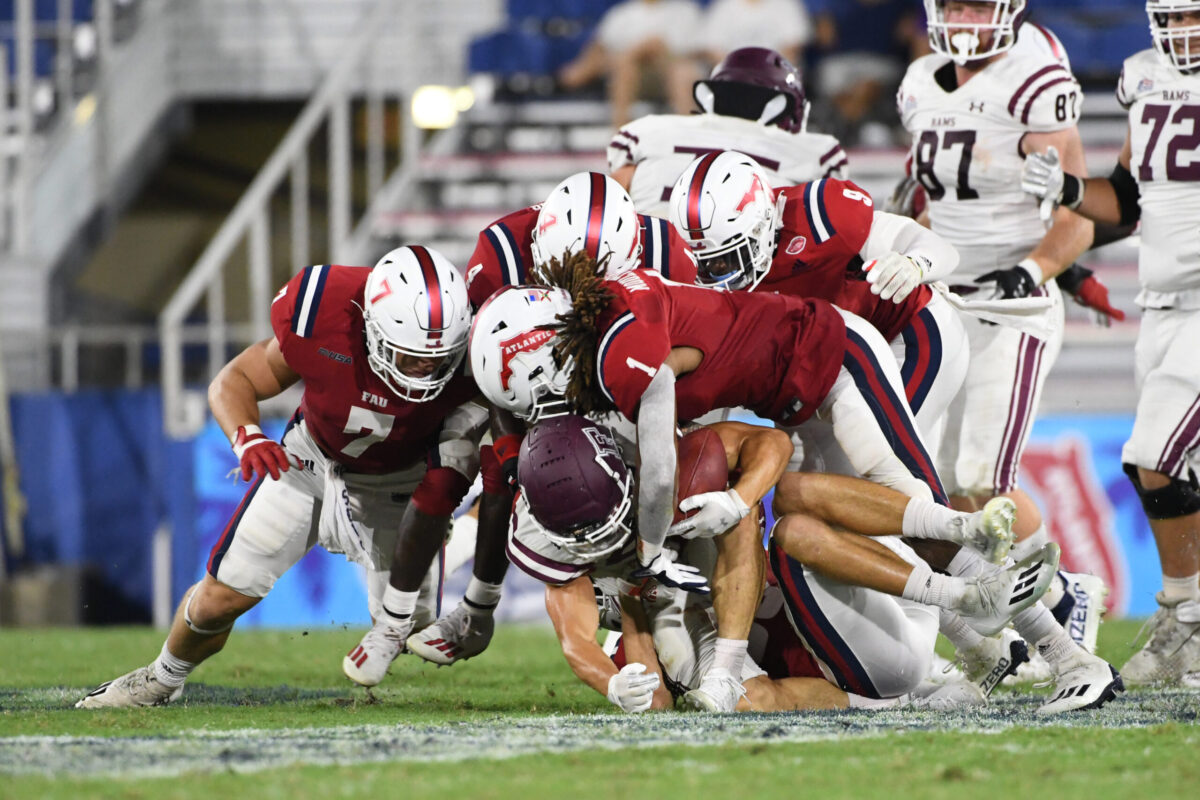 ---
Boca Raton, FL – The FAU football team looks for its third straight win as they travel to Colorado to take on the Air Force Falcons.
After the Owls' loss to the Florida Gators in the first game of the season, they've rebounded in a stellar way, blowing out Georgia Southern and Fordham. In those games, the Owls scored more than 37 points and allowed less than 15. 
Arguably, the Falcons will be the toughest test for the Owls since the Gators. In fact, the current spread for the game is Air Force to win, -4. 
But even with what the spread says, FAU should come out on top here. However, there are keys to the game that the Owls need to do in order to get in the win column again.
Opportunity #4 pic.twitter.com/zIUphTC1Cs

— FAU Football (@FAUFootball) September 20, 2021
Start Fast
While the Owls definitely enjoyed the past two wins, there was a concerning trend. They started slowly in the first quarter on offense and couldn't get out of their way. In both games against the Eagles and Rams, FAU had self-inflicting wounds, such as offensive penalties, or in the case of last week, dropped passes.
Head coach Willie Taggart emphasized the offense needing to start fast in his pre-game press conference Thursday.
"I think it's important because that's one of the next steps that our football team needs to take and something we haven't really done this year and it's a challenge that we're looking to overcome," Taggart said. "The plays are there, we've got to do a great job of focusing and then making it happen. It's one of those things that you don't have to get discouraged because those plays are there, we just haven't necessarily executed and made them happen, so we just got to keep working at it and see if our guys can go out and make it happen."
Time of Possession
While starting fast should be a given for any team, against the Falcons, it's a must as they don't give you many opportunities. In all three games played this season by Air Force, their time of possession is above 30 minutes.
When speaking with offensive coordinator Michael Johnson, he talks about the time of possession and the importance of maximizing their opportunities.
"It is [important] because you're not going to have as many opportunities. You have to maximize your opportunities on each possession because they do control the ball a lot. We thought we were going to have the same situation against Georgia Southern and we had 32 minutes of possession in that game, but it all starts with us executing on first down, putting ourselves in manageable third-down situations, and then we have to complete drives," Johnson said. "Even against [University of] Florida, we started and moved the ball down the field and then we had a self-inflicted wound, one or two, and then it kind of shortened our drive, but we have to continue that execution throughout that drive and make sure we put points on the board early."
Who Will Get It Done
It'll all start with FAU QB N'Kosi Perry, who is one of eight quarterbacks in the country to have more than five touchdowns and zero interceptions. He'll look to connect with pass-catchers John Mitchell, TJ Chase, Brandon Robinson, and especially LaJohntay Wester who's had back-to-back 100-yard games. 
These QBs are off to a hot start this season 🔥

Which player from this list has been your favorite to watch so far? pic.twitter.com/e37KOGnwCo

— FOX College Football (@CFBONFOX) September 23, 2021
In the backfield, the Owls will be getting back playmaker Johnny Ford who didn't play against Fordham. Taggart said he used last Saturday to rest Ford to get ready for Air Force, as he's expected to play. In practice, he looked like a full-go in comparison to previous weeks. 
#FAU RB Johnny Ford looks like a full-go at practice compared to previous weeks. He's expected to play Saturday against Air Force.

— Zachary Weinberger (@ZachWeinberger) September 22, 2021
With the Falcons' defense so far this season, they've allowed 241 passing yards per game, but only 86.3 rushing yards per game. Ironically, against Air Force, the Owls will have to use the air to come out of Colorado Springs for the win.
Stoping the run
Also ironically, Air Force is more effective on the ground than through the air. In the first three games, the Falcons average 327.7 rushing yards per game, however, they've passed for 86.3 yards per game. 
In last week's loss to Utah State, they scored 45 points with three players getting more than 10 carries and having over 100 rushing yards, including quarterback Haaziq Daniels. While the game plan of stopping the run is similar to how it was against Georgia Southern, there's something unique about the Falcons. They use the triple-option style of offense. 
Defensive coordinator Mike Stoops talks about the Air Force offense in comparison to Georgia Southern's:
"There are option similarities, but how they go about it is much different. These guys [Air Force] always have a fullback in a 3-spot position. Georgia Southern created a lot of different ways. It's kind of a zone/read-option type of deal. This is more of a veer downhill option game with the fullback being a big part of what they do on every down. You have to be really conscious of the fullback and play the ball inside-out and they're good enough to get the ball to the perimeter and they've thrown the ball more this year than they have some years prior."
Coach Stoops added, "When you play these guys, there's no hiding. We're going to have to tackle extremely well. Our perimeter guys, our corners, are gonna have to be violent in tackling and holding containment of the ball and keeping the ball leveraged outside-in so we can get to it. It's going to be a challenge at every level of our defense. We're just gonna have to play well and use our athleticism to help us."
Triple-Option
With a team like the Falcons, it is so ever important to have a strong and disciplined defensive front seven. With people like Jaylen Joyner, Chase Lasater, Evan Anderson, Jaden Wheeler, etc., this is their toughest test since the Gators in stopping the run. In that game, the defense gave up 400 rushing yards. 
For the freshman Wheeler, he talks about playing a triple-option team like Air Force.
"The D-line always starts and finishes the play. So we just need to get a surge and stop the dive, stop the run," Wheeler said. "The front seven is gonna be the key to the game. We stop the run, they're gonna have to do something else."
FAU has done a solid job in containing the run the past two weeks, holding Georgia Southern to 139 yards and Fordham to 29. They look to continue that tonight. 
Limiting self-inflicting wounds
This goes hand in hand with the first key, but it's significant for an Owls win tonight. One of the main reasons the Owls start slow in the first half wasn't due to the opposing defense. 
The several dropped passes last week would've resulted in touchdowns. The multiple false start penalties could've resulted in effective drives. It's a trend that FAU needs to stop immediately. In total, against Fordham, FAU was penalized nine times that resulted in 52 yards lost.
While they can afford to do it against inferior teams like Georgia Southern and Fordham, Air Force isn't one of them. If a big play is there, you have to execute.
As coach Johnson said, you have to take advantage of opportunities given to the offense.
"We had five to seven opportunities for big plays in that game and we didn't make them … and those are going to be crucial going forward. I thought the execution of those plays were good, but we didn't make the throw or the catch for whatever reason," Johnson said. "That's where we just got to keep working on the fine details of those plays and then when you have those opportunities in big games, you're gonna have to make those plays."
📍 Colorado Springs pic.twitter.com/XPYtfNABLh

— FAU Football (@FAUFootball) September 24, 2021
Prediction
I have no doubt in mind that this game will be close from the first whistle to the last. FAU's passing attack is explosive, but can the ground game overcome Air Force's stingy run defense? 
More importantly, can the Owls start fast and avoid those self-inflicting wounds? 
Honest answer? I don't know, but if they want to get a win, they'll have to.
However, I think Perry and the air game will clip the wings of the Falcons and the defense will force Air Force to throw, just as they did to Georgia Southern two weeks ago.
The Owls won't score close to 40 points, but they get the job done in Colorado.
Final Score: FAU 28 – Air Force 23
(Visited 83 times, 1 visits today)