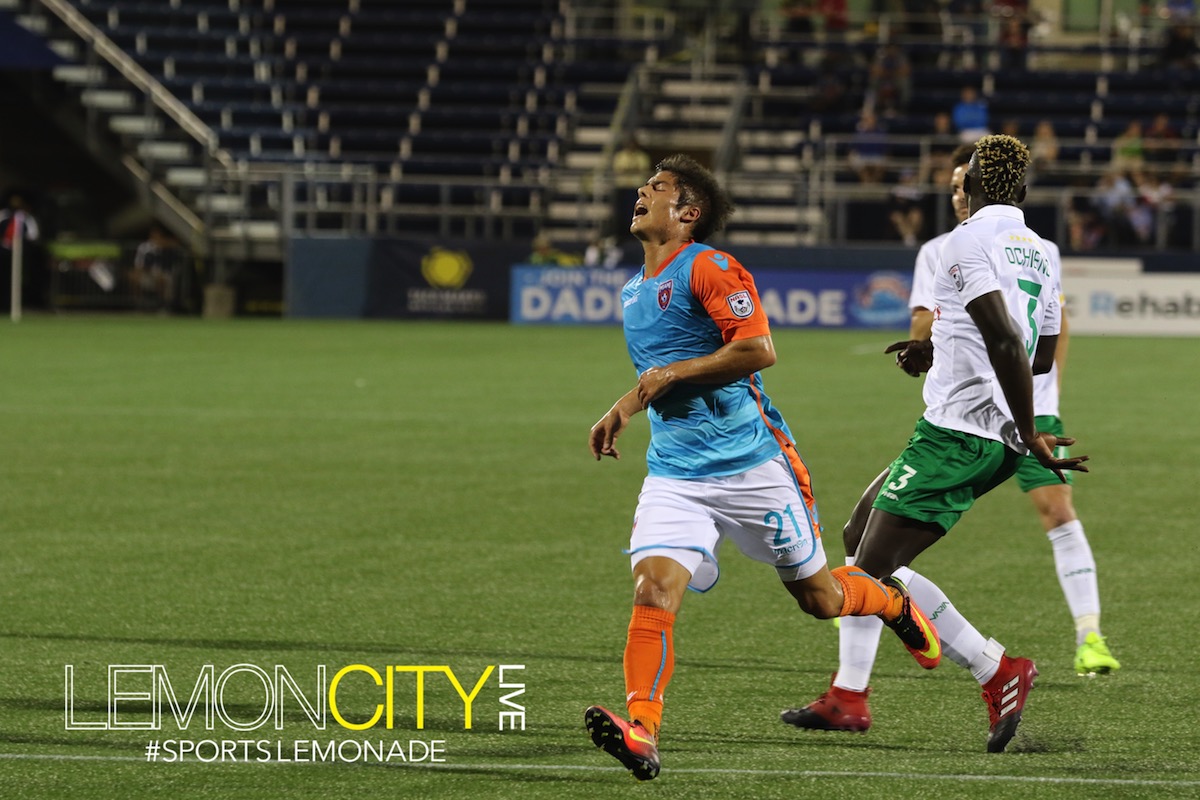 Miami FC is back, y'all! Well, back home that is, the season is three games old. The home opener for Miami against the New York Cosmos is the start of something for the home club. Riccardo Silva Stadium is now the home of the soccer team, same as the old home, but with a new name. Ocean Bank Field at FIU Stadium is no more. Silva, part-owner of Miami FC, opened up the ol' pockets, whipped out the stacks and threw some Benjamins at this bitch until the turf was replaced and the scoreboard was new. The good guys in the blue and orange now play on a much better surface and look much prettier on the new jumbotron.
Here's what you need to know about Miami FC so far this season. The Spring began two weeks ago at North Carolina FC where Miami tied 1-1 for their first point of the season. New York followed and the Cosmos got the 305 spanking in the form of a 3-0 beating. So, same teams, down in the dirty south this time, but Miami now gets to host. Similarities were plentiful, but the game was very different.
In Coach Alessandro Nesta's own words following the match, "they played everybody back and they played counter-attack; this is the game". New York clearly took a different approach in this one as they were seemingly much less willing to be aggressive on the road. Nesta went on to say: "for me, now, we have to understand everybody comes here [to] Miami, they try to play everybody back, counter-attack… We have to be ready". Well, you don't have to be fucking clairvoyant or be proficient in the tea-leaves-reading arts to deduce that Giovanni Savarese's Cosmos played very defensive football in this one. Miami still created plenty of chances, though.
Soccer is a particularly frustrating sport. The best team doesn't always win, and in a one game sample size, anything can happen. Let's just get this out of the way, Miami FC lost this game 2-0. But let's get this out as well, Miami dominated this game. If you didn't see the match, just trust me on this. Oh, you don't trust me? You don't know me like that? You think I would lie on my own article? Ye of little faith. Let's not do this. You clearly have trust issues and I have numbers to prove my point. Miami had an 18 shot advantage (22-4)  and 8-4 on goal. Cosmos GK Jimmy Maurer was on fire. Dude was out of control, eight saves and an enchantment placed on the woodwork for two more Miami FC shots that bounced off the post. The constant attack of Miami yielded little in the way of results, actually nothing at all for the scoreboard. Conversely, Daniel Szetela headed home New York's first goal in the 58th minute and Ayoze netted a penalty in the 4th minute of added time caused by Miami defender Hunter Freeman's tackle attempt gone wrong in the box, spoiling any chance to even tie and come away with a point.
Here's the #Ayoze PK for the @NYCosmos that closed out the victory last night versus @TheMiamiFC #NASLSaturdays https://t.co/Jlz7j8xgTU

— Lemon City Live (@LemonCityLive) April 9, 2017
All right, everybody settle down. We are three games into the season and I'm not going to be the asshole that discusses rankings this ridiculously early. Miami has big expectations. Miami also has plenty of football ahead. It is of much greater significance that they are playing good soccer at this point in the season even while dealing with some injuries. The new Riccardo Silva stadium, the second year of existence, the unveiling of new mascot Golazo, Miami FC's home-opener on Saturday was a huge success for the 9,515 fans that made it out and the plenty more enjoying it at home. Your favorite squad will now get a nice week off at home, from matches, and come back to the pitch on April 22nd against North Carolina FC.
Even with the fair going on, @TheMiamiFC pulled in 9,515 fans into the stadium. Not bad. We are good wingmen though. 😎 #SportsLemonade

— Lemon City Live (@LemonCityLive) April 9, 2017
Don't forget to follow us on Twitter, Facebook, and Instagram.
For more pictures from this game, please CLICK HERE.
(Visited 117 times, 1 visits today)