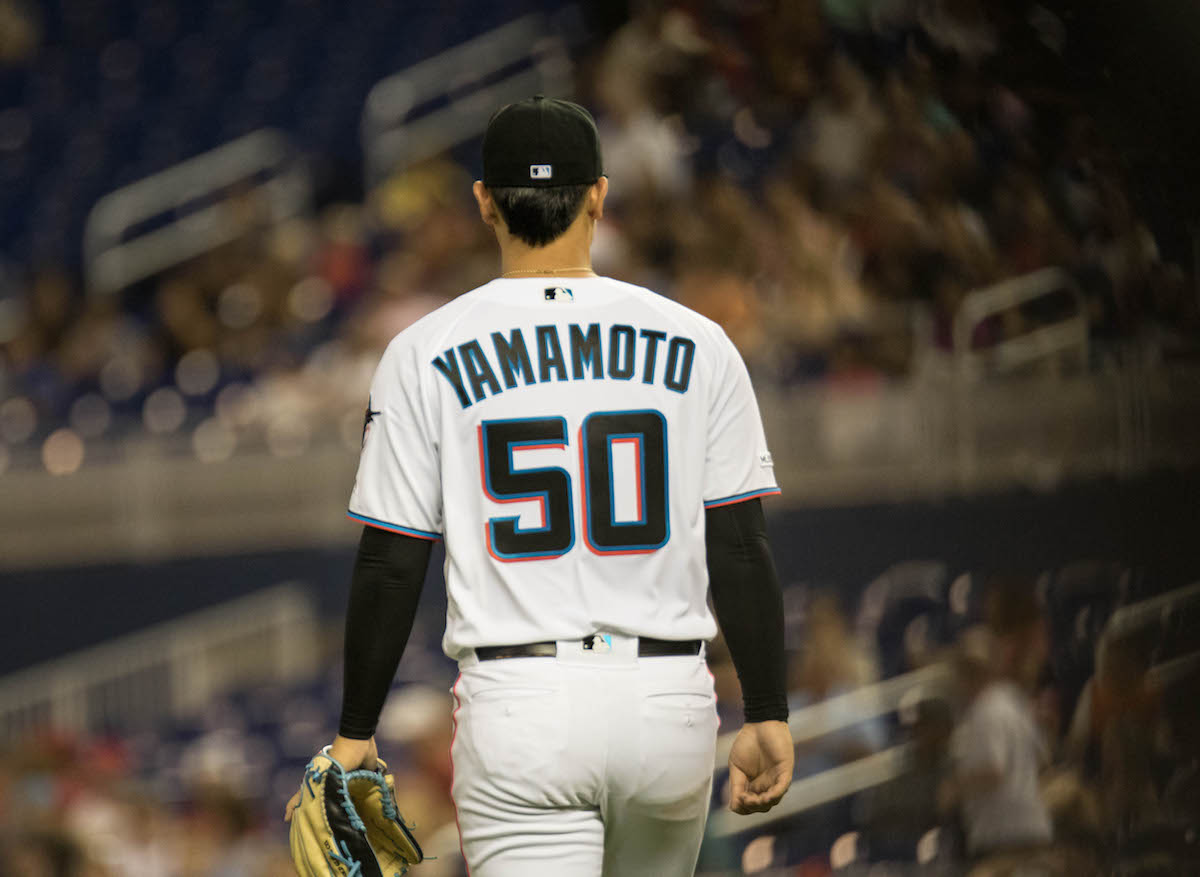 Miami, FL – Jordan Yamamoto made a big splash in his MLB debut, helping to end the Miami Marlins' six-game losing streak. The Fish gave him plenty of run support on the strength of Garrett Cooper's second grand slam of the season, blanking the St. Louis Cardinals 9-0 at Marlins Park Wednesday night. The victory salvaged the series and prevented the team from being swept for the eighth time this season. It's their fifth shutout of the year.
The mound is yours tonight, @jyamaz21. #JuntosMiami pic.twitter.com/tKOfJ2U17l

— Miami Marlins (@Marlins) June 12, 2019
Brian Anderson wasted no time aiding his newest teammate, grounding an RBI single up the middle, driving in Cooper on the opening frame. Speaking of, Cooper came close to hitting for the cycle after smacking a triple in his first at-bat. Dexter Fowler just missed the liner to right. In the following inning, Cooper struck again with a shot over the moon towards AutoNation Alley for the bases-loaded grand slam to put Miami in a commanding 5-0 lead.
It was more than enough.
Martin Prado and Miguel Rojas hit back-to-back singles to start the second. Two outs later, Curtis Granderson drew a walk to fill the bases. After taking a slider for a called strike, Cooper got of hold of Miles Mikolas' two-seam fastball and took him yard.
Prado would leave the game shortly thereafter with a tight right hamstring. He is listed day-to-day.
Yamamoto ran into some problems in the fourth, giving up a double to Paul DeJong and then a base hit from Paul Goldschmidt. Despite having runners at the corners, the young gun got Marcel Ozuna to fly out in shallow-right and forced Yadier Molina into an inning-ending double-play.
The kid from Hawaii went seven innings, holding St. Louis to just three hits, striking out five. He tied the club record for innings pitched in an MLB debut, joining Dillon Peters, Brad Penny, and Justin Nicolino.
A debut to hang your 'Lins hat on, @jyamaz21. #JuntosMiami pic.twitter.com/tyMiD95zgp

— Miami Marlins (@Marlins) June 13, 2019
The Fish threatened to score more runs in the fifth, catching a break after Kolten Wong couldn't field the toss from DeJong to initiate a double play. The Cards got a break of their own after Starlin Castro hit a single to load the bases. Harold Ramirez smacked a hard grounder towards the mound but Mikolas gloved it for the force out at home. Molina fired it towards first to complete the double play. Austin Dean grounded out as well to end the inning.
Yamamoto even got an RBI after laying down a nifty sac bunt to score Rojas, padding his own lead. Miami added three more in the eighth to stick a fork in the Red Birds. Curtis Granderson hit his seventh dinger of the year bringing in Bryan Holaday and JT Riddle.
NEW FISH
Earlier today the club recalled Jordan Yamamoto from Double-A Jacksonville, placing Jose Urena on the 10-day injured list due to a left lower back strain. Yamamoto is 3-5 with a 3.58 ERA over 65.1 IP in 12 starts for the affiliate. He is the third player born in Hawaii to ever to appear for the Marlins. Who were the other two? Charlie Hough (1993-1994) and Justin Wayne (2002-2004). Yamamoto is rated as the team's number 17 prospect, according to MLB.com. Acquired from the Christian Yelich trade, he's posted a 9-6 record with a 2.69 ERA over 134 IP and 25 starts for the GCL, Single-A Jupiter and Double-A Jacksonville. The righty allowed three earned runs or fewer in his last seven starts in Double-A, including two outings where he held opposing teams scoreless. What will become of him once Urena returns? We shall find out. If he puts up performances like these, coach Don Mattingly might just roll with a six-man rotation.
MAGIC flippin' CITY, EVERYBODY. #JuntosMiami pic.twitter.com/v3n6cFvUUN

— Miami Marlins (@Marlins) June 13, 2019
The Marlins have the day off tomorrow before hosting the Pittsburgh Pirates for Father's Day Weekend.
📸by: Chris Perez
[envira-gallery id='17552′]
(Visited 121 times, 1 visits today)