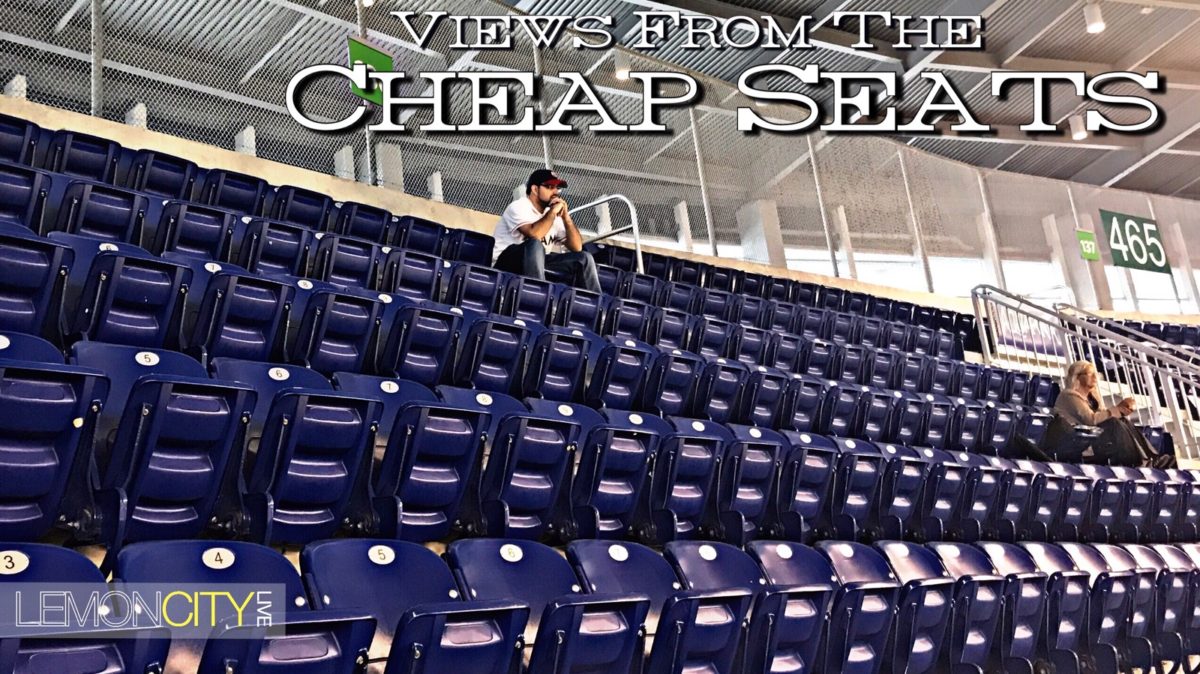 After a disappointing home stand to start the second half of the season, the Marlins fought back and won the series against the Cincinnati Reds taking 2 of 3. José Ureña went six deep giving up just one run on three hits to help the fish win 3-1, improving his record to 8-4. A sweet start to the series. In the following game, the headline was J.T Realmuto absolutely clobbering the ball all night long after an almost two hour rain delay as the Marlins won again 5-4, thanks in part to another good performance by the bullpen.
Sadly, we failed to achieve the series sweep as Tom Koehler was battered in the fifth and sixth inning. He ended his day surrendering 6 runs (5 earned) on 9 hits, including 3 bombs that pretty much sunk the Marlins 6-3. We were denied the sweep but at least we reversed the disaster that was the Phillies series back at home.
Last night marked the 10th straight road game we've recorded 10+ hits, a new franchise record.#FishFacts pic.twitter.com/EsKrGUPt0y

— Miami Marlins (@Marlins) July 23, 2017
Star Performances of the Series
Justin Bour went 4-for-8 in the first two games, gaining a pair of runs while smacking himself a double, his 15th of the season.
J.T Realmuto was playing like an All-Star Saturday going 3-for-4 with 2 runs, 4 RBIs, 2 monster dongs (10 on the year) and a double (16) to boot. He's pretty much the reason we won the second game of the series.
Yesterday, @JTRealmuto became just the 2nd #Marlins player this season to record two go-ahead RBI in one game.#FishFacts pic.twitter.com/0aiuAFNb6z

— Miami Marlins (@Marlins) July 23, 2017
Watching Realmuto just abuse the ball Saturday night reminded me of the great catchers both playing the game right now and the ones that came before them. Catchers known for their power, their defense and their leadership. Right now we got guys like Yadier Molina, Buster Posey, Jonathan Lucroy and Russell Martin but there's also the guys who played in the 90s and 2000s like Mike Piazza, Brad Ausmus, Joe Girardi (Sound Familiar?), Tony Pena, Ivan Rodriguez, Jorge Posada and Javy López just to name several. Guys who guided their respective pitching rotations to victory game in and game out, enduring sore knees, foul balls to the face, loud umpires and the occasional collision at the plate. These players were truly ironmen because the backstop is one of the most demanding positions in the game.
Heck, when I was a kid my preferred position WAS catcher. I loved wearing their gear knowing no ball could hurt me (I had a fear of getting hit by the ball) not to mention catchers really look cool. Probably why I had such an affinity to guys like Paul Lo Duca and Joe Mauer. Unfortunately, since I was a lefty the dream of being behind the plate was out of reach. With this in mind and without further ado I would like to unveil my Top 5 Marlins Catchers of all time. This list doesn't necessarily carry the criteria of elite stats but rather just fond memories of these select players.
#5- Benito Santiago: Now this one is an oldie. I was pretty young when the Florida Marlins had their inaugural season but this man goes down in history as our very first. The man played in the Majors for 20 years, on 10 different teams. He hit the first homerun in team history and while his stint was short (2 seasons) he actually had a pretty decent season in 1994 hitting .273 with 41 RBIs and just under a dozen homers. This 5-time All-Star and NL Rookie of the Year might have lasted longer in Florida had it not been due to injuries and a very special someone waiting in the wings (Check my number 1 pick).
#4- Miguel Olivo: We got this guy as a free agent in 2006, although he played well enough his first year hitting .263 in 127 at-bats man did he suck the following year batting .237. At least he had some pop in his swing hitting 16 homers both years along with 58 and 60 RBIs respectively. He did return to the team in 2013 but by then he just wasn't the same. I remember one memorable moment when we played against the New York Mets in late 2007. Amidst the tension, he charged at Jose Reyes trying to punch him, only to hit Sandy Alomar who came in to block the swing. Sure he missed, sure it started a bench-clearing brawl and sure he got ejected while Reyes stayed in but I loved the effort. It was the only bright spot on a day we were absolutely dominated. It also helps that he was there for Aníbal Sánchez's no-hitter in 2006.
#3- Mike Redmond: Okay, Okay, Redmond was a back-up catcher for most of his stay in the Marlins but the guy was legit. He was the second longest tenured Marlins catcher in franchise history so his longevity cannot be ignored. His defense was solid and the guy rarely ever struck out despite having no power. In his 7 years as a Marlin his average was a pretty respectable .284 making him one of the best back-ups in the league, the Matt Moore of baseball. Humor aside, I do wonder what would of happened if the guy became a full-on starter. He even came back to manage the team for a couple of years and while it was nothing to write home about, the guy goes down as one of the more liked catchers of the Marlins with the stats to back it up. Just let the smooth voice of Vin Scully tell you why he was so adored.
#2 Ivan Rodriguez: He played with us for only a year, but man what a year it was!  This guy was definitely one of the main pieces of our championship team and his leadership was incredible, especially for our pitching. I still remember being there at the stadium the day he held onto the ball after Jeff Conine's throw to gun down J.T. Snow. It was absolutely legendary. Another memorable play was in Game 1 of the 2003 World Series against the Evil Empire, the New York Yankees. The game was tied 1-1 in the bottom of the third inning with runners at the corners. But with a quick snap and a throw to Mike Lowell, Nick Johnson was picked off at third ending the Yankees momentum. Simply masterful. Rodriguez was an 11+ year veteran by the time he joined us but he still got game, setting many Marlins single season records for a catcher, such as batting average (.297) and runs batted in (85). He really was a gem. It was only a year, but Pudge will always be a Marlin in my eyes.
#1 Charles Johnson: CJ himself tops the list as my all-time favorite. I believe he is the best catcher the Marlins ever had. The UM alum was drafted by the Florida Marlins in the first round of the 1992 draft. He was also drafted in the first round in the 1989 draft, by the Montreal Expos but opted to play college ball instead. During his time in the majors he had quite the stellar resume: He was a 2-time All-Star, the winner of 4 Gold Glove Awards (Including his rookie season) and did I mention he helped win the 1997 World Series? He also set a Major League record in 1997 by playing in 123 games without committing a single error. Oh it gets better, the Marlins have 6 no-hitters on record. Charles Johnson was there for HALF of them. That's right, good 'ol CJ was the catcher for our first three no hits. He helped guide Al Leiter, Kevin Brown and A.J. Burnett to historical no-no's, an honor many catchers do not have. Some would kill just to be a part of one, he was in three. It takes two to tango, after all.
And there you have it folks, my top 5 Marlins catchers of all time. Hope you enjoyed this as much as I did and remember, stay frosty.
Upcoming Games
Texas Rangers: July 24-26 (Away)
Cincinnati Reds: July 27-30 (Home)
Views from the Cheap Seats is a biweekly segment where a Miami raised sports nut recaps, screams and analyses a week's worth of games giving a toast, or the finger, to his hometown team depending on their performance. A truly hopeful but always realistic fan putting thoughts to pen to paper and always striving to improve. Be bold, be good, be you.
Don't forget to follow us on Twitter, Facebook, and Instagram.
(Visited 109 times, 1 visits today)