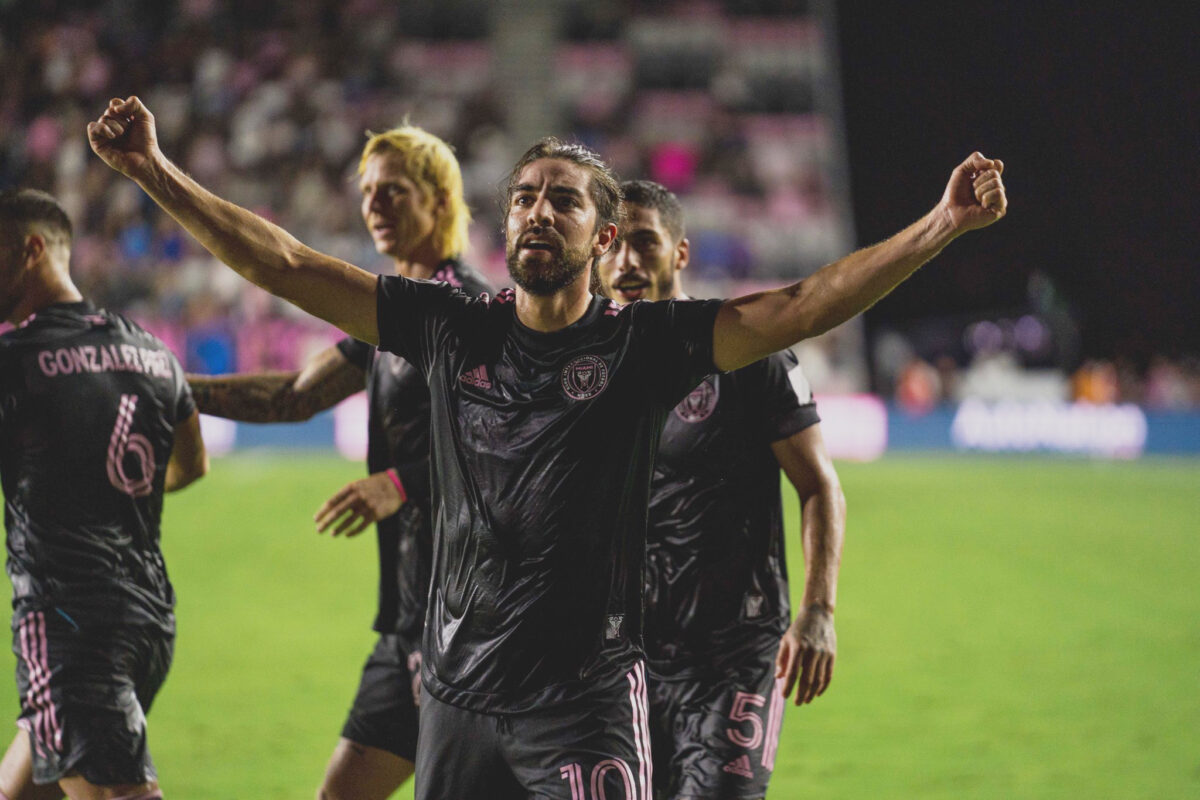 ---
Fort Lauderdale, FL – Inter Miami showed that they are slowly but surely building a winning culture with their 3-2 win against the Chicago Fire Wednesday night.
After a scathing article from The Athletic that equated the club to a "brand" more than a soccer team, Miami came out against the Fire with a point to prove:
Neville on the team's fight:

"When you prove people wrong, it feels and tastes a lot better. They've got the bit between their teeth now. They're fighting for each other."#InterMiamiCF

— Alex Windley ☀️ (@aaw_1998) August 19, 2021
Inter Miami had a rough start to MLS life. But if these last few results are any indication of their current trajectory, the Herons have turned a corner.
Stoppage Time CF
For the second time in three games, Miami left it late to find a match-winner. Similar to Indiana Vassilev's goal against Nashville SC, Rodolfo Pizarro was Neville's savior Wednesday night.
With the game tied 2-2 in the 91st minute, the Mexico international topped off a brilliant 27-minute cameo with a cooly finished goal to ice the match.
He's not the only player that had a standout game, however.
Gonzalo Higuain has been subjected to plenty of criticism, but his last few matches for the Herons have been top class.
The 33-year-old was the focal point of Miami's attack. With Robbie Robinson and Vassilev flanking beside him, Higuain was able to stay up top and wreak havoc on Chicago's defense.
The team's first goal was an excellent snapshot of that. Higuain, Robinson, and Vassilev combined to give Miami the opener:
His first start, his second goal for the club 🔥

Indy Vassilev gives #InterMiamiCF the lead at #DRVPNKStadium! pic.twitter.com/fsvBV4WUvC

— Inter Miami CF (@InterMiamiCF) August 19, 2021
Despite conceding before the half ended and when the second half started, Miami didn't give up the fight. In the 61st minute, Higuain got his third assist of the season, setting up Robinson for his third goal of the season:
The assist from Gonzalo ➡️ the finish from Robbie 👌

Game on at #DRVPNKStadium!#InterMiamiCF | #MIAvCHI pic.twitter.com/aaMLgSeUdS

— Inter Miami CF (@InterMiamiCF) August 19, 2021
Just as Miami thought they were going to sneak out with a draw, Neville threw everything he could at Chicago in the last 20 minutes.
The substitutions of Victor Ulloa, Julian Carranza, and Rodolfo Pizarro changed the complexion of the match. The trio was just what Miami needed to get over the finish line.
In the 91st minute, the Herons showed their determination. Higuain found a darting Ulloa who then turned and spotted Pizarro who finished the pass with a one-touch finish:
ARE U KIDDING ME?!!! 😮😮@Rpizarrot with a magisterial finish and #InterMiamiCF have the lead in stoppage time! #MIAvCHI 3-2 pic.twitter.com/SGVKepPUPq

— Inter Miami CF (@InterMiamiCF) August 19, 2021
This was Miami's second last-minute winner in their last three games.
Inter Miami CF? No. Stoppage Time CF may be a more fitting name going forward.
Constructing a Culture
When Inter Miami first came into MLS, there was a myriad of expectations. As time went on, they fell flat on many of them. But at the mid-point of this 2021 season, there are signs that Neville has found a way to galvanize the club.
Neville on the team's growth:

"The change of system helped, in terms of philosophy they're beginning to understand. It took more time than what I thought."#InterMiamiCF

— Alex Windley ☀️ (@aaw_1998) August 19, 2021
For one, he's not afraid to make big decisions. Benching Designated Players, appointing a new (permanent) captain, and switching formations mid-season without incident shows that he has control of the locker room.
The amount of grit and fight he's instilled into the club is remarkable. Last season, while Diego Alonso may have had them play better football at times, Inter Miami never looked like a team that could fight back.
Under Neville, though it took half a season, Miami is a club that is capable of taking hits, getting back up, and punching their opponent back two times harder.
Inter Miami looks like they have a culture now.
The only question is, can they keep this momentum going?
Time will tell, but their next chance to prove Wednesday night wasn't a fluke is this Saturday against Toronto FC.
(Visited 195 times, 1 visits today)