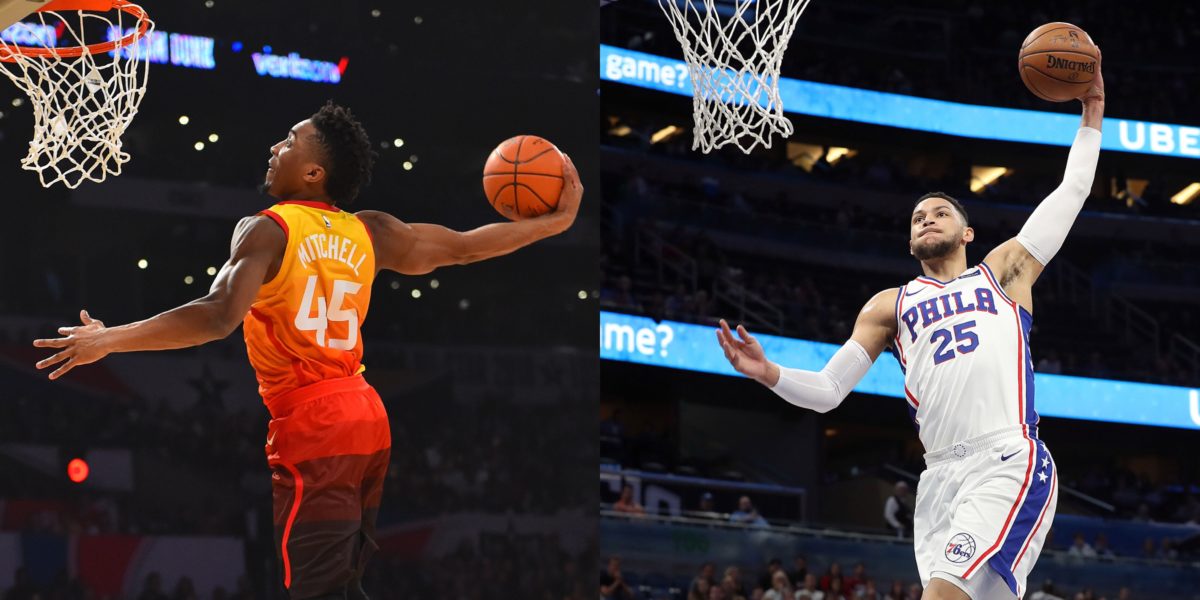 First, the NBA press release, followed by my take on the NBA Rookie of the Year race!
New York, NY – The Philadelphia 76ers' Ben Simmons and the Utah Jazz's Donovan Mitchell today were named the Kia NBA Eastern and Western Conference Rookies of the Month, respectively, for games played in March and April.
Simmons won the Kia NBA Eastern Conference Rookie of the Month award for the third consecutive month and the fourth time this season.  In March and April, he helped the 76ers post an NBA-best 20-3 record by averaging 13.7 points (on 58.7 percent shooting from the field) to go with rookie highs of 10.1 assists and 9.3 rebounds in 23 games.  Behind Simmons, Philadelphia closed the regular season with a franchise-record 16-game winning streak – the longest winning streak to finish a season in NBA history.
The 6′ 10″ guard/forward from Australia recorded six triple-doubles during the extended month, including a 27-point, 15-rebound, 13-assist performance in a 132-130 home win over the Cleveland Cavaliers on April 6.  That victory helped Philadelphia edge Cleveland for the No. 3 playoff seed in the Eastern Conference in the 2018 NBA Playoffs.  Simmons and the 76ers will play host to the Miami Heat in Game 1 of a first-round playoff series on Saturday, April 14 at 8 p.m. ET on ESPN.
The @Kia NBA Rookies of the Month for March/April! #KiaROTM

East: @BenSimmons25 of the @sixers

West: @spidadmitchell of the @utahjazz pic.twitter.com/vghDopIo7K

— NBA (@NBA) April 12, 2018
Mitchell earned the Kia NBA Western Conference Rookie of the Month award for the fourth month in a row.  In March and April, the 6′ 3″ guard averaged a rookie-high 22.8 points and added 4.4 rebounds, 4.2 assists and 1.52 steals in 21 games as Utah tied for the best record in the Western Conference at 17-4.  For the season, Mitchell averaged a team-high 20.5 points, making him the first rookie to lead a team with at least 45 wins in scoring since David Robinson with the San Antonio Spurs in 1989-90.
On April 8, Mitchell scored 28 points, grabbed a career-high-tying nine rebounds and handed out eight assists as Utah clinched a playoff spot with a 112-97 road victory over the Los Angeles Lakers.  Mitchell and the Jazz (48-34) will visit the Oklahoma City Thunder (48-34) in Game 1 of a first-round playoff series on Sunday, April 15 at 6:30 p.m. ET on TNT.
Official Release – NBA
Now, here's where my opinion comes in. Surprise, surprise! The 2017-18 Rookie of the Year race is down to these two players. Both are deserving of the award. Now that you have all the information, lets look a little deeper. Personally, in the current format, the winner should be Ben Simmons, maybe, but not by much. I wouldn't disagree if Donovan wins the award. I guess I'm undecided.
First, I don't agree with the current format, which allows 2nd year players to compete as rookies because of injuries during their actual rookie season. If we're going to give guys MVP awards, and factor in amount of games played, or availability into those decisions, then a player being injured during his rookie season shouldn't give him a free pass. It's just too damn bad. Though injured, the player still has access to NBA caliber coaches, film, receives an NBA paycheck, amongst other things to help him prepare for the "rookie" season. Meanwhile, other players are still "attending" college classes. However, none of that matters, and rules are rules, making Simmons eligible.
"SHOTS FIRED!" 👀

KG talks @spidadmitchell & @BenSimmons25 #KiaROY race. #KGArea21 pic.twitter.com/pjTsikrSXT

— KG's Area 21 (@KGArea21) April 11, 2018
Simmons lead Mitchell in every stat, except everyone's favorite stat: scoring. Ben is a better overall player, and is one of only 4 players to record 10+ triple doubles this season. However, that little nugget above, stating Donovan is the "first rookie to lead a team with at least 45 wins in scoring since David Robinson" is as impressive as they come. The Sixer rookie isn't even the best player on his team. That distinction goes to Joel Embiid. You can say Simmons is surrounded by a better overall squad, and can make the argument that they still would've made the playoffs without him. The same cannot be said about Mitchell, who lead Utah to the playoffs with his offensive performances. Mitchell leading Utah to a 5th seed in a western conference, where the 3-8 seeds are separated by two games is, in my opinion, more impressive than the Sixers earning the 3rd seed in a weak eastern conference. Also, Donovan was money down the stretch.
The @utahjazz are riding a five game winning streak.

In that span, Donovan Mitchell is averaging 23.2 PTS on 50 FG%, 5.2 REB, 4.6 AST, 1.2 STL.https://t.co/DzDZderB0N pic.twitter.com/pufdnuY9M1

— NBA.com/Stats (@nbastats) April 10, 2018
Finally, the league as a whole is trending towards valuing the 3-point shot more and more everyday. Ben Simmons lives in the paint. As a 6′ 10″ point guard, he towers over most other point guards, so this is where he can best take advantage of his size, shooting over 50%, but that doesn't do much to spread the floor. Although, it does help that Embiid can shoot the three, so the DM sliding center should get credit for keeping the paint open when he draws out the opposition's center. On the other hand, Mitchell made 187 3-pointers this season. He finished his first season with the rookie record for threes made in a season. He also had fewer turnovers per game. Maybe the tie-breaker is that the Sixers won both matchups versus the Jazz this season, where Ben Simmons thoroughly outplayed Donovan Mitchell.
Ben Simmons isn't fazed by Donovan Mitchell's "rookie" sweatshirt. pic.twitter.com/3mXWqBRw1R

— SportsCenter (@SportsCenter) April 11, 2018
I'm a numbers guy, and Simmons definitely had better overall numbers. If he develops an outside shot, he could be a Lebron-esque type of player. Scary to think about, but the reality is that his outside shot is poor. "The Process" took long enough, but I think it's safe to say that it worked. Now, Simmons will try to do to Dwyane Wade what The Flash did to Baron Davis back in the 2003-04 playoffs, one of my all-time favorite memories. The Sixers will face the Miami Heat in the first round of the playoffs, starting on Saturday April 14th at 8PM.
See ya soon, @MiamiHEAT.

— x – Philadelphia 76ers (@sixers) April 12, 2018
(Visited 115 times, 1 visits today)