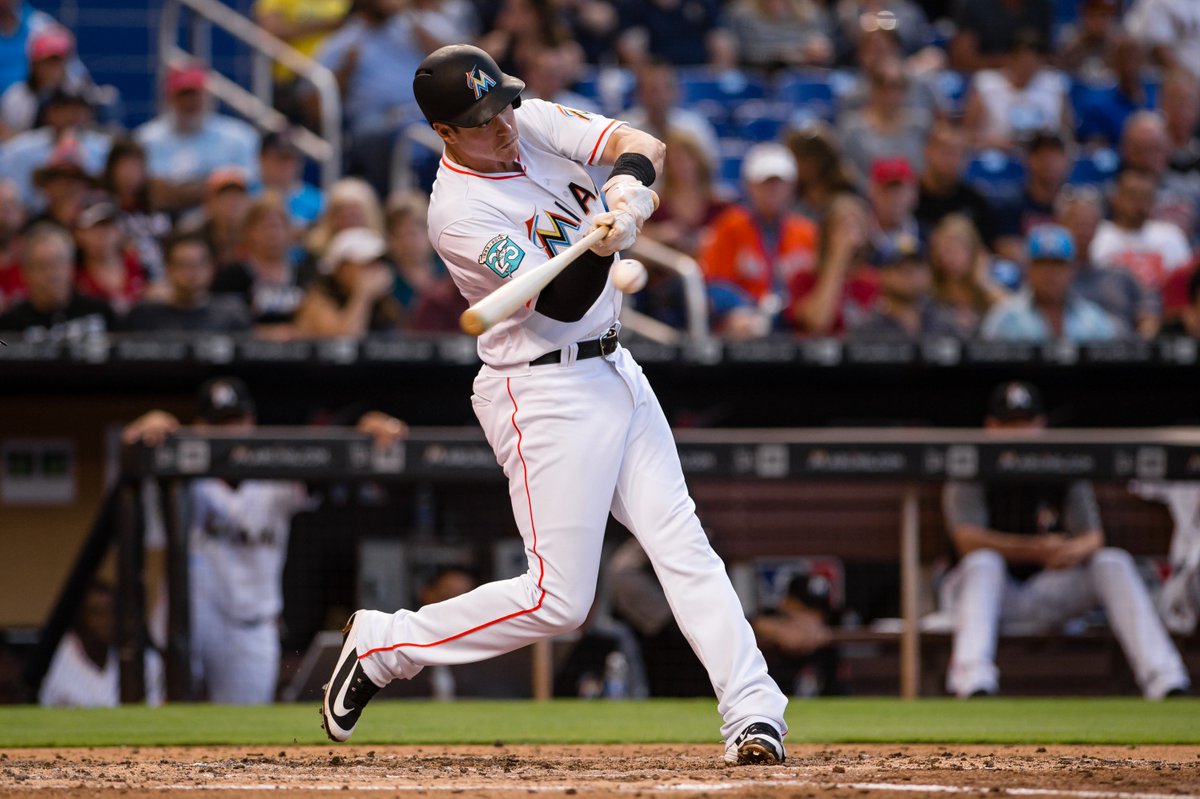 Miami, FL – If there was a phrase that could describe how I'm feeling about the Miami Marlins right now it's this: Ai Yai Yai!
With opening day long gone, the Marlins faced the Philadelphia Phillies on the road followed by a home series with the New York Mets. Spoiler alert: We lost most of the time. Not surprising, given what was to be expected.
Their first game was a rather chilly one, a cool 46 degrees. Probably why we were held to just four hits and shut out 5-0. Our starter, Caleb Smith ran into trouble from the outset walking the first batter and then two more to load the bases with two outs to set things up for Maikel Franco. Franco singled to left field putting the Phillies up by two in their home opener. Franco would come within a double shy of hitting for the cycle. Meanwhile for Smith, he needed 34 pitches to get past the very first frame, not good. The second game of the series wasn't any better. In fact, it's worse.
Much worse.
So much worse that I'm going to give it a brief recap: Behind two grand slams and an avalanche of hits (20) the Phillies embarrassed the Marlins 20-1.
Ai Yai Yai!
Take your time J.T. Realmuto. Really.
For the series finale, the Marlins bounced back with three runs in the first, off of Jake Arrieta including a homer from Miguel Rojas. Philadelphia responded with two runs in their half of the inning before tying it up in the third with a Rhys Hoskins RBI double. The score remained the same until the eighth. Brian Anderson doubled to right scoring both Rojas and Starlin Castro, putting the Marlins ahead for good. Bryan Holaday smacked a line drive to center to add some insurance in what ultimately was a 6-3 victory.
With @MRojasOfficial coming up to hit, let's look back at his first at-bat…#JuntosMiami pic.twitter.com/edTwqdNbPe

— Miami Marlins (@Marlins) April 8, 2018
As we flew back home, the New York Mets were our next opponent to drop on by. Coming off a sweep against the Nationals they were riding high, hoping to keep it going in South Florida.
For the opener, Adrian Gonzalez and Jay Bruce contributed to the Mets scoring three runs after a third of the game was in the books. The Marlins fought back with runs in the fifth and sixth, courtesy of Derek Dietrich and Anderson. We had a chance to do more in the seventh with two-out singles from Dietrich and Rojas, however, Mets reliever Hansel Robles shut the door by striking out Starlin Castro. 4-2 Mets.
The next two games are a bit of a heartbreaker due to key hits by the Mets, coupled with costly errors by the Marlins.
You're not seeing double. That's two home runs from @bour41.#JustGettinStarted pic.twitter.com/fSdr0H1Ib6

— Miami Marlins (@Marlins) April 11, 2018
In Game 2, Miami rallied, being down by three, with four runs in the fifth, including Justin Bour's first dinger of the season. He would strike again after the seventh inning stretch to break the tie and retake the lead. Unfortunately, New York brought out the big guns and launched some deep balls of their own with two in the eighth to tie it once more. Then in the ninth with one out and runners on first and second, Yoenis Cespedes hit a bouncer towards third and then it happened. The ball deflected off Anderson's glove and rolled deeper into left, bringing in two runs and pretty much frying the fighting fish. 8-6, Mets.
Ai Yai Yai!
Game 3 saw some terrific pitching from Jarlin García, tossing six no-hit innings. Yeah! Unfortunately the Mets broke through in the eighth frame, scoring four runs, sweeping us off the field.
Ai Yai Yai!
So there you have it folks, our lone victory in two series' worth of games. I will say this, the team has been competing (A small consolation) as those last two games against the Mets slipped through our fingers. A loss is a loss though and the team now stands at 3-9.
What we're witnessing is to be expected. After an offseason where we slashed payroll and traded away all of our possible assets, this is what we are. Add to that, starting the season with a ton of injuries and let's face it, the starting rotation didn't get better and neither did the relief corps. We have no true ace.
It will be interesting watching the youngsters develop through the season, if they can stay healthy. If I had to pick the most pleasant surprise thus far, it's definitely Brian Anderson. I mentioned him a few times last year when he played on the New Orleans Baby Cakes and boy, he hasn't disappointed.
Maintain the faith boys and girls, this will take time. A lot of time. If nothing else let's watch our home team for the youngsters, they really are giving it their all. Sure, it's their job and it's what they're being paid to do but it must feel frustrating at times when your team draws less people than your Double-A affiliate.
Until next time, stay frosty.
Not the desired outcome. The Marlins start a new series on Friday against the Pirates. #JuntosMiami | https://t.co/JAWetAXFg9 pic.twitter.com/3jwPiZtisz

— Miami Marlins (@Marlins) April 12, 2018
Stat of the Week
The Marlins have been outscored 24-15 which isn't too bad…until you add in the 20-1 loss, making it 44-16 in favor of our opponents. Fish fry.
🎶Snap back to reality, oh there goes gravity…🔁🎶
Lose Yourself #JuntosMiami 🤦🏻‍♂️ pic.twitter.com/r7oXmDXJYo

— Lemon City Live (@LemonCityLive) April 8, 2018
Looking Ahead
Pittsburgh Pirates: April 13-15 (Home)
New York Yankees: April 16-17 (Road)
Photo Credit – Miami Marlins Twitter
(Visited 153 times, 1 visits today)