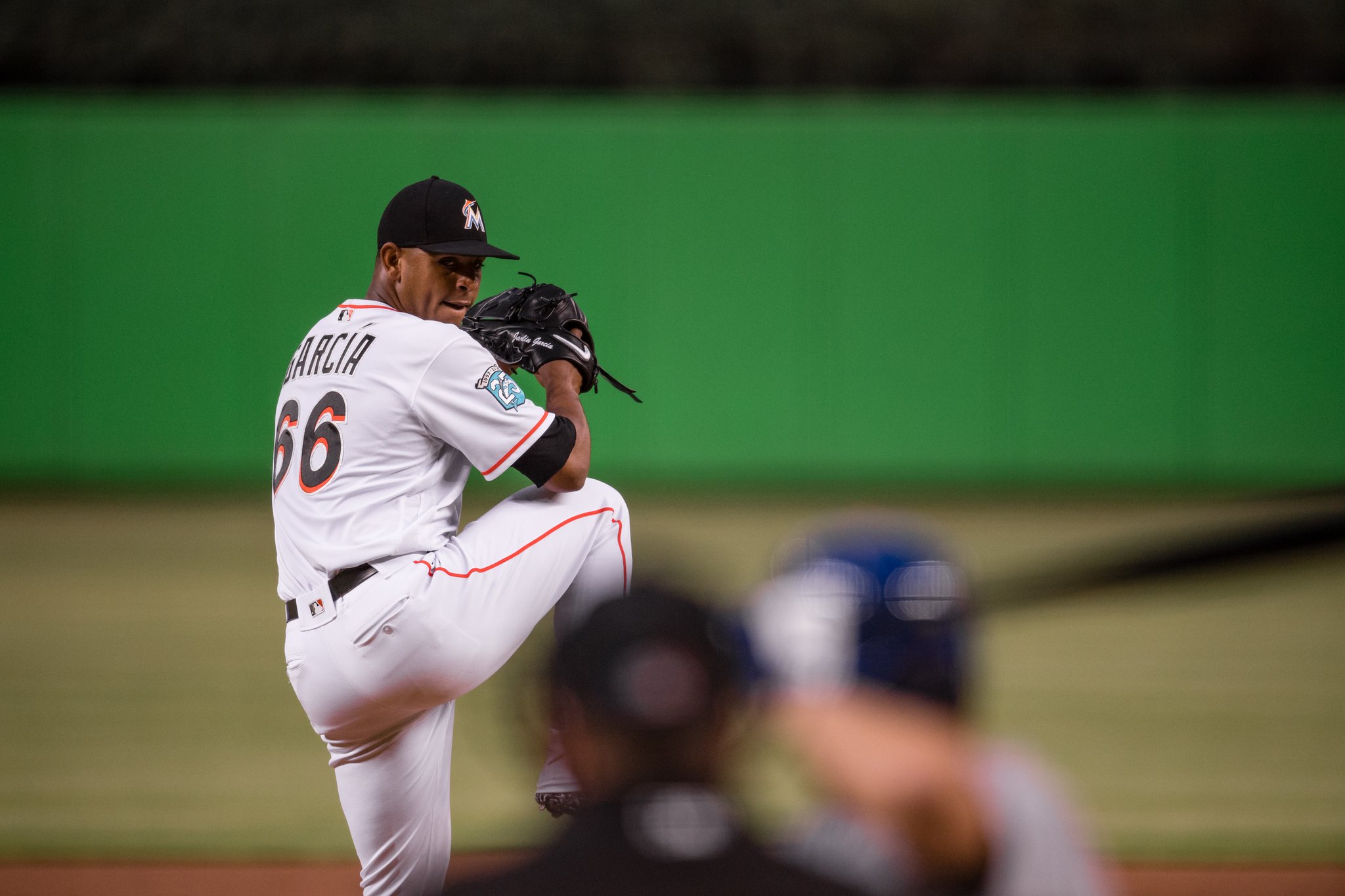 It was a week of mixed fortunes, we only won two of our last five games but they were very enjoyable victories.  Not only did we see the return of one of the best catchers we've had since Ivan Rodriguez but we're seeing a rising star emerging from our starting rotation. Let's get to it then.
The first game of the series was all Miami as a fella named J.B. Shuck debuted for the Marlins, playing for the first time in the majors since 2016. Shuck went 4-for-4 including a triple, giving the team something to cheer about. The four hits ties the franchise record for most hits in a Marlins debut. It's been done four times and the last one to do it was Emilio Bonifacio back in April 2009. Long time man, I was in my university days then. Justin Bour meanwhile hit his third home run of the season, a two-run shot en route to a nice 7-2 victory. But it wasn't just our bats doing all the work, Dillon Peters allowed only two runs over six innings to keep Pittsburgh on the down low for the opener.
.@Marlins JB Shuck has big night in his first game as a Marlin, going 4-4 with 2 runs scored! #JuntosMiami #MLB pic.twitter.com/X4dH1RoOiq

— FOX Sports Florida (@FOXSportsFL) April 14, 2018
https://platform.twitter.com/widgets.js
Unfortunately, this was the only game we'd win this weekend.
Game 2 saw one heck of a pitcher's duel. Marlins rookie Trevor Richards went up against Jameson Taillon with both guys going seven and six innings respectively, scattering hits throughout the game. It wasn't until the ninth that somebody finally scored, too bad it wasn't us. No, it wasn't a homer, a wild pitch or an error. It was a pair of bunts that did us in. Starling Marte bunted for a single with one out in the ninth. Then Josh Bell hit a liner that went under the glove of second baseman Starlin Castro.
Ay, at least the game was still tied.
Corey Dickerson laid down another bunt, resulting in a very soft flyball that Brad Ziegler was just unable to get a hold of for an RBI single. We lost 1-0.
AI YAI YAI.
We had our chances. In the fourth we had the bases loaded but Cameron Maybin hit a dribbler in front of the plate. Later on, Shuck couldn't get a key hit with runners at the corners. Shucks Shuck!
The rubber match on Jackie Robinson Day, saw Starling Marte go on a 5-hit rant (solo shot included) as part of a 13-hit barrage by the Pirates, downing the Marlins 7-3 to take the series. At least Bour hit his fourth ding-dong of the year.
José Ureña has taken the mound. Let's go Marlins! #JackieRobinsonDay |#JuntosMiami pic.twitter.com/gaPl9YMgKH

— Miami Marlins (@Marlins) April 15, 2018
https://platform.twitter.com/widgets.js
Onwards to New York!
Our date with the Bronx Bombers was a two-game duel filled with a lot of offense. In the series opener, the Yankees scored in all but two innings as they overwhelmed both Caleb Smith and Tyler Cloyd, embarrassing us 12-1. The next day, it almost felt like we switched jerseys because it was the Marlins doing the pounding with the awesome return of J.T. Realmuto. Our boy Jarlin García pitched five scoreless innings giving up a mere hit, the bullpen took over and continued the brilliance on the mound with flamethrower Tayron Guerrero, Georgia gold Drew Steckenrider, Kyle "Bear Claw" Barraclough and the closer himself Brad Ziegler all contributing to shutting down the Yankees. When everything was said and done, the Marlins avenged their Monday night massacre with a 9-1 beat down.
J.T.'s back. Back again.@JTRealmuto homers in his first game back to give the Marlins a 7-0 lead.#JuntosMiami pic.twitter.com/QaLun4kvrJ

— Miami Marlins (@Marlins) April 18, 2018
https://platform.twitter.com/widgets.js
It's no easy feat, not for this team.
The Yankees are favored to hit over 200 home runs this year, that's huge! Maybe even 300! Big hype or no, the sheer power of this Bronx Bombers squad is astounding. Although there is ONE guy in particular that's struggling, but more on that later.
Realmuto made an epic return smacking his first homer of the season while driving in four on the night, going 2-for-4 overall. If he remains healthy, we will certainly win more games. Not a ton of them but several more.
It was also a night of streaks.
Prior to the series, Yankees pitcher Masahiro Tanaka had given up a home run in each of his starts. Realmuto made sure that little streak continued. Speaking of streaks here's a good one, Miguel Rojas got his first hit of the game in the seventh inning continuing his hit streak, standing at 10 games in a row now. Look out Dimaggio!
As I previously mentioned, García is really putting up some impressive numbers and making history in the process. According to Elias Sports Bureau, Jarlin's 10-inning streak of no hits allowed (Yankees third baseman Miguel Andujar's double in the fifth ended the run) to start his career as a starting pitcher ties the modern MLB record. When was the last time this happened? Back in 1953, by a guy named Bobo Holloman for the St. Louis Browns.
Not bad for a debut album. #JustGettinStarted pic.twitter.com/snOXwsmnaG

— Miami Marlins (@Marlins) April 18, 2018
https://platform.twitter.com/widgets.js
Heading into the season, Jose Ureña was seen as our ace but he's having a rough go at it so far and while I don't doubt he'll rebound (Edinson Vólquez did it last year), Garcia is making some waves. Time will tell if this is something that we'll see on a regular basis but he's already our second-most pleasant surprise behind Brian Anderson. Which brings me to the next guy.
I mentioned Lewis Brinson to start the season as one of the rookies I'd be keeping an eye on. After a great spring and a promising, but brief, beginning of the year, Brinson has struggled mightily. Batting way below the Mendoza Line (.131) it's an open question on whether he gets sent back to the minors. Thus far, the team has moved him down in the starting lineup and even given him a couple of days off to clear his mind. It's moments like these that will show what the youngsters made of. Slumps hit even the best players, it's how they handle it and get themselves out of it.
Maybe it's his approach at the plate or a change in batting stance or something else entirely but it all starts mentally. If it gets in your head, it makes scrapping back that much harder. And that's what it will come down to in the end, whether Brinson can shake himself out of the current funk he's in.
Lewis Brinson, first 33 MLB games: 2 HR & .213 OBP

Hall of Famer Craig Biggio, first 33 MLB games: 1 HR & .244 OBP

Hall of Famer George Brett, first 33 MLB games: 1 HR & .224 OBP

You're gonna make it. #Re2pectTheProcess https://t.co/GT8Uo4c6c9

— Fish Stripes (@fishstripes) April 12, 2018
https://platform.twitter.com/widgets.js
Speaking of funks, there's another guy struggling: Giancarlo Stanton. Our former golden boy went 0-for-7 during the series, striking out four times. When I watched Guerrero victimize him with an 85 mph breaking ball on Tuesday, the fans were already booing at the guy. Dipping below .200 Stanton has gone from the face of a team to being PART of a core of players meant to go all the way. Throw in the notorious and highly demanding fans and local media and you've got yourself a fish out of water. Literally.
If there was one player to watch outside the Marlins organization, Stanton is my pick. The 2017 NL MVP and homerun leader (59) has the skillset and mentality to erase any initial doubts those in New York might have. In fact, man he's going to be fine. Better than how the Marlins will end up this season I'll tell you that. To Yankees fans I say this: Patience man. Relax. Everybody struggles. Everybody. From Trout to Harper to past guys like Jeter and Arod, they all go into slumps. It's still early and fans tend to have amnesia anyways. Once a player goes on a tear and is on fire, all is forgiven. Just you watch.
Stanton Ks again. Shoutout to my roommate for booing along with the Yankee crowd lol… pic.twitter.com/43HLzH2OtC

— Fish Fan🌴 (@MarlinsPride) April 18, 2018
https://platform.twitter.com/widgets.js
And so our fighting fish head to Milwaukee where they will have another reunion, this time with Christian Yelich who coincidentally was just activated from the disabled list. The four-game set promises to be a fun one.
Now the question is: Fun for them or fun for us?
Until next time, keep the faith and stay frosty.
Looking Ahead
Great W tonight for the fish 🐠 Jarlin the Marlin impressive again and it feels good having the horse @JTRealmuto behind the plate 💪🏼 Pack ur bags boys we are going to Milwaukee ✈✈

— Miguel Rojas (@MRojasOfficial) April 18, 2018
https://platform.twitter.com/widgets.js
Milwaukee Brewers: April 19-22 (Away)
Los Angeles Dodgers: April 23-25 (Away)
Stat of the Week
With Aaron Judge's HR Monday night, he passes Mark McGwire to become the fastest player to hit 60 homers (197 games). Big Mac did it in his 202nd game as part of the 1987-88 Athletics.
Photo Credit | Twitter.com/Marlins
Views from the Cheap Seats is a biweekly segment where a Miami raised sports nut recaps, screams and analyses a week's worth of games giving a toast, or the finger, to his hometown team depending on their performance. A truly hopeful but always realistic fan putting thoughts to pen to paper and always striving to improve. Be bold, be good, be you.
Don't forget to follow us on Twitter, Facebook, and Instagram.
(Visited 177 times, 1 visits today)