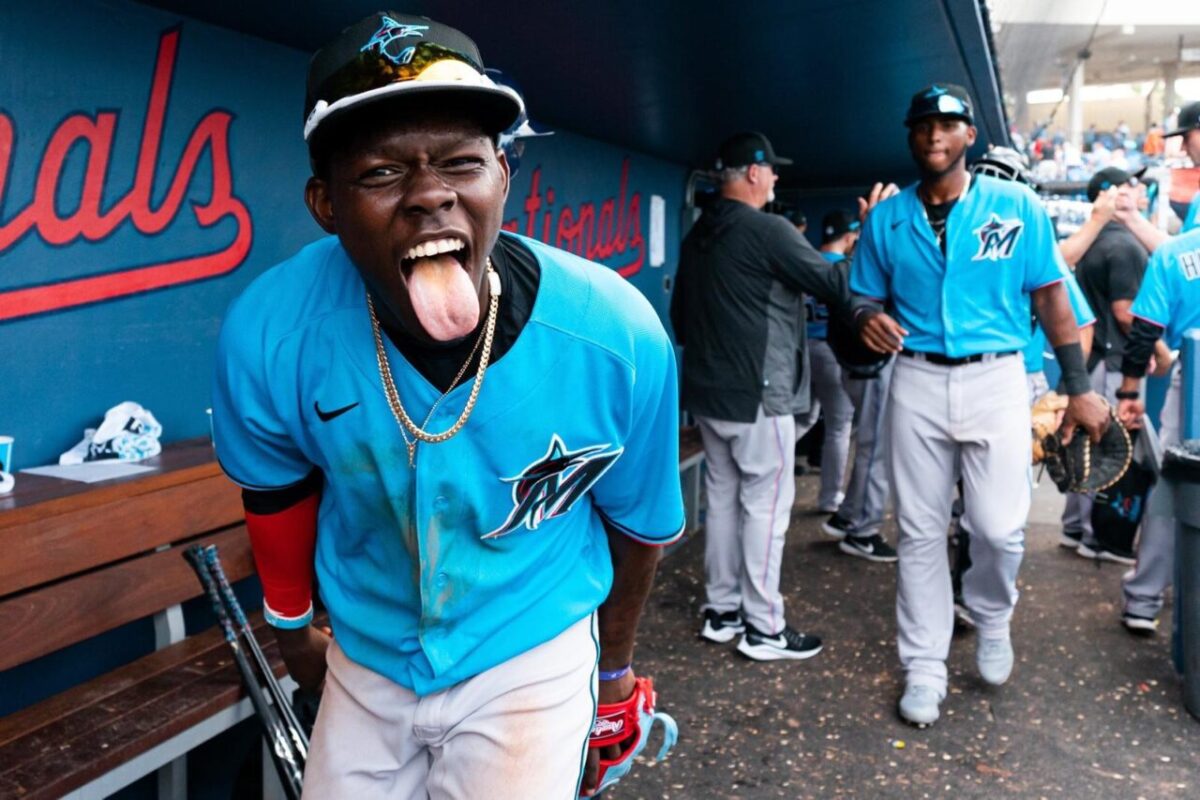 ---
Miami, Florida – This past Blue Jays series fans were treated to another frustrating display by the offense, stranding Sixto Sánchez's quality start to split the two games. During our latest interleague bout with Toronto, we were given a glimpse into the Miami Marlins' future. No, I'm not talking about our run production or even Starling Marte. I speak of a young man from the Isle of June that has the makings of a memorable baseball player: Jazz Chisholm. If you follow the Fish his name came into existence last summer, though his presence was well known before then.
Initially, he was slated to appear around 2021 with perhaps a late September callup in 2020. Things changed. The rookie made it to the big show and although he is nowhere near being an everyday starter, his exploits in the minors show glimmers of promise. Like every other prospect, they all start out with potential. Many never get the call, others can't transition to the pros. Consistency is the name of the game, and Mr. Chisholm is chasing it.
Jazz it up. #305OnTheRise pic.twitter.com/Zy2vJ7Sb7Y

— Marlins (@Marlins) September 1, 2020
Heir Apparent
Say hello to Miami's future shortstop. Born in Nassau, he is the seventh player from the Bahamas to play in MLB. Many of you remember the name from last year's Zac Gallen trade. He was Arizona's top prospect and ranked 59th in MLB Pipeline's Top 100 list. For some lineage, the Marlins acquired Gallen back in December 2017 when they shipped out Marcell Ozuna. Chisholm technically debuted on Tuesday as a sub in for Miguel Rojas late in the eighth but Wednesday is when he made his first plate appearance as a starter. Although hitless, he'll likely be a fan favorite in the near future.
Welcome to The Show, @j_chisholm3!

Watch the @Marlins on FOX Sports Florida | https://t.co/Gl9SJVf8mK#JuntosMiami pic.twitter.com/4ZdywUWl80

— FOX Sports Florida & Sun (@FOXSportsFL) September 2, 2020
The 22-year-old has huge power upside and the defensive skills to be one of our best shortstops in years. He spent all of 2019 in Double-A then played winter ball in Puerto Rico. By January 2020 he was conducting batting practice at the Marlins' spring complex. Back then he was projected to start the season at Triple-A Wichita. Chisholm caught the attention of Marlins CEO Derek Jeter after the 2018 season in the Arizona Fall League. His explosive swing and natural loft were qualities that drew praise. Being lauded by a legendary player of the New York Yankees is huge. As with all MLB hopefuls, there's a considerable risk.
His plate discipline is a work in progress. Before the Gallen trade, Chisholm had a strikeout rate of nearly 34 percent in Double-A Jackson coupled by a slash line of .204/.305/.427 with 18 home runs and 44 RBIs. After the trade, his numbers improved. In Double-A Jacksonville his K rate went down to 25.5 percent with a slash line of .284/.383/.494 with three home runs and 10 RBIs for the Jumbo Shrimp. His fielding isn't there yet, committing 18 errors last year although curiously they were all before the trade.
The Right Stuff
As the organization has said, Chisholm is the shortstop of tomorrow. It's his spot to lose. He has more power than other players in his position due to his high octane bat speed and the natural lift he brings as a left-handed batter. Currently, he seems more likely to factor into playing time at second base since Jonathan Villar got traded. The youngster is hungry and has the right attitude to be a good ballplayer, perhaps even a great athlete. Chisholm is particularly aggressive at the plate which is a double-edged sword but if he can continue harnessing it and stay ahead of the pitchers, he'll be a valuable asset for the team.
Check out this 🚀 (112 mph exit velocity) off the bat of Jazz Chisholm.

Read more about Chisholm on the #Marlins Top 30 Prospects list: https://t.co/o8XYUl1VjS pic.twitter.com/64e8gzapDP

— MLB Pipeline (@MLBPipeline) March 8, 2020
Another added bonus is his speed, making him an efficient base stealer. That's perfect for a team that thrives on small ball. According to the scouting reports, he has the hands, range, and arm to be proficient at shortstop in the big leagues. Chisholm could be our next Alex Gonzalez with Hanley Ramirez qualities at the plate. He has the potential to be a complete player and it will all start with patience at the dish. If he can't pop it over the fence that's fine, so long as he can get on base. As the old adage goes, you can't score if you don't get on base. Something the Fish are keenly aware of these days. So there's our glimpse into the Miami Marlins' future. For now, it's all Miguel Rojas (barring injury) but it's comforting to know his successor will be interesting (and fun) to watch.
(Visited 116 times, 1 visits today)