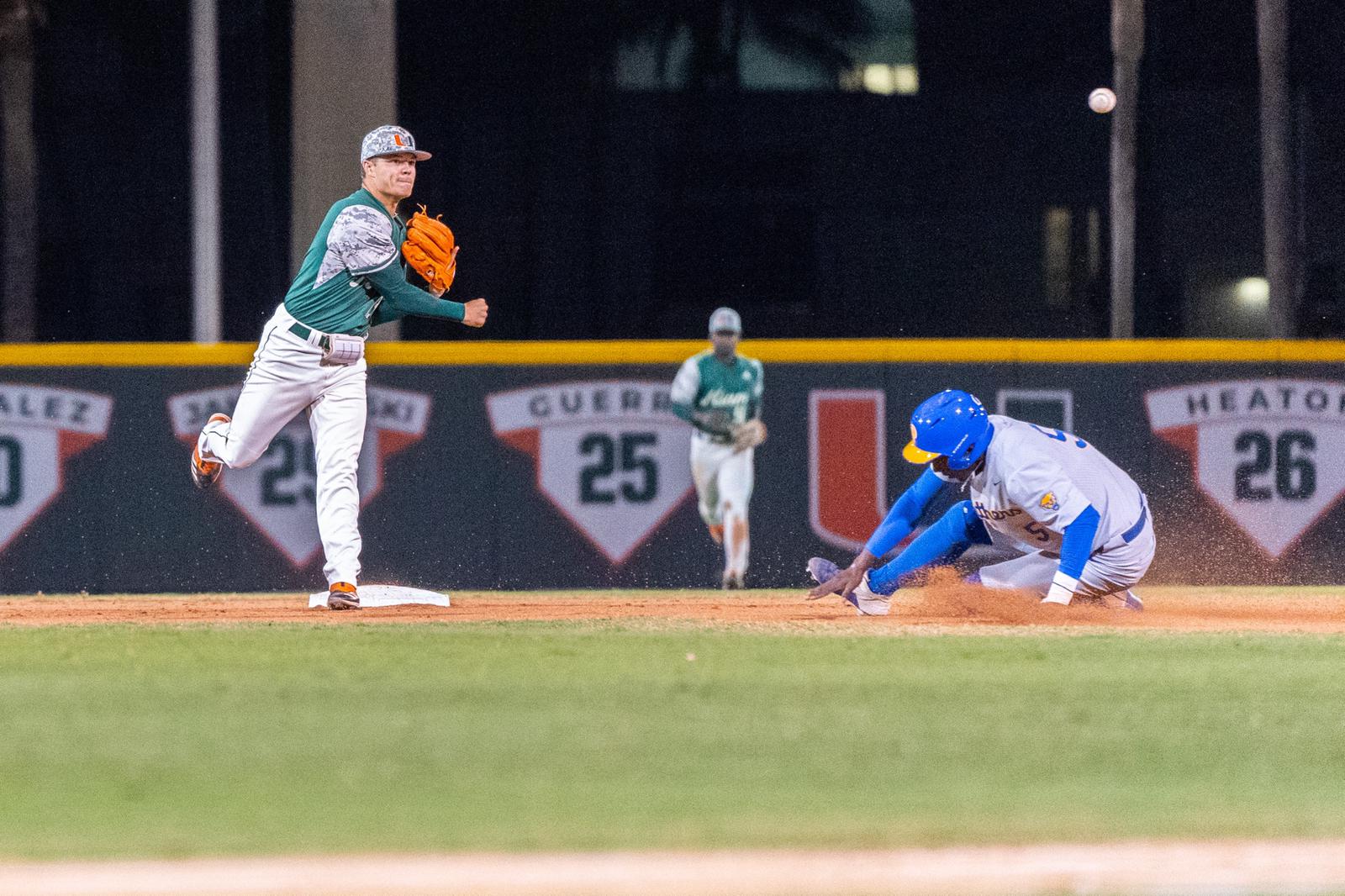 ---
Miami, FL – The Miami Hurricanes stormed their way into conference play to torch the Pittsburgh Panthers 14-2 Sunday for the weekend sweep. After trailing early, the bats came alive, culminating in an explosive seven-run eighth consisting of three straight doubles and a triple to put away their ACC rivals. Slade Cecconi (1-1, 4.70 ERA) put in another effective outing despite some initial bumps on the road, getting plenty of run support from the top of the order.
The Panthers jumped to an early lead as Cecconi ran into some trouble in the second. The starter retired the first two hitters before giving up a bloop single to Bryce Hulett. Despite the diving effort by Tony Jenkins, he was unable to fully track it down. Two straight seeing-eye singles notched Pittsburgh's first run of the game.
Pitt struck again the following inning, taking advantage of a defensive miscue in the outfield. With a runner at first, Kyle Hess hit a single to right but Gabe Rivera botched the toss back into the infield, resulting in an error and another run scored by the Panthers.
Momentum swung back to Miami when it was their turn to bat. Jenkins led off the three-run rally with a single to right, stealing second. Rivera popped out deep enough into the outfield for Jenkins to tag up and barely beat the incoming throw. Leadoff man, Jordan Lala plated UM's first run with a roller through the mound and past second for the RBI single.
Anthony Vilar followed up with a double to left field, scoring Lala to tie the game. Panthers catcher Nick Vera tried to snag Vilar wheeling to third but aimed too high, allowing him to cross the plate on the error to cap off the comeback.
"A little league home run for Vilar"

Canes get a couple runs in off of a nice piece of hitting from Vilar and an error by the Panthers.

➡️: https://t.co/5q8fI7V8Oj pic.twitter.com/SgOqDeNugO

— Canes Baseball (@CanesBaseball) March 8, 2020
Lala wasn't done yet, drawing a bases-loaded walk in the fourth to help Miami extend its lead. The Canes threatened to add even more runs but Pitt starter Matt Gilbertson gloved a hard grounder from Vilar to end the inning.
Cecconi labored in the beginning but regained control, putting up three more zeroes on the scoreboard to go six-deep. Slade scattered six hits and a pair of runs while punching out seven on the day. The righty put in extra work throwing 106 pitches, 65 of them for strikes.
Carson Palmquist continued the effective pitching after he took over the mound in relief, tossing a pair of clean innings with a little help from his shortstop. Ron Washington Jr. popped to shallow left-center but Vilar tracked it down, making an impressive over the shoulder catch in the seventh.
You've heard this already today… @AnthonyVilar made another INSANE play!

📺: https://t.co/5q8fI7V8Oj pic.twitter.com/YtKf3plEl8

— Canes Baseball (@CanesBaseball) March 8, 2020
Raymond Gil did not have a good weekend but he did manage a soft roller down the rightfield line that left reliever Chase Smith spinning on the play. While Smith tried to locate the ball in the confusion, Vilar crossed the dish to make it 5-2, Canes. Luis Tuero knocked in a two-run single to put Miami firmly in the driver's seat.
Then the storm surge came.
UM already had a sizeable lead but they really blew it wide open in the eighth. Rivera, Lala, and Vilar contributed back-to-back-to-back doubles while Adrian Del Castillo tripled, highlighting an impressive seven-run effort. In all the excitement Mykanthony Valdez got in on the act, recording his first career hit as a Hurricane.
Pour it on! @AdrianDelCast with a ⚾️ smacked to the wall. pic.twitter.com/3dkcyY5kwF

— Canes Baseball (@CanesBaseball) March 8, 2020
"We were soaking our wounds against FAU and for us to come in and get a sweep, I thought was big for our players." Coach Gino DiMare said.
The series sweep improves Miami's record to 11-4 including an undefeated 3-0 record in ACC conference play. Next up, a four-game road stint starting with UCF for the midweek game and then Virginia Tech.
Impressions
Bravo, Bravo! Encore! This is exactly what the Hurricanes needed. Great performance all around resulting in a sweep of an ACC opponent. Like the divisional games in the pros, these victories count double since the conference record weighs more in the league standings. The Panthers went into the series playing better than expected and after the embarrassing 11-2 loss to FAU, there was cause for some concern.
Miami literally walked off with the opener thanks to Alex Toral. Chris McMahon and JP Gates locked it down from the mound on Saturday and today's game was an absolute explosion of runs. The team taxed the opposing pitching staff and in doing so, got deep into their bullpen. As coach DiMare noted, the ball was hit just about everywhere today illustrating a good sign the offense was firing on all cylinders.
The goal now will be to carry this momentum into the next slate of games. The Canes hit the road with the first stop being Orlando for Wednesday's game against No. 14 UCF. From there it's a straight shot to Blacksburg, Virginia for more ACC play with the Hokies. Defensively they need to clean it up, the Hurricanes committed no less than seven errors this past weekend and quality teams always make you pay for your mistakes. Errors needlessly extend innings and you never want that.
Looking back at Slade's latest start, it was not his best outing, but it was good enough. Part of his struggles were his inability to finish off opposing hitters. Sometimes he fell behind, but when Cecconi got ahead of them, the sophomore couldn't put them away. This played a big role in his pitch count.
DiMare kept him in the game despite complications in the sixth, showing confidence in his Sunday starter.
"He rung him up!" @slade_cecconi paints the inside corner to get out of a jam in the sixth.

➡️: https://t.co/5q8fI7V8Oj pic.twitter.com/XFnmkEe3xC

— Canes Baseball (@CanesBaseball) March 8, 2020
Lala, Toral and especially Vilar were great this weekend. Anthony was all over the place today, making his presence known both on the field and at the plate. Given his struggles in late February, it's nice to see him swing the bat effectively and the same goes for Lala who was in a similar slump.
If there was one player I'd be concerned with it's Gil. Sitting on a .170 batting average, he has yet to have a multi-hit game this season. Worse, he leads the team with 20 strikeouts. No bueno, at all. Here's hoping he can turn it around, otherwise, he may find himself with less playing time.
Gus Bus Award
Three hits, three doubles, two RBIs and an amazing catch in the seventh. Anthony Vilar takes this one home.
You're Killing Me Smalls
Raymond Gil had a very quiet day going 0-for-5. In fact, he recorded a single hit all series (1-for-12), striking out six times including three on Sunday.
(Visited 46 times, 1 visits today)