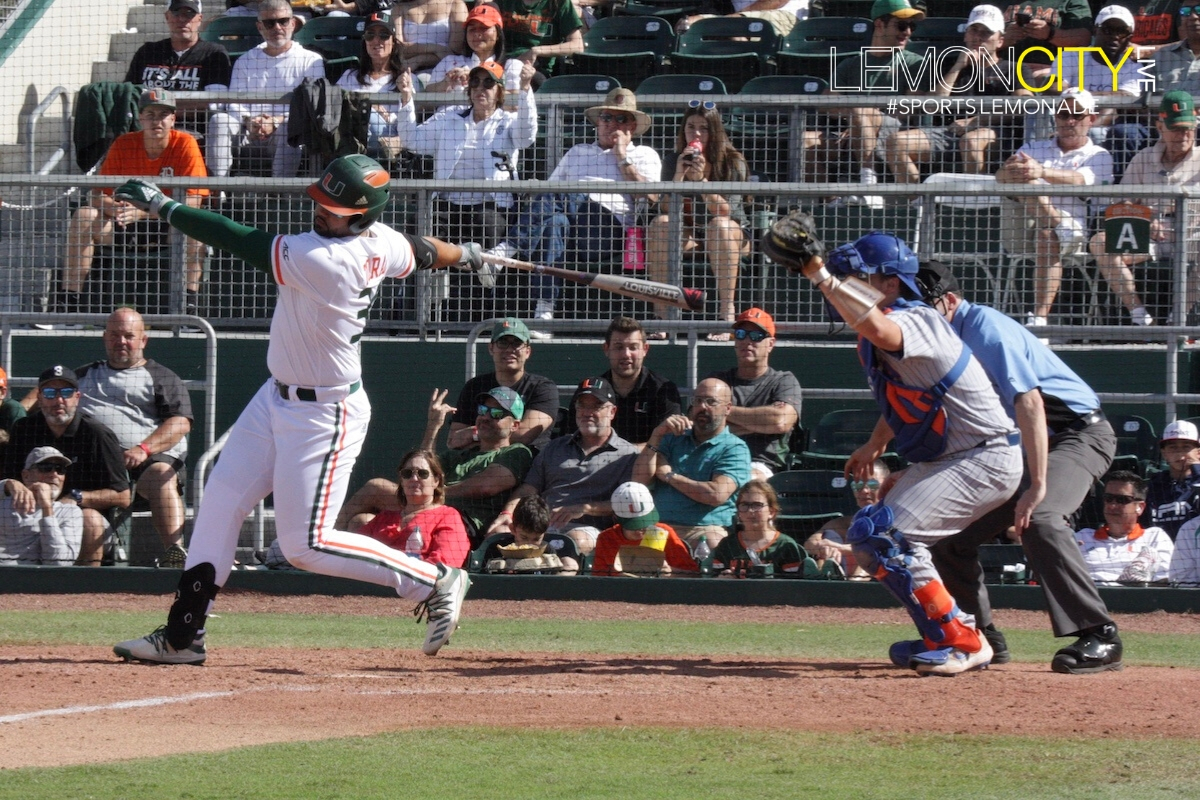 ---
Gators sweep Hurricanes
Miami, FL – What began as a weekend full of excitement and hope ended in bitter disappointment for the No. 1 Miami Hurricanes. Their offense was stifled throughout the series and Sunday was no exception. Unable to overcome the No. 2 Florida Gators, they fell 5-3 to complete the dismal sweep.
The Gators played like they were the true number one this star-studded weekend as the Canes let another opportunity in this long-standing rivalry slip through their fingers for yet another year. A couple of the team's vulnerabilities were exposed this weekend. Here are some painful numbers: The bats left 28 on base, were outscored 14-8, and five errors were recorded this weekend with Raymond Gil and Tyler Paige committing two apiece. The biggest stat is this: The Miami Hurricanes were 1-for-18 with runners in scoring position for the series.
They were clearly outmatched at the plate and this was due to in no small part to Florida's southpaw Hunter Barco. He pitched 5 1/3 innings and kept Miami hitless until the fourth, giving up one earned run on a pair of hits and punched out seven.
First collegiate weekend start? Facing the No. 1 team in the country?

Didn't matter to @hunter_barco7 🥶#GoGators pic.twitter.com/RxbVqg9WT7

— Florida Gators Baseball (@GatorsBB) February 24, 2020
The visiting Gators pounced on starter Slade Cecconi in the first, quickly scoring two runs to get an early lead. After fanning the leadoff man, Cecconi gave up a double to Jordan Butler down the right side. The runner advanced to third on the passed ball while Kirby McMullen drew a walk to put runners at the corners. Jacob Young got a hold of it and slipped one past Anthony Vilar for the RBI single. Another grounder came Vilar's way but the toss to second came too late. Butler raced down the line on the heads up play to put the Gators ahead by two.
The Gators also flashed some lumber. In the Battle of the Riveras, Josh Rivera won decidedly, capping off a very active weekend as he took Cecconi deep to extend the lead in the second. Gabe Rivera tried to get something going, drawing a walk and stealing second but was left stranded when Alex Toral struck out looking. Toral ended the day going 0-for-4, striking out twice. Last year he led both the team and the ACC with 24 home runs, good enough for third-best in Division 1 baseball.
However, this season the junior has gotten off to a slow start. Toral went 2-for-12 (.166) against the Gators, scrapping together two RBIs and his second home run of the season. During the opening weekend, he drew five walks compared to the two this weekend, one of them intentional. He kept hitting into the shift instead of trying to go the opposite way or even bunting towards third base in a real surprise move, no one expects that from the team's heavy hitter and that's the point. He's now batting .208 so far this season, collecting five hits in 24 At-Bats.
Miami's offense came alive in the fourth after going hitless the first three innings. Tony Jenkins drew a walk to start things off and Adrian Del Castillo fired up the crowd with a single to shallow right, propelling Jenkins to third. The Canes finally got on the board with a sacrifice fly from Gil. Miami had runners at the corners but was unable to do more damage as Toral popped out to right.
The Gators quickly negated the progress with another solo shot, this time from their leadoff man Jud Fabian to make it 4-1.
No. 1 hitters who hit 💣💣 >>

💻📱👀: https://t.co/pUugirIMWe pic.twitter.com/OfEXuBagYS

— Florida Gators Baseball (@GatorsBB) February 23, 2020
Miami squandered their best chance to score in the fifth after loading the bases. It started dubious enough, Vilar and Paige struck out making it seem it was going to be another frustrating turn at the plate. Then Jordan Lala and Del Castillo were beaned with Jenkins singling in between to raise everyone's spirits. The optimism proved premature, as Gil went down on strikes.
AI YAI YAI.
Lala is another player off to a bad start. He only managed a single hit (Double) all weekend long in 12 trips to the plate and if you think that's bad he's currently sitting on a .130 batting average. Although he's still getting on base by drawing eight walks on the year, only managing three hits in 23 ABs is not leadoff man material.
The Hurricanes turned on the power in the eighth with Gil absolutely crushing a two-run shot to left, bringing Miami to within one. However, the Gators responded with another run thanks to Jacob Rivera hitting a clutch single up the middle for the insurance run-off of Jake Garland.
In the bottom of the ninth, Jenkins very nearly becomes the hero when he took one to deep left field that just sailed foul, symbolizing the type of weekend the team experienced. Ballgame! Gators sweep Hurricanes.
What It Means
UM is definitely missing the services of Freddy Zamora. Mere days before the season opener, Zamora suffered an ACL injury during practice. The star player was a force at shortstop and while Vilar has been largely doing his part, no one can replace Freddy.
"There's no doubt we've got some limitations with Zamora not being in our line up," Coach Gino DiMare said. "But he ain't coming back, so we better figure it out and better figure it out quickly."
Miami's weaknesses were seemingly discovered and exploited. The starters performed admirably but as the Gators have demonstrated, it's all a wasted effort if you don't score. Even on Friday when the team managed to draw walks when they only recorded three hits, the Hurricanes just couldn't get the clutch play at the plate.
As noted in the team's preview before opening weekend, the bullpen is top-heavy and dependant on Daniel Federman and Tyler Keysor and it's been shown pretty quickly there will be situations where someone else in the bullpen has to step up as the Gators have proven. However, Carson Palmquist's performance Sunday demonstrated he can be valuable to the relief corps. It looks like he'll be in line for more opportunities moving forward. Visibly frustrated, DiMare reiterated there's no need to hit the panic button but there's certainly cause for concern.
"As the year goes on, there'll be some adjustments," DiMare added. "If guys don't get the job done, the line up will be changed whether its rotation, bullpen."
He openly declared that if they don't produce there will be changes.
One thing I've noticed is coach DiMare has been doing some tinkering with the lineup card, likely looking to see where they mesh well. For example, Tony Jenkins started off the season in the two-hole only to get knocked down to the eight-slot for Kent State (2-for-2 with 4 RBIs) and the first two games against Florida.
Outside of the midweek game, there isn't much difference in his performance. Jenkins has recorded four hits in both spots in the batting order, with Kent state he did hit a homer. The .364 hitter moved back to the second spot for the series finale where he truly belongs, why would you have him so far down when he's performing?
Alex Toral has been moving around a bit as well, going down from the fifth slot to the seventh for Saturday and Sunday. The change helped for game two of the series going 2-for-3 with a home run but as a power hitter, being in the heart of the order is the conventional way of thinking.
Anthony Vilar is another who is bouncing around. Starting off seventh for Rutgers, he was elevated to hit behind Lala during Kent State and the first two games of the Gators, replacing Jenkins. He dropped down to for series finale. A puzzling move, he was actually hitting well (.416) before the change but has only managed two hits ever since (.125).
It might have been under the same rationale that those hitting frequently are moved up but like they say if it ain't broke don't fix it. Although keep in mind this is a relatively small sample size and one can't compare Rutgers and Kent State to the Florida Gators.
One thing has been made abundantly clear, the team is not where it wants to be. Luckily for them, it's early in the year and the hope is they'll bounce back like they did last season after NC State swept them. The Hurricanes will look to regroup as they host the University of South Florida on Wednesday followed by another three-game home series versus Towson.
Gus Bus Award
Going to go a bit unorthodox here and award it to a player of the opposing team. Josh Rivera played very well this weekend both at shortstop and at the plate going 5-for-11 (.455) with three RBIs including a solo shot in today's game and an RBI single in the ninth. Good game, kid.
.@joshrivera24 did it with the bat, now he's flashing that glove 👀👀#GoGators

💻📱: https://t.co/pUugirIMWe pic.twitter.com/jmWUtJrSM2

— Florida Gators Baseball (@GatorsBB) February 23, 2020
You're Killing Me Smalls
Plenty of blame to go around but Jordan Lala (1-for-12, 2 K's) Anthony Vilar (1-for-13, 6 Ks), and Gabe Rivera (1-for-12, 5 K's) were the worst hitters of the series. Combined they were a hideous 3-for-37 (.081) at the plate. This is not the stat line of a No. 1 team.
Photo Credit | Edwin Garcia
This slideshow requires JavaScript.
(Visited 80 times, 1 visits today)